2017 report for Ohio's Harmful Algal Bloom Research Initiative highlights UT water quality research
July 11th, 2017 by Christine Billau
Ohio Sea Grant released today its 2017 update on the statewide Harmful Algal Bloom Research Initiative documenting two years of progress seeking solutions for harmful algal blooms in Lake Erie.
The University of Toledo, situated on the western basin of Lake Erie, is one of the lead universities in the initiative, which consists of ten Ohio universities and five state agencies and is funded by the Ohio Department of Higher Education and matching funds from participating universities.
The 54-page report features a variety of important research activity underway by members of the UT Water Task Force to protect the public water supply and public health, including:
Early warning system for toxic algae in Lake Erie's Maumee Bay by Dr. Tom Bridgeman, professor in the UT Department of Environmental Sciences, and Dr. Ricky Becker, associate professor in the UT Department of Environmental Sciences;
Developing methods to help water treatment plant operators make decisions on lake water pumping rates according to time of day and weather conditions in order to reduce exposure to algal toxins at the Lake Erie water intake, also by Bridgeman and Becker;
Transport and fate of cyanotoxins in drinking water distribution systems, such as pipes and storage tanks, by Dr. Youngwoo Seo, associate professor in the UT Department of Civil and Environmental Engineering;
Investigating alternative biological filtration for algal toxin removal in water treatment through better understanding of microcystin-degrading bacteria, also by Seo;
Investigating the influence of potassium permanganate treatment on algal cell integrity and toxin degradation, also by Seo;
Developing microcystin-detoxifying water biofilters to upgrade water treatment filters with friendly bacteria through the discovery of enzymes and pathways responsible for microcystin degradation, by Dr. Jason Huntley, associate professor in the UT Department of Medical Microbiology and Immunology;
Studying the accuracy of ELISA, the standard test measuring harmful algal toxins, in comparison to a more time-consuming but reliable method, liquid chromatography-mass spectrometry (LC-MS), by Dr. Dragan Isailovic, associate professor in the UT Department of Chemistry and Biochemistry;
Developing lab tests for detecting microcystin exposure through biological samples and measuring how much remains inside the body, also by Isailovic;
Evaluating the ability of commercially available home purification systems to remove algal toxins from tap water, by Dr. Glenn Lipscomb, professor and chair of the UT Department of Chemical and Environmental Engineering;
Reconsidering recommended healthy exposure limits by studying the impact of algal toxins in experimental models of pre-existing liver disease, by Dr. David Kennedy and Dr. Steven Haller, assistant professors in the UT Division of Cardiovascular Medicine;
Studying health effects of recreational and work exposure to harmful algal blooms through fishing, swimming or boating, by Dr. April Ames and Dr. Michael Valigosky, assistant professors in the UT Department of Occupational and Public Health; and
Creating an online database to help inform public about harmful algal blooms in Lake Erie, by Dr. Patrick Lawrence, UT geography professor and associate dean of the College of Arts and Letters.
Ohio Sea Grant, which manages the statewide Harmful Algal Bloom Research Initiative, is soliciting proposals for a third round of funding to continue the efforts underway to address toxic algae in Ohio's Great Lake.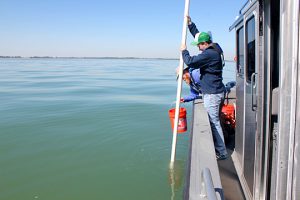 Participating universities include UT, The Ohio State University, Bowling Green State University, Central State University, Defiance College, Heidelberg University, Kent State University, Sinclair Community College, University of Akron and University of Cincinnati. UT and OSU serve as leaders of the university consortium.
To view the full report, go to http://ohioseagrant.osu.edu/p/ib57m/view.
For Ohio Sea Grant's news release, go to http://ohioseagrant.osu.edu/news/2017/gz884/habri-report-year-2.
The UT Water Task Force, which is comprised of faculty and researchers in diverse fields spanning the University, serves as a resource for government officials and the public looking for expertise on investigating the causes and effects of algal blooms, the health of Lake Erie and the health of the communities depending on its water. The task force includes experts in economics, engineering, environmental sciences, business, pharmacy, law, chemistry and biochemistry, geography and planning, and medical microbiology and immunology.
Water quality is a major research focus at UT. With $12.5 million in active grants underway, UT experts are studying algal blooms, invasive species such as Asian carp, and pollutants. Researchers are looking for pathways to restore our greatest natural resource for future generations to ensure our communities continue to have access to safe drinking water.
Researchers and students help to protect the public drinking water supply for the greater Toledo area throughout summer algal bloom season by conducting water sampling to alert water treatment plant operators of any toxins heading toward the water intake. UT's 28-foot research vessel and early warning buoy enable UT to partner with the city of Toledo and the National Oceanic and Atmospheric Administration to monitor the health of Lake Erie and provide real-time data.
Tags: College of Engineering, College of Medicine and Life Sciences, College of Natural Sciences and Mathematics, Lake Erie Center

Christine Billau is UT's Media Relations Specialist. Contact her at 419.530.2077 or christine.billau@utoledo.edu.
Email this author | All posts by Christine Billau
---