Posts Tagged 'College of Natural Sciences and Mathematics'
Monday, July 8th, 2019
Scientists at The University of Toledo investigating improvements to a commonly used chemotherapy drug have discovered an entirely new class of cancer-killing agents that show promise in eradicating cancer stem cells.
Their findings could prove to be a breakthrough in not only treating tumors, but ensuring cancer doesn't return years later — giving peace of mind to patients that their illness is truly gone.
"Not all cancer cells are the same, even in the same tumor," said Dr. William Taylor, a professor in the Department of Biological Sciences in the UToledo College of Natural Sciences and Mathematics. "There is a lot of variability and some of the cells, like cancer stem cells, are much nastier. Everyone is trying to figure out how to kill them, and this may be one way to do it."
Taylor and Dr. L.M. Viranga Tillekeratne, a professor in the Department of Medicinal and Biological Chemistry in the UToledo College of Pharmacy and Pharmaceutical Sciences, reported their findings in a paper recently published in the journal Scientific Reports.
Cancer stem cells are an intriguing target for researchers because of their potential to re-seed tumors.
When doctors remove a tumor surgically or target it with chemotherapy drugs or radiation therapy, the cancer may appear to be gone. However, evidence suggests that a tiny subpopulation of adaptable cancer cells can remain and circulate through the body to seed new metastasis in far-off locations.
Those cancer stem cells, Taylor said, are similar to dandelions in a well-manicured lawn.
"You could chop the plant off, but it will drop a seed. You know the seeds are there, but they're hiding," he said. "You pull one weed out and another comes up right after it. Cancers can be like this as well."
The small molecule they have isolated appears to lock on to those stem cells and kill them by blocking their absorption of an amino acid called cystine.
UToledo was awarded a patent for the discovery late last year.
For Tillekeratne and Taylor, uncovering a new class of therapeutic molecules could prove to be an even larger contribution to cancer research than the project they initially envisioned.
"At present, there are no drugs that can kill cancer stem cells, but people are looking for them," Tillekeratne said. "A lot of drugs are discovered by serendipity. Sometimes in research if you get unexpected results, you welcome that because it opens up a new line of research. This also shows the beauty of collaboration. I wouldn't have been able to do this on my own, and [Taylor] wouldn't have been able to do it on his own."
Tillekeratne has received a three-year, $449,000 grant from the National Institutes of Health National Cancer Institute to continue testing the effectiveness of the newly identified therapy.
Because the molecules so selectively target cancer stem cells, it's possible they could ultimately be paired with other chemotherapy drugs to deliver a more comprehensive treatment.
However, the researchers have found their agents show stand-alone promise in treating sarcomas and a subtype of breast cancer known as claudin-low breast cancer, which represents up to 14 percent of all breast cancers and can be particularly difficult to treat.
---
Tuesday, March 19th, 2019
While investigating why cholesterol-lowering drugs called statins cause negative side effects such as blurred vision, short-term memory loss or increased risk for diabetes, cellular chemists at The University of Toledo discovered several previously unknown benefits.
It is well-established statins can help lower the risk of heart attack by lowering blood cholesterol, but statins also may play a protective role in the event of a heart attack because they can suppress a biological process that disrupts cardiac function.
By suppressing the activity of key cellular receptors called G protein-coupled receptors (GPCRs) and their interacting partners called G proteins, statins have the potential to alter various bodily functions controlled by this important pathway, according to research published in the journal Molecular Pharmacology.
"We believe this and our future investigations can help physicians make more informed decisions about prescribing statins, opening a whole new door to what statins can do in addition to cholesterol control," said Dr. Ajith Karunarathne, assistant professor in The University of Toledo Department of Chemistry and Biochemistry.
GPCR signaling pathways are crucial to our survival. They are the largest pharmaceutical drug target – more than one-third of all drugs on the market – because GPCR pathways regulate the body by controlling a variety of functions from vision to heart rate and neurotransmission.
Statins are designed to target and inhibit the cholesterol-synthesis pathway, which is why it is an effective and popular drug to lower cholesterol. But parts of the cholesterol-synthesis pathway are needed for the GPCR signaling pathway to function, which explains the temporary negative side effects while taking statins, such as blurred vision or short-term memory loss.
The UToledo scientists also revealed another crucial finding: The cholesterol-lowering drugs reduce the ability of migratory cells, such as cancer and immune cells, to travel.
When testing GPCR-directed cell invasion, Karunarathne's lab found that statins reduced movement more than 10-fold compared to the control group.
"This indicated that GPCR-governed cancer cell migration also can be reduced by statins," Karunarathne said.
The research was done using cells, not human patients. Karunarathne's lab uses light to control cell behavior – through a novel method named subcellular optogenetics – and studies the way cells respond to light through signal transduction pathways.
"We observed that different types of statins induce very different deviations or changes to G proteins in the GPCR pathway," Mithila Tennakoon, a UToledo Ph.D. student in Karunarathne's lab and first author of the study, said.
"The side effects of statins are not uniform," Karunarathne said. "Cells in the eyes, brain, heart and lungs can have completely different impact levels because they have different types of G proteins."
These findings help explain the molecular sources for side effects of statins, which Karunarathne's lab discovered can have different effects on tissues and organs.
This research was supported by a grant from the National Institute of General Medical Sciences, part of the National Institutes of Health.
---
Wednesday, December 12th, 2018
A University of Toledo scientist has been awarded a $2.1 million National Institutes of Health grant to continue her research into one of the most common and debilitating conditions experienced by patients undergoing treatment for head or neck cancers.
Dr. Heather Conti, UT assistant professor of biological sciences, studies a fungal infection called oral candidiasis. The infection is more commonly known as thrush.
In otherwise healthy individuals the condition is minor, but for those with compromised immune systems or undergoing radiation or chemotherapy, oral candidiasis can turn into a serious and potentially dangerous illness.
"Unfortunately, many patients who develop this condition choose to forego their cancer treatment," Conti said. "It can actually have a direct link to cancer prognosis because the symptoms are too hard to deal with."
The five-year grant, which is distributed through the National Institute of Dental and Craniofacial Research, will fund research into the role blood platelets play in the body's natural defense against oral candidiasis.
"Platelets are commonly thought of for their role in blood clotting. But what we're finding more and more is that platelets also play a very important role in the immune response," Conti said. "They can protect against various bacteria — or in our case, fungi — which is a novel thought in the field. Platelets can be a much more complicated cell than just taking part in blood clotting."
She is collaborating with Dr. Randall Worth, associate professor of medical microbiology and immunology at UT, on the project.
The reason oral candidiasis can cause such serious problems in cancer patients is the fact that chemotherapy and radiation often destroy the mucous membrane in the mouth, allowing the fungi to grow unchecked. That, Conti said, can lead to sores on the gums or tongue, difficulty swallowing, bleeding and pain. If the fungal infection reaches the bloodstream and spreads throughout the body, it can become life threatening.
Patients with HIV are also at greater risk of serious infection from oral candidiasis.
Candidiasis can be successfully treated with antifungal medications, but Conti said there is an emerging trend of strains that have developed resistance to commonly prescribed drugs. That limits clinicians' options, particularly in individuals who are already in poor health.
The goal of this research, Conti said, is better understanding how the body fights the infection and how we might be able to leverage that response to formulate new treatments.
"The immune response to oral candidiasis is quite complicated. If platelets play an important role, we need to understand that response. The hope would be to develop therapeutics that not only kill the fungus directly but can also bolster the immune response," she said.
---
Monday, March 19th, 2018
A team of ecologists at The University of Toledo was awarded a two-year state wildlife grant from Ohio and Michigan to study flagship species of the Oak Openings region to better inform conservation and management strategies.
Using radio telemetry, Dr. Jeanine Refsnider, evolutionary ecologist and assistant professor in the UT Department of Environmental Sciences, and Dr. Henry Streby, ornithologist and assistant professor in the UT Department of Environmental Sciences, will focus on the productivity and survival of red-headed woodpeckers, eastern box turtles and spotted turtles particularly in the oak savanna and wet prairie habitats in northwest Ohio and southern Michigan.
The Ohio Department of Natural Resources and Michigan Department of Natural Resources are funding the work with a $400,000 grant through the U.S. Fish and Wildlife Service.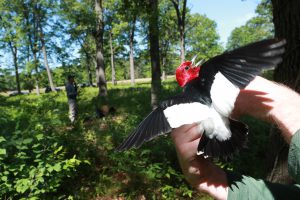 "Oak savanna and wet prairie habitats have drastically declined in this area during the last century," Refsnider said. "We are interested in three flagship species of Oak Openings ecosystems. If they're doing well, the ecosystem is probably doing well. But if the animals are there yet not successfully producing offspring, the populations will continue to decline and possibly go extinct. We want to give conservationists a powerful tool to optimize the landscape and maintain wildlife populations, and that requires knowing not just whether rare species are present, but also whether they are reproducing successfully."
Work begins in the spring on the study, which is titled "Distribution, Density, and Demography of Red-headed Woodpeckers, Eastern Box Turtles, and Spotted Turtles in Oak Openings of Ohio and Michigan."
"If the habitat is good for charismatic mega fauna, there's a good chance it's right for the whole system," Streby said. "If it's bad for one of these, it's likely representing underlying problems for all species."
Radio transmitters will be epoxied to the turtles and harnessed to the woodpeckers. They do not inhibit the animal's movement.
For all three species, UT researchers will be conducting distribution and density surveys, monitoring adults with radio-telemetry, monitoring nests, and tracking juveniles with radio-telemetry when they leave the nest.
Researchers will then use nest and juvenile survival data to determine which landscape compositions and configurations result in the best overall productivity for any species individually and all three together.
"We want to identify the recipe for a quality habitat and map where nests might have the highest success in getting what they need for a self-sustaining population," Streby said. "The Oak Openings region is a complex patchwork of wetlands, uplands, thin forest, dense forest, prairie and wet prairie. This comprehensive study is necessary to demonstrate which parts of the habitat are working and inform conservation management in the future."
---
Wednesday, February 28th, 2018
The University of Toledo is hosting a training workshop to teach water treatment plant operators, scientists and public health officials how to use software that forecasts increases in algal toxins during algal bloom season so that swimmers and boaters can be warned to avoid exposure and water treatment plants can take measures to appropriately treat the raw water.
Media is invited from 10 to 11 a.m. Thursday, March 1 at the UT Lake Erie Center, 6200 Bayshore Rd. in Oregon.
For the last three years, researchers at The University of Toledo have been collecting environmental data in Lake Erie during algal bloom season to help the U.S. Geological Survey develop a model to estimate the probability of exceeding a threshold that indicates an increase in harmful algal bloom toxins, like microcystin, in Ohio waters.
Using the database of samples gathered at seven water treatment plant intakes and four recreational sites throughout the state, including the public beach at Maumee Bay State Park, the U.S. Geological Survey's model can now be applied using the Virtual Beach Software developed by the U.S. Environmental Protection Agency.
The software is the same program UT uses to make daily E. coli bacteria forecasts for the public beach at Maumee Bay State Park during the summer. However, the new model for algal toxins also incorporates live data from the network of buoys in the western Lake Erie basin. The buoys are equipped with what is called the YSI EXO sonde, a black and blue instrument comprised of several probes to measure various water quality parameters, including how much blue-green algae is present, water temperature, clarity, oxygen levels, turbidity and pH.
"Instead of waiting for test results from water samples, we can make real-time predictions for increases in algal toxins using environmental factors such as turbidity, pH, phycocyanin, wind direction and rainfall," Pam Struffolino, UT Lake Erie Center research operations manager, said. "The exposure probability model is ready to go once approved by the EPA, and we want to be sure the people we are training can add data, read results and use the software to help their communities be safe."
Trainers are comprised of representatives from UT, U.S. Geological Survey, U.S. Environmental Protection Agency, Limnotech and NASA.
Struffolino said water treatment plants are expected to begin using the software once operators are trained. Leaders are evaluating how the results will be publicly posted similar to the E. coli testing and when that will begin.
"The model will improve every year as we go along because we will continue to add data," Struffolino said.
---
Tuesday, February 27th, 2018
The annual long-distance migration of rare, tiny songbirds that reproduce in the Great Lakes region and Appalachian Mountains is no longer a mystery.
By tracking one of the smallest species ever monitored over thousands of miles using cutting-edge technology, a team of ornithologists led by scientists at The University of Toledo found that it is where golden-winged warblers spend the winter in the tropics that determines if a population is declining or stable, not factors associated with the breeding grounds thousands of miles north in the United States and Canada.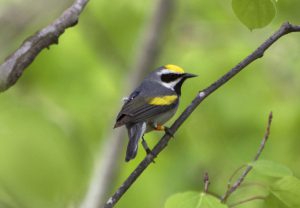 Over the course of the five-year study, the scientists found that different populations of the birds, which are about the size of a ping-pong ball and weigh less than three pennies, do not mix between their separate northern nesting grounds occupied during the spring and summer and the tropical sites where they spend the winter.
Mapped using data from 76 light level geolocators recovered from the birds, each population shows strong migratory connectivity, or geographic segregation, that confirms that populations of the birds stay together in different locations for the seasons throughout the year. This strong link between breeding and non-breeding areas means that populations may be exposed to different threats and conditions during the winter.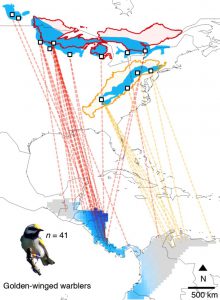 According to the study recently published in the Proceedings of the National Academy of Sciences, golden-winged warblers from declining populations spend winters in northern South America. Stable populations of the species spend winters in Central America.
"They're separate, and it's remarkable," said Gunnar Kramer, PhD student researcher in environmental sciences at UT. "Most species we track like this don't show strong connections between breeding sites and wintering sites."
"These golden-winged warblers that breed throughout the Great Lakes region and Appalachian Mountains are going to different areas in the winter," said Dr. Henry Streby, assistant professor in the UT Department of Environmental Sciences. "That's pivotal because those tropical areas experienced different rates of forest loss during the last 60 years. When we look at forest-loss rates, it correlates closely with golden-winged warbler population changes on breeding grounds thousands of miles away."
When it comes to saving the species that is under consideration for federal Endangered Species protection, the researchers say conservationists should switch their focus away from places where their efforts cannot benefit the species and toward restoring habitat and preventing further deforestation in northern Venezuela, "which is, unfortunately, one of the most difficult places to do conservation work in the Americas," Streby said.
"If the winter habitat keeps disappearing, the warblers that winter in northern South America won't survive and come back to the Appalachian Mountains no matter how much breeding habitat is available to them," Streby said.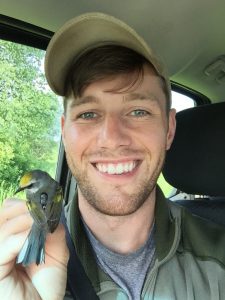 Kramer and Streby tracked the birds using the geolocators attached to the birds with tiny backpacks around their legs. Figure-eight harnesses secured the geolocator backpacks, which contained a battery, a computer chip and a light sensor. The whole thing weighs less than half of a paper clip and does not inhibit flight or movement.
"The light sensor records ambient light and stores it with a time stamp on the unit every couple minutes," Kramer said. "We used differences in day length and changes in how fast dawn and dusk occur to predict daily locations of the birds throughout the year. Based on how long the day and night are and features of the transitions between day and night, you can tell with reasonable accuracy where you are on the planet."
Unlike other heavier tracking devices, geolocators do not transmit data, so the researchers had to recapture every bird marked with a geolocator and remove the device to recover data.
"Comprehensive studies like this one show the importance of understanding the complex relationships migratory species have with different environments throughout the year and demonstrate that songbirds that spend the summer in our backyards may be experiencing challenging conditions elsewhere that are causing declines," Kramer said. "These studies also provide information that can immediately be used to start improving conservation efforts, and that's really exciting."
The UT researchers collaborated with scientists from several universities and agencies, including the U.S. Geological Survey, University of Tennessee and West Virginia University.
Funding was provided by the U.S. Fish and Wildlife Service, the U.S. Geological Survey and the National Science Foundation.
---
Monday, February 19th, 2018
The director of the Space Telescope Science Institute in Baltimore, which operates NASA's Hubble Space Telescope and the soon-to-be-launched James Webb Space Telescope, is speaking on campus as part of The University of Toledo's continuing celebration of the 50th anniversary of the Ritter Astrophysics Research Center.
The free, public event featuring Dr. Ken Sembach and titled "Great Observatories, Present and Future" is 6:30 p.m. Thursday, Feb. 22 in Wolfe Hall Room 1205.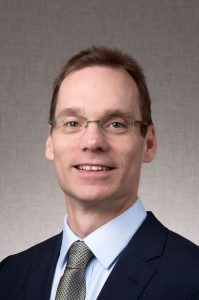 "Some telescopes are put into space to get above the blurring of our atmosphere and to detect light that our atmosphere otherwise blocks," said Dr. Jillian Bornak, associate lecturer in the Department of Physics and Astronomy and chair of the UT Astronomy 50th Anniversary Committee. "Dr. Sembach will talk to us about these great observatories and lay out the foundation for why we are excited for the view of the universe that the Webb telescope will give us."
Toledo has historic connections to deep space exploration and unraveling the mysteries of the universe.
In 1946, an astrophysicist from Toledo named Lyman Spitzer Jr. proposed building telescopes in space. Today, UT researchers and students use Spitzer and NASA's other space telescopes by downloading the data and engaging in the exploration of the universe from Ritter.
The James Webb Space Telescope, which will be the largest and most powerful when launched into orbit next year, is named in honor of Dr. James Webb, who received an honorary degree at the dedication of UT's Ritter facility on Oct. 13, 1967. Webb was the head of NASA at that time.
The Space Telescope Science Institute is operated by the Association of Universities for Research in Astronomy, which UT was selected to join in 2016 in recognition of the astronomy and astrophysics program's strengths in research, education and outreach.
Before becoming director of the Space Telescope Science Institute, Sembach served as interim director, Hubble mission head and Hubble project scientist. Previously, Sembach was the Far Ultraviolet Spectroscopic Explorer deputy project scientist for Large Science Programs at Johns Hopkins University. He also was a NASA Hubble Fellow at the Massachusetts Institute of Technology.
Sembach received a bachelor's degree in physics with honors in 1988 from the University of Chicago and a PhD in astronomy in 1992 from the University of Wisconsin-Madison.
---
Wednesday, February 14th, 2018
The University of Toledo is slated to lead eight out of the 21 new research projects to be funded with $3.5 million from the state of Ohio to address water quality and algal bloom toxicity.
UT, situated on the western basin of Lake Erie, is to receive nearly $1 million of the $3.5 million dedicated by the Ohio Department of Higher Education for these additional projects in the ongoing, statewide Harmful Algal Bloom Research Initiative, which began three years ago after the city of Toledo issued a Do Not Drink advisory for half a million water customers due to the level of microcystin detected in the water.
UT is one of the lead universities in the Harmful Algal Bloom Research Initiative, which consists of ten Ohio universities and five state agencies.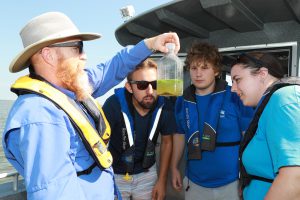 The selected projects focus on reducing nutrient loading to Lake Erie; investigating algal toxin formation and human health impacts; studying bloom dynamics; better informing water treatment plants how to remove toxin; and aiding the efforts of state agencies.
Dr. Tom Bridgeman, professor in the Department of Environmental Sciences, will lead a project to develop sampling protocols and collect samples to assess listing criteria that the Ohio Environmental Protection Agency may use to monitor the water quality of the open waters of the western basin of Lake Erie and to potentially assign official designations such as "impaired" or "unimpaired."
"Although it is obvious to nearly everyone that harmful algal blooms are impairing Lake Erie each summer, we need to develop objective scientific criteria that can be used to list the open waters of the lake as officially 'impaired,' and to remove an 'impairment' designation in the future if conditions improve sufficiently," Bridgeman said.
UT researchers also to receive some of the $988,829 in state funding for their projects are:
Dr. Jason Huntley, associate professor in the Department of Medical Microbiology and Immunology, will be developing and testing biofilters – water filters containing specialized bacteria that degrade microcystin toxins from lake water as it flows through the filter. These biofilter studies are aimed to develop cost-effective, efficient and safe drinking water treatment alternatives for the city of Toledo and other Lake Erie water municipalities.
Dr. Steven Haller and Dr. David Kennedy, assistant professors in the Department of Medicine, will investigate how cyanotoxins such as microcystin damage organs not only in healthy settings, but in settings that may increase susceptibility such as diabetes, obesity and inflammatory bowel disease. Their research teams are working in concert with experts in medicine, pathology, physiology, pharmacology and chemistry to not only to learn how microcystin affects organ function in these settings, but also to create new therapies to prevent and treat organ damage, especially in vulnerable patient populations.
Dr. Patrick Lawrence, UT professor in the Department of Geography and Planning, will use a transportation model to simulate potential distribution of volume of agricultural manure from permitted livestock facilities to surrounding farmland for application as a nutrient. The results will assist in determining the estimated acreage of land within the Lake Erie western basin where manure application could be undertaken and examine associated crop types, farming practices, soil types, drainage and other environmental conditions in those areas.
Dr. Saatvika Rai, assistant professor of environmental policy in the Department of Political Science and Public Administration, and Dr. Kevin Czajkowski, professor in the Department of Geography and Planning, will use GIS and remote sensing to assess the implementation of agricultural and farming practices in three sub-watersheds of the Maumee River Basin – Auglaize, Blanchard and St. Joseph – to identify where best management practices are being implemented. These maps will then be correlated with perceptions of farmers through surveys and interviews to identify hotspots and priority areas for policy intervention in the region.
Dr. April Ames, assistant professor in the College of Health and Human Services, will apply an industrial hygiene technique to the exploration of the presence of microcystin in the air using research boats on Lake Erie. Simultaneously, residents who live on or near Lake Erie will be surveyed about their recreational use and self-reported health.
"I am proud of the work that is being done, and that researchers from our public and private higher education institutions continue to work together to address this issue," said Ohio Department of Higher Education Chancellor John Carey. "Using the talent of Ohio's researchers and students to solve pressing problems makes perfect sense."
The Harmful Algal Bloom Research Initiative is funded by the Ohio Department of Higher Education with $7.1 million made available for four rounds of research funding since 2015. Matching funding from participating Ohio universities increases the total investment to almost $15.5 million for more than 50 projects, demonstrating the state's overall commitment to solving the harmful algal bloom problem.
Water quality is a major research focus at UT. With more than $14 million in active grants underway, UT experts are studying algal blooms, invasive species such as Asian carp, and pollutants. Researchers are looking for pathways to restore our greatest natural resource for future generations to ensure our communities continue to have access to safe drinking water.
The UT Water Task Force, which is comprised of faculty and researchers in diverse fields spanning the University, serves as a resource for government officials and the public looking for expertise on investigating the causes and effects of algal blooms, the health of Lake Erie and the health of the communities depending on its water. The task force includes experts in economics, engineering, environmental sciences, business, pharmacy, law, chemistry and biochemistry, geography and planning, and medical microbiology and immunology.
---
Tuesday, January 30th, 2018
An alumnus of The University of Toledo and NASA flight director for the International Space Station at Johnson Space Center's Mission Control in Houston will return to his alma mater as part of UT's continuing celebration of the 50th anniversary of the Ritter Astrophysics Research Center.
Dr. Robert Dempsey, who received a master's degree and PhD in physics from UT in 1987 and 1991, will speak at the University about guiding human space flights and astronomical exploration at 6 p.m. Thursday, Feb. 8 in the Driscoll Alumni Center Auditorium, Room 1019.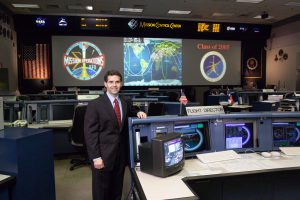 The event, which is titled "Houston, We Have a Problem – When Things Go Wrong on the International Space Station," is free and open to the public.
"We all have contingency plans, but what do you do when something goes wrong in space?" said Dr. Jillian Bornak, associate lecturer in the Department of Physics and Astronomy and chair of the UT Astronomy 50th Anniversary Committee. "If you enjoyed watching 'Apollo 13,' 'The Martian' or 'Gravity,' you will appreciate the window Dr. Dempsey will give into being the flight director of the space station."
Dempsey worked for Computer Sciences Corporation as a resident astronomer on the Hubble Space Telescope from 1992 to 1997, and for United Space Alliance as a command and data handling flight controller from 1997 to 2003. He joined NASA in 2003 as a communications and tracking officer for the International Space Station.
"We are especially excited because Dr. Dempsey is one of our own: He is an alum of The University of Toledo's Department of Physics and Astronomy," Bornak said. "I hope everyone joins us as we continue our year-long celebration of the golden anniversary of Ritter and our astronomy program."
The next event in honor of Ritter's 50th anniversary is 6:30 p.m. Thursday, Feb. 22 in Wolfe Hall Room 1205. It will feature Dr. Ken Sembach, director of the Space Telescope Science Institute, which handles the Hubble Space Telescope and James Webb Space Telescope that is expected to be launched next year.
---
Monday, January 29th, 2018
If you're curious about solving the Rubik's Cube or the break of a pitcher's curve ball, ask a mathematician or scientist.
Saturday Morning Science is back for 2018 at The University of Toledo with six programs to give the community the opportunity to learn about hot topics in modern science.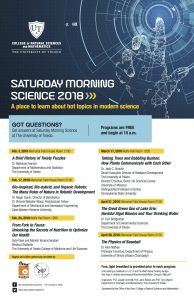 The free, public talks are presented by the UT College of Natural Sciences and Mathematics and kick off 10 a.m. Saturday, Feb. 3 in Memorial Field House Room 2100 with "A Brief History of Twisty Puzzles," most famously the Rubik's Cube.
"Puzzles are more important than most people realize," said Dr. Nathaniel Iverson, lecturer in the UT Department of Mathematics and Statistics, who will be leading the session and teaching strategies to solve a Rubik's Cube. "Mathematics is not just about numbers and calculations, but also about analyzing the world around you and solving problems. Puzzles are valuable for developing dexterity, problem-solving strategies, spatial reasoning, refinement of practice techniques, and intuition for higher-level concepts in mathematics."
A limited number of custom UT/Saturday Morning Science cube puzzles will be given away to attendees of the Feb. 3 presentation.
Listed by date, additional programs and speakers are:
Feb. 17: "Bio-inspired, Bio-hybrid, and Organic Robots: The Many Roles of Nature in Robotic Development" by Dr. Roger Quinn, director of the Biologically Inspired Robotics Laboratory at Case Western Reserve University, and Dr. Victoria Webster-Wood, postdoctoral fellow in the Department of Mechanical and Aerospace Engineering at Case Western Reserve University, in Memorial Field House Room 2100.
Feb. 24: "From Fork to Fauna: Unlocking the Secrets of Nutrition to Optimize Our Health" by Sally Itawi and Manish Karamchandani, medical students in the UT College of Medicine and Life Sciences, in Wolfe Hall Room 1205.
March 17: "Talking Trees and Babbling Bushes: How Plants Communicate with Each Other" by Dr. Jack C. Schultz, senior executive director of research development at UT and director emeritus of the Bond Life Sciences Center at the University of Missouri, in Wolfe Hall Room 1205.
April 21: "The Great Green Goo of Lake Erie: Harmful Algal Blooms and Your Drinking Water" by Dr. Tom Bridgeman, UT professor of ecology in the Department of Environmental Sciences, in Memorial Field House Room 2100.
April 28: "The Physics of Baseball" by Dr. Alan Nathan, professor emeritus at the University of Illinois at Urbana-Champaign, in Memorial Field House Room 2100.
"One theme running through this year's series is our relationship with nature," said Dr. John Bellizzi, associate professor of chemistry and biochemistry and co-director of Saturday Morning Science. "We're connected to the environment through the food we eat and the water we drink, and we can also draw inspiration from understanding how animals move and plants communicate."
All talks begin at 10 a.m. and include complimentary light refreshments.
For more information about the upcoming events, visit their Facebook page at facebook.com/SaturdayMorningScience.
---