Author Archive
Monday, March 21st, 2022
"Sons of Toledo," a short film created by faculty and students at The University of Toledo in collaboration with community partners, will premiere Saturday, March 26, at the Toledo Museum of Art Peristyle, 2445 Monroe St.
Dr. Matt Foss, associate professor of theatre and film, co-wrote and produced the film, and more than a dozen UToledo students worked on the film as production assistants, actors and behind-the-scenes photographers.
The film, which tells the story of a Toledo barber who wakes up to an early-morning phone call giving him the news that his brother was killed, has been screened at national and international festivals, including the Mammoth Film Festival in California, the Phoenix Film Festival, FilmFest in Washington, D.C., and was a finalist at the Tokyo International Short Film Festival.
The evening kicks off with a red-carpet event from 5:30 to 6:15 p.m. Participants are encouraged to arrive at the Peristyle entrance on Art Museum Drive, near the UToledo Center for the Visual Arts.
"Since the film was made for, with and about Toledo, we'd like to celebrate any and every community member who comes to the film that night," Foss said.
The premiere begins at 6:30 p.m. with a screening of a special prologue documentary on the work of children from the Mott Branch of the Toledo Lucas County Public Library and their commitment to peace in our community, followed by "Sons of Toledo."
The film was produced in association with Glacity Theatre Collective and Madhouse, Inc., with support from ProMedica, the Arts Commission, Ohio Humanities, Ohio Arts Council, the city of Toledo and Turning Row LLC.The event is free and open to the public.
---
Monday, March 21st, 2022
After a two-year hiatus, the International Dinner will return for its 44th year 6 p.m. Saturday, March 26, in the Thompson Student Union Auditorium.
Hosted by the International Students Association, the event known as I-Dinner is a UToledo tradition spanning more than four decades featuring international culture, performances, a fashion show and food.
"The theme of this year's event is 'Where the Flowers Bloom' to signify new beginnings, especially after the rough couple of years we've all had," said Rachael Onuigbo, a junior from Nigeria studying nursing and president of the International Students Association. "This event gives our international students and staff an opportunity to showcase and express their different cultures and for local students to experience the wealth of diversity in the UToledo community."
The event will feature dishes from more than eight restaurants in the Toledo area.
"We have appetizers like spring rolls, baked empanadas, plantains, tiki chaat and fatayer," Onuigbo said. "Main dishes include jollof rice, jerk chicken, pan fried noodles and biryani. Non-alcoholic drinks like bubble tea, horchata and zobo will be available too."
Dessert will include baklava, gulab jamun and churros.
There will be performances from several organizations, including UToledo Jalwa, Japanese Students Association, Korean Students Association, Chinese Students and Scholars Association, Persian Students Association and the Saudi Club.
"We're excited to bring back the global cultural experience that provides students from 83 different countries around the world the opportunity to showcase their culture, traditions, cuisine and sense of community," said Sara Clark, director of the UToledo Center for International Studies and Programs.
Tickets for the International Dinner are $15 per person in advance or $20 at the door. A table of eight can also be purchased in advance for $100. Tickets can be purchased on the Office of Student Involvement and Leadership website.
This year's I-Dinner's will benefit Halim Clinic, a local clinic that provides free healthcare to everyone. All profits will go towards the International Students Association's philanthropy, and donations can be made at the event too.
---
Thursday, March 17th, 2022
The community is invited to a free lecture by an Islamic studies scholar at The University of Toledo about U.S. support for authoritarian governments in the Middle East and how it is suppressing the democratic and reformist interpretations of Islam that had taken shape in the 20th century and making the region dangerous for the world.
"My lecture will offer how the global civil society can help save not only Islam but also democracy by protecting institutions and forums of free inquiry," said Dr. Ovamir Anjum, UToledo Imam Khattab Endowed Chair of Islamic Studies.
Presented by the UToledo Center for Religious Understanding, the event, which is titled "America's Meatgrinders: How Authoritarians are Reshaping Islam in the Middle East," is 7 p.m. Monday, March 21, in the McQuade Law Auditorium.
"Scholars once referred to Saudi Arabia, our oldest ally in the region and the staple of our oil-addicted economy, as 'America's Kingdom'; today, that kingdom has become America's 'meatgrinder,' and is now being used to butcher journalists, countless reformist clerics and citizens," Anjum said. "The counter-revolution, or the long winter after the brief Arab Spring of 2011, seems to be here to stay as ruthless autocrats like the crown prince Mohammad Bin Salman of Saudi Arabi and Mohammad bin Zayed of the United Arab Emirates have perfected the formula to use the War on Terror to suppress any dissent."
Addressing how that is altering Islamic doctrine, Anjum's talk will focus on a particular case, the governance of the Prophet Mohammad in Medina, which was once interpreted to provide justification for constitutional limits on the rulers' power and citizens' rights but is now employed — by the clerics authorized by the autocrats — to justify unquestionable power to the ruler.
"Whereas Muhammad had declared 'speaking truth to power' the highest form of religious action, even peaceful protests and moderately critical tweets are now deemed religiously prohibited and met with indefinite imprisonment and worse," Anjum said.
The event is part of the UToledo Center for Religious Understanding's annual lecture series. The center promotes a deeper understanding of religion on campus and throughout greater Toledo.
---
Wednesday, March 16th, 2022
During Women's History Month, a nationally acclaimed disability history scholar at The University of Toledo will lead a discussion about Dorothea Dix and her efforts on behalf of the mentally ill and prisoners.
The event is part of the 2021-22 speaker series presented by the Roger Ray Institute for the Humanities at the UToledo College of Arts and Letters in collaboration with the Toledo Lucas County Public Library.
Dr. Kim Nielsen, Distinguished University Professor and chair of disability studies, will present the free, public program titled "Dorothea Dix: A 19th Century Female Activist and Her Complex Legacies" from 6 to 7:30 p.m. Wednesday, March 23, at the main branch of the Toledo Lucas County Public Library, 325 Michigan St.
"Dix was an asylum and prison reformer, and later the Civil War Superintendent of Union Army Nurses, who shaped U.S. psychiatric healthcare," Nielsen said. "Her work prompted officials to fund a vast expansion of medicalized, racially differentiated insane asylums between 1830 and 1875."
Nielsen wrote several books about Helen Keller and is the author of "A Disability History of the United States" and co-editor of the award winning "Oxford Handbook of Disability History." Her most recent book, "Money, Marriage, and Madness: The Life of Anna Ott," analyzes a mid-19th century female physician incarcerated for two decades at the Wisconsin State Hospital for the Insane.
This presentation about Dix is her first discussion of what she hopes will be her next book.
---
Tuesday, March 1st, 2022
Alona Matchenko, a law student at The University of Toledo, is leading a demonstration on campus Thursday, March 3, to stand with Ukraine.
The Toledo Helps Ukraine rally starts at 5:30 p.m. in the Thompson Student Union Auditorium. Attendees, who are encouraged to make signs, will then march to the Law Center.
"Many people I love are facing war and death outside their windows," Matchenko said. "They cannot buy food or water because store shelves are empty. It's unlikely families have supplies that can last many days or weeks."
Matchenko was a school teacher in Kyiv, Ukraine, before she moved to the U.S. about five years ago. She lives in Toledo with her husband and daughter and owns a business. However, her mother, stepfather and two young siblings remain in Ukraine.
After Russia invaded Ukraine last week, she started a Facebook group called Toledo Helps Ukraine to organize demonstrations, raise money and gather supplies for Ukrainian citizens. She has connected with several other Ukrainian families living in Toledo to lead the support effort.
"I can't just sit and watch the war unfold in my beloved home country," Matchenko said. "I'm receiving text messages from my family and people I grew up with and people I worked with saying that they are scared and need to be in a bomb shelter. We have no idea what is going to happen, and we need to do something to help them. We have an opportunity here in the United States to help those who are suffering and fighting for their land and their freedom in Ukraine. Please come to the rally and stand with Ukraine."
The group's objectives include organizing demonstrations to raise awareness; raising funds and supplies for Ukrainian citizens; lobbying the government for strong economic sanctions or an even stronger response; relaxing and amending invitation requirements to welcome refugees; and creating resolutions and petitions.
---
Monday, February 28th, 2022
Faculty at The University of Toledo College of Arts and Letters will host a community discussion about Russia's invasion of Ukraine and help answer questions about the crisis.
The public is invited to the free program titled "Perspectives on the Ukraine Crisis" 6 p.m. Wednesday, March 2, at Toledo Lucas County Public Library's Main Library, 325 Michigan St.
Speakers include Dr. Joel Voss, an associate professor of political science whose research focuses on the development of international human rights norms and international human rights law, and Dr. Barry Jackisch, director of the Roger Ray Institute for the Humanities and visiting associate professor of history.
"The invasion of Ukraine by Russia will likely change the geopolitical and security makeup of not only Europe but the entire world," said Voss, who has published widely on human rights across Europe. "Although not settled, the outcomes and implications of this invasion will impact not only European security but also the lives of millions of Ukrainians, potentially the domestic politics of neighboring states and the global economy. This invasion will likely be one of the most significant international acts of our lives."
"Russia's unprovoked attack on Ukraine evokes memories of the widespread death and destruction that plagued Europe in World War II," said Jackisch, who focuses his research and teaching on Central and Eastern Europe with a particular interest in the relationship between war and genocide in the 20th century. "As we witness the Ukraine crisis unfold before our very eyes, we must explore how this terrible invasion came to be and what it means for international relations and world peace."
The forum will focus on the latest events, disinformation being deployed and the stakes for the global economy and the international commitment to rule of law.
---
Tuesday, February 22nd, 2022
Eternal damnation – the state of being eternally punished in hell – is a widespread belief in Christianity that is currently being questioned by some Christian theologians from all denominations, from Evangelicals to Roman Catholics.
Dr. Peter Feldmeier, the Murray/Bacik Professor of Catholic Studies at the University, will discuss this topic Thursday, Feb. 24, at The University of Toledo's Annual Murray/Bacik Lecture in Catholic Studies.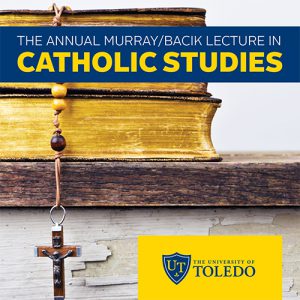 "One of the criticisms of a Christian belief in eternal damnation is that it makes God out to be vengeful or at least a God of retribution, rather than a God whose justice is restorative," Feldmeier said. "Guests will learn that there have been alternative beliefs and that the seemingly incontrovertible Biblical data is really less clear than has been thought."
Presented by the UToledo Center for Religious Understanding, his virtual lecture, "Hell Be Damned: Need I Believe in Hell to be a Good Christian?" begins at 7 p.m. via Zoom. Registration is required.
"I hope guests will use the forum to reconsider what Christianity means regarding the afterlife," Feldmeier said, "and whether it could be legitimate not to believe in eternal damnation."
---
Tuesday, February 22nd, 2022
The salinity of freshwater ecosystems caused by road de-icing salts, agriculture fertilizers, mining operations and climate change is increasing worldwide and current water quality guidelines don't do enough to address the issue, an international study led by The University of Toledo and Queen's University in Kingston has found.
The research, conducted in collaboration with dozens of scientists across North America and Europe, shows significant damage is being done to freshwater lakes by salt concentrations that are below ranges government regulators have deemed safe and protective of freshwater organisms.
Using an experimental network of 16 sites in four countries, the research published in the Proceedings of the National Academy of Sciences indicates freshwater salinization triggers a massive loss of zooplankton and an increase in algae — even at the lowest chloride thresholds established in Canada and the U.S. and throughout Europe.
Zooplankton are a critical food resource for many young fish, and changes caused by rising salinity could alter nutrient cycling, water quality and clarity, and instigate growth and population declines in economically important fish species.
Researchers say the results indicate a major threat to the biodiversity and functioning of freshwater ecosystems and the urgency for governments to reassess current threshold concentrations to protect lakes from salinization sparked by sodium chloride, one of the most common salt types leading to the salinization of freshwater lakes.
"Salt pollution occurring from human activities such as the use of road de-icing salts is increasing the salinity of freshwater ecosystems to the point that the guidelines designed to protect fresh waters aren't doing their job," said Dr. Bill Hintz, assistant professor of ecology at The University of Toledo, author of the paper and co-leader of the project. "Our study shows the ecological costs of salinization and illustrates the immediate need to reassess and reduce existing chloride thresholds and to set sound guidelines in countries where they do not exist to protect lakes from salt pollution."
The lowest threshold for chloride concentration in the U.S. established by the Environmental Protection Agency is 230 milligrams of chloride per liter. In Canada, it's 120 milligrams of chloride per liter. Throughout Europe, thresholds are generally higher.
It can take less than a teaspoon to pollute five gallons of water to the point that is harmful for many aquatic organisms.
In other countries such as Germany, chloride concentrations of between 50 and 200 milligrams per liter are classified as "slightly polluted by salts," and concentrations between 200 and 400 milligrams per liter are classified as "moderately polluted by salts." The drinking water guideline is 250 milligrams per liter across much of Europe.
But as the study shows, negative impacts occur well below those limits. At nearly three quarters of the study sites, chloride concentration thresholds that caused a more than 50% reduction in zooplankton were at or below the governments' established chloride thresholds.
The loss of zooplankton triggered a cascading effect causing an increase in phytoplankton biomass, or microscopic freshwater algae, at almost half of the study sites.
"More algae in the water could lead to a reduction in water clarity, which could affect organisms living on the bottom of lakes as well," said Dr. Shelley Arnott, professor of aquatic ecology at Queen's University and co-leader of the project and paper. "The loss of zooplankton leading to more algae has the potential to alter lake ecosystems in ways that might change the services lakes provide, namely recreational opportunities, drinking water quality and fisheries."
The scientists chose to study zooplankton communities from natural habitats instead of short-duration, single-species laboratory studies because such an approach encompasses a greater diversity of species and naturally occurring predator-prey and competitive interactions over a six-to-seven-week timespan within the zooplankton community.
The study was designed to better understand how the chloride thresholds would hold up in a more natural ecological setting.
They focused on determining if current chloride-based water-quality guidelines protect lake organisms in regions with different geology, water chemistry, land-use and species pools.
"Many salt-contaminated lakes with chloride concentrations near or above thresholds established throughout North America and Europe might have already experienced food web shifts," Hintz said. "This applies to lakes across the globe, not only among the study sites.
"And the variability in our experimental results demonstrate how new thresholds should integrate the susceptibility of ecological communities at the local and regional scale. While the government guidelines may protect freshwater organisms in some regions, that's not the case for many regions in the U.S., Canada and Europe."
Solutions also include finding ways to strike a careful balance between human use of salt responsible for freshwater salinization with ecological impacts, such as reducing the amount of road salt used to melt winter snow and ice to keep people safe and traffic moving. A previous study led by Hintz suggests best management practices.
Scientists across the globe contributed to the new project, from the University of California Irvine, University of Barcelona, Ohio Wesleyan University, Wilfrid Laurier University, Ryerson University, Rensselaer Polytechnic Institute, the Ontario Ministry of Environment, Purdue University, University of California San Diego, Dartmouth College, University of Évora, University of Vic – Central University of Catalonia, University of Helsinki, Ontario Tech University, McGill University, Linnaeus University, Uppsala University, Swedish University of Agricultural Sciences, Karlstads University, Montclair State University, Wayne State University, Carl-von-Ossietzky University Oldenburg, Lund University and Université du Québec à Montréal.
Additional papers led by other authors from the 16-site study as part of the Global Salt Initiative led by Arnott and Hintz include:
---
Monday, February 21st, 2022
Returning for the fifth year, The University of Toledo College of Engineering's award-winning Introduce a Girl to Engineering Day will welcome 750 seventh and eighth grade girls to campus.
Traditionally a one-day event during National Engineers Week, this year organizers switched it to three days to better manage the growth in 2022 and inspire the next generation of women in engineering.
Media are invited for a photo op between 10:30 a.m. and noon on Thursday, Feb. 24, Wednesday, March 9, and Tuesday, March 22, on the first floor hallway of Nitschke Hall. The event is closed to the public.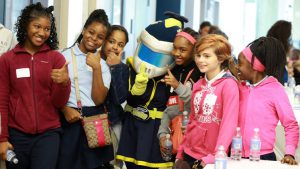 Girls will work with women engineers from local companies and engineering students on a variety of hands-on activities to better understand water treatment, transportation network designs, basic coding and programming, structural design principles, mechanics of propulsion, genetic engineering and cyber security.
UToledo's Introduce a Girl to Engineering Day has twice won the National Women in Engineering Action Committee's Girls Day Event of the Year award.
Since the program began, more than 2,500 girls from 32 school districts across northern Ohio have participated in the event at UToledo along with more than 30 companies, 10 student organizations and individuals from multiple professional leadership groups throughout the region.
Studies have found that girls tend to lose confidence in math and science and lose interest in science, technology, engineering and math (STEM) in early adolescence, so the event targets girls in middle school and connects them with role models.
"By creating programs that show individuals that they are not alone in their interest in science and technology, while also giving them examples of individuals who have succeeded in their own careers in the industry, we believe we can help reinforce that interest in the STEM fields during a stage in their lives that studies have shown it to wane," said Bryan Bosch, manager of diversity, inclusion and community engagement initiatives in the UToledo College of Engineering.
"Our goal is to create an environment where we can build interest in the field for any young person, while developing programs that can nurture and grow that interest into a career for anyone."
---
Thursday, February 17th, 2022
As companies that drill for oil and natural gas using hydraulic fracturing consider recycling and reusing wastewater that surfaces from wells during the fracking process, chemists at The University of Toledo discovered that the new and unexplored waste contains many environmental contaminants including organic chemicals and metallic elements.
Research scientists at UToledo's Dr. Nina McClelland Laboratory for Water Chemistry and Environmental Analysis in collaboration with the University of Texas Arlington achieved a comprehensive characterization of the chemical composition of produced water samples extracted in Texas, indicating the presence of toxic and carcinogenic contaminants in untreated samples, which can pose a threat to wildlife and human health.
Unraveling the complex composition of produced water by specialized extraction methodologies, the results published in Environmental Science and Technology provide critical information that can help regulatory agencies fine-tune proposed guidelines related to the safe treatment and disposal of fracking wastewater to protect drinking water sources.
"The discovery of these chemicals in produced water suggests that greater monitoring and remediation efforts are needed since many of them are listed to be dangerous for human health by the World Health Organization," said Dr. Emanuela Gionfriddo, assistant professor of analytical chemistry in the UToledo Department of Chemistry and Biochemistry, and the School of Green Chemistry and Engineering. "Our comprehensive characterization sheds insight into the processes taking place during hydraulic fracturing and the nature of the geologic formation of each well site."
Drilling operations are often performed by injecting treated water into the subsurface that contains various publicly undisclosed additives to assist in the drilling process. The injected water mixes with groundwater and then resurfaces as waste byproduct containing contaminants both from the drilling site and the additives used.
The chemists used an approach developed by Gionfriddo's research team in 2020 called thin-film, solid-phase microextraction to extract organic solubles from eight produced water samples from the Permian Basin and Eagle Ford formation in Texas.
Analysis found a total of 266 different dissolved organic compounds, including a pesticide called atrazine; 1,4-dioxane, an organic compound that is irritating to the eyes and respiratory tract; pyridine, a chemical that may damage the liver; and polycyclic aromatic hydrocarbons (PAHs), which have been linked to skin, lung, bladder, liver and stomach cancers.
Using a new polymer developed in 2021 at UToledo, the team also confirmed the presence of 29 elements, including rare earth elements, selenium and hazardous metals such as chromium, cadmium, lead and uranium.
The researchers also suggest the technology used for their comprehensive analysis of produced water is essential for proper reuse or disposal by oil and gas producers.
"We found a way to use more accessible instrumentation in the analysis of such complex samples compared to more expensive workflows involving high-resolution mass spectrometry," said Dr. Jon Kirchhoff, Distinguished University Professor and chair of the UToledo Department of Chemistry and Biochemistry.
---