Author Archive
Thursday, October 21st, 2021
An engineering professor at The University of Toledo who was the first to make 3D objects with smart materials that can change form while retaining similar atomic structure, then snap back to their original shape when activated by heat is getting millions in federal funding to apply his expertise toward next-generation medical devices, airplanes and drones.
Dr. Mohammad Elahinia, Distinguished University Professor, director of the Institute for Applied Engineering Research and chair of the UToledo Department of Mechanical, Industrial and Manufacturing Engineering, has received $2.5 million to collaborate with the U.S. Department of Energy's Oak Ridge National Laboratory on a U.S. Department of Defense project to develop high-temperature shape memory alloys for 3D printing of advanced defense and aerospace functional components that could lead to smaller, lighter aircraft.
Shape memory alloys are critical for actuators used in medicine, defense, aerospace and automotive applications. Actuators are the components of a machine that control motion, like the mechanisms that trigger anti-lock brakes, open a valve or help a prosthetic limb move.
3D printing, in which you build a 3D shape by adding layer upon layer of a material, is officially known as additive manufacturing.
"We started research on additive manufacturing of shape memory alloys 10 years ago," Elahinia said. "Since that time, both additive manufacturing technology and processing of shape memory alloys advanced. However, several key technical challenges remain in this field, including new shape memory alloy development designed for additive manufacturing. This funding gives us a unique opportunity to solve these existing challenges."
Traditional shape memory alloy actuation systems are based on simple geometries. The objective of this project is to develop the materials and manufacturing processes to rapidly manufacture complex shape memory alloy geometries.
"Since the dawn of flight, Ohio has been a leader in testing the boundaries of what is possible," said Congresswoman Marcy Kaptur. "This federal funding for The University of Toledo's cutting-edge technological advancements will propel us even further, and we congratulate Dr. Elahinia and the entire team for their work to secure this award."
UToledo's breakthrough several years ago with high-temperature shape memory alloys enables faster and more powerful actuation, opening the door for possibilities such as replacing the heavy, noisy hydraulic systems in the wings of fighter jets, drones and commercial airplanes with lighter, less costly actuators.
"This grant is providing critical momentum to support the development of the additive manufacturing technology ecosystem that we are building at UToledo, which enables us to more effectively engage in translational research programs to serve defense, aerospace and automotive industries and their research-and-development needs," said Dr. Behrang Poorganji, a research professor and the advanced manufacturing director of the Institute of Applied Engineering Research, who also is leading the project.
"I'm excited about the partnership with The University of Toledo that is focused on additive manufacturing of advanced shape memory alloys," said Dr. Lonnie Love, a corporate fellow and section head for precision manufacturing and machining at Oak Ridge National Laboratory. "Oak Ridge National Laboratory's leadership in advanced manufacturing at the Manufacturing Demonstration Facility coupled with The University of Toledo's expertise in shape memory alloys will help advance the science in smart actuators."
---
Monday, October 18th, 2021
The University of Toledo is continuing its Dialogues on Diversity series with a conversation about intimate partner violence in recognition of Domestic Violence Awareness Month.
The virtual event, which is the first of the academic year and 16th in the series, is titled "Intersectionality in Intimate Partner Violence" and will take place 6 p.m. Thursday, Oct. 21, on Webex.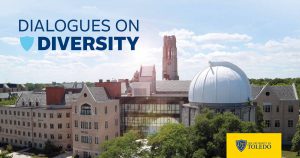 The discussion will be moderated by Dr. Angela Fitzpatrick, director of the Catharine S. Eberly Center for Women, focusing on how society does not treat all victims of abuse equally — from how social biases influence perceptions of survivors to how systemic inequities create barriers for care and assistance.
"According to the National Coalition Against Domestic Violence, one in three women and one in four men have experienced physical violence in their intimate relationships," Fitzpatrick said. "Using an intersectional lens allows us to take a closer look at how race, class, gender and sexuality shape a person's experience with intimate partner violence so that we can be better equipped to prevent this violence and support survivors."
Panelists include:
Vicky Kulicke, director of Title IX and Compliance and Title IX coordinator at UToledo;
Jamie Wlosowicz, assistant director for center operations at the UToledo Center for Student Advocacy and Wellness;
Rachael Gardner, director of domestic violence and sexual assault victim services at YWCA Northwest Ohio;
Deidra Lashley, executive director of Bethany House; and
Carolyn Wilson, training and technical assistance coordinator for BRAVO.
The UToledo Office of Diversity and Inclusion organized the event.
UToledo launched the Dialogues on Diversity series in 2020 after George Floyd was killed in Minneapolis by a police officer, sparking protests nationwide against systemic racism.
The University of Toledo is a community that celebrates and respects people of all backgrounds and experiences. As an institution, we remain committed to building an inclusive environment free of racism, sexism, bigotry and other negative influences.
---
Monday, October 4th, 2021
Human rights attorney Noura Erakat will present The University of Toledo's 21st Annual Maryse and Ramzy Mikhail Memorial Lecture.
The free, public lecture titled "We Broke a Dam: The Palestinian Intifada of Unity" is 3 p.m. Sunday, Oct. 10, in the Law Center McQuade Auditorium.
"This is fundamentally about a people's struggle for freedom and an aspiration that challenges the notion that Palestinian human rights is exceptional and contentious," Erakat said. "We are witnessing a monumental shift, one that is being ushered by Palestinian resistance, which has set us up for new horizons, at the precipice of new possibilities."
Erakat, an associate professor of Africana studies at Rutgers University, is the author of "Justice for Some: Law and the Question of Palestine" and non-resident fellow of the Religious Literacy Project at Harvard Divinity School.
Erakat's book received the Palestine Book Award and the Bronze Medal for the Independent Publishers Book Award in Current Events/Foreign Affairs.
"Each year, the Maryse and Ramzy Mikhail Memorial lecture brings to campus an important speaker on Arab culture, and Erakat will address one of the most seminal global issues of our time: the conflict between Israel and Palestine," said Dr. Melissa Gregory, associate dean for undergraduate education and curriculum in the College of Arts and Letters and professor of English. "The intense violence that occurred in occupied Palestinian territory this past May has ongoing and significant geopolitical implications well beyond the contested borders of the West Bank."
Erakat is co-founding editor of Jadaliyya, an e-magazine produced by the Arab Studies Institute, and editorial board member of the Journal of Palestine Studies.
She served as legal counsel for the Domestic Policy Subcommittee of the Oversight and Government Reform Committee in the U.S. House of Representatives from 2007 to 2009.
Prior to her work on Capitol Hill, Erakat served as the national grassroots organizer and legal advocate at the U.S. Campaign to End the Israeli Occupation. Noura also produced video documentaries, including "Gaza In Context" and "Black Palestinian Solidarity."
The free, public lecture has been a continuous event at The University of Toledo since 2001 and is sponsored by the College of Arts and Letters and the Mikhail Endowment Fund, which was originally established through a donation from the Mikhail family to honor the work and contributions of Maryse Mikhail and her involvement in educational, philanthropic and interfaith organizations.
The fund supports an annual lecture dealing with Arab culture, history, politics, economics and other aspects of life in the Middle East, including issues of peace and justice.
More information is available on the event website.
Those who wish to make a tax-deductible contribution to the fund can go to the UToledo Foundation website.
---
Friday, October 1st, 2021
The University of Toledo will celebrate the investiture of Dr. Gregory Postel as its 18th president 10 a.m. Friday, Oct. 8, in Nitschke Auditorium.
The traditional academic ceremony commemorating the beginning of a new president's tenure is part of UToledo's 2021 Homecoming activities leading up to the parade and Rocket football game against Northern Illinois University.
Postel joined UToledo in an interim role in July 2020, and the UToledo Board of Trustees appointed him UToledo's 18th president in March.
During his first year at UToledo, Postel led the safe reopening of campus during the COVID-19 pandemic and the stabilization of finances at The University of Toledo Medical Center.
"President Postel has already proven that he is the right leader, at the right time for our University," said Alfred Baker, chair of the UToledo Board of Trustees. "We are proud to formally install him as UToledo's 18th president. An investiture is a collegiate tradition, but also a community event because of UToledo's engagement across the region."
"I am proud to be part of an institution with such a rich, impactful history," Postel said. "Thank you to the community for the incredible welcome during an unprecedented year. I'm looking forward to all of the exciting Homecoming events and working together to chart our course for the University's future."
The event is free and open to all UToledo students, faculty, staff, alumni and the general public. It will feature a procession of UToledo faculty as well as delegates from other institutions of higher education in Ohio in full academic regalia.
The ceremony will be streamed live for those unable to attend in person at video.utoledo.edu.
Dr. Edward Halperin, chancellor and chief executive officer of New York Medical College and provost for biomedical affairs of the Touro College and University System, will give the investiture address. Halperin and Postel worked together at the University of Louisville (UofL).
Postel is the former interim president and executive vice president for health affairs at UofL. Prior to joining UToledo, he served as the senior client partner representing healthcare services and higher education at Korn Ferry, a global organizational consulting firm.
In addition to an accomplished career as an academic interventional neuroradiologist, Postel served 18 years as chair of the Department of Radiology at the UofL School of Medicine and held the positions of vice dean for clinical affairs and chair of the board at University Medical Center in Louisville. He was the founding board chair and later CEO of University of Louisville Physicians. Postel served as interim president of UofL in 2017-18 and also spent four years as its executive vice president for health affairs.
A graduate of the College of Wooster and Case Western Reserve University School of Medicine, Postel completed a residency in radiology at the Cleveland Clinic Foundation and a fellowship in neuroradiology at the Mayo Clinic Foundation.
---
Wednesday, September 22nd, 2021
In the middle of Lake Erie's harmful algal bloom season, The University of Toledo Water Task Force will update local, state and federal officials on its water quality and human health research at a special meeting from 10 to 11:30 a.m. Thursday, Sept. 30, in Nitschke Hall Room 1027.
UToledo's Water Task Force, which was formed in response to the city of Toledo's "Do Not Drink" water advisory in 2014, is made up of more than 30 faculty members from across the University working to protect water quality and the health of Lake Erie.
"Clean water is a critical resource and in need of our dedicated focus as we learn how climate change impacts harmful algal bloom formation and toxicity," said Dr. Frank Calzonetti, vice president for research. "UToledo scientists, engineers, medical researchers, public health professors and legal experts collaborate closely to advance ways to improve water quality and inform stakeholders in our region about our latest research findings."
Faculty from the UToledo Lake Erie Center have been monitoring algae in Lake Erie for nearly 20 years, and researchers are investigating every aspect of harmful algal blooms, from nutrient loading into waterways, conditions in the lake that support algal blooms, ways to treat water at municipal treatment plants, the health impacts from both recreational and ingestion exposure, and policies and laws to protect the lakes.
Water Task Force research is supported by federal agencies and Ohio's Harmful Algal Bloom Research Initiative. Projects involve collaboration with national laboratories and other universities, using the world's fastest supercomputers and most sophisticated scientific instrumentation.
---
Monday, September 13th, 2021
More than 50 people will become U.S. citizens during a naturalization ceremony at 11 a.m. Friday, Sept. 17, in the Law Center McQuade Auditorium on The University of Toledo's Main Campus.
Magistrate Judge Darrell A. Clay of the U.S. District Court for the Northern District of Ohio will preside over the ceremony, which will celebrate Constitution Day at the University.
Dr. Sammy Spann, interim senior associate vice president of student affairs and dean of students, and D. Benjamin Barros, dean of the UToledo College of Law, will give welcome remarks at the event, which will feature guest speaker alumnus Yixing Chen, who was naturalized at a UToledo ceremony two years ago.
Chen moved from China to the U.S. 28 years ago and graduated from UToledo with a master's degree in public health in 2012. He later worked at UToledo's Jacobs Interprofessional Immersive Simulation Center.
In a 2019 op-ed for UToledo News, Chen wrote, "During my 25-year journey to citizenship, I never lost the dream of being able to hold my hand to my heart proudly when my classmates recited the Pledge of Allegiance; or when my friends sang 'The Star-Spangled Banner' at the Toledo football games; or when I hang the stars and stripes in front of my home in Toledo; or when I tell my beautiful daughter, Lilian, that her 'baba' (Mandarin for daddy) is also an American like her."
Constitution Day is annually observed in America to commemorate the formation and signing of the Constitution of the United States on Sept. 17, 1787.
The free, public event is sponsored by the Office of Government Relations.
---
Monday, September 13th, 2021
The University of Toledo will honor Cindy McCain at its 18th Annual International Human Trafficking and Social Justice Conference for her work in the fight against human trafficking.
McCain is a member of the Human Trafficking Council at the McCain Institute for International Leadership at Arizona State University and serves as chairwoman of the Hensley Beverage Company. She is a lifelong philanthropist and is the widow of U.S. Senator John McCain.
President Joe Biden nominated McCain to serve as U.S. ambassador to the United Nations Agencies for Food and Agriculture in June.
"Cindy McCain is a powerhouse and has been a force for good against human trafficking in Arizona, the U.S. and around the world," said Dr. Celia Williamson, Distinguished University Professor and director of the UToledo Human Trafficking and Social Justice Institute. "We are thankful to have her involved in the fight as an outspoken advocate against human trafficking."
McCain is scheduled to accept the Champion for Human Rights and Social Justice Award 1 p.m. Wednesday, Sept. 22, as well as deliver opening remarks to kick off the three-day conference 9:30 a.m. Wednesday, Sept. 22.
The Sept. 22-24 conference featuring survivors, researchers and advocates around the world is virtual for the second year in a row and is the largest conference to date with more than 180 expert speakers and 100 breakout sessions. The deadline to register is Tuesday, Sept. 14.
"We are continuing to expand our reach since we are not confined by physical space and travel limitations," said Williamson.
The event has welcomed people from 50 states and 40 countries since it began in 2004 to advance collaborative research, advocacy and program development.
Several presentations for the 2021 conference cover the topic of COVID-19's impact on trafficking and survivors, as well as indigenous victims of trafficking and Missing and Murdered Indigenous People.
Williamson, a world-renown social worker and researcher who works directly with victims and has revolutionized global anti-trafficking efforts, will present 11:45 a.m. Thursday, Sept. 23, about effective case management with human trafficking survivors, with a focus on how to be successful working with survivors from beginning to end.
"This conference is a great opportunity to learn from and network with scholars and experts from all over the world and learn about human trafficking and human rights issues," Williamson said.
For a full schedule of presentations or to register, visit the conference website.
---
Friday, September 3rd, 2021
UPDATE: The location of the event has moved to the Toledo Museum of Art's Peristyle Theater. Attendees need to provide proof of vaccination or a negative PCR COVID-19 test administered within three days of the event.
Singer, songwriter, fiddler and banjo picker Rhiannon Giddens is coming to Toledo next month to give a free, public lecture as part of The University of Toledo's Edward Shapiro Distinguished Lecture Series.
The Grammy winner and MacArthur "Genius" grant recipient will speak about U.S. music traditions and the roots of social justice 7 p.m. Monday, Sept. 13, at the Toledo Museum of Art's Peristyle Theater.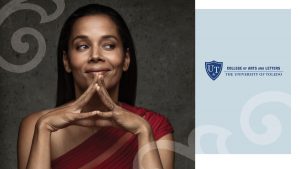 Free admission tickets are required and available at the event website. Following CDC guidance, face masks are required. Doors open at 6 p.m. with first-come, first-served seating.
At the request of Giddens, attendees need to provide, at the door, proof of vaccination or a negative PCR COVID-19 test administered within three days of the event.
UToledo is partnering with the Toledo Symphony to welcome Giddens to town.
Giddens' lecture follows her performance with the Toledo Symphony Orchestra 7 p.m. Sunday, Sept. 12, at the Peristyle Theater featuring a program of jazz, blues, country, Gospel and Celtic music from her critically acclaimed albums. The performance will follow the same COVID-19 vaccination or negative test requirements.
"The Shapiro Lecture series is one of the premier intellectual events offered by the College of Arts and Letters at The University of Toledo," said Charlene Gilbert, dean of the UToledo College of Arts and Letters. "Each year we feature an individual who has achieved distinction in their profession, and this year we are honored to present musician, musicologist and historian Rhiannon Giddens.
"Ms. Giddens has made a name for herself both as a performer and an expert in music history, sharing the little-known but highly influential people and events that have shaped American music and society. Her work has earned her well-deserved awards, and we are thrilled to have her as our featured guest this year."
The annual lecture is made possible by the Shapiro endowment left by Dr. Edward Shapiro, professor emeritus of economics who retired in 1989, to provide opportunities for the University to bring world-renowned speakers to Toledo.
Past Shapiro Distinguished Lecture speakers include Elie Wiesel, Toni Morrison, Audra McDonald and Robert F. Kennedy Jr.
Tickets for Giddens' performance with the Toledo Symphony can be purchased by calling the box office at 419.246.8000 or visiting toledosymphony.com.
"Rhiannon Giddens is one of those artists who will go down in history for more than just their extraordinary talent," said Zak Vassar, president and CEO of the Toledo Alliance for the Performing Arts. "She is an all-around inspiring person, and her music reflects that. She fuses her operatic training with powerful, musical storytelling, giving a voice to some of the most important but forgotten people and events in history. We are proud to kick off our '21-22 season by bringing Rhiannon Giddens to our community. Her appearance is not to be missed."
Giddens' lifelong mission is to lift up people whose contributions to American musical history have previously been erased, and to work toward a more accurate understanding of the country's musical origins.
Giddens has performed for the Obamas at the White House, served as a Carnegie Hall "Perspectives" curator and received an inaugural Legacy of Americana Award from Nashville's National Museum of African American Music in partnership with the Americana Music Association.
Giddens began her musical studies at Oberlin Conservatory's Opera Theater. In 2005, Giddens attended the Black Banjo Gathering in Boone, North Carolina, where she met the future members of her band, the Carolina Chocolate Drops, the first African American string band to perform at the Grand Ole Opry. In 2011, the band won a Grammy for Best Traditional Folk Album for "Genuine Negro Jig."
In 2015, Giddens launched her solo career with the critically acclaimed album "Tomorrow Is My Turn," honoring the works of African American artists like Florence Quivar and Nina Simone.
Giddens made her acting debut with a recurring role on the hit television show "Nashville," playing the character of Hanna Lee "Hallie" Jordan, a young social worker with "the voice of an angel."
In 2018, Giddens became the host of the Metropolitan Opera's podcast series "Aria Code," which dives into some of the most legendary arias, exploring key moments in opera and how they affect the listener through emotions.
Giddens released a new album this year titled "They're Calling Me Home," which was recorded in Ireland during the COVID-19 lockdown and speaks of the longing for the comfort of home as well as the metaphorical "call home" of death, a tragic reality for so many during the pandemic.
---
Monday, August 30th, 2021
During the first week of classes for the fall semester, The University of Toledo will commemorate the end of the Centennial Mall enhancement project at the President's Backyard Barbecue.
UToledo President Gregory Postel will speak at the ribbon-cutting ceremony 11 a.m. Tuesday, Aug. 31, at the center of Centennial Mall, which features all new sidewalks to improve both the student experience and create a greener, more eco-friendly campus.
"The improvements have helped restore Centennial Mall to its original beauty," said Jason Toth, senior associate vice president for administration.
The President's Backyard Barbecue is from 11 a.m. to 1:30 p.m. at Centennial Mall on Main Campus and at the patio outside of Four Seasons Bistro on Health Science Campus. All UToledo students, faculty and staff are invited to the event that includes free food, outdoor games and activities, and giveaways including Beats Studio Buds, Amazon Echo Dots, TVs and gift cards.
"This year's President's Backyard BBQ promises to be a blast. We're excited we get to show students, faculty and staff just how special and appreciated they are as we begin our semester," said Dr. Pamela Rogers, director of Upward Bound and Upward Bound Math Science and committee chair for the event.
Over the summer, construction crews replaced deteriorated sidewalks to improve safety and altered some concrete pathways to help students, faculty and staff navigate Main Campus.
The campus community also can enjoy new planting beds at Memorial Field House and additional seating and congregating space at Brunner Garden on the south side of University Hall.
The improvements also improve stormwater management and water drainage on campus.
---
Wednesday, August 25th, 2021
The University of Toledo is welcoming students back to campus for the 2021-22 academic year.
Students began moving into their on-campus residence halls this week and UToledo President Gregory Postel will roll up his sleeves at 11:30 a.m. Thursday, Aug. 26, to personally help students and their families unpack their vehicles and get their belongings into their Parks Tower rooms.
The following day Dr. Postel and other campus leaders will welcome new Rockets at the New Student Convocation ceremony from noon to 1 p.m. Friday, Aug. 27, in Savage Arena, followed by a barbecue. The event kicks off a series of Welcome Weeks events taking place during the first weeks of fall semester.
Classes begin at UToledo on Monday, Aug. 30.
Other Welcome Weeks events include:
Saturday, Aug. 28 — Campus Activities and Programming Carnival, 8 to 11 p.m., Lot 10 on Main Campus. The carnival will feature activities such as a mechanical bull, rock climbing wall and extreme air, as well as carnival treats such as funnel sticks, snow cones and cotton candy.
Sunday, Aug. 29 —  Student Involvement Fair, 11 a.m. to 3 p.m., Centennial Mall. UToledo student organizations, campus departments and local campus partners will be on hand to connect with students and share information about opportunities to get involved outside of the classroom.
Tuesday, Aug. 31 — President's Backyard BBQ, 11 a.m. to 3 p.m. at Centennial Mall on Main Campus, and from 11 a.m. to 1:30 p.m. at the patio outside Four Seasons Bistro on Health Science Campus. All UToledo students, faculty and staff are invited for free food, activities and games.
Monday, Sept. 13 — Sundae on a Monday, 3 to 4 p.m., Centennial Mall. Enjoy an ice cream sundae and meet the University's senior leaders, including Dr. Gregory Postel, president, and Dr. Karen Bjorkman, provost and executive vice president for academic affairs.
Saturday, Sept. 18 — President's Tailgate, 1:30 to 3:30 p.m. in a tent near University Parks Trail and Rocket Hall. Stop by for free food before the UToledo-Colorado State football game.
---