Posts Tagged 'College of Engineering'
Wednesday, October 9th, 2019
Lightweight materials are critical for advancing the energy efficiency and range of electric vehicles.
The University of Toledo and the U.S. Department of Energy's Oak Ridge National Laboratory (ORNL) in Tennessee signed a memorandum of understanding to team up for collaborative research into the advanced design and manufacturing of lightweight, strong, intelligent materials for the automotive industry.
The partnership will play a key role in developing new processes to produce alloys and metals, as well as enhance northwest Ohio's leadership in research, innovation, development and production in the automotive industry.
"We are proud to collaborate with Oak Ridge National Laboratory on this critical research to drive the next generation of automotive manufacturing," said Dr. Mike Toole, dean of the UToledo College of Engineering. "Our partnership teaming innovative mechanical engineers at UToledo with some of the country's preeminent scientists will focus on finding solutions to ensure the U.S. remains a global leader. The research will have spillover from the national level to the regional level."
The researchers plan to engage with the automotive industry in Ohio and Michigan as they combine ORNL's expertise and capabilities in manufacturing, carbon fiber and composites, machining, energy storage and metrology with UToledo's expertise in manufacturing system modeling, metals engineering and assembly systems.
"This partnership will develop technological solutions to enhance the competitiveness of the U.S. automotive manufacturing sector," said Moe Khaleel, associate laboratory director for Energy and Environmental Sciences at ORNL. "ORNL is looking forward to providing access to its research facilities, along with expertise and guidance in advanced materials and manufacturing to the University in this valuable partnership."
The collaboration will focus on monitoring and control systems for metal forming processes; optimizing joining techniques for high-strength materials such as steel, aluminum and composites; and exploring the combination of new materials such as shape-memory alloys with additive manufacturing to create strong, resilient, active structures for vehicle applications.
ORNL provides researchers with sophisticated equipment and unique facilities to solve some of the nation's most compelling challenges. As the largest DOE open science laboratory, ORNL's mission is to deliver scientific discoveries and technical breakthroughs that will accelerate the development and deployment of solutions in clean energy and global security while creating economic opportunities for the nation.
The University of Toledo also is a member of another organization that closely interacts with the U.S. Department of Energy, Oak Ridge Associated Universities (ORAU), which includes more than 100 Ph.D.-granting institutions as its members. ORAU works with the U.S. Department of Energy and other agencies in providing scientific and technical solutions to a wide range of topics as well as supporting science education and workforce development.
Later this week, UToledo will host for the first time National Lab Day to connect students and researchers with scientists from DOE national laboratories across the country and explore opportunities for additional partnerships.
The event to enhance northwest Ohio's collaborations to make discoveries, find innovative solutions and create groundbreaking technology is Thursday and Friday, Oct. 10 and 11 on the University's Main Campus.
Media are invited to the kick-off ceremony at 8:45 a.m. Thursday, Oct. 10 in Nitschke Auditorium featuring UToledo President Sharon L. Gaber, Congresswoman Marcy Kaptur and Chris Fall, director of DOE's Office of Science.
---
Monday, December 17th, 2018
A synthetic bone graft substitute developed at The University of Toledo has been recognized by R&D Magazine as one of the year's most exceptional innovations in science and technology.
Created by Dr. Sarit Bhaduri, Distinguished University Professor of Mechanical, Industrial and Manufacturing Engineering at UT, NovoGro is a moldable bone substitute putty used to fill gaps in bone and encourage new bone growth. It is used primarily in complicated fractures that would not otherwise heal properly on their own.
"Our composition is innovative and quite different from any of our well-known competitors," Bhaduri said. "The response of bone growth is much faster than other products that are currently available. Our product also incorporates innovative processing techniques that simplify production, which further sets it apart."
R&D Magazine has annually selected the top 100 revolutionary technologies of the past year since 1963. Among this year's other winners were Dow Chemical, Texas Instruments, the MIT Lincoln Laboratory, Oak Ridge National Laboratory and NASA's Glenn Research Center.
"The R&D 100 Award is one of the most prestigious recognitions in applied science," UT Vice President for Research Frank Calzonetti said. "This award speaks to the ability of Bhaduri and his University of Toledo colleagues in translating highest quality research into marketable products to improve the health outcomes of many."
Bhaduri teamed up with Dr. Vijay K. Goel, UT Distinguished University Professor and Endowed Chair and McMaster-Gardner Professor of Orthopaedic Bioengineering, and Dr. Anand Agarwal, UT research professor of bioengineering, to license the technology from the University and co-found the biomedical firm OsteoNovus Inc. Agarwal also serves as the president and chief executive officer of OsteoNovus, where the product has undergone further development.
"In this category of orthobiologics — how to grow bone — there are many players, but the problem is the big guys aren't doing much innovation," Bhaduri said. "We wanted to disrupt that."
The U.S. Food and Drug Administration has cleared NovoGro for use in two different indications — spine and the extremities.
Currently, NovoGro has a half dozen clinical users across the country and is trying to grow the client base significantly in 2019.
The company's corporate offices and manufacturing facility is housed within The University of Toledo LaunchPad Incubation Program.
---
Tuesday, March 6th, 2018
An electrical engineer at The University of Toledo, who nearly died as a girl in Africa because of a hospital's lack of power, has developed a new energy storage solution to make battery packs in electric vehicles, satellites, planes and grid stations last longer and cost less.
The new technology called a bilevel equalizer is the first hybrid that combines the high performance of an active equalizer with the low cost of the passive equalizer.
"It's a game changer because we solved the weak cell issue in lithium ion battery storage for packs with hundreds of cells," said Dr. Ngalula Mubenga, assistant professor of electrical engineering technology at UT. "Whenever we are talking about batteries, we are talking about cells connected in a series. Over time, the battery is not balanced and limited by the weakest cell in the battery."
Before the bilevel equalizer, battery makers and automotive manufacturers balanced the cell voltages in a large battery pack using either a passive circuit, which loses more energy, or an active circuit, which is 10 times more expensive.
"In spite of their significant losses, passive equalizers are used in most applications because they are relatively simple and low cost," Mubenga said.
In Mubenga's new technology, the cells are grouped into sections. Each cell within the section is balanced by a passive equalizer, while the entire section is balanced by an active equalizer.
"If there are 120 cells in a battery, divide the cells into 10 groups of 12," Mubenga said. "Then you only need nine active equalizer units and 120 passive equalizer units using the bilevel equalizer. With current active equalizers, manufacturers would have to use 120 active equalizers. For manufacturers that can't afford to use only active equalizers, the bilevel equalizer is the solution to the problem."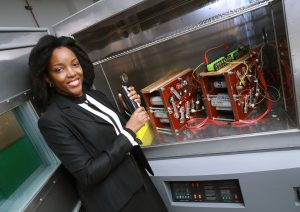 Experiments have shown that the bilevel equalizer increases the discharge capacity of lithium ion batteries by about 30 percent, and the pack lasts longer because the cells are balanced.
"Instead of an electric vehicle's battery lasting only four years, it would last much longer," Mubenga said.
Mubenga worked on the project with Dr. Tom Stuart, professor emeritus in the UT Department of Electrical Engineering and Computer Science, who had the idea for the bilevel equalizer.
Their team is licensing the hybrid equalizer and retrofit kit to manufacturers. The research was recently published in Batteries, an international journal. Project funding was provided by the Ohio I-Corps program and Ohio Third Frontier program.
Mubenga plans to present their new, patented technology at 2 p.m. Wednesday, March 7 at the Advanced Design and Manufacturing Expo at the Huntington Convention Center of Cleveland in a session titled "Lowering the Cost of Energy Storage for E/HV and Grid Applications Using a Bilevel Equalizer for Large Li-Ion Batteries."
Mubenga understands the life-changing power of electricity. When she was 17 years old in her native country of the Democratic Republic of Congo in Africa, she waited three days for surgery after her appendix burst because there was no power at the hospital.
"I was living in a small town called Kikwit, far away from the big and beautiful capital city of Kinshasa," Mubenga said. "I was very sick, doctors needed to do surgery, but they couldn't find any gas to turn on the power generator. For three days, my life depended on electricity. I was praying. I could not eat. And decided if I made it alive, I would work to find a solution so people wouldn't die because of lack of electricity."
The hospital found fuel to power the generator, doctors did the surgery and Mubenga survived.
She started studying renewable energy at the UT College of Engineering in 2000 and earned a bachelor's degree, master's degree and PhD in electrical engineering. After earning her professional engineer license in Ohio, she went on to found her company called the SMIN Power Group, which develops and installs solar power systems in communities throughout the Democratic Republic of Congo.
"My passion is deep," Mubenga said. "In places like that small town of Kikwit, if you have solar power, you can have electricity and save lives."
Another factor fueling Mubenga's research motivation is a connection between her native country and lithium ion batteries.
"Most of the minerals for today's electronics are mined in the Democratic Republic of the Congo," Mubenga said. "The Democratic Republic of the Congo is a leading producer of cobalt, copper, gold, diamond, tantalum and tin in the world. Indeed, the Democratic Republic of the Congo contains about 50 percent of the world's reserve of cobalt, a mineral used to make lithium ion batteries."
---
Tuesday, February 20th, 2018
More than 140 companies will attend the Spring 2018 Engineering Career Expo at The University of Toledo on Wednesday, Feb. 21.
The networking and hiring event will be from 12:30 to 4:30 p.m. on the first floor of Nitschke Hall and North Engineering.
Only UT College of Engineering students and alumni are eligible to attend this opportunity to connect with companies seeking the talent they need for success.
More than 700 engineering students and alumni are expected to attend.
Companies scheduled to participate include Cooper Tire & Rubber, Dana Inc., Marathon Petroleum, Matrix Technologies Inc., Owens Corning, Owens-Illinois Inc., PCC Airfoils LLC, Plastic Technologies Inc., R.W. Beckett Corp., Rudolph Libbe/GEM Inc., SSOE Group, The Lathrop Co., and ZF.
"The current job outlook for engineering students in The University of Toledo College of Engineering is certainly bright as evidenced by the record number registered to attend the college's spring career expo," said Dr. Vickie Kuntz, director of the Engineering Career Development Center that hosts the event. "Employers are seeking undergraduate students to participate in engineering co-op assignments, as well as their leadership development programs.  Employers are also seeking seniors and graduates for full-time employment."
The college hosts semi-annual career expos to give students the opportunity to network with potential employers.
"The University of Toledo College of Engineering's undergraduate mandatory paid co-op program is one of only eight mandatory engineering co-op programs in the country," Kuntz said. "Our students experience one full year of professional engineering experience before they graduate and they feel confident seeking full-time employment upon graduation. Co-op businesses are able to work with these students and are able to determine how the student fits within their organization. It's a win-win situation for our students and the companies who hire them."
---
Wednesday, February 14th, 2018
The University of Toledo will bring engineering to life for elementary and high school students in celebration of Engineers Week.
The theme of this year's events is "Inspiring Wonder."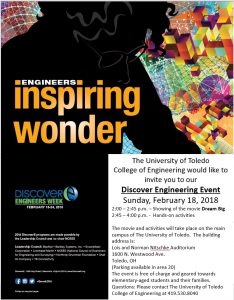 Discover Engineering is a free, public event geared toward elementary school students and their families from 2 to 4 p.m. Sunday, Feb. 18 in Nitschke Auditorium. It includes a showing of the movie "Dream Big," followed by hands-on activities organized by College of Engineering students.
The College of Engineering also will host its first Introduce a Girl to Engineering Day for students in 5th, 6th, 7th and 8th grades. Starting at 10 a.m. Thursday, Feb. 22, girls from the Toledo area will tour UT's engineering facilities and have lunch with College of Engineering students and professional engineers before spending the afternoon doing hands-on activities.
Area high school students will get the opportunity to be an Engineer for a Day at 9 a.m. on Tuesday, Feb. 20 when they tour UT's engineering facilities and have lunch with College of Engineering students and professional engineers before spending the afternoon shadowing a practicing engineering professional in the community.
"Participants will learn that engineering is not just about being good at math and science. It requires curiosity, creativity and teamwork, and it is also fun," said Dr. Lesley Berhan, associate professor in the UT Department of Mechanical, Industrial and Manufacturing Engineering and interim assistant dean of diversity, inclusion and community engagement. "About 20 percent of engineering degrees nationwide are awarded to women. We hope the students are inspired to see their future selves working in one of the many different fields of engineering to design, invent and create things to make our world better, safer, healthier and cleaner."
---
Thursday, February 1st, 2018
As vehicles equipped with self-driving technologies are poised to become the future of transportation, The University of Toledo College of Engineering and AAA Northwest Ohio are teaming up to host a series of free, public talks to educate consumers about how smart cars will impact the world.
The first seminar in the bi-monthly series to help drivers be informed, prepared and comfortable with the shift in mobility is from 3 to 5 p.m. Wednesday, Feb. 7 in UT's Nitschke Auditorium. General Motors will have an autonomous vehicle on site.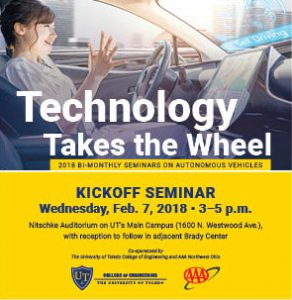 Speakers include Dave Hobbs, field service training instructor for Delphi Products and Service Solutions, and Greg Brannon, director of automotive engineering and industry relations for AAA. Both speakers will participate in a panel discussion featuring UT engineering researchers Dr. Eddie Chou, Dr. Ahmad Javaid and Dr. Jared Oluoch.
"The biggest impact of autonomous vehicles in the near future will be a significant reduction in the number of traffic crashes, therefore saving thousands of lives each year," said Chou, professor of civil engineering and director of the Transportation Systems Research Laboratory at UT. "It will fundamentally change transportation mobility and how people travel."
Immediately prior to the event, media is invited from 1:30 to 2:30 p.m. to experience riding in a self-driving car.
"Autonomous cars have the potential to reduce traffic congestion, provide infotainment services to road users, and reduce carbon emissions," said Oluoch, UT assistant professor of computer science and engineering technology. "While this is a promising technology, it also is a double-edged sword. Security concerns and job losses are emerging as some of the primary challenges of autonomous-vehicle technology. This seminar series is the first among many to highlight the technology behind autonomous cars and the promise it holds for the future."
Register for the free, public seminar online at utoledo.edu/engineering/webforms/technologytakesthewheelform.html.
The next event in the series will be Friday, April 13 and focus on the topic of autonomous vehicles and cybersecurity.
American drivers are beginning to embrace self-driving vehicles, with male and millennial drivers most accepting of the new automotive technology, according to a new study by AAA.
The annual survey reveals that 63 percent of U.S. drivers report feeling afraid to ride in a fully self-driving vehicle, a decrease from 78 percent in early 2017. Millennial and male drivers are the most trusting of autonomous technologies, with only half of those drivers reporting they would be afraid to ride in a self-driving car.
"Americans are starting to feel more comfortable with the idea of self-driving vehicles," Brannon said. "Compared to just a year ago, AAA found that 20 million more U.S. drivers would trust a self-driving vehicle to take them for a ride."
The new survey results come as state officials take steps to move the conversation on autonomous vehicles forward in Ohio. The Ohio House Transportation and Public Safety Committee began hearings on the development of the new technology last year.
---
Thursday, November 9th, 2017
A graduate of both The University of Toledo and its LaunchPad Incubation program got the opportunity to pitch his invention to celebrity investors on ABC's Emmy award-winning reality TV show "Shark Tank."
Tom Burden, who graduated in 2014 with a bachelor's degree in mechanical engineering technology, introduced his solution to mechanics frustrated by their tools sliding off aircraft while they work — the Grypmat. The flexible, non-slip tool mat is made of a unique polymer-silicone blend that helps grip tools and keep them in place at extreme angles of up to 70 degrees. 
"It was pretty nerve-wracking to pitch this idea that I created up with in my basement in front of billionaires," Burden said. "I'm standing there on set next to a jet getting the opportunity to tell them all about how my invention helps mechanics like me keep their tools in place while they work."
So what did the sharks think? You have to tune in at 9 p.m. Sunday, Nov. 12 to find out. The episode Burden participated in included guest shark Richard Branson, the founder of Virgin Group, in addition to investors Mark Cuban, Daymond John, Lori Greiner and Robert Herjavec.
Burden came to "Shark Tank" with experience successfully pitching his idea. He won the University's Pitch & Pour competition while a student at UT and is returning next week to serve as a judge for the sixth annual entrepreneurial business pitch competition. Five teams will pitch their ideas at the local startup pitch event sponsored by the UT LaunchPad Incubation program at 5:30 p.m. Thursday, Nov. 16, in the Nitschke Technology Commercialization Complex.
"We are incredibly proud of what Tom has accomplished with the Grypmat," said Jessica Sattler, director of economic engagement and business development programs at UT.  "Tom was one of our first clients here at LaunchPad and we knew he had potential as an entrepreneur from the start.  His work ethic, coachability and willingness to utilize and leverage all the resources at his disposal convinced us of his path to success early on."
An F-16 mechanic in the U.S. Air Force, Burden knew first-hand the frustration of not having his tools within reach. He was inspired by a nonslip mat for the car dashboard to come up with a similar solution geared toward mechanics.
The CAD training skills he learned in the UT classroom helped him design his product. The resources at the UT Launchpad Incubation helped him put the Grypmat in the market.
"The University helped me take this idea and turn it into a real product that is now available for sale not just to aircraft mechanics, but those who work on cars or boats or any number of projects where it is important to keep your tools organized," Burden said.
For more information about Grypmat, visit grypmat.com. To learn more about the UT Launchpad Incubation program, visit utoledo.edu/incubator.
---
Monday, September 11th, 2017
The U.S. Department of Energy awarded The University of Toledo a nearly $2.4 million grant to find a faster, cleaner process to produce fuel using algae without needing to add concentrated carbon dioxide.
Dr. Sridhar Viamajala, UT associate professor of chemical engineering, said this three-year project to help algal fuels replace fossil fuels is a continuation of his previous work in partnership with Montana State University, the University of North Carolina at Chapel Hill and Arizona State University.
"We are trying to speed up the growth of algae by providing a very high pH environment that allows algae to take up carbon dioxide gas from the atmosphere more efficiently and prevent unwanted contamination," Viamajala said. "Since it grows in water, algae doesn't have as much carbon dioxide available. We are trying to improve the cleaner fuel potential."
The project to create a comprehensive strategy for stable, high-productivity cultivation of microalgae with controllable biomass composition also includes genetic testing.
"This funding puts northwest Ohio at the forefront of a national effort to create new technologies and methods for biofuels," said Congresswoman Marcy Kaptur. "These types of programs can lead to breakthroughs that will create American jobs and enhance our energy security, which is why I remain committed to renewable energy and advanced research from my role overseeing Department of Energy funding on the Appropriations Committee. Congratulations to the researchers at The University of Toledo for receiving this award."
The research is funded through the U.S. Department of Energy's Office of Energy Efficiency and Renewable Energy and Office of Bioenergy Technology.
UT's grant is part of about $8.8 million recently announced by the U.S. Department of Energy for projects that will deliver high-impact tools and techniques for increasing the productivity of algae organisms in order to reduce the costs of producing algal biofuels and bioproducts.
---
Monday, September 4th, 2017
A new Drinking Water Research Laboratory at The University of Toledo will allow local municipalities to quickly and easily test the safety of the public water supply.
A $500,000 grant from the State of Ohio Community Capital Program provided the state-of-the-art technology and renovations for the laboratory in the UT College of Engineering.
A ribbon-cutting ceremony will be held at 10 a.m. Tuesday, Sept. 5 in North Engineering Room 1600 with UT researchers joined by elected officials and community partners.
The lab's new liquid chromatography mass spectrometer system and new flow cytometer will be used to detect various cyanotoxins, such as microcystin from the toxic algal blooms in Lake Erie, and assimilable organic carbon, which is used by harmful microorganisms, to ensure the contaminants are not present in drinking water.
The dedicated lab focused exclusively on drinking water research eliminates concerns of cross contamination from other samples to allow very low detection limits for improved testing accuracy.
"Water treatment plants in Ohio face new challenges from a host of emerging algal toxins, as well as contaminants from other emerging micropollutants, such as pharmaceutical products or microplastics, in their source waters," said Dr. Youngwoo Seo, associate professor in UT's civil and environmental engineering and chemical engineering departments. "By engaging with the lab, the municipalities can get early warning signs of new and emerging algal toxins, as well as quantification of existing toxins during cases of concern."
"Many water utilities have difficulties in continuously analyzing samples due to high costs and limited time. They will now have access to the lab on a regular basis for monitoring contaminants in treated water, as well as samples from different points in the treatment process," said Dr. Joseph G. Lawrence, UT research professor and director of the Center for Materials and Sensor Characterization. "A water utility could, for example, send water samples every week during the algal bloom to track the concentration of toxins in source water and treated water so that they can make informed decisions on the type of treatment."
Water quality is a major research focus at UT. With $12.5 million in active grants underway, UT experts are studying algal blooms, invasive species such as Asian carp, and pollutants. Researchers are looking for pathways to restore our greatest natural resource for future generations to ensure our communities continue to have access to safe drinking water.
---
Tuesday, July 11th, 2017
Ohio Sea Grant released today its 2017 update on the statewide Harmful Algal Bloom Research Initiative documenting two years of progress seeking solutions for harmful algal blooms in Lake Erie.
The University of Toledo, situated on the western basin of Lake Erie, is one of the lead universities in the initiative, which consists of ten Ohio universities and five state agencies and is funded by the Ohio Department of Higher Education and matching funds from participating universities.
The 54-page report features a variety of important research activity underway by members of the UT Water Task Force to protect the public water supply and public health, including:
Early warning system for toxic algae in Lake Erie's Maumee Bay by Dr. Tom Bridgeman, professor in the UT Department of Environmental Sciences, and Dr. Ricky Becker, associate professor in the UT Department of Environmental Sciences;
Developing methods to help water treatment plant operators make decisions on lake water pumping rates according to time of day and weather conditions in order to reduce exposure to algal toxins at the Lake Erie water intake, also by Bridgeman and Becker;
Transport and fate of cyanotoxins in drinking water distribution systems, such as pipes and storage tanks, by Dr. Youngwoo Seo, associate professor in the UT Department of Civil and Environmental Engineering;
Investigating alternative biological filtration for algal toxin removal in water treatment through better understanding of microcystin-degrading bacteria, also by Seo;
Investigating the influence of potassium permanganate treatment on algal cell integrity and toxin degradation, also by Seo;
Developing microcystin-detoxifying water biofilters to upgrade water treatment filters with friendly bacteria through the discovery of enzymes and pathways responsible for microcystin degradation, by Dr. Jason Huntley, associate professor in the UT Department of Medical Microbiology and Immunology;
Studying the accuracy of ELISA, the standard test measuring harmful algal toxins, in comparison to a more time-consuming but reliable method, liquid chromatography-mass spectrometry (LC-MS), by Dr. Dragan Isailovic, associate professor in the UT Department of Chemistry and Biochemistry;
Developing lab tests for detecting microcystin exposure through biological samples and measuring how much remains inside the body, also by Isailovic;
Evaluating the ability of commercially available home purification systems to remove algal toxins from tap water, by Dr. Glenn Lipscomb, professor and chair of the UT Department of Chemical and Environmental Engineering;
Reconsidering recommended healthy exposure limits by studying the impact of algal toxins in experimental models of pre-existing liver disease, by Dr. David Kennedy and Dr. Steven Haller, assistant professors in the UT Division of Cardiovascular Medicine;
Studying health effects of recreational and work exposure to harmful algal blooms through fishing, swimming or boating, by Dr. April Ames and Dr. Michael Valigosky, assistant professors in the UT Department of Occupational and Public Health; and
Creating an online database to help inform public about harmful algal blooms in Lake Erie, by Dr. Patrick Lawrence, UT geography professor and associate dean of the College of Arts and Letters.
Ohio Sea Grant, which manages the statewide Harmful Algal Bloom Research Initiative, is soliciting proposals for a third round of funding to continue the efforts underway to address toxic algae in Ohio's Great Lake.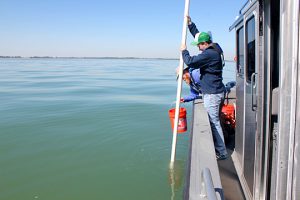 Participating universities include UT, The Ohio State University, Bowling Green State University, Central State University, Defiance College, Heidelberg University, Kent State University, Sinclair Community College, University of Akron and University of Cincinnati. UT and OSU serve as leaders of the university consortium.
To view the full report, go to http://ohioseagrant.osu.edu/p/ib57m/view.
For Ohio Sea Grant's news release, go to http://ohioseagrant.osu.edu/news/2017/gz884/habri-report-year-2.
The UT Water Task Force, which is comprised of faculty and researchers in diverse fields spanning the University, serves as a resource for government officials and the public looking for expertise on investigating the causes and effects of algal blooms, the health of Lake Erie and the health of the communities depending on its water. The task force includes experts in economics, engineering, environmental sciences, business, pharmacy, law, chemistry and biochemistry, geography and planning, and medical microbiology and immunology.
Water quality is a major research focus at UT. With $12.5 million in active grants underway, UT experts are studying algal blooms, invasive species such as Asian carp, and pollutants. Researchers are looking for pathways to restore our greatest natural resource for future generations to ensure our communities continue to have access to safe drinking water.
Researchers and students help to protect the public drinking water supply for the greater Toledo area throughout summer algal bloom season by conducting water sampling to alert water treatment plant operators of any toxins heading toward the water intake. UT's 28-foot research vessel and early warning buoy enable UT to partner with the city of Toledo and the National Oceanic and Atmospheric Administration to monitor the health of Lake Erie and provide real-time data.
---