Archive for July, 2017
Friday, July 28th, 2017
Eleven undergraduate students from universities across the country spent the last nine weeks researching a variety of environmental issues at The University of Toledo Lake Erie Center and will share their findings during a poster gala on Wednesday, July 27.
The students enrolled in UT's National Science Foundation Research Experiences for Undergraduates (REU) summer program have been studying harmful algal blooms, climate change, invasive species and other water quality concerns in an effort to help combat these problems. Their work will be on display 2-4 p.m. at the Lake Erie Center, located at 6200 Bayshore Rd. in Oregon.
The scientific research program is open to undergraduate students in the fields of environmental sciences, biology, engineering, chemistry, geography or geographic information systems (GIS) from across the United States. Students are partnered with scientists, engineers, graduate students and agency professionals to conduct cutting-edge research on important land-lake environmental challenges.
In addition to visiting wetlands and lake sampling, students learn to use and apply top technology, including sensor networks, water quality, environmental DNA, next-gen sequencing and drones to their research.
---
Thursday, July 27th, 2017
Artists and art appreciators alike are gearing up for this summer's Art on the Mall, which this year is celebrating its 25th anniversary on campus.
The juried art show will be held on Centennial Mall from 10 a.m. to 5 p.m. Sunday, July 30. Free parking will be available in Lot 1 South, Lot 1 North and Lot 13 with golf cart shuttle service to transport guests and their packages to and from Centennial Mall if needed.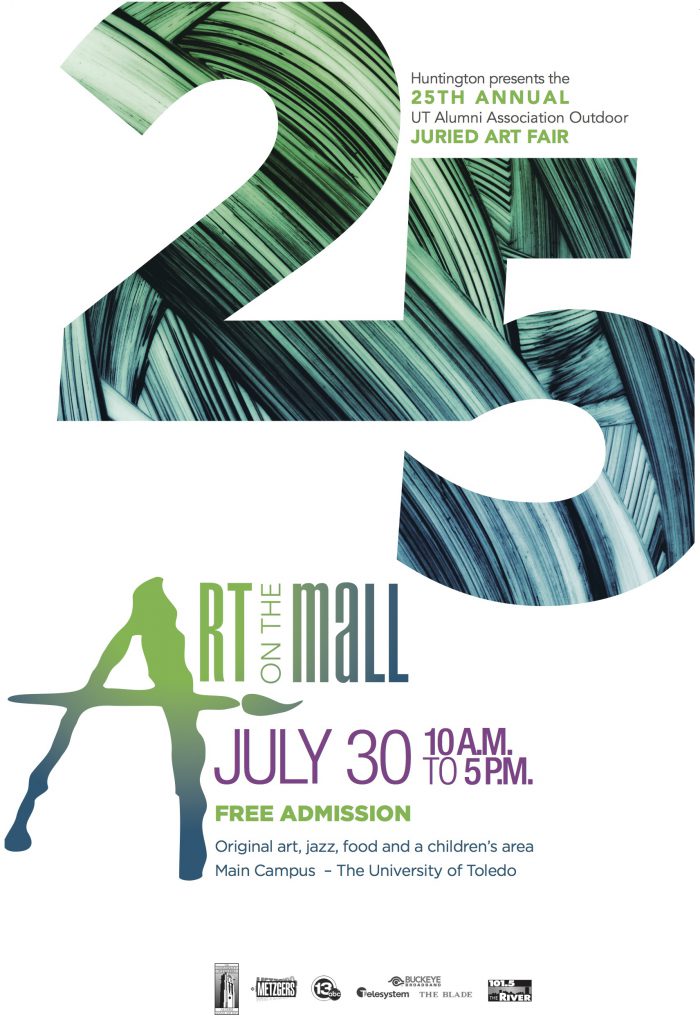 More than 100 artists are expected to show off their wares, which range from acrylic, glass, jewelry, mixed media, pen and ink, oil, photography, pottery, textile, watercolor, woodwork and more.
"The quality of our artists' work is outstanding, and there is something for everyone. We have a diverse and eclectic mix, sure to excite art lovers of all kinds," said Ansley Abrams-Frederick, director of alumni programming in the UT Office of Alumni and Annual Engagement. "In addition, the venue of our beautiful campus is the ideal place to enjoy the day. Free parking, golf cart shuttles, and no admission certainly make this show appealing to all."
Artists who have participated in all 25 years of Art on the Mall will have an indicator on their booths commemorating the achievement.
Works will be juried by representatives from the Fort Wayne Museum of Art, with prizes such as UT's Best of Show, awarded to an artist with affiliation to the University.
For younger guests who prefer to take a more hands-on approach to art, the Young Artist Area, sponsored by Huntington, will provide supplies for creating projects free of charge.
In addition to the art pieces, food and beverages will be available from vendors such as Jeanie's Comfort Cuisine, Karen Anne's Kettle Korn, K & K Concessions, OPA! Cuisine, Quinn's Concessions, and Rosie's Rolling Chef.
A beer and wine garden will be open for guests 21 or older with a valid ID.
---
Wednesday, July 12th, 2017
The University of Toledo President Sharon L. Gaber will sign a world-famous Tony Packo's hot dog bun this week.
The event is at noon Thursday, July 13 at Tony Packo's at the Park, 7 South Superior St. in downtown Toledo.
The autographed bun will join others prominently displayed on the walls of all Packo's restaurant locations. The tradition began in 1972 with Burt Reynolds and went on to include presidents, actors, musicians, astronauts and more.
UT football coach Jason Candle, men's basketball coach Tod Kowalczyk and women's basketball coach Tricia Cullop also recently signed Packo's buns.
---
Tuesday, July 11th, 2017
Ohio Sea Grant released today its 2017 update on the statewide Harmful Algal Bloom Research Initiative documenting two years of progress seeking solutions for harmful algal blooms in Lake Erie.
The University of Toledo, situated on the western basin of Lake Erie, is one of the lead universities in the initiative, which consists of ten Ohio universities and five state agencies and is funded by the Ohio Department of Higher Education and matching funds from participating universities.
The 54-page report features a variety of important research activity underway by members of the UT Water Task Force to protect the public water supply and public health, including:
Early warning system for toxic algae in Lake Erie's Maumee Bay by Dr. Tom Bridgeman, professor in the UT Department of Environmental Sciences, and Dr. Ricky Becker, associate professor in the UT Department of Environmental Sciences;
Developing methods to help water treatment plant operators make decisions on lake water pumping rates according to time of day and weather conditions in order to reduce exposure to algal toxins at the Lake Erie water intake, also by Bridgeman and Becker;
Transport and fate of cyanotoxins in drinking water distribution systems, such as pipes and storage tanks, by Dr. Youngwoo Seo, associate professor in the UT Department of Civil and Environmental Engineering;
Investigating alternative biological filtration for algal toxin removal in water treatment through better understanding of microcystin-degrading bacteria, also by Seo;
Investigating the influence of potassium permanganate treatment on algal cell integrity and toxin degradation, also by Seo;
Developing microcystin-detoxifying water biofilters to upgrade water treatment filters with friendly bacteria through the discovery of enzymes and pathways responsible for microcystin degradation, by Dr. Jason Huntley, associate professor in the UT Department of Medical Microbiology and Immunology;
Studying the accuracy of ELISA, the standard test measuring harmful algal toxins, in comparison to a more time-consuming but reliable method, liquid chromatography-mass spectrometry (LC-MS), by Dr. Dragan Isailovic, associate professor in the UT Department of Chemistry and Biochemistry;
Developing lab tests for detecting microcystin exposure through biological samples and measuring how much remains inside the body, also by Isailovic;
Evaluating the ability of commercially available home purification systems to remove algal toxins from tap water, by Dr. Glenn Lipscomb, professor and chair of the UT Department of Chemical and Environmental Engineering;
Reconsidering recommended healthy exposure limits by studying the impact of algal toxins in experimental models of pre-existing liver disease, by Dr. David Kennedy and Dr. Steven Haller, assistant professors in the UT Division of Cardiovascular Medicine;
Studying health effects of recreational and work exposure to harmful algal blooms through fishing, swimming or boating, by Dr. April Ames and Dr. Michael Valigosky, assistant professors in the UT Department of Occupational and Public Health; and
Creating an online database to help inform public about harmful algal blooms in Lake Erie, by Dr. Patrick Lawrence, UT geography professor and associate dean of the College of Arts and Letters.
Ohio Sea Grant, which manages the statewide Harmful Algal Bloom Research Initiative, is soliciting proposals for a third round of funding to continue the efforts underway to address toxic algae in Ohio's Great Lake.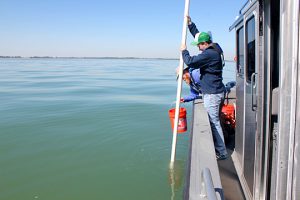 Participating universities include UT, The Ohio State University, Bowling Green State University, Central State University, Defiance College, Heidelberg University, Kent State University, Sinclair Community College, University of Akron and University of Cincinnati. UT and OSU serve as leaders of the university consortium.
To view the full report, go to http://ohioseagrant.osu.edu/p/ib57m/view.
For Ohio Sea Grant's news release, go to http://ohioseagrant.osu.edu/news/2017/gz884/habri-report-year-2.
The UT Water Task Force, which is comprised of faculty and researchers in diverse fields spanning the University, serves as a resource for government officials and the public looking for expertise on investigating the causes and effects of algal blooms, the health of Lake Erie and the health of the communities depending on its water. The task force includes experts in economics, engineering, environmental sciences, business, pharmacy, law, chemistry and biochemistry, geography and planning, and medical microbiology and immunology.
Water quality is a major research focus at UT. With $12.5 million in active grants underway, UT experts are studying algal blooms, invasive species such as Asian carp, and pollutants. Researchers are looking for pathways to restore our greatest natural resource for future generations to ensure our communities continue to have access to safe drinking water.
Researchers and students help to protect the public drinking water supply for the greater Toledo area throughout summer algal bloom season by conducting water sampling to alert water treatment plant operators of any toxins heading toward the water intake. UT's 28-foot research vessel and early warning buoy enable UT to partner with the city of Toledo and the National Oceanic and Atmospheric Administration to monitor the health of Lake Erie and provide real-time data.
---
Monday, July 10th, 2017
A financial adviser and the chief executive officer of an international automotive supplier have been appointed to The University of Toledo Board of Trustees.
Patrick J. Kenney, a financial adviser with Wilcox Financial, was named by Ohio Gov. John Kasich to a full nine-year term ending July 1, 2026. He takes the seat of Gary P. Thieman who completed his term as a trustee in June.
F. Patrick "Pat" D'Eramo, president and CEO of Martinrea International Inc., was named by the governor to a term ending July 1, 2021. He will complete the remaining years of the trustee position that became vacant in 2012 when Richard McQuade and Carroll Ashley completed their service on the board.
"I look forward to welcoming Patrick and Pat to the board and the perspectives they will bring from their vast business experience as we set the path forward for UT," said Steven Cavanaugh, chair of the UT Board of Trustees.
Kenney, a registered investment advisor, has more than 30 years experience running a financial advisory practice assisting individuals and corporations in a variety of financial issues. His entrepreneurial experience includes co-founding Health Care Solutions and CareLink Nursing Services, as well as serving as a founding member of the Ohio Innovations Fund that supports technical startup companies.
Kenney has a bachelor's degree in accounting from Miami University in Oxford, Ohio and is a CPA.
D'Eramo has had an extensive career in the automotive business, including serving as president of Dana Corporation's Commercial Vehicle Technology group, vice president of manufacturing for Toyota and varied manufacturing management roles for General Motors.
He has a bachelor's degree in mechanical engineering from Michigan State University and a master's degree in manufacturing management from Kettering University.
Hedyeh Elahinia, of Sylvania, was appointed a student member of the board to serve through July 1, 2019. Elahinia is a pre-med senior with a biology major and chemistry minor. She is co-president of the UT Muslim Students Association.
---