Archive for April, 2013
Monday, April 29th, 2013
College students urged to donate responsibly, recognize social impact
With the end of the spring term and students packing up for the summer break, The University of Toledo is preparing for the annual move out flood of unwanted household items typically discarded by students departing on-campus housing.
This year UT is participating in a nationally piloted program called Give and Go: Move Out 2013 to keep these items out of the trash and instead see them put to "good re-use." UT is one of five colleges chosen for the initiative.
During finals week April 29- May 3, UT will work with Goodwill of Northwest Ohio to set out donation bins in the lobbies of each on-campus residence hall for use by students cleaning out their rooms. Items collected will include electronics, linens, furniture, books, dishes and cookware, clothes, toiletries and non-perishable foods. When students donate any of these items, they are given a 10 percent off coupon to Goodwill and a coupon to The Oasis.
The U.S. Department of Education estimates that three million students live in campus housing at 2,100 U.S. colleges and universities nationwide. Each year, students leaving campus encounter storage and car trunks that can only hold so much, and often leave perfectly good clothes, electronics, books and furniture in overflowing campus dumpsters.
"We know students are conservation-minded and willing to do something on behalf of the planet if it's convenient and fun. Give and Go: Move Out 2013 is an easy cleanup solution that offers tangible results," said Brooke Mason, UT interim sustainability specialist.
The pilot initiative, organized by Keep America Beautiful and Goodwill in conjunction with the College and University Recycling Coalition (CURC), encourages college students to do something good by donating their unwanted clothing, kitchen items, electronics, books and dorm items as they clean out for summer break.
The purpose of Give and Go is to encourage students to reduce waste and boost existing sustainability practices on campus. After students donate their goods, those items are sold at Goodwill stores, and the revenue is used to fund job training and community-based services for people who face challenges to finding employment.
In addition to UT, the universities selected to participate in the initiative are Creighton University in Nebraska, Franklin College in Indiana, Northern Illinois University, and Trinity University in Texas.
Click here for more information on the UT Give and Go program.
Media Coverage
WTOL 11 (April 30, 2013)
---
Monday, April 29th, 2013
Thirteen University of Toledo Army ROTC cadets are scheduled to be commissioned as second lieutenants during a ceremony 4-6 p.m. Friday, May 3 at the UT Student Union Room 2582.
Having demonstrated an ability to master the art of leadership and tactics through four years of study in Military Science in addition to their specified major, the cadets will begin their military service as second lieutenants in the United States Army (active duty), Army National Guard or Army Reserves.
"The University of Toledo has been producing quality officers for the United States Army since 1947," said Army Lt. Col. Joseph W. Vongsvarnrungurang, the commanding officer of the UT Rocket Battalion. "We are especially pleased at the contributions our alumni continue to make as part of the United States Army."
UT President Lloyd Jacobs, a former Marine, and Toledo Mayor Michael Bell are scheduled to attend and deliver brief remarks.
The following cadets, graduating with a Bachelor of Science, will individually take their commissioning oath, receive the rank of a new Army lieutenant and participate in the time-honored tradition of exchanging their first salute:
• LaQuentin Boyd, Business of Applied Organizational Technology
• Andrew Brock, Construction Engineering Technology
• Joshua Fletcher, Criminal Justice
• Adam Fricker, Nursing
• James Kimmelman, Political Science
• Michael Knott, Mechanical Engineering
• Nicholas Langenderfer, Criminal Justice
• Jonathon Light, Political Science
• Matthew Likes, Political Science
• Jordan Mayle, Criminal Justice
• Matthew Molek, Criminal Justice
• Raymond Platts, Exercise Science
• Nathan Potter, Religious Studies
The newly commissioned officers, Lt. Col. Vongsvarnrungurang and ROTC Battalion staff members will be available for interviews before and after the ceremony.
For more information please contact Bonnie Edmonds at 419.530.2681.
Media Coverage
WNWO (May 6, 2013)
---
Friday, April 26th, 2013
The University of Toledo will host a group of nearly 250 high school students and administrators at 8:50 a.m. Tuesday, April 30 in the Student Union as the capstone to the Leadership with Swagger Initiative.
The group, representing schools from across northwest Ohio, began the initiative in February, as John Henry Livingston, a motivational speaker, trainer and founder of Whirlwind U, partnered with UT and Lawrence J. Burns, UT vice president for external affairs, and introduced them to Lifeplan, a new peer development mentoring program.
Tuesday's event marks the highlight of the Swagger initiative and will include various school's presentations and videos created by participating students that showcase their definitions of "swagger." This portion of the conference will take place at 12:15 p.m. in the Student Union Ingman Room.
In addition to Livingston and Burns, presenters for the day will include:
•  Tricia Cullop, University of Toledo women's head basketball coach;
•  Rodney Eason, associate vice president for Fifth Third Bank; and
•  A representative from Root Learning Inc.
The event also will include a UT Residence Life presentation, the selection of the SWAG All-Star, and a CEO/Executive Roundtable, "Leading with Confidence." The roundtable will include:
•  Robert LaClair, chief executive officer for FifthThird Bank;
•  Marianne Ballas of Ballas Buick GMC;
•  Jon Harris, McDonald's restaurant area franchisee;
•  Derick Gant, president of Gant Financial Advisors; and more.
For more information, contact Livingston at jhl@whirlwindU or 419.283.7170.
---
Friday, April 26th, 2013
The University of Toledo College of Business and Innovation will present its third Women's Leadership Forum 11:30 a.m. to 1:30 p.m. Wednesday, May 1 at The Pinnacle in Maumee.
"Soaring Your Way to New Leadership Heights" will be the theme of a presentation by Capt. Shoshana S. Chatfield, United States Navy, former Commander, Helicopter Sea Combat Wing, U.S. Pacific Fleet.
Captain Chatfield will address leadership challenges faced by women in today's complex world of work. She will discuss the critical issues of leading and building trust in diverse workplaces along with the communication topics of respectively giving and receiving feedback.
In addition, Chatfield will discuss the concept of improving self-knowledge and focusing on achieving results by asking for and acting on feedback. Participants will take away a personal guide to developing a Self-Knowledge Action Plan.
Chatfield holds a B.A. in International Relations and French Language and Literature from Boston University, a Masters in Public Administration from Harvard University, and a Doctor of Education from the University of San Diego.
After earning her wings in 1989, she was assigned to west coast helicopter Combat Support Squadrons and subsequently served with HC-1, HC-3, HC-11 and finally with HC-25's Island Knights. She also served as an H-46 flight instructor and an Assistant Professor of Political Science at the United States Air Force Academy. Her personal awards include the Bronze Star Medal, Joint Service Commendation Medal, Navy Commendation Medal (three awards), and Joint Service Achievement Medal, among others.
The UT College of Business first presented its Women's Leadership Forum in 2009.
In addition to the UT College of Business and Innovation, the Women's Leadership Forum also is sponsored by Ballas Buick GMC, 2-Scale, Black & White Transportation, IET, HCR ManorCare, First Solar, Buckeye CableSystem, O-I, The Blade, Tenneco, SSOE, ProMedica and Huntington.
Cost of the program, including lunch, is $20 per person. To register, email ECGC@utoledo.edu or call 419.530.2036.
Media Coverage
The Blade (May 2, 2013)
---
Thursday, April 25th, 2013
The presidents of the Federal Reserve Bank of Cleveland and Battelle Memorial Institute will speak at The University of Toledo's commencement ceremonies Sunday, May 5.
In the morning ceremony Sandra Pianalto, who has been president and chief executive officer of the Federal Reserve Bank of Cleveland since 2003, will speak to graduates from the colleges of Business and Innovation, Natural Sciences and Mathematics, Visual and Performing Arts, and Languages, Literature and Social Sciences at 9:30 a.m. in Savage Arena on the University's Main Campus.
At the afternoon ceremony Jeff Wadsworth, president and CEO of the Battelle Memorial Institute since 2009, will address graduates from the Judith Herb College of Education, Health Science and Human Service and the College of Adult and Lifelong Learning at 2 p.m.
There are 3,041 candidates for degrees, including 886 candidates for doctoral, education specialist and master's degrees, and 2,155 for bachelor's and associate's degrees. Each ceremony will be webcast live on video.utoledo.edu.
"We are honored to have such accomplished professionals as Sandra Pianalto and Jeff Wadsworth at this celebration of academic achievement," UT President Lloyd Jacobs said. "These individuals know well the value of higher education and have gone on to do incredible things within their professions and as productive members of their communities. They are both positive role models for our graduates as they move forward in the next chapter of their lives equipped with the necessary knowledge and skills taught by our wonderful faculty."
Pianalto will receive an Honorary Doctor of Business Administration and Wadsworth an Honorary Doctor of Engineering. Also receiving an Honorary Doctor of Commercial Science is Robert Savage, a distinguished UT alumnus and co-founder of the Savage & Associates insurance and financial management business in Toledo.
Pianalto began her career at the Federal Reserve Bank of Cleveland in 1983 as an economist in the research department. In 20 years, she ascended to assistant vice president of public affairs, vice president and secretary to the board of directors, first vice president and chief operating officer and finally president and CEO — a position she's held for 10 years.
Her professional success comes directly from her understanding of the importance of education. The daughter of Italian immigrants who came to America more than 50 years ago, Pianalto had helped them study for their United States citizenship examinations as a third-grader.
Pianalto went on to receive bachelor's and master's degrees in economics from Akron University and The George Washington University.
Wadsworth is president and CEO of Battelle Memorial Institute, which is the world's largest nonprofit research and development organization. Formed in 1925 in Columbus, Battelle has developed the Xerox machine and a number of innovations in medical technology, telecommunications, environmental waste treatment, homeland security and transportation.
Before his current position, Wadsworth led Battelle's Global Laboratory Operations business where he oversaw the management of six national laboratories of the U.S. Department of Energy and the U.S. Department of Homeland Security's National Biodefense Analysis and Countermeasures Center.
Wadsworth earned a bachelor's degree and doctorate in metallurgy from Sheffield University in England. The University also awarded him a Doctor of Metallurgy degree in 1991 for his published work and received an honorary Doctor of Engineering degree in 2004.
Savage, who will receive a UT Honorary Doctor of Commercial Science, received his bachelor's in business in 1959 from the University and was awarded in 2003 the Gold T Award, the highest honor for UT alumni.
A generous alumnus, he gave in 2006 a $1 million donation that was the catalyst for a new, state-of-the-art center for students in the College of Business and Innovation: The Savage & Associates Complex for Business and Learning Engagement, which opened in 2010.
Savage was a member of the UT Board of Trustees for nine years and trustee for The University of Toledo Foundation for nine years.
The UT colleges that will hold individual commencement ceremonies are:
• College of Nursing, 1 p.m. Friday, May 3 in Savage Arena.
• College of Engineering, graduate commencement ceremony 5 p.m. Friday, May 3 and undergraduate commencement 3 p.m. Saturday, May 4, both in Nitschke Auditorium.
• College of Law, 10 a.m. Saturday, May 4 in Student Union Auditorium.
• College of Pharmacy and Pharmaceutical Sciences, 2 p.m. Saturday, May 4 in Savage Arena.
• College of Medicine and Life Sciences, 2 p.m. Friday, June 7 in Stranahan Theater.
Media Coverage
The Blade (April 30, 2013)
The Blade (April 30, 2013)
The Blade (May 6, 2013)
The Blade (May 6, 2013)
The Blade (May 10, 2013)
---
Thursday, April 25th, 2013
Check out Gateway at The University of Toledo this weekend during a grand opening event.
The celebration will be 11:30 a.m. to 3:30 p.m. Saturday, April 27 with free family activities as well as discounts at the shops and restaurants in the Gateway.
"Gateway is a community gathering place that is easily accessible for all while promoting a college town atmosphere," said Matt Schroeder, vice president for real estate and business development at the UT Foundation. "Saturday's event will showcase this design principle and facilitate ongoing interaction between the community and UT family."
Gateway celebrated a ribbon-cutting event in September and is hosting this grand opening to invite the community to see the dining, shopping and entertainment this retail center has to offer. The development includes Barnes & Noble Booksellers, Great Clips and Wireless Zone shops, as well as Gradkowski's, Jimmy John's, Rice Blvd, Yogurt U and Starbucks restaurants.
At the grand opening, families can see UT mascots Rocky and Rocksy and there'll be inflatable attractions, including an obstacle course, as well as face painting and caricature artists, and T-shirt giveaways.
Batman and Spiderman also will be on hand at Barnes & Noble for photos and story time with children. The bookstore will offer discounts, including 20 percent off UT clothing and gift items, and 15 percent off one general reading or reference book and 20 percent off two or more. The Café will have specials as well, including $1 coffee, $1 kids' cookies, and buy one, get one deals on muffins and cupcakes.
Gradkowski's will offer 25 percent off, and YogurtU will provide free samples as well as $1 off yogurt more than $3. And Great Clips will have $5.99 haircuts and 25 percent off all products.
The April 27 celebration will coincide with the Glass City Marathon's expo when race participants come to campus to receive their running materials. Gateway businesses also are enticing marathoners to stop by following the Sunday, April 28 race for additional discounts offered by select retailers.
For more information about Gateway at The University of Toledo, visit gatewaytoledo.com or its Facebook page at facebook.com/gatewaytol.
---
Wednesday, April 24th, 2013
The University of Toledo Medical Center will celebrate the opening of the Gardner-McMaster Parkinson Center and the new Medical Pavilion on Friday, April 26.
A ribbon cutting ceremony is scheduled for 10 a.m. Friday in the new Medical Pavilion, which houses the new center as well as several relocated outpatient clinics, and is located between Dowling Hall and the Orthopedic Center.
Named in recognition of the generous donations from the family of Findlay businessman Philip Gardner, as well as the Harold and Helen McMaster Foundation, the nearly 6,000-square-foot facility is set to be one of the leading Parkinson centers due to its team-care approach.
"This new center increases accessibility for patients, optimizes and maximizes the care provided to our patients and their families, and places them in close proximity to physical and occupational therapists, speech and language pathologists, and other health-care professionals who are also experts in Parkinson's care," said Dr. Lawrence Elmer, professor of neurology and medical director of the Center for Neurological Health, and a specialist in the treatment and research of Parkinson's disease for more than 20 years.
The Parkinson's Foundation of Northwest Ohio also raised more than $160,000 to help offset the approximately $1.35 million in renovation costs.
UTMC also is celebrating the opening of the Medical Pavilion to better serve patients and employees. In addition to the Gardner-McMaster Parkinson Center, the Medical Pavilion will house the relocated Urology, Nephrology and Transplant Clinic, the Pain Clinic, and the UTMC Outpatient Pharmacy. An additional outpatient lab draw site has been established.
"The Medical Pavilion is a beautiful new space that makes a greater number of UTMC's outpatient services more accessible to our patients and their families," said Olivia Dacre, who leads the coordination of UTMC's outpatient clinics. "By making services easier to find and by making waiting areas for families and friends more comfortable, it is our hope we can remove some of the stress and confusion that can come with any visit to an advanced medical center."
All clinics operate Monday through Friday:
•  Gardner-McMaster Parkinson Center — by appointment only — 8:30 a.m. to 5 p.m., 419.383.7705.
•  Urology Clinic — by appointment only — 8 a.m. to 4:30 p.m., 419.383.3578.
•  Nephrology/Renal Transplant Clinic — by appointment only — 8 a.m. to 4:30 p.m., 419.383.5288.
•  Pain Clinic — by appointment only — 8 a.m. to 4:30 p.m., 419.383.5000.
•  Outpatient Lab — no appointment necessary — 7 a.m. to 3:30 p.m., 419.383.5293.
•  Outpatient Pharmacy — 7 a.m. to 7 p.m., 419.383.3750.
Media Coverage
WNWO, WTOL 11 and 13 ABC (April 30, 2013)
---
Monday, April 22nd, 2013
The University of Toledo's May 10 uHeart Digital Media Conference has added a household name from the digital media world to its long list of speakers who are leaders in their field.
Google's Fulter Hong has been added to the morning speakers for the event, which also features the former head of USA Today, the founder of Texts from Last Night and the senior editor from Tech Crunch. Hong has spent the last six years on Google's management team supporting North American Small and Medium Businesses.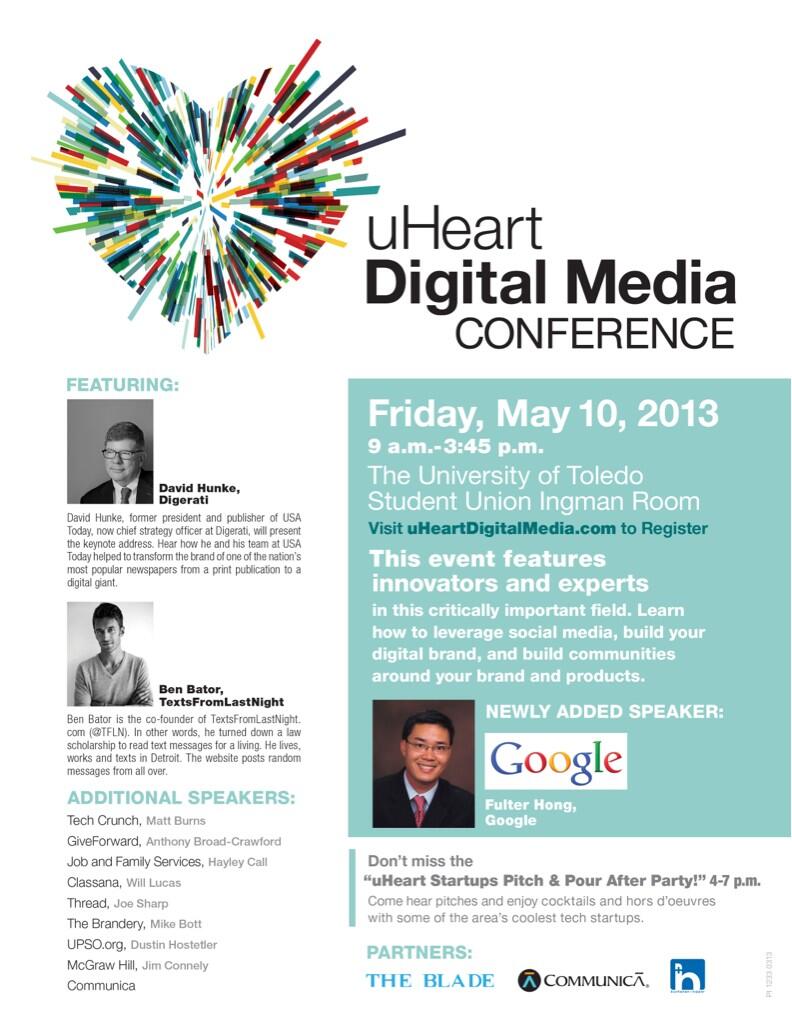 Those attending uHeart Digital Media will learn how to leverage social media and build their own digital brands, successfully develop and launch applications that will attract interest in a crowded marketplace, target niche markets to increase affinity and build communities around a brand and products. The event takes place from 8:30 a.m. to 3:45 p.m in the Student Union on UT's Main Campus.
"We have put together a line up of speakers that would rival any digital media conference around," said Lawrence J. Burns, vice president for external affairs. "This will prove to be a major event for leaders in digital media and entrepreneurs across the region."
"We hope the UT community turns out to participate in this major event," added Burns.
Dave Hunke, former president and publisher of USA Today and now chief strategy officer at Digerati, will present the keynote address. His talk will focus on how he and his team at USA Today helped transform the brand of one of the nation's most popular newspapers from a print publication to a digital giant.
Along with Hunke and Hong, speakers include:
•  Ben Bator, Texts from Last Night;
•  Matt Burns, Tech Crunch;
•  Hayley Call, Ohio Job and Family Services;
•  Anthony Broad Crawford, GiveForward;
•  Will Lucas, Classana;
•  Joe Sharp, Thread;
•  Dustin Hostetler; UPSO;
•  Mike Bott, The Brandery;
•  Julie Pompa, Communica; and
•  Jim Connely, McGraw Hill.
The event will wrap up 4-7 p.m. with a uHeart Startups Pitch & Pour After Party for conference attendees.
Registration is $50 and $20 for students. To register, visit uHeartDigitalMedia.com, or contact Amelia Acuna at 419.530.5874 or amelia.acuna@utoledo.edu. Follow the event on Twitter at @uhrtdgtl.
Media Coverage
The Independent Collegian (April 24, 2013)
The Blade (May 11, 2013)
WNWO and 13 ABC (May 13, 2013)
---
Monday, April 22nd, 2013
The family of a Blade newspaperman and former Campus Collegian editor who passed away in 2011 will honor his memory and his contributions to Toledo and to the University with the establishment of a scholarship fund.
The John N. Grigsby Memorial Scholarship Fund has been created with a gift of $110,000 from the Grigsby family and will be announced at a news conference Monday, April 22, at 10 a.m. in Carlson Library.
The endowment will provide annual scholarships for three editorial positions at The Independent Collegian, a student-run newspaper that covers The University of Toledo.
"My father was the editor of The Campus Collegian in 1935 and 1936 and always said the knowledge, experience and friendships he got from his time there were among the most rewarding of his career," said Richard Grigsby, John N. Grigsby's son who worked with his mother, Margaret, and the rest of the family to establish the fund.
"He graduated from UT in 1936 and got a job at The Toledo Blade the very next day. He has always had a really warm place in his heart for the Collegian and expressed a wish to help them in some way," Grigsby said.
Dan Saevig, UT associate vice president for alumni relations, said he thought the donation was a fitting tribute to John Grigsby's life, career and contributions to the region.
"For more than 50 years, Toledo was illuminated by John's words and the facts and stories he brought to light," Saevig said. "I think it is fitting that this gift will go to help pay for the educations of currentstudents looking to follow his career path and provide the same service to UT today and other communities in the future."
"This gift means a lot to the editorial staff that works so hard to publish an award-winning newspaper each week. It assists our students in achieving their educational goals, and it honors the memory of one of our former editors," said J.R. Hoppenjans, chair of The Independent Collegian's board, the Collegian Media Foundation.
In an obituary published Jan. 14, 2011, in The Blade, the newspaper's publisher John Robinson Block said, "If there was a Pulitzer Prize for an all-around great reporter, it would have went to John Grigsby. Most of his work was done in an era before the vanity byline, but he was one of the very best reporters The Blade ever had."
Media Coverage
The Blade (April 22, 2013)
The Blade (April 23, 2013)
The Independent Collegian (April 24, 2013)
---
Friday, April 19th, 2013
Graduate students from across the Midwest will present their research at The University of Toledo this weekend.
The Midwest Graduate Research Symposium will take place 8 a.m. to 7:30 p.m. Saturday, April 20 in the Memorial Field House. Students at the graduate and postdoctoral levels from multiple disciplines and universities will give oral and poster presentations of their research.
"One of the reasons this event is unique is because it's multidisciplinary and multi-university," said Aaron Shaw, secretary of the Graduate Student Association on UT's Health Science Campus.
Last year, 24 schools were invited to send students to the event, which yielded 185 presentations. This year 62 schools were invited and students from Ohio State University, Purdue University, the University of Michigan and many others have submitted abstracts for presentations.
The symposium is run by UT's Graduate Student Association, which has expanded the event every year since taking the helm in 2009. It originally was known as the Toledo Graduate Forum, which was limited to UT students.
This year, the conference will feature free breakfast, lunch and semi-formal dinner for all who register. The keynote speaker will be Dr. Alan Shaw, chief executive officer and president of Vedantra Pharmaceuticals Inc., who will receive an award at the event.
Awards also are given to two students in each area of interest — one oral presentation and one poster presentation. Presentations are judged by faculty from various universities.
---