Google to speak at UT's uHeart Digital Media Conference May 10
April 22nd, 2013 by Meghan Cunningham
The University of Toledo's May 10 uHeart Digital Media Conference has added a household name from the digital media world to its long list of speakers who are leaders in their field.
Google's Fulter Hong has been added to the morning speakers for the event, which also features the former head of USA Today, the founder of Texts from Last Night and the senior editor from Tech Crunch. Hong has spent the last six years on Google's management team supporting North American Small and Medium Businesses.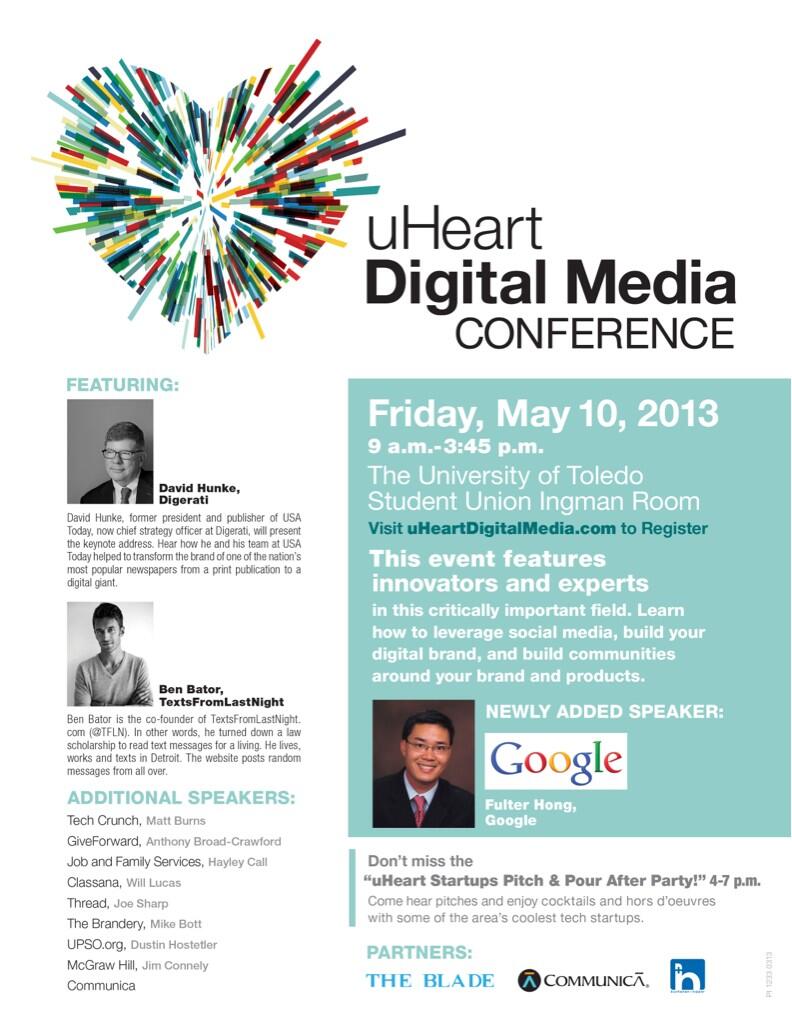 Those attending uHeart Digital Media will learn how to leverage social media and build their own digital brands, successfully develop and launch applications that will attract interest in a crowded marketplace, target niche markets to increase affinity and build communities around a brand and products. The event takes place from 8:30 a.m. to 3:45 p.m in the Student Union on UT's Main Campus.
"We have put together a line up of speakers that would rival any digital media conference around," said Lawrence J. Burns, vice president for external affairs. "This will prove to be a major event for leaders in digital media and entrepreneurs across the region."
"We hope the UT community turns out to participate in this major event," added Burns.
Dave Hunke, former president and publisher of USA Today and now chief strategy officer at Digerati, will present the keynote address. His talk will focus on how he and his team at USA Today helped transform the brand of one of the nation's most popular newspapers from a print publication to a digital giant.
Along with Hunke and Hong, speakers include:
•  Ben Bator, Texts from Last Night;
•  Matt Burns, Tech Crunch;
•  Hayley Call, Ohio Job and Family Services;
•  Anthony Broad Crawford, GiveForward;
•  Will Lucas, Classana;
•  Joe Sharp, Thread;
•  Dustin Hostetler; UPSO;
•  Mike Bott, The Brandery;
•  Julie Pompa, Communica; and
•  Jim Connely, McGraw Hill.
The event will wrap up 4-7 p.m. with a uHeart Startups Pitch & Pour After Party for conference attendees.
Registration is $50 and $20 for students. To register, visit uHeartDigitalMedia.com, or contact Amelia Acuna at 419.530.5874 or amelia.acuna@utoledo.edu. Follow the event on Twitter at @uhrtdgtl.
Media Coverage
The Independent Collegian (April 24, 2013)
The Blade (May 11, 2013)
WNWO and 13 ABC (May 13, 2013)

Meghan Cunningham is UT's Director of University Communications. Contact her at 419.530.2410 or meghan.cunningham@utoledo.edu.
Email this author | All posts by Meghan Cunningham
---