Panel presentation at UT to explore peace studies, peace education
January 24th, 2018 by Christine Billau
The UT Peace Fellows, which is affiliated with a new undergraduate minor in peace and justice studies at The University of Toledo, will hold a meeting and panel presentation focusing on the topic of peace and justice issues 7 p.m. Monday, Jan. 29 in Gillham Hall Room 5300.
The free event is open to students from any academic discipline, as well as campus and community members.
The UT Peace Fellows is a group of faculty, students and community members that meets three times a year to discuss current events, theory and research in peace studies and peace education, and how a community can contribute to help create a more peaceful and just society.
"We work together to bridge academic interests related to peace studies, to aid in the promotion of peace-related programs and events on campus, and to foster the roots of peace and justice into the core of the UT mission and culture," said Dr. Dale T. Snauwaert, professor of philosophy of education and peace studies.
The event will allow attendees to participate in group discussions and exchange ideas and research related to the topic of peace and justice issues.
Feature presentations will be given by Dr. Jeannine Diller, associate professor of philosophy and religious studies, and Dr. Hans Gottgens, professor of environmental studies.
"Drs. Diller and Gottgens will speak about their scholarship, which is situated in different disciplinary areas, yet they will both highlight how peace and justice issues impact their scholarship, teaching and service to the community," said Dr. Florian Feucht, associate professor of educational psychology and peace education. "The speakers are examples for how peace and justice connects and impacts our daily work and local community."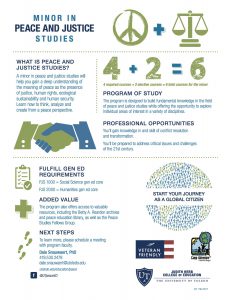 The Peace Fellows is affiliated with a new undergraduate minor in peace and justice studies at the University. The minor includes four core courses and two electives that students can take from across campus.
"By completing the peace and justice studies minor, students gain a deep understanding of the meaning of peace as not merely the absence of violence, but more broadly as the presence of justice, human rights, ecological sustainability and human security," Snauwaert said. "Students understand and are able to apply and create just and effective responses to threats to and violations of peace and justice on all levels of human society from the local to the global."
The program also offers access to resources such as the Betty A. Reardon Collection in the Ward M. Canaday Center for Special Collections in Carlson Library, as well as a peace studies and peace education library housed in Gillham Hall.
Tags: College of Arts and Letters

Christine Billau is UT's Media Relations Specialist. Contact her at 419.530.2077 or christine.billau@utoledo.edu.
Email this author | All posts by Christine Billau
---