Author Archive
Monday, October 14th, 2019
The University of Toledo alumni, faculty and staff members, students, and friends will come together Tuesday and Wednesday, Oct. 15 and 16, to support the University's third annual Day of Giving.
The 36-hour campaign, "Rocket Forward: You Launch Lives," will begin at midnight Oct. 15 and end at noon Oct. 16.

"Our Day of Giving offers Rockets everywhere a chance to make a real impact on our students, research and critical programs," UToledo President Sharon L. Gaber said. "Each year, the generosity of our alumni and supporters worldwide helps fuel the success of so many determined people in our community. We're thrilled to see that positive energy and momentum continue this year."
The Day of Giving Fall Festival will take place from 11 a.m. to 2 p.m. Tuesday, Oct. 15 on Centennial Mall. The event features a dog-petting station, corn hole games, a basketball contest, pie in the face, wax hands, pumpkin bowling and pumpkin golf. Participants can donate dollars for game tokens, and donations may be made with cash and credit cards.
Giving stations will be set up across Main Campus and Health Science Campus. Donations also can be made at utfoundation.org/rocketforward.
You can designate a gift to any of the more than 2,000 University of Toledo Foundation funds, supporting specific causes and programs that you are passionate about. Every donor and every dollar will make a difference in support of scholarships, athletic and educational programs, research, healthcare, and community services.
Last year, the campaign raised $717,375 from 3,156 donors — including many students and first-time supporters.
---
Wednesday, October 9th, 2019
Lightweight materials are critical for advancing the energy efficiency and range of electric vehicles.
The University of Toledo and the U.S. Department of Energy's Oak Ridge National Laboratory (ORNL) in Tennessee signed a memorandum of understanding to team up for collaborative research into the advanced design and manufacturing of lightweight, strong, intelligent materials for the automotive industry.
The partnership will play a key role in developing new processes to produce alloys and metals, as well as enhance northwest Ohio's leadership in research, innovation, development and production in the automotive industry.
"We are proud to collaborate with Oak Ridge National Laboratory on this critical research to drive the next generation of automotive manufacturing," said Dr. Mike Toole, dean of the UToledo College of Engineering. "Our partnership teaming innovative mechanical engineers at UToledo with some of the country's preeminent scientists will focus on finding solutions to ensure the U.S. remains a global leader. The research will have spillover from the national level to the regional level."
The researchers plan to engage with the automotive industry in Ohio and Michigan as they combine ORNL's expertise and capabilities in manufacturing, carbon fiber and composites, machining, energy storage and metrology with UToledo's expertise in manufacturing system modeling, metals engineering and assembly systems.
"This partnership will develop technological solutions to enhance the competitiveness of the U.S. automotive manufacturing sector," said Moe Khaleel, associate laboratory director for Energy and Environmental Sciences at ORNL. "ORNL is looking forward to providing access to its research facilities, along with expertise and guidance in advanced materials and manufacturing to the University in this valuable partnership."
The collaboration will focus on monitoring and control systems for metal forming processes; optimizing joining techniques for high-strength materials such as steel, aluminum and composites; and exploring the combination of new materials such as shape-memory alloys with additive manufacturing to create strong, resilient, active structures for vehicle applications.
ORNL provides researchers with sophisticated equipment and unique facilities to solve some of the nation's most compelling challenges. As the largest DOE open science laboratory, ORNL's mission is to deliver scientific discoveries and technical breakthroughs that will accelerate the development and deployment of solutions in clean energy and global security while creating economic opportunities for the nation.
The University of Toledo also is a member of another organization that closely interacts with the U.S. Department of Energy, Oak Ridge Associated Universities (ORAU), which includes more than 100 Ph.D.-granting institutions as its members. ORAU works with the U.S. Department of Energy and other agencies in providing scientific and technical solutions to a wide range of topics as well as supporting science education and workforce development.
Later this week, UToledo will host for the first time National Lab Day to connect students and researchers with scientists from DOE national laboratories across the country and explore opportunities for additional partnerships.
The event to enhance northwest Ohio's collaborations to make discoveries, find innovative solutions and create groundbreaking technology is Thursday and Friday, Oct. 10 and 11 on the University's Main Campus.
Media are invited to the kick-off ceremony at 8:45 a.m. Thursday, Oct. 10 in Nitschke Auditorium featuring UToledo President Sharon L. Gaber, Congresswoman Marcy Kaptur and Chris Fall, director of DOE's Office of Science.
---
Thursday, October 3rd, 2019
For the first time, The University of Toledo will host National Lab Day to connect students and researchers with scientists from U.S. Department of Energy national laboratories and explore opportunities for additional partnerships.
The event to enhance northwest Ohio's collaborations to make discoveries, find innovative solutions and create groundbreaking technology is Thursday and Friday, Oct. 10 and 11 on the University's Main Campus.
"We are proud to welcome to our campus the country's preeminent scientists from world-class facilities across the country," UToledo President Sharon L. Gaber said. "This event presents an extraordinary opportunity for our students and scientists. We appreciate the Department of Energy recognizing UToledo's momentum in advancing science and selecting us to host National Lab Day."
Media are invited to the kick-off ceremony at 8:45 a.m. Thursday, Oct. 10 in Nitschke Auditorium featuring Gaber, Congresswoman Marcy Kaptur and Chris Fall, director of the Department of Energy's Office of Science.
"From manufacturing the first Jeeps for the U.S. government at the onset of WWII, to the founding of America's largest solar company — First Solar – Toledo has a long and storied history as a world leader in manufacturing, national security and cutting-edge research and development," Kaptur said. "That is why Toledo is the perfect place to host an event like National Lab Day. Partnership is at the core of the success of our national labs, and National Lab Day will help facilitate important and long-lasting partnerships that bring students and faculty together with the National Lab directors."
The Department of Energy maintains 17 national labs that tackle the critical scientific and national security challenges of our time – from combating climate change to discovering the origins of our universe – and possess unique instruments and facilities, many of which are found nowhere else in the world.
Toledo native and director of Lawrence Berkeley National Laboratory, Mike Witherell, who grew up just blocks from the University, is a key organizer of the event.
"The University of Toledo is experiencing tremendous growth in its research enterprise," Witherell said. "As a resource for the nation, the Department of Energy national laboratories are a resource for the University as it innovates and drives economic growth for Toledo, the northwest Ohio region, the state and the nation. My colleagues from the labs and I are delighted to join with the University and Congresswoman Marcy Kaptur at National Lab Day to explore the many exciting possibilities for engagement."
Participants in National Lab Day 2019 at UToledo will meet laboratory directors and researchers; explore funding and fellowship opportunities; discover facilities open to academic and industry scientists; and learn about student internships and postdoctoral fellowships.
UToledo scientists will lead panel discussions with national laboratory scientists on a variety of topics, including:
The Land-Water Interface: The Great Lakes Region and the World
Sustainability and Life Cycle Assessment
Structural Biology, Imaging and Spectroscopy
Astrophysics
Exposure Science – 'Omics' Applications for Human Health
Materials and Manufacturing
Photovoltaics
Registration, which is open for the academic and commercial research community, is required. Visit utoledo.edu/research/national-lab-day to register.
As part of National Lab Day, about 100 high school seniors will be on campus to learn about career paths in STEM, meet national laboratory scientists, and learn about each of the national laboratories.
Media are invited from 11 a.m. to 1:30 p.m. Friday, Oct. 11 in Nitschke Hall during the speed networking lunch and STEM Fair.
---
Wednesday, October 2nd, 2019
This week The University of Toledo Alumni Association will present its most prestigious honors: the Gold T, Blue T and Edward H. Schmidt Outstanding Young Alum Award.
These three recipients will be recognized — along with distinguished alumni from each UToledo college — at the Homecoming Alumni Gala and Awards Ceremony 6 p.m. Friday, Oct. 4 in the Thompson Student Union Auditorium.
Tickets for the gala are $30 each and may be purchased by calling the Office of Alumni Relations at 419.530.ALUM (2586) or by visiting the UToledo Alumni Association website. A limited number of tickets remain.
The Gold T is presented to a University of Toledo graduate in recognition of outstanding achievement in his or her field of endeavor while providing leadership and noteworthy service to the community.
The 2019 recipient of the Gold T is Alan Barry of Commerce Township, Mich. A 1966 graduate of the College of Business and Innovation with a bachelor's degree in accounting, Barry is the retired president and chief operating officer of Masco Corp., a Fortune 200 company with interests around the world. Masco's well-known brands include Delta faucets, Behr paint and KraftMaid cabinetry. Named the College of Business and Innovation's Outstanding Graduate in 2005, Barry and his wife, Karen, a 1964 graduate of the former UToledo Community and Technical College, have been major philanthropists to their alma mater. They have created laboratories in accounting and leadership in the College of Business and Innovation, as well as scholarship and fellowship funds in that college.
The Blue T is presented to a University of Toledo Alumni Association member and UToledo graduate who has made outstanding contributions to the progress and development of the Alumni Association and the University.
Tom Schuster of Maumee, Ohio, is the 2019 Blue T honoree. Schuster earned an associate's degree in industrial technology from the former Community and Technical College in 1965 and a bachelor's degree in adult liberal studies from University College in 1985. A past member of the Alumni Association's Board of Trustees, he has served on numerous association committees over the past three decades. Schuster is also a past president of the Downtown Coaches Association, a support group that raises thousands of dollars for the UToledo Athletic Department each year. He and his wife, Marilyn, are members of the President's Club and Heritage Oak Society, the latter in recognition of a planned gift that will provide support to generations of future Rockets. Since graduation, Schuster has financially supported many areas across campus; these include University College, Savage Arena, the Larimer Athletic Complex and the Koester Alumni Pavilion. Retired from Daimler Chrysler since 2001, Schuster was a senior manager in charge of IT computer operations for 27 plants in the United States and five in Canada, while overseeing 175 employees.
The Edward H. Schmidt Outstanding Young Alum Award is presented to a University graduate who is 40 years of age or younger in recognition of outstanding achievement in her or his field of endeavor, while providing leadership and noteworthy service to the Alumni Association, University or community. This award is named in memory of Ed Schmidt, a 1942 alumnus and a longtime supporter of The University of Toledo and its Alumni Association.
The 2019 recipient is Bret Babcock of Nashville, Tenn. Babcock earned a bachelor's degree in finance and organizational development from the College of Business and Innovation, and the Jesup Scott Honors College, in 2010. Babcock is chief operating officer, chief financial officer and partner at LOGICFORCE, a technology consulting firm that provides eDiscovery, IT optimization and network service consulting, as well as digital forensics to clients in the legal industry. Since joining the company four years ago, Babcock has played a key role in driving success, achieving a compound annual growth rate of more than 40% and helping expand to more than 40 employees across 16 states. Previously an assistant vice president and portfolio management officer at Bank of America, Babcock is involved with several nonprofit causes and organizations, including A Child's Place, the Orchard and LIFE Fellowship. Babcock earned an MBA from the University of Mississippi and in 2017 was awarded the Ole Miss MBA Outstanding Young Alumnus Award.
---
Tuesday, October 1st, 2019
Come to campus — if you dare… Rocky's Haunted Homecoming will unleash unbridled UToledo enthusiasm as students, employees and alumni psych up for Halloween and the big game.
"We have a lot of fun events planned throughout the week," said Ashlen Torio, director of the Homecoming Committee and senior majoring in operation and supply chain management. "We brought back Eat the Streets and our movie night. Both events are even bigger this year. Eat the Streets is being moved to Centennial Mall during the day to give more students an opportunity to come. And our movie night is now a double feature."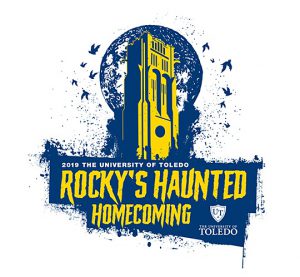 Scaring up fun is the plan before the Toledo Rockets face the Western Michigan Broncos 3:30 p.m. Saturday, Oct. 5 in the Glass Bowl.
"Students can expect a good time and a lot of school spirit," Torio said. "This is a time when everyone on campus is showing their UToledo pride."
This year's Homecoming activities, which include:
Tuesday, Oct. 1
Eat the Streets, 11 a.m. to 2 p.m., Centennial Mall. There'll be food trucks and music.
Wednesday, Oct. 2
Lip Sync Battle, 7 to 9 p.m., Thompson Student Union Ingman Room. Watch the top 10 Homecoming king and queen candidates take the stage.
Thursday, Oct. 3
Fright Night, 5 to 11 p.m., Thompson Student Union Rooms 2582 and 2584. It's a "spooktacular" movie double feature: Watch "The Haunted Mansion" and "The Nun." Paint pumpkins and have fun with other Halloween activities.
Friday, Oct. 4
Homecoming Gala, 6 p.m., Thompson Student Union Auditorium. The Alumni Association will present this year's Gold T, Blue T and Edward H. Schmidt Young Alum Award, and college and affiliate award winners will be honored. Tickets are $30 per person, $10 for children. For more information or to make a reservation, contact the UToledo Office of Alumni Engagement at 419.530.ALUM (2586) or go to the association's website.
Saturday, Oct. 5
The Edward C. and Helen G. Schmakel Homecoming Parade, 10:30 a.m. Sponsored by Blue Key National Honor Society and supported by the Office of Student Involvement and Leadership and the Office of Alumni Engagement, the parade will begin at West Bancroft Street and Campus Road and go east to Cheltenham Road to Christie Street to Middlesex Drive and back to West Bancroft.
Alumni Pregame, 12:30 to 3:30 p.m., William and Carol Koester Alumni Pavilion. Stop by for free hot dogs, chips and non-alcoholic beverages. There will be a cash bar for those 21 and older with proper ID, and live music from Mile Marker 1.
Toledo Rockets vs. Western Michigan Broncos, 3:30 p.m. Glass Bowl. Root for the Rockets and see the crowning of the Homecoming king and queen. Tickets are half-off for UToledo employees; UToledo students are admitted free with ID. Go to the Toledo Football Central website, stop by the UToledo Athletic Ticket Office in the Sullivan Athletic Complex at Savage Arena, or call 419.530.GOLD (4653).
---
Tuesday, September 24th, 2019
The author of "Ferguson's Fault Lines: The Race Quake That Rocked a Nation" will speak at The University of Toledo this week.
Kimberly Norwood, Henry H. Oberschelp Professor of Law at Washington University School of Law in St. Louis, will examine the institutional, systemic and cultural structures that resulted in racially disparate treatment in Ferguson five years ago.
Her free, public lecture, "Ferguson Five Years Later: A Look at the Legal and Social Reverberations in Ferguson and Around the Nation," is a part of the College of Law's Cannon Lecture Series.
The event is at noon Thursday, Sept. 26 in the UToledo Law Center McQuade Auditorium.
"We are honored to host a scholar and advocate of Professor Norwood's stature," said Geoffrey Rapp, associate dean for academic affairs and Harold A. Anderson Professor of Law and Values at the UToledo College of Law. "Her insights into the limitations of the legal system for addressing persistent racial discrimination have had a profound impact on how we think about lasting and difficult questions."
In Norwood's book published in 2016, she used Michael Brown's death and the protests in Ferguson as the foundation for a study on how various laws, social conditions, and economic and political policies may negatively impact the lives of black and brown people in America — contributing to racial and socioeconomic conflict.
Norwood's research focuses on colorism, implicit bias and the intersection of race, class and public education in America. She is a commissioner on the American Bar Association's Commission on Racial and Ethnic Diversity in the Profession, a commissioner on the Missouri Supreme Court Commission on Racial and Ethnic Fairness, and a member of the Monitoring Team for the U.S. v. Ferguson Consent Decree.
Norwood is the first black woman in Washington University's history to receive tenure. She recently was named the 2019 Woman of the Year by the Missouri Lawyers Media. Norwood is a graduate of Fordham University and received her law degree from the University of Missouri-Columbia.
The Cannon Lecture Series was established in 1980 to honor former Toledo attorney Joseph A. Cannon. The series hosts nationally known individuals who explore both the humanistic dimensions and limitations of the legal system.
---
Monday, September 23rd, 2019
The former CEO of Tabasco will deliver the keynote address at the 2019 KeyBank Global Leaders Forum hosted by KeyBank and The University of Toledo Family Business Center.
Tony Simmons, great-great-grandson of the creator of Tabasco sauce, is the seventh family member to assume leadership of the family-owned and operated McIlhenny Company on Avery Island in Louisiana over five generations.
The event, titled "A Hot Topic: Success in a Changing Retail Market," begins at 7:30 a.m. Thursday, Sept. 26 at the Hilton Garden Inn, 6165 Levis Commons Blvd. in Perrysburg.
Registration is required for the free, public event. Register online at utoledo.edu/centers/cfb/KeyBankLeadership.html.
Simmons plans to focus on the Tabasco brand, his recipe for success, and how to address the needs of both the family and the business.
The keynote address begins at 8 a.m., followed by a panel of local business leaders who will discuss governance and boards within a family business. Members of the panel include Simmons; Steve Wurth, president and CEO of Wurtec; Aly Sterling, president of Aly Sterling Philanthropy; and Joe Shrader, president of Shrader Tire and Oil.
The KeyBank Global Leaders Form Fund was established with the UToledo Family Business Center to bring world business leaders to our community to share their stories and engage conversations for local companies to achieve success for their business. KeyBank shares the center's passion for learning — whether it's for the student population or the local business community.
The UToledo Family Business Center is a member-driven organization with more than 200 family business members that provides support specifically designed for family businesses — places that have a special dynamic, one not always served by traditional "best practices" advice. Family dynamics impact family business; the UToledo Family Business Center makes that the core of its mission.
---
Thursday, September 19th, 2019
Maggie Buchele doesn't graduate from The University of Toledo College of Engineering for three more months, but she already secured a full-time job as a project engineer with Marathon Petroleum Corporation.
The fourth-year mechanical engineering major traces her success back to the college's career expo two years ago when she first met representatives from the company, which is ranked No. 31 on the Fortune 500 list.
"I chose UToledo because of the College of Engineering's mandatory co-op program, which gives you amazing work experience as a student," said Buchele, who completed two co-ops working at Marathon in Findlay, Ohio. "Companies are getting more specific on who they will hire, and UToledo's co-op program gives them a perfect opportunity to see if you will be a good fit as a permanent employee."
In 2018 the College of Engineering placed 1,745 students into co-ops with companies that paid students an average wage of $17.54 an hour.
More than 700 UToledo engineering students and alumni are once again connecting with employers from more than 175 companies across the U.S. at the Fall 2019 Engineering Career Expo from noon to 4 p.m. Tuesday, Sept. 24 in Savage Arena.
The networking event is part of a year-long celebration of a milestone for the UToledo Shah Center for Engineering Career Development: 20 years of placing more than 20,000 engineering co-ops.
In addition to Marathon Petroleum Corp., participating companies include Cooper Tire & Rubber Co., Dana Incorporated, GEM Inc., Johnson & Johnson – DePuy Synthes, GE Appliances, Honda, Owens Corning, Owens-Illinois, Inc., PCC Airfoils, SSOE Group and North Star Bluescope Steel.
Employers are seeking undergraduate students to participate in engineering co-op assignments, as well as their leadership development programs, along with seniors and graduates for full-time employment.
Buchele completed co-ops at two other companies in addition to Marathon.
"After my co-ops, I knew Marathon was the right fit for me. After my second co-op with them, they offered me a permanent position starting February 2020," said Buchele, who accepted the position. "I would never have received a job offer from Marathon at another university."
---
Tuesday, September 17th, 2019
The University of Toledo is honoring a successful alumna who inspired generations of students to pursue careers in chemistry and focused her life's work on improving water quality and the preservation of safe drinking water around the globe.
A dedication ceremony for the new Dr. Nina McClelland Laboratory for Water Chemistry and Environmental Analysis in The University of Toledo College of Natural Sciences and Mathematics is 3:30 p.m. Thursday, Sept. 19 in Bowman-Oddy Laboratories Room 2059.
The namesake of the new chemistry lab will attend the event.
"We are proud to recognize Dr. McClelland's important contributions to science and to The University of Toledo," UToledo President Sharon L. Gaber said. "Water quality is a critical area of research at our University, and this new lab will benefit our scientists and students in their search for solutions to protect public health and the environment."
The lab features state-of-the-art equipment, including novel extraction and microextraction technology and high-resolution mass spectrometry, tandem mass spectrometry and an advanced imaging system.
McClelland, UToledo dean emerita, retired from the University in 2011 after serving as dean of the UToledo College of Arts and Sciences, as well as working in the Provost's Office. She began at UToledo in 2003 as an adjunct professor in the Department of Chemistry.
McClelland served as chair of the Board of Directors for the American Chemical Society, the world's largest scientific organization. She also served as chairman, president and chief executive officer during her more than 30 years with NSF International, an independent, not-for-profit organization dedicated to certifying products and writing standards for food, water and consumer goods.
She has served on several major committees, including the National Institute of Standards and Technology in the U.S. Department of Commerce, the National Drinking Water Advisory Council in the U.S. Environmental Protection Agency, and the Committee on Water Treatment Chemicals in the National Academy of Sciences' National Research Council.
McClelland earned bachelor and master of science degrees from UToledo in 1951 and 1963, respectively. She received her doctoral degree in environmental chemistry from the University of Michigan in 1968. UToledo awarded her an honorary doctorate in science in 2003.
---
Monday, September 16th, 2019
More than 70 people will become U.S. citizens during a naturalization ceremony at 11 a.m. Tuesday, Sept. 17 in the Law Center McQuade Auditorium on The University of Toledo's Main Campus.
Judge Mary Ann Whipple of the U.S. Bankruptcy Court for the Northern District of Ohio will preside over the ceremony, which will celebrate Constitution Day at the University.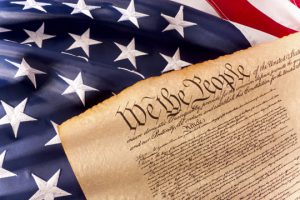 UToledo President Sharon L. Gaber will give welcome remarks at the event, which will feature alumna Grisoranyel Barrios as this year's guest speaker.
Barrios moved from Venezuela to Toledo when she was 7 years old. She attended Springfield Local Schools before coming to The University of Toledo, where she received a bachelor of arts degree in political science and a bachelor of social work degree in 2018.
She is pursuing a master's degree in social work specializing in policy at Washington University in St. Louis and plans to graduate in December.
Barrios attended the 2017 naturalization ceremony, where she opened the court, and became a U.S. citizen in March 2019.
"I look forward to participating in the ceremony yet again, but this time as a UToledo alumna and a U.S. citizen," Barrios said.
"Hosting this naturalization ceremony on campus is a wonderful way to celebrate Constitution Day and to honor our country's history," Diane Miller, chief of staff and associate vice president for government relations, said. "It is so moving to watch individuals achieve their dreams of becoming U.S. citizens."
Constitution Day is annually observed in America to commemorate the formation and signing of the Constitution of the United States on Sept. 17, 1787.
The free, public event is sponsored by the Office of Government Relations and the Center for International Studies and Programs.
---