Author Archive
Monday, January 13th, 2020
The University of Toledo College of Engineering is hosting a workshop to showcase a national program designed to use the nation's commercial nuclear reactors to produce hydrogen and help the transportation, chemical and steel industries close the carbon cycle.
The event, focused on the sustainable energy program, starts at 8:30 a.m. Tuesday, Jan. 14 in the Nitschke Hall SSOE Seminar Room, bringing together representatives from the U.S. Department of Energy, scientists from U.S. national laboratories, UToledo faculty, representatives from Davis-Besse nuclear power plant, and industry leaders.
As part of the national project funded by the U.S. Department of Energy, Idaho National Laboratory is working with the Davis-Besse nuclear power plant on a pilot program to install an electrolysis system to produce hydrogen.
"The University of Toledo is proud to host a workshop to explore opportunities in repurposing light water nuclear reactors for hydrogen production through a hybrid systems design," said Dr. Mike Toole, dean of the UToledo College of Engineering.
"The project is a win for regional industries and clean energy," Dr. Connie Schall, UToledo associate vice president for research, said. "Nuclear electricity is a low carbon emission power source. The nuclear energy hub model opens many opportunities for regional industries, not only for green hydrogen but also for other electrochemically driven processes."
This workshop will explore the current state-of-the-art opportunities for industry, government and academic collaboration, identify current research-and-development gaps, and provide an overview of the U.S. Department of Energy programs that are leading the effort to build a hydrogen economy and innovative power grid solutions.
The agenda and registration information can be found at the workshop website.
The workshop comes three months after the U.S. Department of Energy selected UToledo to host National Lab Day, which connected students and researchers with preeminent scientists from world-class facilities across the country to explore opportunities for partnerships.
---
Tuesday, January 7th, 2020
Dr. Yusef Salaam, whose story is documented in the 2019 series "When They See Us," will give the keynote address at The University of Toledo's 36th annual Conference for Aspiring Minority Youth Saturday, Jan. 11.
Sponsored by Toledo Excel and the UToledo Joint Committee, the conference for seventh- and eighth-graders, high school students and parents will start at 8:30 a.m. in the Thompson Student Union Auditorium.
"Social Justice: A Community Enterprise" is the theme of this year's event.
"Dr. Salaam understands better than most that we have systems in this country that do not work equally for all of its citizens," David Young, director of Toledo Excel and Special Projects, said. "However, he has dedicated himself to changing those systems as one of the leading advocates in the nation for criminal justice reform and change."
Salaam was one of five teenagers of color, ages 14 to 16, wrongfully convicted of the 1989 beating and rape of a female jogger in Central Park. More than a decade later, a murderer and rapist serving a life sentence confessed to the brutal crime, and DNA evidence cleared the five, who were exonerated.
In 2012, filmmaker Ken Burns made a documentary detailing the travesty; "The Central Park Five" chronicled the case from the perspective of the teens whose lives were changed by the miscarriage of justice.
Two years later, the quintet agreed to an approximate $40 million settlement from New York City to resolve the civil rights lawsuit over their arrests and imprisonment for the attack that made headlines around the globe.
Their story continues to educate and open eyes. "When They See Us," a four-part miniseries was released this year by Netflix and has received numerous awards.
"Since the day we were wrongfully arrested, others controlled the story about us without ever seeing us," Salaam, an Innocence Project board member, said at the nonprofit legal organization's 2019 gala.
Since his release more than two decades ago, Salaam has become an activist and inspirational speaker who addresses injustice and the importance of education, and facilitates discussions on race and class, prison reform, and capital punishment.
"This conference will educate students and parents about their basic rights and also advocate all attendees to be change agents where needed," Young said. "We hope this will encourage a community and collective effort where social justice is needed."
Following the keynote address, Salaam will participate in a panel discussion on social justice and criminal justice reform. He will be joined by RaShya Ghee, UToledo graduate, adjunct professor at the UToledo College of Law, and staff attorney at Advocating for Opportunity; Albert Earl, cultural educator and prevention education specialist; and UToledo Police Chief and Director of Public Safety Jeff Newton. Rhonda Sewell, manager of external and governmental affairs at Toledo Lucas County Public Library, will moderate the session.
Toledo Excel was established in 1988 to help underrepresented students, including African, Asian, Hispanic and Native Americans, for success in college. Through summer institutes, academic retreat weekends, campus visits and guidance through the admission process, students increase their self-esteem, cultural awareness and civic involvement.
Toledo Excel is part of the Office of Multicultural Student Success, which is in the Division of Student Affairs. The UToledo Joint Committee includes representatives from the University, Toledo Public and Parochial schools, and civic and community leaders from the city of Toledo. The mission of the committee is to bring together people in the community interested in the education of underrepresented youth. The UToledo Joint Committee also serves as an advisory board and support system for Toledo Excel.
Advance registration for the free, public conference is required; go to the eventbrite website.
---
Monday, December 23rd, 2019
Tasting terroir, or a sense of place, isn't only reserved for wine lovers drinking a glass of burgundy or champagne from France.
It's evident, too, in the U.S. craft beer boom and the growing preference for local hops.
Hops, a key ingredient in making beer, is a crop making a comeback on farms across the country thanks to the incredible rise of the craft brewing industry over the past decade.
Craft breweries and their customers' thirst for new, locally grown flavors are playing a big role in fueling an unprecedented geographic expansion of hop production across the U.S., according to researchers at The University of Toledo and Penn State University.
Their findings, which were recently published in the Journal of Wine Economics, suggest that as more craft breweries emerge around the country, so may new opportunities for farmers.
"It is fantastic to see the re-emergence of hop production in states which, at one point, had abandoned the crop," said Dr. Neil Reid, professor of geography and planning at The University of Toledo who teaches a class titled The Geography of Beer and Brewing. "Hops provide aroma and bittering characteristics in beer. Looking to differentiate themselves from Molson Coors and Anheuser Busch, independent craft brewers demand locally grown hops, experiment with different varieties of hops, and use more hops in beer production compared to mass-produced beers."
According to the Brewers Association, between 2007 and 2017 the number of breweries in the U.S. increased from 1,459 to 6,490.
The researchers found that the number of breweries in a state is associated with more hop farms and hop acres five years later. The number of hop farms grew from 68 to 817, and hop acreage expanded from 31,145 to 59,429 acres.
Before 2007, hop production in the country was limited to only three Pacific Northwest states—Oregon, Washington, and Idaho. Hops are now produced in 29 states, according to the Hop Growers of America.
"Our study is the first to systematically show that the number of hop farms in a state is related to the number of craft breweries," said Claudia Schmidt, assistant professor of agricultural economics in Penn State's College of Agricultural Sciences. "It suggests that in areas where hop production is possible and not cost-prohibitive, breweries are expanding markets for farmers and providing an opportunity to diversify farm income."
In fact, the growth positioned the U.S. as the largest producer of hops globally, both in terms of acreage and production.
Working with farm, brewery and climate data, the researchers developed a statistical model to determine whether new craft breweries in a state between 2007 and 2017 resulted in a larger number of hop producers and hop acres planted, by both new and existing growers in that state. They built a time-lag into their model to identify the effect of new breweries over time. They also controlled for other variables that may influence farmers to start growing hops, such as average farm size, average net farm income and climate.
Their findings are correlational and do not point to a clear cause-and-effect. However, the time-lag built into the model indicates that the growth in breweries preceded the growth in hop farms.
If more brewers are looking for hops grown nearby, then more farmers may be willing to try growing them, even if only on a small scale. For instance, in Pennsylvania only 17 farms reported hop production in 2017, and their combined acreage is small—only 21 acres in all, according to the U.S. Census of Agriculture.
In contrast, in 2017 there were 100 acres of farmland devoted to hop production in Ohio. According to the Ohio Hop Growers Guild, there are over 70 farms in Ohio that are growing hops.
While the growing of hops in states like Ohio and Pennsylvania is a relatively recent phenomenon, many Midwestern and Northeastern states have historical connections to the hop industry.
"In 1870, the three leading hop producing states were New York, Wisconsin and Michigan," Reid said. "A number of factors, including declining yields, disease outbreaks, high production and processing costs, and an inability to achieve economies of scale, contributed to the decline and disappearance of the hop industry in the Midwest and Northeast."
Reid, who is affectionately known as "The Beer Professor," is an expert on the craft brewing industry and its economic geography. His research is focused on the industry's growth in the U.S. and its potential role in helping to revitalize neighborhood economies.
His previous research found that the craft brewery boom is good for home values. That study showed single-family homes in the city of Charlotte, N.C., saw their value increase by nearly 10% after a brewery opened within a half mile of the property, and center-city condos got a nearly 3% bump.
Reid will give the opening keynote address at the 2020 Beer Marketing and Tourism Conference on Wednesday, Feb. 5, in St. Petersburg, Fla.
His new book, "Agritourism, Wine Tourism, and Craft Beer Tourism: Local Responses to Peripherality Through Tourism Niches," will be published later this month. The book is co-edited with Maria Giulia Pezzi and Alessandra Faggian of the Gran Sasso Science Institute in L'Aquila, Italy.
---
Monday, December 9th, 2019
More than 2,000 students at The University of Toledo will graduate at commencement ceremonies Saturday, Dec. 14 in Savage Arena.
The University is holding two ceremonies to include both undergraduate and graduate students from each of the colleges.
A total of 2,070 degrees will be awarded: 1,474 bachelor's degrees, 426 master's degrees, 104 doctoral degrees, 41 associate's degrees, 15 education specialist degrees and 10 graduate certificates.
The 9 a.m. ceremony will recognize all Ph.D. candidates and graduates from the colleges of Arts and Letters; Engineering; Judith Herb College of Education; Natural Sciences and Mathematics; and Pharmacy and Pharmaceutical Sciences.
The 1 p.m. ceremony will recognize undergraduate and graduate students receiving degrees from the colleges of Business and Innovation; Health and Human Services; Nursing; University College; and Medicine and Life Sciences.
Commencement is always a time to celebrate with family. Their support is critical to achieving success. For several students walking across the stage this year, family was literally at their side for the journey.
At 48 years old, Lori Boyer is set to take the stage and grasp her diploma on the same day as her son, Jordan.
Lori, a preschool teacher, started taking classes at UToledo in 1990, but stopped to raise her three children.
After returning in January to cross the finish line, the UToledo employee at the Early Learning Center is graduating from University College with a bachelor's degree in an individualized program of early childhood education and educational leadership. Her son is graduating from the College of Engineering with a bachelor's degree in computer science and engineering technology.
"I am proud to share this special moment with my oldest son," Boyer said. "It's important to me to prove to all of my children that you can accomplish anything no matter what point you are in life. I accomplished something I set out to do a long time ago, and it has the potential to take me in different directions in my career."
Fall commencement also is a family affair for a brother-and-sister duo who worked side-by-side as undergraduates in the same exercise biology research lab.
Dylan and Nicole Sarieh, two-thirds of a set of fraternal triplets, both chose to study exercise science as pre-med students in the College of Health and Human Services, while their brother studies business at UToledo.
Together, Dylan and Nicole researched the molecular regulation of skeletal muscle growth under the guidance of Dr. Thomas McLoughlin, associate professor in the School of Exercise and Rehabilitation Sciences, in order to help clinicians develop ways to help patients grow stronger after suffering from muscle loss.
"The opportunity to do real, meaningful, hands-on work in the lab definitely built our confidence and opened our eyes to what is important," Dylan said about his undergraduate research experience. "My sister and I both plan to next go to medical school. She wants to be a dermatologist and I want to be a general physician."
"Whether at home, in the classroom or in the lab, I always had someone I could lean on who was tackling the same challenges," Nicole said. "Putting our two brains together – even during car rides – made a big difference in our success."
For some graduates, they found love and are starting their own family.
McKenna Wirebaugh, who is graduating with a bachelor's degree in chemical engineering, met her soon-to-be husband at UToledo. Both she and Travis Mang, her fiancé, will receive degrees on Saturday.
Turns out, planning their upcoming wedding is the only item left on the to-do list. Wirebaugh secured a full-time job as a process engineer at BP's Cherry Point Refinery in Blaine, Wash., located about 40 minutes south of Vancouver. She is scheduled to start her new job in March, about a month after her honeymoon.
"I chose to go to UToledo because of the mandatory co-op program in engineering," Wirebaugh said. "It guaranteed I would have a paycheck while in school and build my resume. I'm grateful for my decision because it ended up launching my career."
Wirebaugh completed four co-op rotations with BP while at UToledo. She also helped build a water purification unit that was sent to Ecuador through the nonprofit organization Clean Water for the World.
Her favorite experience as a student in the Jesup Scott Honors College was a class focusing on creativity. For a group project on the dangers of cell-phone use, they brought in a PlayStation 2 system and challenged students to text and 'drive' on Mario Kart without crashing.
"My professors have truly cared about me inside and outside of my academic career," Wirebaugh said. "I don't see the friendships I've made here ending anytime soon."
In the event of inclement weather, the approximately two-hour commencement ceremonies will be moved to Sunday, Dec. 15.
For those unable to attend, the ceremonies will stream live at utoledo.edu/video.
For more information about commencement, go to utoledo.edu/commencement.
---
Tuesday, December 3rd, 2019
A professor at The University of Toledo has been awarded one of the highest honors a scientist can earn.
Dr. Amanda Bryant-Friedrich, professor of medicinal and biological chemistry, is among the 443 scientists elected in 2019 as Fellows of the American Association for the Advancement of Sciences (AAAS), the world's largest general scientific society.
The lifetime appointment is an honor bestowed upon the society's members by their peers and recognizes individuals for their efforts in advancing science applications that are deemed scientifically or socially distinguished.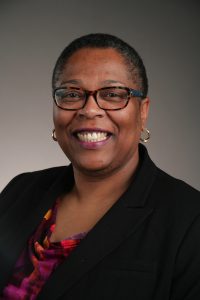 Bryant-Friedrich has created tools for the study of oxidative damage processes in DNA and RNA, contributing to the development of new, more effective ways to treat or prevent cancer, neurological disorders and age-related disorders.
Her research also includes biomarkers, photochemistry, mass spectrometry and ionizing radiation.
"I am thankful to be elected as a Fellow to the AAAS for the contributions I have made to the science that I love," said Bryant-Friedrich, who also serves as dean of the College of Graduate Studies, vice provost for graduate affairs and director of the Shimadzu Laboratory for Pharmaceutical Research Excellence. "Scholarly recognition by one's peers is the highest honor, and recognition for my work validates my efforts. I credit this honor to the wonderful like-minded, adventurous students and colleagues who have accompanied me along this journey."
The AAAS includes more than 250 affiliated societies and academies of science, serves 10 million individuals, and publishes the journal Science. It was founded in 1848 and its tradition of naming AAAS Fellows began in 1874.
"This prestigious national honor for Dr. Bryant-Friedrich brings great pride to our campus," UToledo President Sharon L. Gaber said. "Recognition by AAAS is an external validation of our talented experts determined to advance science and improve our world."
Bryant-Friedrich, who joined the University in 2007, will be honored in February at the organization's annual meeting in Seattle.
She shares this honor with four UToledo colleagues who were previously elected to AAAS: Dr. Heidi Appel, dean of the Jesup Scott Honors College; Dr. Karen Bjorkman, UToledo interim provost and executive vice president for academic affairs; and Dr. Steven Federman, professor of astronomy, who were named Fellows in 2017; and Dr. Jack Schultz, who recently retired from his position as senior executive director of research development and has been an AAAS Fellow since 2011.
Last year Bryant-Friedrich was named a Fellow of the American Chemical Society.
She received a bachelor of science degree in chemistry at North Carolina Central University, a master's degree in chemistry from Duke University, and a doctorate in pharmaceutical chemistry from Ruprecht-Karls Universität in Germany. In addition, she conducted postdoctoral studies at the University of Basel in Switzerland.
---
Monday, December 2nd, 2019
Designing smarter traffic lights. Restoring farmlands to wetlands. Printing 3D violins so that students in low-income and remote areas have access to instruments.
These are just a few examples of senior design projects UToledo engineering students will present to the public at the Senior Design Expo. The event will take place from 10 a.m. to 1 p.m. Friday, Dec. 6 in Nitschke Hall and the Brady Center at The University of Toledo.
As part of required senior design/capstone projects, about 60 UToledo engineering teams worked with local businesses, industries and federal agencies to help solve technical and business challenges. Students will present their final prototypes, provide hands-on demonstrations, and answer questions about their experiences at the expo.
Caroline Shipman's five-member team worked on the violin project with the Toledo Symphony and music director Alain Trudel. The group developed and printed a 3D violin, composed of five parts. They wanted the violin to "be as easy to assemble as a Lego kit," said Shipman, a mechanical engineering senior who will graduate in December.
Shipman has played violin for more than 15 years and says she was excited to combine her passions for STEM and music on the project. The 3D violin costs about $150, as opposed to a starter violin that usually costs $400.
"It was awesome to see it go from concept to holding a physical prototype in your hands," she said. "To give access to a child who didn't think they could play an instrument — who knows? One day they could become a concert master."
Engineers are problem-solvers at heart. The challenges the UToledo students tried to solve with their senior projects could make life easier for manufacturers, homeowners, those with disabilities, and anyone who drives a car. Many of their projects addressed timely issues such as school security or environmental problems, along with a host of other topics that include:
Helping the Toledo Zoo recycle grey water created by its splash pad;
Designing goggles to aid in the remote diagnosis of strokes;
Creating an immersive training tool to help users learn how to defend against cyber threats;
Building a fishing rod that will allow a man with limited arm mobility pursue his passion; and
Designing a speaker/microphone system for a woman with ALS to use near or under an oxygen mask so people can hear her better.
The expo also will feature a high school design competition from 10:30 a.m. to 1:30 p.m. in Nitschke Auditorium.
 Some UToledo and high school projects addressed autonomous vehicles. The vehicles have been a focus of a number of events sponsored by the College of Engineering throughout 2019. The final Technology Takes the Wheel program will be held in conjunction with the Senior Design Expo.
The seventh event in the seminar series will take place Friday, Dec. 6, from 8 to 10 a.m. in Nitschke Auditorium. The "Preparing Your Workforce for the Future" panel discussion will feature representatives from AAA, SSOE Group and Sinclair Community College. A Tesla will be the featured on-stage vehicle, and attendees will hear from featured speakers Dr. Jack Marchbanks, director of the Ohio Department of Transportation, and Rich Granger, managing director of workforce development for DriveOhio.
Attendees are encouraged to bring new, unwrapped toys for the annual Hope for the Holidays campaign. UToledo is partnering with 13abc Action News and the Salvation Army. Rocky and Rocksy will be there to collect donations.
---
Tuesday, November 26th, 2019
The University of Toledo Ritter Planetarium is showing "The Alien Who Stole Christmas" and "Santa's Secret Star" in full dome for children throughout the holiday season.
"The Alien Who Stole Christmas" is featured 7:30 p.m. on Fridays through Dec. 20.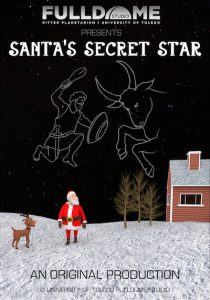 "Santa's Secret Star" is featured 1 p.m. Saturdays through Dec. 21.
"These are amusing, entertaining and educational programs for children and Santa fans of all ages," Alex Mak, associate director of UToledo Ritter Planetarium, said.
"Santa's Secret Star" is a story about Santa and Rudolph learning how to find their way back to the North Pole using constellations. After Santa finishes his Christmas deliveries, he and his reindeer become lost. Without a compass, he and Rudolph turn to the constellations for help, and the stars lead them to the North Star, which guides them home.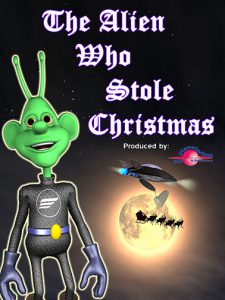 "The Alien Who Stole Christmas" tells the story of Santa meeting Mr. Freep, an alien from another world. Together they head off on a cosmic adventure taking them to the farthest regions of the solar system and try to make it back in time for Santa to deliver toys to the children of Earth.
Admission to the programs is $7 for adults and $5 for children, senior citizens and UToledo community members. All children younger than four are free. Doors will open 30 minutes prior to the show.
---
Tuesday, November 26th, 2019
The University of Toledo College of Nursing will offer guaranteed admission for freshmen into its competitive Bachelor of Science in Nursing Program for select, well-prepared applicants starting fall 2020.
"Nursing is a competitive field but we feel strongly that by offering a commitment to entering freshmen students whose academic achievements show they are uniquely prepared, we can add depth to a highly skilled, compassionate workforce that will meet the needs of northwest Ohio and beyond," said Dr. Linda Lewandowski, dean of the College of Nursing.
Beginning fall 2020, applicants with a high school GPA of 3.7 or higher and an ACT score of at least 24 will be directly enrolled in UToledo's B.S.N. program.
Previously, all applicants pursuing a B.S.N. were first enrolled in UToledo's pre-nursing program with a requirement that they officially apply in their sophomore year to get into the nursing major to complete their degree. Applicants who do not meet the initial guarantee criteria will still have an opportunity to be admitted into nursing via this current pathway.
"By expanding pathways and opportunities for prospective students into our nursing program we're responding to the changing needs of students and the healthcare environment," said Jim Anderson, vice president for enrollment management.
The College of Nursing's application process also considers a range of personal attributes, such as community service and leadership skills, participation in extracurricular activities, and demonstrated responsibility. Consideration also will be given to those with military experience, first-generation college students, and those who would contribute to the cultural, gender, age, economic, racial, or geographic diversity of the healthcare workforce.
The nursing field is expected to be one of the nation's fastest growing occupations during the next decade as America's population grows older and current nurses leave the workforce. The Bureau of Labor Statistics has projected there will be more than 370,000 new nursing jobs added between 2018 and 2028.
"Many parts of the country, including northwest Ohio, are experiencing nursing shortages. We are rising to meet that challenge with well-educated, well-trained and compassionate nurses," Lewandowski said. "Our new admission process, which includes a path to guaranteed admission, is just part of our overall strategy."
This fall, the College of Nursing experienced a 10% increase in enrollment with the largest cohort of students pursuing a bachelor's degree in nursing and also recently received full 10-year accreditation from the Commission on Collegiate Nursing Education with a positive review of all of the college's programs. The college also recently launched the state's first R.N. to B.S.N. online Competency-Based Education program, which provides unique flexibility to working nurses to advance their careers at their own personalized pace.
UToledo's master's and doctoral nursing programs also have been recognized among the best in the nation, with the master's program jumping 48 spots to No. 135 in the most recent U.S. News & World Report Best Graduate Schools rankings. The doctor of nursing program is ranked 135, up 17 spots from the previous year.
---
Monday, November 25th, 2019
The University of Toledo College of Law is one of the best law schools in the country for women in a prestigious ranking that focuses on student experience and success.
The Princeton Review, which again selected the UToledo College of Law in its list of the top 167 law schools in the country titled "Best Law Schools 2020," ranked UToledo No. 5 on the national list of the top 10 law schools with the "Greatest Resources for Women."
In addition, the Princeton Review once again named UToledo College of Law No. 1 in Ohio and Michigan for most accessible professors. UToledo tied for No. 1 in Indiana for faculty accessibility.
"What makes Toledo Law special is that faculty members are deeply involved in their students learning and professional development from day one," said Geoffrey Rapp, associate dean for academic affairs and Harold A. Anderson Professor of Law and Values. "Our faculty get to know our students – where they are from, where they want to be, and what kind of law they aspire to practice. This puts them in a position to provide support to help students reach their goals."
The Princeton Review identified which law schools offer the greatest resources for women based on the percentage of the student body who identify as women, as well as on student answers to a survey question on whether all students are afforded equal treatment by students and faculty regardless of their gender.
The college scored 97 in the "Professors Accessible" category, which is based on how students rate the accessibility of law school faculty. The ratings are scored on a scale of 60 to 99.
"Every aspect of the school strikes the perfect balance between professionalism and personal attention," said a surveyed student. Students also spoke overwhelmingly of the school's obvious care and concern for their future, and the faculty's "willingness to sit and chat with students about class at any time, while connecting what we learn to real-life use."
"We recommend The University of Toledo College of Law and every one of the 167 law schools we selected for our 2020 list as an excellent choice for a student aspiring to earn a J.D.," said Rob Franek, editor-in-chief of the Princeton Review.
The Princeton Review's 80-question student survey asked law school students about their schools' academics, student body and campus life. It also included questions for the respondents about themselves and their career plans. The student surveys for this edition were conducted during the 2018-19, 2017-18 and 2016-17 academic years.
The company also selected schools based on an analysis of institutional data collected from surveys of law school administrators during the 2018-19 academic year. The institutional survey, which numbered more than 200 questions, covered topics from academic offerings and admission requirements to data about currently enrolled students as well as graduates' employment.
"What makes our 'Best Law Schools' designations unique is that we also take into account the opinions of students attending the schools about their campus and classroom experiences," Franek said. "For our 2020 list, we surveyed a total of 19,000 students at the 167 schools."
The Princeton Review is a leading tutoring, test prep and college admission services company. Every year, the company helps millions of college- and graduate school-bound students achieve their education and career goals through online and in-person courses delivered by a network of more than 4,000 teachers and tutors, online resources, and more than 150 print and digital books published by Penguin Random House.
---
Monday, November 25th, 2019
An estimated 35 million Americans have some college credit, but did not earn their degree. Four million completed at least two years of coursework.
To help them cross the finish line, The University of Toledo has been selected to participate in Degrees When Due, a three-year national initiative led by the Institute for Higher Education Policy.
The program gives colleges and universities resources to reengage students who have some college credit and help them complete their degrees.
UToledo is part of the second cohort of colleges and universities across the country participating in Degrees When Due.
"This is a great opportunity to accelerate our efforts to reach out to students who were on the path to success, but had to stop their studies short of a degree," said Dr. Karen Bjorkman, UToledo interim provost and executive vice president for academic affairs. "We are eager to welcome them back and support them as they accomplish their goals and improve their lives."
The nine-month program provides online tools and resources to help audit previously earned and transfer credits to determine each student's best pathway to graduation.
In Ohio, an estimated 136,672 people are eligible to receive an associate's degree with the college credit they've already earned.
"Our Degrees When Due institutional and state partners are building a strong pathway to degree attainment for all students, including by providing an on-ramp for those who have paused their studies or 'stopped-out,'" said Dr. Michelle Asha Cooper, president of the Institute for Higher Education Policy. "The Institute for Higher Education Policy enthusiastically welcomes the selected institutions and states to this effort. Through this initiative, they will increase student success, serve a diverse set of student populations, and join us in addressing one of higher education's most pressing challenges: degree completion."
---