Archive for the 'News Release' Category
Wednesday, August 5th, 2020
The University of Toledo is continuing its Dialogues on Diversity series with a conversation on the role of Black women and non-Black allies in movements toward equity in the U.S.
The next virtual town hall in the series titled "Sister Circle: Resistance and Resilience, Then and Now" will take place 5:30 p.m. Thursday, Aug. 6 and can be accessed on WebEx using the access code 160 061 5758. The meeting password is DoD:5Sister. Join by phone at 415.655.0002.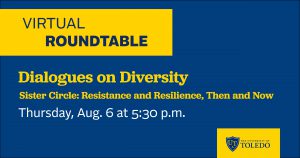 The discussion to be moderated by Malaika Bell, program manager in the UToledo Office of Diversity and Inclusion, is an invitation for the public to join a meeting of the Sister Circle, a group of diverse women from both Main Campus and Health Science Campus who have been meeting weekly for the past several months to promote positivity.
"During our next meeting of the Sister Circle, we invite the community to participate in a conversation about the role that Black women have played in movements toward equity in our nation, how we can truly practice radical self-care, and what we want from our non-Black allies," Bell said.
Participants will be:
Charlene Gilbert, dean of the College of Arts and Letters;
Monica Holiday-Goodman, associate dean for Health Science Campus Student Affairs and Diversity, and professor of pharmacy practice; and
Tinola Mayfield-Guerrero, immersed vocational rehabilitation counselor in partnership with UToledo.
This is the fifth in a series of recent virtual Dialogues on Diversity in the more than two months since George Floyd was killed in Minneapolis when a police officer knelt on his neck for nearly nine minutes, sparking protests against systemic racism across the country.
---
Friday, July 17th, 2020
SPECIAL BOARD OF TRUSTEES MEETING
Monday, July 20, 2020
4 p.m. Special Board of Trustees Meeting
Join via WebEx:
Meeting number (access code): 160 998 7770
Meeting password: BOTSPMTGJULY20
Join via Phone:
+1-415-655-0002
Meeting number (access code): 160 998 7770
The Board of Trustees will immediately enter Executive Session upon convening
the meeting to discuss the employment and compensation of a public employee.
Any questions may be directed to the Office of University Marketing and Communications by calling 419.350.3879 or via email to meghan.cunningham@utoledo.edu.
---
Thursday, July 16th, 2020
The University of Toledo, after consultations with the Board of Trustees, announced Thursday, July 16, that it is postponing the Request for Proposals (RFP) process indefinitely, and will focus our immediate efforts on stabilizing the University of Toledo Medical Center's (UTMC) fiscal challenges. The RFP was one aspect of the University's ongoing research to explore all possible options for the future of the hospital.
University officials and hospital leadership have been working tirelessly to address the sustainability of the medical center, including amending UTMC's medical bylaws, enhancing partnerships with the Toledo Clinic and working on a number of business efficiency and cost reduction strategies.
"There has been much public discussion about the fiscal challenges facing our hospital. This is indeed a challenge we must address, and we will continue to do so," UToledo Interim President Gregory Postel said. "We recognize the important role of the hospital in our community and are doing our due diligence to address the impact of the hospital's current financial condition on the University enterprise, while thoughtfully determining the best long-term solution."
Hospital leadership has made progress in its short-term stabilization efforts which provide an opportunity to focus immediate efforts on caring for the community during the midst of this unprecendented COVID-19 pandemic.
Following the Board of Trustees vote to amend the hospital's medical bylaws in March by removing the faculty-appointment restriction for practicing physicians, there are now 16 Toledo Clinic physicians credentialed at UTMC. Hospital leaders have been working collaboratively with the Toledo Clinic to explore partnership opportunities in key practice areas, including hematology, oncology, cardiology and infusion services.
"Our hospital serves a critical role in our community as evidenced by the leadership role we've played during this pandemic," UTMC CEO Rick Swaine said. "We were the first location in northwest Ohio capable of testing samples for COVID-19, and continue to be the central testing site for our region."
"We appreciate the ongoing support of our elected officials and our community. UTMC is your community hospital and we are honored to care for you. As we look to grow our way out of these fiscal challenges, we need your continued support for our services and those of our highly trained physicians."
As part of the hospital's ongoing business strategy assessment, UTMC continues to grow its primary care marketshare and anticipates adding two family medicine physicians within the next quarter. UTMC has also recently hired two critical care specialists, an electrophysiologist and a new transplant surgeon. In addition, UTMC is the only hospital in the Toledo metro area that offers kidney transplants, and has been performing these since 1972.
UTMC's increased focus on safety in recent years has had a dramatic impact improving the care received and overall experience of patients in the hospital. Since 2017, overall infections and infection rates have decreased by more than half and UTMC improved from 80th in 2017 to 8th in 2019 in the overall safety ranking by Vizient, a national network of healthcare organizations working to improve healthcare performance. In the last year alone, UTMC decreased blood stream infections by 90%, readmissions by 10% and overall mortality by 10%.
Additionally, UTMC's request to the Centers for Medicare and Medicaid Services for a rural designation change was approved for FY 2021. This redesignation impacts the hospital's reimbursement rates better aligning them with the actual cost of care in our region, and is expected to provide $5 million in additional reimbursement.
While ProMedica Toledo Hospital remains the area's academic medical center as defined in the Academic Affiliation Agreement with the College of Medicine and Life Sciences, UTMC continues to serve as a teaching hospital for UToledo learners enrolled in the University's many health professional programs.
"There are a number of challenges ahead and we can't lose sight of our primary role as an educational institution; however, we also recognize that our community needs our hospital and we need them to support us by continuing to use our services. We must increase our patient volume to find a sustainable solution," Postel said. "This will take all of us, working together, to find the best solution."
---
Wednesday, July 8th, 2020
The University of Toledo's third campus conversation after the death of George Floyd will feature insight from a panel of African-American men.
The Dialogues on Diversity Virtual Town Hall series continues at 5:30 p.m. Thursday, July 9 with "Black Men Respond to the Killing of George Floyd, Black Lives Matter and Racism" hosted jointly by the Office of Diversity and Inclusion and Brothers on the Rise.
The free, public event can be accessed on WebEx using the access code 160 804 1384. The meeting password is knYq2a8mta7. Join by phone at 415.655.0002.
"Black men have been impacted by racism and violence for generations," David Young, UToledo director of Toledo Excel and special projects, and moderator of the discussion, said. "We hope to have a frank and honest discussion with a panel of Black men from a variety of backgrounds, each lending their unique viewpoints. At the same time, it is our hope to begin exploring some solutions."
Participants also include:
Demond Pryor, director of UToledo Recreational Services;
Dr. Jean Paul Amegee, UToledo assistant professor of emergency medicine and University alumnus;
Kush Baxter, UToledo student;
James Townsend, clinical counselor at the UToledo Counseling Center; and
Justin Ingram, UToledo assistant men's basketball coach.
UToledo is a community that celebrates and respects people of all backgrounds and experiences. As an institution, we remain committed to building an inclusive environment free of racism, sexism, bigotry and other negative influences.
---
Tuesday, July 7th, 2020
Every summer millions of people visit parks and protected areas along the shorelines of the Great Lakes to camp, hike, swim and explore nature's beauty.
While COVID-19 has impacted staffing, operations and budgets at the parks, tourists this year also may notice changes if recent record-high water levels persist on Lake Huron, Lake Ontario, Lake Michigan, Lake Erie and Lake Superior.
A new study by a graduate student at The University of Toledo zeroes in on how coastal flooding and erosion in 2019 damaged park facilities and roads and interrupted visitor experiences, as well as examines the financial cost of the high water levels.
The research presented at the 2020 Great Lakes Virtual Conference, which is hosted by the International Association of Great Lakes Research, was completed by Eric Kostecky, a graduate student earning his master's degree in geography, as part of a course in environmental planning he took last fall while completing his undergraduate degree in geography and planning.
"A humbling statistic is that 75% of the parks indicated that continued higher lake levels in 2020 and beyond would further impact park operations and infrastructure," Kostecky said. "Future management actions would be to improve parking lots and roads and to move hiking trails, campgrounds and public access locations."
To gather information, Kostecky surveyed 50 parks along the Great Lakes, both federal and state parks in the United States and provincial parks in Canada. Twenty-nine responded.
"Even though Great Lakes parks and protected areas have experienced impacts from shoreline erosion and flooding during previous high water-level events in 1972-73 and 1985-86, this study is the first comprehensive attempt to catalogue those impacts," said Dr. Patrick Lawrence, professor and chair of the UToledo Department of Geography and Planning and Kostecky's faculty advisor.
The study shows 50% of the responding parks were impacted by both shoreline erosion and flooding, with the most common type of damage being to boat launches and building structures that were flooded, and roads near dunes washed away by waves.
Total cost of damage for 55% of the parks was $50,000 or less.
As a result of the damage, parks implemented a variety of changes for public safety last year: sections of the park were closed, select park operations were canceled, and some visitor education programs were suspended.
Great Lakes water levels peaked in July 2019, with increases varying between 14 and 31 inches above their long-term averages; Lake Superior was at 14 inches above its average, while Lake Michigan, Lake Huron, Lake Erie and Lake Ontario were at 31 inches above average, Lawrence said.
"The water levels in the Great Lakes fluctuate, but they don't fluctuate rapidly, so it's hard to say if we're still in the upswing or on the downswing," Kostecky said. "We won't know if we're continuing to rise or if waters have started to recede for the next couple of years."
The Great Lakes shoreline stretches 10,000 miles around eight U.S. states and Canada.
"Many parks and protected areas in the Great Lakes have struggled with the economic costs and interruptions of their operations, including services and programs for their visitors, and are concerned that as this period of high water levels continues this summer, they will face ongoing challenges in delivering the levels of public access and services to their visitors so eager to explore the parks and enjoy the nature and environment provided by these special spaces," Lawrence said.
---
Wednesday, July 1st, 2020
The University of Toledo has developed its second diversity plan with engagement from more than 3,100 campus and community stakeholders to advance the progress made during the inaugural strategic diversity plan.
"Diversity, inclusion and equity are core values of our University infused into every action we take," Dr. Willie McKether, vice president for diversity and inclusion and vice provost, said. "We are proud of the strategic ways we have strengthened the environment throughout UToledo campuses over the last three years, and we must continue our critical efforts."
The Office of Diversity and Inclusion was established in 2016 with the development of UToledo's first Strategic Diversity Plan, which expired at the end of 2019. The mission of the office is to ensure every member of the campus community feels included, respected and free from discrimination. It also works to promote a diverse and culturally aware environment that prepares students for success in today's global world.
The goals in the updated plan, which has a timeline of 2020 to 2023, focus on leadership and accountability, education and awareness, recruitment and retention, and community engagement.
The goals are similar, but not exactly the same as the first diversity plan. For example, the new plan establishes supplier diversity as its own goal rather than it being part of the community goal as it was previously, McKether said.
This second plan also has a greater number of strategies focused specifically on the recruitment and retention of underrepresented minority students.
"Since 2016, we've added two key positions, one in enrollment management and one in the provost's office, that focus specifically on these areas and reflect the University's commitment to diversity, inclusion and equity," McKether said.
Accomplishments during the first three-year diversity plan include:
Increasing student, faculty and staff feelings of inclusiveness, according to a campus survey;
Increasing the African-American student retention rate by 8 percentage points and the Hispanic student retention rate by 5.4 percentage points;
Reducing the equity gap by 7 percentage points;
Increasing the African-American six-year graduation rate by 6 percentage points and by 2 percentage points for Hispanic students;
Expanding the Office of Diversity and Inclusion to include an office on Health Science Campus;
Establishing diversity plans, committees and leaders in all colleges; and
Implementing a Dialogues on Diversity initiative.
View the diversity plan on the Office of Diversity and Inclusion website.
---
Tuesday, June 30th, 2020
The University of Toledo College of Medicine and Life Sciences Office of Diversity and Inclusion and Toledo Public Schools Office of Equity, Diversity and Inclusion are holding a virtual roundtable titled "Navigating Social Injustices Amidst a Pandemic: Open Roundtable Discussion" from 5 to 6 p.m. Wednesday, July 1 on WebEx.
Register for and access the free, public event on the College of Medicine and Life Sciences website.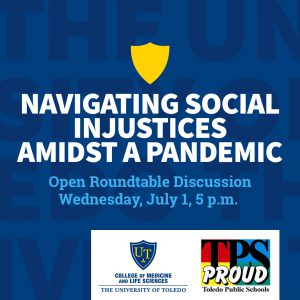 "This is an opportunity for members of the College of Medicine and Life Sciences to engage with the community and show support for Toledo Public Schools, students and parents. This aligns with our mission to serve the needs of our community outside the walls of our institution," said Dr. Kimberly Jenkins, associate dean of diversity and inclusion in the UToledo College of Medicine and Life Sciences, and a moderator of the event.
"We aim to continue the dialogue surrounding social injustice and the protests related to recent police killings, as well as discuss meaningful ways to support our young people in coping with these crises. Dealing with the tragic events of this year in the midst of a pandemic has been especially traumatic. Through this event and upcoming collaborations, we hope to strengthen our support for Toledo-area youth and their families and assure them they won't face these challenges alone."
Panelists include:
Bro. Washington Muhammad, co-founder of the Community Solidarity Response Network;
Dr. Darren Gordon, UToledo M.D./Ph.D. candidate and former national speaker of the house for the Student National Medical Association; and
Ashley Futrell, attorney and community advocate.
Moderators include Jenkins, Dr. Treva Jeffries, assistant transformational leader of equity, diversity and inclusion at Toledo Public Schools, and Dr. Hope Bland, administrator in the Office of Equity, Diversity and Inclusion at Toledo Public Schools.
"The objective of this event is to provide support to our students and staff around the current social unrest while coping with the ongoing pandemic," Jeffries said. "By including panelists from various fields, a wealth of knowledge will be gained in preparation for a successful transition into the new school year. I am confident that the panelists will provide valuable insight as to how participants can effectively work to eradicate racism in their own space."
The UToledo College of Medicine and Life Sciences has a dedicated partnership with Toledo Public Schools, including pipeline programs that provide mentoring, bring students on campus, give them support and tools for success on college admissions and academic and professional development.
---
Monday, June 29th, 2020
A new book by a disability history scholar and Helen Keller expert at The University of Toledo tells the story of a white female physician – for some time, the only female doctor in Madison, Wisc. – and how the affluent woman came to spend 20 years in a state insane asylum as a patient of one of her former male colleagues.
Dr. Kim Nielsen, UToledo professor of disability studies, history and women's and gender studies, wrote the biography published by University of Illinois Press about Dr. Anna Ott, who died in 1893 after being determined legally incompetent and institutionalized. Through Ott's story, Nielsen spotlights how power, society, sexism and ableism built structures and social systems that favored the nondisabled in 19th century America.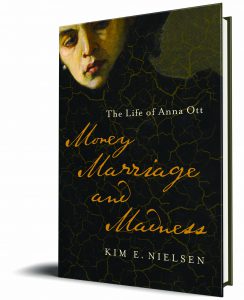 "Money, Marriage, and Madness: The Life of Anna Ott" describes how the legal and medical cultures shaped one woman.
"Anna Ott had enjoyed status and financial success first as a physician's wife and then as the only female doctor in Madison," Nielsen said. "Throughout her first marriage, attempts to divorce her abusive second husband, and 20 years of institutionalization, Ott determinedly shaped her own life."
Nielsen writes that historical and institutional structures, like Ott's whiteness and laws that liberalized divorce and women's ability to control their property, opened up uncommon possibilities for Ott. Other structures, from domestic violence in the home to rampant sexism and ableism outside of it, remained a part of even affluent women's lives.
"I want readers to know that diagnoses have histories, and that they are not ahistorical," Nielsen said. "Physicians, her husband and community leaders diagnosed Anna Ott as insane. This stigmatized and delegitimizing diagnosis reflected and reinforced the ideologies, assumptions, social structures and power dynamics of her time period. For folks invested in considering medical diagnoses all-knowing and ahistorical, this is difficult."
While researching and writing the book, Nielsen was most surprised to discover the allegation that Ott robbed the local Wells Fargo bank.
Ms. Magazine included the book on its list of "June 2020 Reads for the Rest of Us."
Nielsen is an editor and contributor to "The Oxford Handbook of Disability History" published by Oxford University Press in 2018. Nielson's book, "A Disability History of the United States," was published by Beacon Press in 2012.
Other books include "Beyond the Miracle Worker: The Remarkable Life of Anne Sullivan Macy and Her Extraordinary Friendship with Helen Keller" published by Beacon Press in 2009; "Helen
Keller: Selected Writings" published by New York University Press in 2005; "The Radical Lives of Helen Keller" published by New York University Press in 2004; and "Un-American Womanhood: Anti-Radicalism, Anti-Feminism, and the First Red Scare" published by Ohio State University Press in 2001.
---
Thursday, June 18th, 2020
As protests continue and calls for defunding police sound across the country, The University of Toledo is hosting its second campus conversation about the death of George Floyd.
The Dialogues on Diversity Virtual Townhall series continues at 5:30 p.m. Thursday, June 25 with "The Death of George Floyd: Where Do We Go From Here?" hosted jointly by the Office of Diversity and Inclusion and the Africana Studies program.
The free, public event can be accessed on WebEx using the access code 160 482 0630. The meeting password is maP4hKYQM32. Join by phone at 415.655.0002.
"Now that Mr. Floyd has been laid to rest, the protests are still strong and will continue, but we know they too will eventually fade from public consumption with the next big news cycle, and the anticipation of the murder trial of the four officers in a few months, what's next," said Angela Siner, director of the Africana Studies program and moderator of the virtual townhall. "The year 2020 has been unprecedented with the COVID-19 pandemic, the murder of George Floyd and subsequent civil protests. These issues must be addressed individually and collectively for us and the nation to heal and move forward."
Participants also include:
Dr. Shirley Green, UToledo adjunct professor of history and director of the Toledo Police Museum;
Dr. Shingi Mavima, UToledo assistant professor of history;
Dr. Michael Stauch, UToledo assistant professor of history;
Dr. Dale Snauwaert, UToledo professor of social and philosophical foundations of education and peace studies, and co-coordinator of the peace studies minor in the Judith Herb College of Education; and
Dr. Willie McKether, vice president for diversity and inclusion.
The University of Toledo is a community that celebrates and respects people of all backgrounds and experiences. As an institution, we remain committed to building an inclusive environment free of racism, sexism, bigotry and other negative influences.
---
Monday, June 15th, 2020
Dr. Gregory Postel to Serve as Interim President of The University of Toledo
Toledo, Ohio ­– The University of Toledo Board of Trustees has announced the appointment by unanimous vote of Dr. Gregory Postel as the Special Advisor to the Board of Trustees, effective June 17, 2020. Postel will then become the Interim President upon President Sharon L. Gaber's departure from the University.
Postel is the former Interim President of the University of Louisville (UofL), as well as its former Executive Vice President for Health Affairs. He has more than 25 years of leadership experience with university operations, academic medical centers and clinical research, as well as university governance, teaching and research.
"Our priority was to hire an interim president with proven leadership ability, demonstrated financial acumen, and experience in all facets of university operations, including medical education and clinical operations, to lead our University after Dr. Gaber's departure," UToledo Board of Trustees Chair Mary Ellen Pisanelli said. "The wealth of experience Dr. Postel brings to the University will be invaluable as we continue to build our national reputation and grow our academic mission of service while addressing the immediate and ongoing fiscal challenges that universities and hospitals across the nation are confronting."
"As a Board we felt it was critical to find a leader who had the experience necessary to lead the entire University of Toledo enterprise, including our academic institution and our hospital. Dr. Postel checks all the boxes," said UToledo Board of Trustees Vice Chair Al Baker, who previously served on the Board of Trustees of the former Medical College of Ohio and who the Board elected today as Chair for the 2020-21 academic year that begins July 1. "Dr. Postel has a strong track record of collaboration while providing strong, decisive leadership after careful, intensive listening."
In addition to serving as Interim President of UofL and its Executive Vice President for Health Affairs, Postel had an accomplished career as an academic interventional neuroradiologist, serving 18 years as Chair of the Department of Radiology at the UofL School of Medicine and as Vice Dean for Clinical Affairs and Chairman of the Board of the University Medical Center in Louisville. He was the founding Chairman of the Board and later the CEO of the University of Louisville Physicians.
During his time in leadership at UofL, Postel oversaw the design and implementation of two academic affiliations, including an eight-year, $33 million per year pediatric affiliation with Norton Healthcare and a $23 million per year adult affiliation agreement with KentuckyOne Health. He also led the planning and construction of the $80 million Pediatrics Medical Office Building; the management and board transition at the University of Louisville Hospital; the complete restructuring and implementation of the health sciences center budget and the creation of two consecutive balanced budgets in the context of flat tuition and with no program closures; and the reorganization of the athletics department.
"In an era of declining resources coupled with demands for greater transparency and collaboration, The University of Toledo's success will depend on leadership that embraces clear communication, strategic planning and the creation of partnerships based on trust," Postel said. "I know that The University of Toledo has a vital mission and a bright future, and I am honored to have this opportunity to help guide it during this period of transition."
A graduate of the College of Wooster and Case Western Reserve University School of Medicine, Postel completed a residency in radiology at the Cleveland Clinic Foundation and a fellowship in neuroradiology at the Mayo Clinic Foundation.
Postel will succeed President Gaber, who has announced her resignation to become the fifth chancellor at the University of North Carolina Charlotte. For as long as Dr. Gaber remains President, Postel will serve only in the capacity of an advisor with the powers and authority of the President retained by Dr. Gaber until the conclusion of her service. Only at that time will Postel become Interim President of the University.
The University plans to launch a national search for its 18th President in the coming months.
---