Archive for July, 2019
Thursday, July 18th, 2019
Low-flying eyes in the sky are improving the accuracy of water quality assessments in the Great Lakes and the rivers that flow into them.
A new study at The University of Toledo finds drones armed with sensors are useful tools in the fight against harmful algal blooms, particularly for monitoring key spots within Lake Erie, such as near drinking water inlets and off the shore of public beaches.
Researchers compared data gathered by the drones with satellite data and boat-based water sampling at 10 locations over Lake Erie and the Maumee River.
"We get the same results on both drones compared to more expensive and time-consuming measurements – including some made by probes put directly into the water," said Dr. Richard Becker, associate professor in the UToledo Department of Environmental Sciences.
The technology places a new weapon in the arsenal of water treatment plant managers protecting the drinking water supply and public health officials monitoring beaches.
Filling the short-range surveillance gap left by more expensive remote-sensing methods such as satellites and aircraft, the unmanned aerial systems offer increased algae awareness due to their ability to hover below cloud cover and to be deployed on short notice.
"Detecting the threat of toxic algae as early as possible is critical, but it can be foggy for satellites looking through different layers of the atmosphere," Becker said. "These drones are focused and have the ability to assess the condition at the shoreline, which people care about for swimming."
Determined to safeguard the community's health, Becker built and tested an algae monitoring drone in the summer of 2017, costing roughly $2,000. The drone took off from either the UToledo research vessel or the shoreline and flew at an altitude of between 5 and 10 meters above the water's surface.
"Since drones are inexpensive, quick to launch, and can fly under cloudy skies, they have a lot of advantages that make up for the practical limitations of satellite, aircraft or boat-based observations," Dr. Thomas Bridgeman, director of the UToledo Lake Erie Center and professor of ecology, said.
The study published in the Journal of Great Lakes Research shows Becker's team in collaboration with Michigan Tech Research Institute successfully demonstrated the utility of drones outfitted with hyperspectral spectroradiometers to measure water-quality parameters that include chlorophyll, suspended minerals, cyanobacteria index and surface scums.
The sensor is used to produce a cyanobacterial index, which is a measure of algal bloom intensity.
"Dr. Becker and his colleagues show that sophisticated optical measurements of harmful algal blooms collected by drone-based sensors are just as good as similar measurements made from a boat," Bridgeman said.
Bridgeman's research team aboard the UToledo Lake Erie Center's research vessel collects water samples and tracks harmful algal blooms once a week every summer throughout algal bloom season to help sound the early warning for water treatment plant operators.
"This new research means that harmful algal blooms impacting a swimming beach, a reservoir used for drinking water, or the Maumee River could be scanned by someone standing on the shoreline piloting a drone," Bridgeman said.
Making measurements with a higher spatial resolution, the drones bridge a gap and complement the measurements of satellites, said Becker, but they're not the stand-alone solution.
"A drone is not always the right tool for the job. A satellite or airplane is a better choice when talking about wide swaths of Lake Erie, instead of a targeted area," Becker said.
The research was supported by NASA's Glenn Research Center and the National Science Foundation.
---
Wednesday, July 17th, 2019
Art on the Mall will return to The University of Toledo's Centennial Mall Sunday, July 28, from 10 a.m. to 5 p.m.
This summer marks the free, public event's 27th year of showcasing a variety of art on Main Campus. Attendees will have the opportunity to view and purchase all kinds of art, including acrylic, glass, pen and ink, oil, mixed media, metals, photography, ceramics, textiles, watercolor, woodwork, jewelry and more.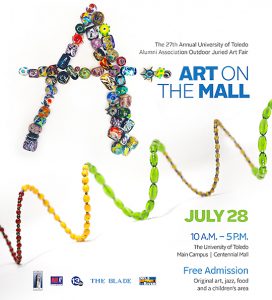 "People can expect a lovely setting, a very comfortable, walkable show that has amazingly talented artists displaying beautiful works of art," said Ansley Abrams-Frederick, director of alumni programming in the UToledo Office of Alumni and Annual Engagement.
A total of 115 artists will have artwork for sale by cash, or guests can pay using a credit card at the artist's booth or credit card station located in the Thompson Student Union.
Throughout the day, visitors can enjoy live jazz music and food from a number of vendors. There also will be a beer garden for guests 21 and older with a valid ID.
In addition, Art on the Mall offers a young artist area for children to try their hands at creating their own masterpieces.
More than 13,000 people attended last year's show.
"The artists love the show because of our supportive and receptive community, " Abrams-Frederick said. "They love our volunteers and know that the people attending the show really appreciate their work. It's a great show with wonderfully talented artists in a beautiful setting."
Art on the Mall is a juried show with a number of cash prizes, including the UToledo Best in Show, which is presented to an artist with an affiliation to the University.
Free parking is available in parking in lot 1 south, lot 1 north and lot 13. A golf cart shuttle service is available to transport guests and their purchases to and from Centennial Mall.
Art on the Mall is supported by community sponsors 13abc, The Blade, Mail It and 101.5 The River.
---
Monday, July 8th, 2019
Scientists at The University of Toledo investigating improvements to a commonly used chemotherapy drug have discovered an entirely new class of cancer-killing agents that show promise in eradicating cancer stem cells.
Their findings could prove to be a breakthrough in not only treating tumors, but ensuring cancer doesn't return years later — giving peace of mind to patients that their illness is truly gone.
"Not all cancer cells are the same, even in the same tumor," said Dr. William Taylor, a professor in the Department of Biological Sciences in the UToledo College of Natural Sciences and Mathematics. "There is a lot of variability and some of the cells, like cancer stem cells, are much nastier. Everyone is trying to figure out how to kill them, and this may be one way to do it."
Taylor and Dr. L.M. Viranga Tillekeratne, a professor in the Department of Medicinal and Biological Chemistry in the UToledo College of Pharmacy and Pharmaceutical Sciences, reported their findings in a paper recently published in the journal Scientific Reports.
Cancer stem cells are an intriguing target for researchers because of their potential to re-seed tumors.
When doctors remove a tumor surgically or target it with chemotherapy drugs or radiation therapy, the cancer may appear to be gone. However, evidence suggests that a tiny subpopulation of adaptable cancer cells can remain and circulate through the body to seed new metastasis in far-off locations.
Those cancer stem cells, Taylor said, are similar to dandelions in a well-manicured lawn.
"You could chop the plant off, but it will drop a seed. You know the seeds are there, but they're hiding," he said. "You pull one weed out and another comes up right after it. Cancers can be like this as well."
The small molecule they have isolated appears to lock on to those stem cells and kill them by blocking their absorption of an amino acid called cystine.
UToledo was awarded a patent for the discovery late last year.
For Tillekeratne and Taylor, uncovering a new class of therapeutic molecules could prove to be an even larger contribution to cancer research than the project they initially envisioned.
"At present, there are no drugs that can kill cancer stem cells, but people are looking for them," Tillekeratne said. "A lot of drugs are discovered by serendipity. Sometimes in research if you get unexpected results, you welcome that because it opens up a new line of research. This also shows the beauty of collaboration. I wouldn't have been able to do this on my own, and [Taylor] wouldn't have been able to do it on his own."
Tillekeratne has received a three-year, $449,000 grant from the National Institutes of Health National Cancer Institute to continue testing the effectiveness of the newly identified therapy.
Because the molecules so selectively target cancer stem cells, it's possible they could ultimately be paired with other chemotherapy drugs to deliver a more comprehensive treatment.
However, the researchers have found their agents show stand-alone promise in treating sarcomas and a subtype of breast cancer known as claudin-low breast cancer, which represents up to 14 percent of all breast cancers and can be particularly difficult to treat.
---
Monday, July 1st, 2019
The University of Toledo is changing the way we talk about who we are and where we are headed.
The new brand, launching today, features the tagline "Fueling Tomorrows" with bold and confident images, typography and messaging that represents the positive momentum on campus and the strength of the University's future potential.
"We are celebrating our role to empower and prepare individuals who are driven to make an impact on the world," UToledo President Sharon L. Gaber said. "Fueling Tomorrows encompasses how we champion our students to succeed, how we advance knowledge through our dedication to discovery and how we energize our community and the region."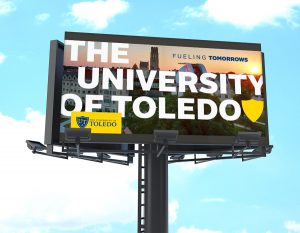 Billboard with photo of University Hall and text The University of ToledoThe new brand sets The University of Toledo apart in the competitive higher education market by embracing a set of core attributes that were developed during the past two years with market research and collaborative input from administrators, faculty, students and alumni. These brand attributes — focused, determined, inquisitive, supportive, innovative, community-minded and impactful — are integral in the University's new brand.
"The University of Toledo's students, faculty, staff and alumni are doing incredible things. Our brand highlights the amazing innovations, discoveries and determination exhibited by our University community," said Dr. Adrienne King, associate vice president of marketing and communications. "This look and feel shows how The University of Toledo is powering possibility and fueling tomorrows."
As The University of Toledo continues to elevate its reputation on a national scale, it is now using the shortened UToledo instead of UT to distinguish it from other universities that use the two-letter acronym.
The brand embraces a new mobile-first design to the website, a modern and modular approach for marketing materials and a new confident and conversational voice in communications from and about the institution. It does not change the logo or the midnight blue and gold colors that are well-established pillars of the UToledo brand.
The initial brand launch includes a new 30-second video spot, billboards in the Toledo community, banners on campus and digital advertising that embrace the Fueling Tomorrows concept that will roll out during the month of July.
---