UToledo launches new brand showcasing how it is Fueling Tomorrows
July 1st, 2019 by Meghan Cunningham
The University of Toledo is changing the way we talk about who we are and where we are headed.
The new brand, launching today, features the tagline "Fueling Tomorrows" with bold and confident images, typography and messaging that represents the positive momentum on campus and the strength of the University's future potential.
"We are celebrating our role to empower and prepare individuals who are driven to make an impact on the world," UToledo President Sharon L. Gaber said. "Fueling Tomorrows encompasses how we champion our students to succeed, how we advance knowledge through our dedication to discovery and how we energize our community and the region."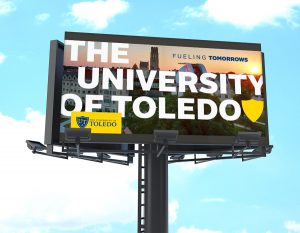 Billboard with photo of University Hall and text The University of ToledoThe new brand sets The University of Toledo apart in the competitive higher education market by embracing a set of core attributes that were developed during the past two years with market research and collaborative input from administrators, faculty, students and alumni. These brand attributes — focused, determined, inquisitive, supportive, innovative, community-minded and impactful — are integral in the University's new brand.
"The University of Toledo's students, faculty, staff and alumni are doing incredible things. Our brand highlights the amazing innovations, discoveries and determination exhibited by our University community," said Dr. Adrienne King, associate vice president of marketing and communications. "This look and feel shows how The University of Toledo is powering possibility and fueling tomorrows."
As The University of Toledo continues to elevate its reputation on a national scale, it is now using the shortened UToledo instead of UT to distinguish it from other universities that use the two-letter acronym.
The brand embraces a new mobile-first design to the website, a modern and modular approach for marketing materials and a new confident and conversational voice in communications from and about the institution. It does not change the logo or the midnight blue and gold colors that are well-established pillars of the UToledo brand.
The initial brand launch includes a new 30-second video spot, billboards in the Toledo community, banners on campus and digital advertising that embrace the Fueling Tomorrows concept that will roll out during the month of July.

Meghan Cunningham is UT's Director of University Communications. Contact her at 419.530.2410 or meghan.cunningham@utoledo.edu.
Email this author | All posts by Meghan Cunningham
---