Archive for May, 2019
Wednesday, May 29th, 2019
Scientists and water treatment plant operators throughout the region are visiting The University of Toledo Lake Erie Center to make sure equipment that measures water quality throughout algal bloom season is ready to be deployed in buoys across Lake Erie.
"It's like in the old movies when the mission leader says, 'Let's synchronize our watches,' before the team splits up," said Dr. Tom Bridgeman, UToledo professor of ecology and director of the UToledo Lake Erie Center. "This collaboration helps to ensure conformity of data coming from the probes for the next few months."
Partners in the early-warning buoy network will do the calibration between 9 a.m. and 2 p.m. Thursday, May 30. Those include researchers from Ohio State University and Bowling Green State University, as well as water treatment plant operators in Cleveland, Toledo, Oregon, Elyria, Avon, Sandusky, Lorain, Ottawa and Huron. LimnoTech, YSI and Fondriest Environmental are local companies providing technology support.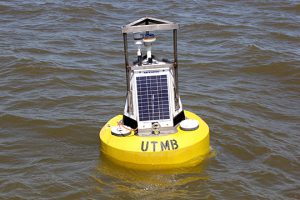 UToledo's water quality and sensor buoy annually rides the waves off the shore of the Maumee Bay State Park Lodge and Conference Center in Oregon. It is part of the Great Lakes Observing System's early-warning network of buoys throughout the western Lake Erie basin that provides live data vital in the assessment of harmful algal blooms.
"We go out on our research vessel at least once a week for sampling throughout the summer, but the buoys are out there all the time," Bridgeman said. "Even when it's too rough for boats to be on the lake, the buoys can alert if something is developing or changing quickly."
"With harmful algal bloom season just around the corner, this event brings together water treatment plant operators and UToledo, BGSU and industry experts to prepare the instruments that are a part of Lake Erie's early warning system," Ed Verhamme, project engineer at LimnoTech, said.
The buoys are equipped with what is called the YSI EXO sonde, a black and blue instrument comprised of several probes to measure various water quality parameters, including how much blue-green algae are present, water temperature, clarity, oxygen levels, turbidity and pH.
It's one piece of the battle plan to track and combat the growing harmful algal bloom in order to sound the early warning for water treatment plant operators as they work to provide safe public drinking water.
"We are watching very closely and are prepared," Bridgeman said.
---
Tuesday, May 28th, 2019
Margaret Baer, a first-year doctoral student in The University of Toledo Department of Psychology, uses science to help make sense of suicide and substance use, leading causes of death in the U.S.
Baer's somber work is driven by these widespread sources of pain and unlocking new ways to ease suffering and prevent the loss of more lives.
The National Science Foundation (NSF) awarded Baer a Graduate Research Fellowship in clinical psychology, recognizing her potential for significant research achievements.
The fellowship is worth $34,000 a year for three years. It is regarded as one of the most competitive and respected scientific fellowships in the country. This year the NSF awarded fellowships to 2,050 students around the country out of about 12,000 applications.
"I am immensely grateful for the NSF support," said Baer, who is currently examining the link between suicide and substance abuse. "My passion is to conduct impactful, innovative research that ameliorates these large-scale public health problems. Among other studies, I hope to investigate the mechanisms underlying the co-occurrence of suicide-related behaviors and opioid misuse."
Baer, who is from Evansville, Ind., works in the Personality and Emotion Research and Treatment Laboratory of Dr. Matthew Tull and Dr. Kim Gratz, both UToledo professors of psychology.
"Margaret is highly dedicated to conducting innovative and clinically relevant research, particularly in the areas of substance abuse and suicide," Tull said. "I am incredibly pleased that the NSF has recognized her with this fellowship, which will provide her with even more opportunities to contribute to the field, as well as provide a foundation and resources for Margaret to build a highly impactful career."
Baer's own undergraduate experience at several different colleges sparked her interest in becoming a suicide researcher.
"I thought of college as a very exciting, hopeful time. I was shocked at the number of students who struggled with thoughts of suicide," Baer said. "Kids were at their healthiest and youngest, on the cusp of exploring their extraordinary potential in higher education. It was an eye opener. I felt the urgency of suicide prevention."
Before arriving at UToledo in August 2018 to pursue her Ph.D., Baer worked with researchers at Catholic University of America in Washington, D.C., George Mason University and Uniformed Services University in Bethesda, Md.
"There is great need for suicide prevention at all ages – adolescents, seniors and middle-aged adults. All may resort to risky behaviors, such as substance abuse or self-injury – cutting, for example – while also having thoughts of suicide or attempting suicide," Baer said. "My focus right now is on substance use impacting barriers to suicide. Soon I hope to examine the relationship between negative social interactions in daily life and opioid craving."
Since 1952, NSF has funded more than 50,000 Graduate Research Fellowships out of more than 500,000 applicants. Currently, 42 Fellows have gone on to become Nobel laureates.
---
Thursday, May 23rd, 2019
This summer's 50th anniversary of the historic Apollo 11 moon landing also marks a major life milestone for The University of Toledo astronomer who is a world leader in her particularly male-dominated field.
"I was born in 1969, two months after Neil Armstrong took one small step for man, one giant leap for mankind," Dr. Rupali Chandar, professor of astronomy, said. "I am delighted every time the anniversary comes up in July – the moon landing epitomized the human spirit of discovery, and that same spirit drives my research to understand our universe of galaxies."
Chandar, who studies star formation in galaxies far, far away with her feet firmly on Earth, is gearing up to once again use NASA's Hubble Space Telescope for her research.
However, this year is extra special for two reasons.
Chandar not only won coveted observing time in the most competitive cycle in history, she also leads the Space Telescope Users Committee.
Chandar heads the group of 12 astrophysicists from around the world who act as the direct interface between astronomers who want to use the telescope and top-level management of the Hubble project. Committee members hail from places with prestigious astronomical communities such as Harvard and Arizona State, as well as Paris, Spain and Italy.
She is the second UToledo astronomer to lead this powerful committee. Dr. Michael Cushing, associate professor of physics and astronomy and director of Ritter Planetarium, led the committee in 2015 and 2016.
"It's unusual for one University to have had more than one representative in the group — let alone two people who have led the committee's work," said Dr. Karen Bjorkman, interim provost and Distinguished University Professor of Astronomy. "Dr. Chandar is a shining star for women in science and contributes significantly to The University of Toledo's research excellence in astronomy and astrophysics."
Every year astronomers around the world vie for precious minutes of Hubble's view of unfathomably distant celestial targets. It is NASA's flagship space telescope.
"I've used Hubble data from the beginning of my career, and this cycle was the most challenging one in my experience, with only one in 12 proposals being successful," Chandar said. "I am thrilled that my proposal was approved."
As head of the Space Telescope Users Committee, she helped implement the dual-anonymous selection process that debuted this cycle, which means the names of the proposers and reviewers are made known only after the review process is complete.
"Hubble is leading the way in emphasizing the science and ideas that are proposed, and not who is doing the proposing," Chandar said. "Although it's too early to tell, this double-blind review process has the potential to reduce inherent bias."
Chandar, a mother of two who joined the UToledo faculty in 2007, was awarded approximately 40 hours of observing time spread out between July and early 2020. Her work will help understand star formation in some of the most intensely star-forming galaxies found in the nearby universe.
And by nearby, she means those 130 million to 300 million light years away.
These galaxies are generating stars at a pace about 100 times faster than the Milky Way.
"In the modern-day nearby universe, most galaxies form stars at a modest rate," Chandar said. "I will be observing a sample of the few actively merging, nearby galaxies that have rates of star formation that are as high as galaxies in the early universe. Studying them gives us insight into what was happening when the universe was young and galaxies were just starting to form."
Astronomers can't study details of star formation in early galaxies because they're too far away. We're talking billions and billions of light years.
However, astronomers believe new, more powerful telescopes in the pipeline, like the James Webb Space Telescope, will make it possible to study the evolution of the earliest stars in greater detail than ever before.
As Chandar looks ahead to the next 50 years of space exploration, it's vitally important for her to inspire children, especially girls, to take the step toward science.
"Girls in elementary school are just as interested in science as boys. It's alarming how much that changes during middle school," Chandar said. "When I was in 5th and 6th grades, I read about the formation of the solar system and wrote reports about black holes, but I didn't think you could do astronomy as a career until I took a class during my sophomore year of college."
She ended up earning her Ph.D. in astrophysics at Johns Hopkins University in 2000.
"Good professors make a difference," Chandar said. "Without many female astronomers around, my mentors have been almost exclusively men. Their support has been critical for achieving my dream career."
Chandar has one more connection to the moon landing, besides being born in 1969.
"I was lucky enough to hear Neil Armstrong's last public address at the July 21, 2012, 'First Light Gala' to celebrate the debut of the Discovery Channel Telescope when The University of Toledo joined as a scientific partner," Chandar said. "We were all devastated when Neil died just a few weeks after that."
As part of the partnership, UToledo students and researchers use the Discovery Channel Telescope at Lowell Observatory in Arizona to collect data on a wide variety of objects, from the closest failed stars known as brown dwarfs to star-forming regions within our own galaxy to more distant merging galaxies.
The 4.3-meter telescope located south of Flagstaff overlooks the Verde Valley and is the fifth largest telescope in the continental United States and one of the most technologically advanced.
The Discovery Channel Telescope partnership has been a boon to UToledo astronomers and helped put the astronomy department on the map.
"It's another powerful tool at our fingertips to continue NASA's mission and push technology to new frontiers over the next 50 years," Chandar said.
---
Monday, May 20th, 2019
Determined to protect drinking water and avert another water crisis, a scientist at The University of Toledo deploys drones to snap a quick assessment of water quality during algal bloom season, no boat or satellite required.
Dr. Richard Becker, associate professor in the Department of Environmental Sciences, will give a presentation titled "Using Drones to Answer Questions in Environmental Science" 7 p.m. Thursday, May 23 at the National Museum of the Great Lakes, located at 1701 Front St. in Toledo.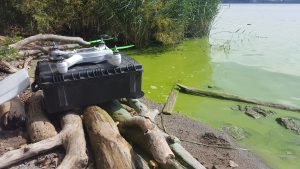 The researcher will discuss his use of low-flying unmanned aerial vehicles to monitor the health of Lake Erie.
The free, public event is the final presentation in the 2018-19 UToledo Lake Erie Center Lecture Series.
"As remote sensing technology advances, monitoring lakes using satellites, aircraft and drones is becoming more effective," Dr. Tom Bridgeman, professor of ecology and director of the UToledo Lake Erie Center, said. "Dr. Becker's research in coupling remote sensing data with boat-based water monitoring has improved the accuracy of harmful algal bloom assessments. Also, his research to develop drones as inexpensive tools to measure algal blooms is helping to fill a gap left by more expensive methods."
A shuttle will be available to transport visitors from UT's Main Campus to the National Museum of the Great Lakes and back. The shuttle departs at 6:15 p.m. from the south side of Bowman-Oddy Laboratories, 3100 West Towerview Blvd. Passengers must reserve a spot by Tuesday, May 21.
Email lakeeriecenter@utoledo.edu or call 419.530.8360 to make a reservation for the shuttle.
---
Tuesday, May 14th, 2019
The most affordable, efficient way to harness the cleanest, most abundant renewable energy source in the world is one step closer to reality.
The University of Toledo physicist pushing the performance of solar cells to levels never before reached made a significant breakthrough in the chemical formula and process to make the new material.
Working in collaboration with the U.S. Department of Energy's National Renewable Energy Lab, Dr. Yanfa Yan, UToledo professor of physics, envisions the ultra-high efficiency material called a tandem perovskite solar cell will be ready to debut in full-sized solar panels in the consumer market in the near future.
Perovskites, compound materials with a special crystal structure formed through chemistry, would replace silicon, which – for now – remains the solar-cell material of choice for converting the sun's light into electrical energy.
"We are producing higher-efficiency, lower-cost solar cells that show great promise to help solve the world energy crisis," Yan said. "The meaningful work will help protect our planet for our children and future generations. We have a problem consuming most of the fossil energies right now, and our collaborative team is focused on refining our innovative way to clean up the mess."
The new research paper, which is published in the journal Science, outlines how the photovoltaics team is fine-tuning a mix of lead and tin to advance the technology closer to its maximum efficiency. Efforts have currently brought the efficiency of the new solar cell to about 23 percent. In comparison, silicon solar panels on the market today have around an 18 percent efficiency rating.
Scientists used a chemical compound called guanidinium thiocyanate to dramatically improve the structural and optoelectronic properties of the lead-tin mixed perovskite films.
"Science is the top academic journal in the world, alongside Nature, which published other research by Dr. Yan only five months ago after he discovered a single material that produces white light, which could boost the efficiency and appeal of LED bulbs," Dr. Sanjay Khare, professor and chair of the UToledo Department of Physics and Astronomy, said. "His significant sustainability work at The University of Toledo can help power the world using clean energy."
About five years ago Yan's team at UToledo identified the ideal properties of perovskites and he has since focused his 20 years of experience on producing an all-perovskite tandem solar cell that brings together two different solar cells to increase the total electrical power generated by using two different parts of the sun's spectrum.
Last month the U.S. Department of Energy awarded Yan a $1.1 million grant to continue his research in collaboration with the National Renewable Energy Lab.
"This is the material we've been waiting for for a long time," Yan said. "The solar industry is watching and waiting. Some have already started investing in this technology."
Yan is an expert in theory of defect physics and electronic properties in semiconductors, materials synthesis and thin-film solar-cell fabrication.
"Our UToledo research is ongoing to make cheaper and more efficient solar cells that could rival and even outperform the prevailing silicon photovoltaic technology," said Dr. Zhaoning Song, research assistant professor in the UToledo Department of Physics and Astronomy and co-author on the study. "Our tandem solar cells with two layers of perovskites deliver high power conversion efficiency and have the potential to bring down production costs of solar panels, which is an important advance in photovoltaics."
While Yan's team has improved the quality of the materials and the process to manufacture them at a low cost, more progress needs to be made.
"The material cost is low and the fabrication cost is low, but the lifetime of the material is still an unknown," Song said. "We need to continue to increase efficiency and stability."
"Also, lead is considered a toxic substance," Yan said. "I am determined to work with the solar industry to ensure solar panels made of this material can be recycled so they don't cause harm to the environment."
---
Monday, May 13th, 2019
A graduate student at The University of Toledo who aspires to someday teach at a planetarium went above and beyond to elevate an annual event aimed at inspiring and motivating children to engage with science.
From playing hide-and-seek moon using binoculars to creating a pocket solar system to scale to using a tub of water to explain rising sea levels and climate change, this year's Earth and Space Exploration Day at Ritter Planetarium features a new set of hands-on activities in astronomy and earth science using interactive demonstrations in collaboration with NASA and the National Informational STEM Education (NISE) Network.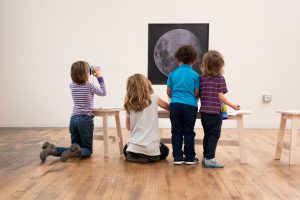 Heidi Kuchta, who started working as an assistant at Ritter Planetarium five years ago as a freshman, applied for and secured one of 350 kits distributed nationwide.
"I love that families in our community will have something incredibly interesting to do and stuff to take home," said Kuchta. "With the support of the NISE Network and NASA, we are able to add a wonderful spark to our annual Astronomy Day by expanding and escalating the overall fun, learning experience for children."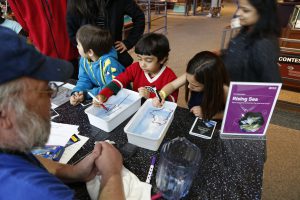 Earth and Space Exploration Day is from noon to 4 p.m. Saturday, May 18 at Ritter Planetarium. The free, public event also includes planetarium shows running in full dome every hour starting at 12:30 p.m., as well as solar observing, weather permitting.
"From the beginning, Heidi has shown tremendous dedication to our outreach efforts," Alex Mak, associate director of Ritter Planetarium, said. "This workshop is just one example of her ability to expand upon our traditional educational mission."
Kuchta earned her bachelor's degree in physics and geology from UToledo last year and is pursuing her master's in an accelerated teaching program in the Judith Herb College of Education.
"A lot of planetariums are in schools, so I thought this innovative path would be a good way to combine education and what I love to do here," Kuchta said. "At a planetarium, we only have students for a short period of time. They'll learn here, but more importantly it will get them asking questions, expand their curiosity, and maybe nourish the dream of becoming the scientists who get people to Mars or become the first person to walk on Mars."
Kuchta's connection to the cosmos began as a baby, according to family legend.
"My mom took me to a planetarium at the Cleveland Museum of Natural History when I was a few months old because she was chaperoning a trip for one of my older siblings," Kuchta said.
Ritter Planetarium proved to be the deciding factor in choosing a college.
"During a campus tour, I was hooked when we walked through the planetarium and checked out the telescope," Kuchta said.
Kuchta helps put on planetarium shows that explain current celestial phenomena and leads tours from different groups of visitors ranging from residents of a senior center to a preschool class. She also helps create content.
"Heidi is creative, energetic and always willing to find new ways to help people learn more about the universe," Mak said. "She has a bright future."
---
Thursday, May 9th, 2019
About 500 area students are expected to attend the 17th annual Latino Youth Summit this week at The University of Toledo to gain a better understanding of the four-year college experience and discuss paths to success.
"We want students to leave campus knowing that they should be proud of their Latino heritage and culture, and that higher education is an option for them," said Aleiah Jones, coordinator in the Office of Multicultural Student Success and committee chair of the event. "We want them to learn about all of the opportunities that are available to them here so that one day they can become Rockets."
The session for sixth- to eighth-graders will take place from 9:30 a.m. to 1 p.m. Tuesday, May 14. High schoolers will visit campus from 9:30 a.m. to 1 p.m. Wednesday, May 15. Both will be held in the Thompson Student Union.
Students will discuss college preparation tips, career exploration and scholarship opportunities.
Dr. German Garcia-Fresco, neuroscientist, entrepreneur and author, will be the guest speaker at this year's summit. He will talk to students about "10 Things I Didn't Learn in School" at 10 a.m. both days in the Thompson Student Union Auditorium.
Garcia-Fresco is director of the Adaptive Neuroscience Research Institute in San Diego and founder of Doctor Fresco Academy, an online education course platform.
His research has led to advances in neurobiology, contributing to mechanisms involved in neurodegenerative diseases. Garcia-Fresco has focused on the behavioral aspects of brain functioning, specifically decision making, emotional control and creative enhancement. He is researching techniques to increase neuronal performance and developing health and educational brain programs for children and adults.
The recipient of the President's Award for excellence in genetics and biochemistry is the author of "Train Your Brain for Success: How a Healthy Brain is the Key to Happiness and Success." Published in 2018, the book focuses on how a healthy brain can help build what Garcia-Fresco calls the three pillars of life: health, relationships and wealth.
He studied chemistry and molecular biology at the State University of New York at Purchase and received bachelor of arts and master of science degrees, and continued his education at the University of North Carolina, where he received a doctorate in molecular neurobiology.
---
Monday, May 6th, 2019
Dr. Scott Parazynski, a pioneering explorer, inventor, astronaut and physician, will deliver the commencement address at The University of Toledo College of Medicine and Life Sciences' graduation ceremony Friday, May 10.
A total of 238 degrees will be awarded: 166 doctor of medicine degrees, nine doctor of philosophy degrees, 59 master's degrees, and four graduate certificates.
The commencement ceremony will begin at 4 p.m. in Savage Arena.
"I am beyond thrilled to come celebrate this great milestone with the healers of the @UToledoMed Class of 2019!" Parazynski wrote on Twitter after he was announced as the commencement speaker.
Parazynski, who earned a medical degree at Stanford Medical School, can easily lay claim to being one of history's most well-traveled explorers.
He has ascended Mount Everest, spent more than eight weeks orbiting the Earth and more than 47 hours on spacewalks with NASA, visited Antarctica, and conducted scientific research beneath the surface of one of the globe's highest lakes in Chile.
Parazynski also served as the personal onboard physician for the late John Glenn when the former senator returned to space in 1998, and has founded multiple research and development companies.
"It is an honor to have Dr. Parazynski address our graduates," said Dr. Christopher Cooper, dean of the College of Medicine and Life Sciences, and executive vice president for clinical affairs. "Dr. Parazynski was selected by a committee of medical students and faculty from a national pool in recognition of his extraordinary accomplishments both professionally and through personal explorations."
The College of Medicine will award Parazynski an honorary doctor of science.
One of Parazynski's current projects is with Fluidity Technologies, a company he founded to focus on developing disruptive control devices for everything from drones to surgical robots
---
Monday, May 6th, 2019
Dr. Asma Abdel Halim's quarter century of research questioning the breach and progress of Muslim women's human rights is personal.
Her own life experience fuels her life's work to protect Muslim women worldwide for generations to come.
The next leg of her journey takes her back to her native Sudan, a place Abdel Halim describes as "a country that has always subjected women to a version of Islamic law that is fashioned according to the political mood of the government."
The prestigious Fulbright U.S. Scholar program selected The University of Toledo professor focused on women's rights under religious laws to travel to Sub-Saharan Africa for the 2019-20 academic year as a Fulbright Scholar.
Abdel Halim, associate professor in the UToledo Department of Women's and Gender Studies and director of the Center of the Muslim Woman, will study the history of gender effects on Sudanese law, produce ideas for reform, and teach a class on gender and the law at her alma mater, the University of Khartoum.
"As a Muslim woman joining other Muslim women in researching Islamic laws and critiquing centuries of patriarchal dominance, I find it necessary to explore women's history, rights and developments because I am determined to address gendered laws and how to combat their effects," Abdel Halim said.
Since its inception in 1946, the Fulbright U.S. Scholar program within the U.S. Department of State has worked to improve intercultural relations and diplomacy through national fellowship. The program in Sudan was suspended in 1992 after the U.S. issued an embargo on relations with the country and was reinstated two years ago after President Trump lifted U.S. sanctions.
"As Dr. Asma Abdel Halim travels around the world sharing her knowledge, insight and experience, she helps raise awareness about problems and protections of women living under Muslim laws," Dr. Sharon Barnes, chair and associate professor in the UToledo Department of Women's and Gender Studies, said. "Her outstanding scholarship consistently brings great prestige to The University of Toledo. While we will miss her at home, we are proud the Fulbright program has recognized her forward-thinking work on international women's issues."
Abdel Halim, a faculty member at UToledo for 15 years, graduated from the Faculty of Law at the University of Khartoum with a bachelor's degree in 1980 and a master's degree in 1988.
"As a student there, I never encountered gender in any of the courses," Abdel Halim said. "My experience studying and teaching in the United States proved that gender as a tool of analysis is vital in studying law."
Abdel Halim, who earned her Ph.D. at Ohio University, said actions of extremists lead many to question the tenets of Islam and the religion's commitment to equality.
"Religious interpretations are being misused to strengthen conservative stances regarding the curbing of human rights," Abdel Halim said. "Old traditions of favoring men because of their participation in war lead to the subjugation of women to the authority of male guardians."
Abdel Halim plans to write a book after accessing old Shari'a sources, such as treaties written by scholars centuries ago and still considered the main source of Islamic rules today. She also plans to delve into the era of Mahdiyya uprisings and older archives.
"The intersection of religion and gender seems to be working against women where legislation is concerned," Abdel Halim said. "Ideological traditions find safety in regression to old traditions rather than in change. I plan to follow the historical events of the recent history of the Sudan and look closely to the history of women in the country and understand why developments in legislation go back and forth. I also will examine how the intersection of gender and religion seems to always end in the defeat of women's rights in favor of archaic religious norms."
---
Wednesday, May 1st, 2019
The University of Toledo Ritter Planetarium is showing a new program in honor of the 50th anniversary of the Apollo 11 moon landing.
"CAPCOM GO! The Apollo Story" is featured on Fridays at 8:30 p.m. from May 3 through July 26.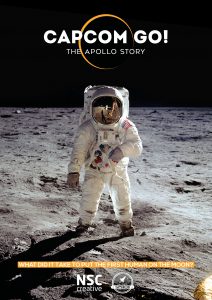 The program is an immersive historical documentary in full dome that showcases the achievement of the Apollo program and what it took to put the first human on the moon and return him safely to Earth. It introduces a new generation to the immense challenges they overcame and will inspire them to become the explorers, designers, engineers, thinkers and dreamers of the future.
"This epic event on July 20, 1969, was a marvel of technology and human ingenuity," Alex Mak, associate director of UToledo Ritter Planetarium, said. "This is an incredible opportunity for adults to relive the wonder, awe and excitement, but also for children to discover how we did it."
Admission to the program is $7 for adults and $5 for children, senior citizens and UToledo community members. All children younger than four are free. Doors open 30 minutes prior to the show.
---