Archive for the 'Uncategorized' Category
Monday, December 23rd, 2019
Tasting terroir, or a sense of place, isn't only reserved for wine lovers drinking a glass of burgundy or champagne from France.
It's evident, too, in the U.S. craft beer boom and the growing preference for local hops.
Hops, a key ingredient in making beer, is a crop making a comeback on farms across the country thanks to the incredible rise of the craft brewing industry over the past decade.
Craft breweries and their customers' thirst for new, locally grown flavors are playing a big role in fueling an unprecedented geographic expansion of hop production across the U.S., according to researchers at The University of Toledo and Penn State University.
Their findings, which were recently published in the Journal of Wine Economics, suggest that as more craft breweries emerge around the country, so may new opportunities for farmers.
"It is fantastic to see the re-emergence of hop production in states which, at one point, had abandoned the crop," said Dr. Neil Reid, professor of geography and planning at The University of Toledo who teaches a class titled The Geography of Beer and Brewing. "Hops provide aroma and bittering characteristics in beer. Looking to differentiate themselves from Molson Coors and Anheuser Busch, independent craft brewers demand locally grown hops, experiment with different varieties of hops, and use more hops in beer production compared to mass-produced beers."
According to the Brewers Association, between 2007 and 2017 the number of breweries in the U.S. increased from 1,459 to 6,490.
The researchers found that the number of breweries in a state is associated with more hop farms and hop acres five years later. The number of hop farms grew from 68 to 817, and hop acreage expanded from 31,145 to 59,429 acres.
Before 2007, hop production in the country was limited to only three Pacific Northwest states—Oregon, Washington, and Idaho. Hops are now produced in 29 states, according to the Hop Growers of America.
"Our study is the first to systematically show that the number of hop farms in a state is related to the number of craft breweries," said Claudia Schmidt, assistant professor of agricultural economics in Penn State's College of Agricultural Sciences. "It suggests that in areas where hop production is possible and not cost-prohibitive, breweries are expanding markets for farmers and providing an opportunity to diversify farm income."
In fact, the growth positioned the U.S. as the largest producer of hops globally, both in terms of acreage and production.
Working with farm, brewery and climate data, the researchers developed a statistical model to determine whether new craft breweries in a state between 2007 and 2017 resulted in a larger number of hop producers and hop acres planted, by both new and existing growers in that state. They built a time-lag into their model to identify the effect of new breweries over time. They also controlled for other variables that may influence farmers to start growing hops, such as average farm size, average net farm income and climate.
Their findings are correlational and do not point to a clear cause-and-effect. However, the time-lag built into the model indicates that the growth in breweries preceded the growth in hop farms.
If more brewers are looking for hops grown nearby, then more farmers may be willing to try growing them, even if only on a small scale. For instance, in Pennsylvania only 17 farms reported hop production in 2017, and their combined acreage is small—only 21 acres in all, according to the U.S. Census of Agriculture.
In contrast, in 2017 there were 100 acres of farmland devoted to hop production in Ohio. According to the Ohio Hop Growers Guild, there are over 70 farms in Ohio that are growing hops.
While the growing of hops in states like Ohio and Pennsylvania is a relatively recent phenomenon, many Midwestern and Northeastern states have historical connections to the hop industry.
"In 1870, the three leading hop producing states were New York, Wisconsin and Michigan," Reid said. "A number of factors, including declining yields, disease outbreaks, high production and processing costs, and an inability to achieve economies of scale, contributed to the decline and disappearance of the hop industry in the Midwest and Northeast."
Reid, who is affectionately known as "The Beer Professor," is an expert on the craft brewing industry and its economic geography. His research is focused on the industry's growth in the U.S. and its potential role in helping to revitalize neighborhood economies.
His previous research found that the craft brewery boom is good for home values. That study showed single-family homes in the city of Charlotte, N.C., saw their value increase by nearly 10% after a brewery opened within a half mile of the property, and center-city condos got a nearly 3% bump.
Reid will give the opening keynote address at the 2020 Beer Marketing and Tourism Conference on Wednesday, Feb. 5, in St. Petersburg, Fla.
His new book, "Agritourism, Wine Tourism, and Craft Beer Tourism: Local Responses to Peripherality Through Tourism Niches," will be published later this month. The book is co-edited with Maria Giulia Pezzi and Alessandra Faggian of the Gran Sasso Science Institute in L'Aquila, Italy.
---
Tuesday, June 11th, 2019
The University of Toledo will provide more than three dozen teens from across northwest Ohio a hands-on introduction to studying medicine during the University's annual CampMed program.
The students, all of whom will be high school freshmen this fall, will be on Health Science Campus Thursday and Friday, June 13 and 14.
Now in its 22nd year, CampMed gives students who excel in science and mathematics a window into what it's like to pursue a career as a physician or medical researcher.
"We want to inspire these students and help give them an outline of how to prepare for an education in medicine," said Courtney K. Combs, director of the UToledo and Ohio Area Health Education Center programs. "As much as CampMed is educational — and it really is — we also want it to be a fun time for the kids. It's summer. It's camp. It might be the first time they're surrounded by kids their own age who have the same interests. We try to make it as hands-on as possible."
Under the guidance of UToledo faculty members and physicians, the students will be taught Heartsaver CPR, learn how to suture, and practice forming a cast. They'll also receive hands-on tours of the Emergency Department at The University of Toledo Medical Center, the gross anatomy lab, and the Interprofessional and Immersive Simulation Center.
Second- and third-year medical students serve as camp counselors.
Most of the students who attend CampMed are underrepresented minorities in medicine, from underserved rural or urban communities, or the first in their family planning to attend college.
"We want to encourage these students to help them realize that a career in medicine is a realistic goal for them. Some of them may have never even been on a college campus before," Combs said. "We want to provide that exposure to let them know if they work hard and are serious about their schoolwork now, this could be an option and The University of Toledo College of Medicine would welcome them."
CampMed, which began in 1998, was implemented by and is coordinated through the UToledo Area Health Education Center program, which works to improve the well-being of individuals and communities by developing the health-care workforce.
The competitive scholarship program requires students to submit a letter of recommendation from a science or math teacher or guidance counselor, grade transcripts, and a personal essay to be chosen to participate.
**MEDIA OPPORTUNITIES***
Thursday, June 13
Tools of the Trade, 9:30 to 10:30 a.m., Collier Building Room 1200
Perioperative Experience, 1 to 4 p.m., Health Education Building Room 103
Friday, June 14
Heartsaver CPR, 9:15 to 11:30 a.m., Collier Building Basement
Suture Workshop, 1 to 4 p.m., Health Education Building Room 105
Casting, 1 to 4 p.m., Orthopedic Center Room 1715
---
Monday, May 20th, 2019
Determined to protect drinking water and avert another water crisis, a scientist at The University of Toledo deploys drones to snap a quick assessment of water quality during algal bloom season, no boat or satellite required.
Dr. Richard Becker, associate professor in the Department of Environmental Sciences, will give a presentation titled "Using Drones to Answer Questions in Environmental Science" 7 p.m. Thursday, May 23 at the National Museum of the Great Lakes, located at 1701 Front St. in Toledo.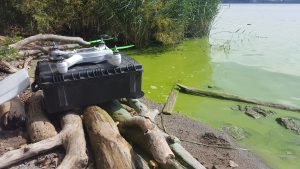 The researcher will discuss his use of low-flying unmanned aerial vehicles to monitor the health of Lake Erie.
The free, public event is the final presentation in the 2018-19 UToledo Lake Erie Center Lecture Series.
"As remote sensing technology advances, monitoring lakes using satellites, aircraft and drones is becoming more effective," Dr. Tom Bridgeman, professor of ecology and director of the UToledo Lake Erie Center, said. "Dr. Becker's research in coupling remote sensing data with boat-based water monitoring has improved the accuracy of harmful algal bloom assessments. Also, his research to develop drones as inexpensive tools to measure algal blooms is helping to fill a gap left by more expensive methods."
A shuttle will be available to transport visitors from UT's Main Campus to the National Museum of the Great Lakes and back. The shuttle departs at 6:15 p.m. from the south side of Bowman-Oddy Laboratories, 3100 West Towerview Blvd. Passengers must reserve a spot by Tuesday, May 21.
Email lakeeriecenter@utoledo.edu or call 419.530.8360 to make a reservation for the shuttle.
---
Thursday, April 4th, 2019
The University of Toledo equestrian team is hosting Horses for Humanity to help care for shelter dogs in need of forever homes.
The public event is from 11 a.m. to 3 p.m. Wednesday, April 10 in the grassy area south of Memorial Field House on Main Campus.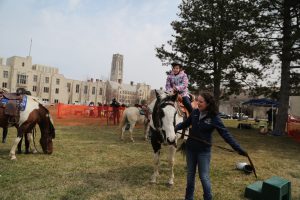 Several horses will be on campus for people to ride for a donation of at least $3. The team also is accepting paper towels, dog toys, dog treats and blankets.
Donations collected will go to Lucas County Canine Care and Control to support animals up for adoption.
Visitors also will have the opportunity to pet and adopt dogs accompanied by volunteers with Lucas County Canine Care and Control.
"We want to support the work being done in the Toledo area to take care of stray and homeless dogs," Andrea Woo, co-president of the UToledo equestrian team, said. "Horses and dogs are such incredibly therapeutic animals. We are excited to share the joy our horses bring us with our campus community, while working to help these loving dogs up for adoption."
Members of the equestrian team will be on hand to assist in riding horses.
---
Tuesday, February 26th, 2019
The University of Toledo Engineering Career Development Center will host the Spring 2019 Engineering Career Expo from noon to 4 p.m. Wednesday, Feb. 27 in the Thompson Student Union Auditorium.
"This year continues to mark a milestone for the center: celebrating 20 years of placing more than 20,000 engineering co-ops," Angie Gorny, director of the Engineering Career Development Center, said.
More than 120 companies from across the United States and 700 engineering students, graduates and alumni will participate. Companies scheduled to have representatives on campus include Cooper Tire & Rubber Co., Dana Inc., GEM Inc., Johnson & Johnson — DePuy Synthes, GE Appliances, Honda, Matrix Service Co., Marathon Petroleum Corp., Owens Corning, Owens-Illinois Inc., PCC Airfoils, SSOE Group, and North Star Bluescope Steel LLC.
"This event is a dynamic networking and hiring experience for students to connect with companies seeking the talent they need for success," Gorny said. "The expo is exclusive to College of Engineering students who are enrolled in the mandatory co-op program, as well as College of Engineering alumni searching for full-time opportunities."
Employers are seeking undergraduate students to participate in engineering co-op assignments, as well as their leadership development programs, along with seniors and graduates for full-time employment.
"The current job outlook for engineering students at The University of Toledo Engineering College is certainly bright as indicated by the record number of students attending the college's career expos," Gorny said. "This reflects very positively on the quality of the University's engineering program and its students. It also demonstrates the vital and mutually beneficial partnership they have with industry participants."
The undergraduate mandatory co-op program is one of only eight mandatory engineering co-op programs in the country.
"Many students indicate that the co-op training is the reason they attend the College of Engineering at The University of Toledo," Gorny said. "Students experience one full year of professional engineering experience before they graduate, and they feel confident seeking full-time employment upon graduation. Co-op businesses are able to work with these students and determine how the student fits within their organization.  It's a win-win situation for both students and the companies who hire them."
---
Wednesday, January 16th, 2019
The University of Toledo Medical Center is launching a new partnership with mental health boards throughout northwest Ohio to create a better model of care for adolescents dealing with particularly challenging mental health issues.
Through service agreements with the Mental Health & Recovery Services Board of Lucas County and 10 other boards representing 22 additional Ohio counties, UTMC will be able to provide longer, more intensive inpatient care for patients between the ages of 13 and 18.
The longer stay will enable clinicians to dig deeper into the root causes of the adolescents' mental health issues and establish a more coordinated long-term treatment plan to address the problem of patients repeatedly going in and out of inpatient treatment without advancement.
"We want to be taking on the most difficult cases and also helping the community with its biggest needs. Right now, there's a lot of fragmentation of services and limited access to care," said Dr. Cheryl McCullumsmith, chair of the Department of Psychiatry at The University of Toledo. "This innovative collaboration enables an expansion of services without duplicating resources."
In many cases, insurers will only cover a few days of inpatient treatment. While that can be enough time to stabilize many patients in crisis, some patients need a more in-depth psychiatric and medical examination, monitoring of new medications and coordination of continuing outpatient treatment, McCullumsmith said.
"There's a high need for some adolescents to get more intensive evaluation and treatment plans," McCullumsmith said. "We want the inpatient stay to advance the treatment plan, to be a constructive part rather than the Band-Aid it often is now. We're trying to give them a comprehensive assessment and evaluation and kind of a restart. Let's take some time, wipe the slate clean, start from the beginning and figure out a true diagnosis and plan."
Under the new service agreements, the boards will pay for days not covered by insurance, allowing UTMC to treat adolescents for longer stays as needed.
The initiative will focus primarily on adolescents who have had multiple inpatient hospitalizations during the last year, have difficult to establish diagnoses or who have challenges with medication.
"We're very excited and encouraged by the engagement with UT," said Scott Sylak, executive director of the Mental Health and Recovery Services Board of Lucas County. "The timing was right to move forward with this and we're really thrilled with the partnership that's developing. Having this resource locally and being able to ensure that families stay involved and that our providers stay involved is a worthy investment from the board's perspective."
The Mental Health & Recovery Services Board of Lucas County, along with other partner boards across northwest Ohio, will refer patients into the program.
Founded in 1968, UTMC Child and Adolescent Psychiatry was northwest Ohio's first hospital devoted to treating the emotional and behavioral needs of children and teens. Today, the center has an inpatient facility and outpatient mental health services.
---
Monday, June 18th, 2018
In a strong show of support for The University of Toledo President Sharon L. Gaber's leadership, the UT Board of Trustees approved Monday an amended contract to continue her presidency for the next five years.
The term of the amended contract is from July 1, 2018 through June 30, 2023. Her original contract was set to expire in June 2020.
"Dr. Gaber's leadership has put UT on a positive trajectory toward the ambitious goal of being a top public research university, and the campus is energized because of the great work underway to support our students and the Toledo community," Board Chair Steven Cavanaugh said.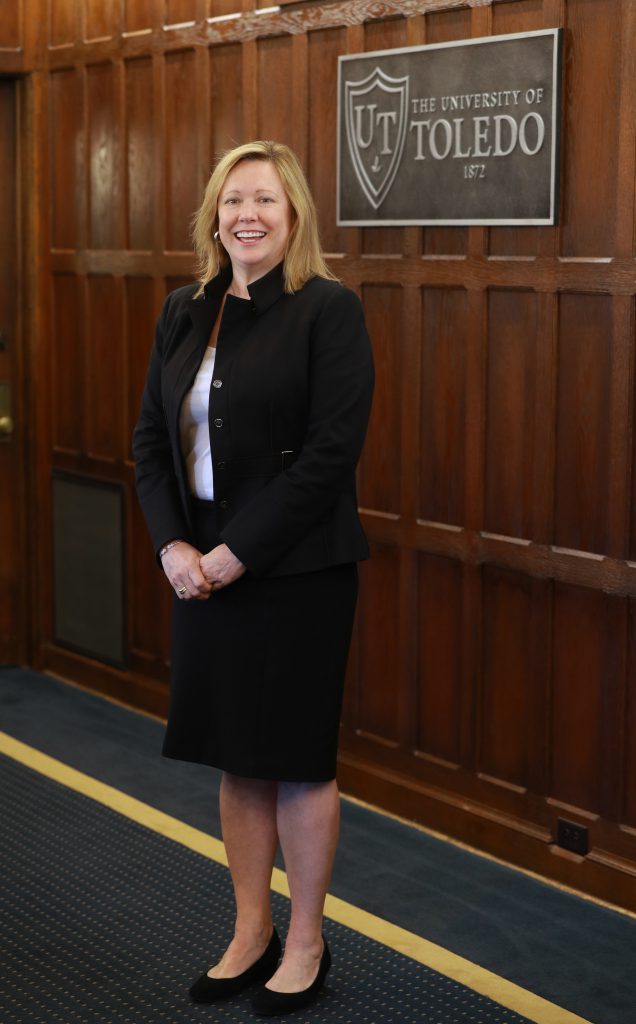 The amended and restated employment agreement updates the president's base salary and includes specific performance metrics aligned with the University's strategic plan. The president's overall compensation is directly tied to achievement of the metrics.
The contract extension for Gaber was approved as part of the Board of Trustees' annual review of the University's leader in which they praised the positive momentum of the institution.
"I am thankful to have the support of the Board of Trustees to continue to lead this fantastic university," Gaber said. "It truly is a team effort to work together collaboratively to make progress on achieving our strategic priorities. I am proud of what we've been able to accomplish these past three years, and I'm excited about what we can achieve in the years ahead."
The Board commended Gaber's commitment to student success, noting that student retention rates at UT are the highest in at least 18 years, and the largest number of candidates for degrees in at least 20 years participated in spring commencement.
The new Toledo Tuition Guarantee was recognized as a positive initiative to provide more transparency to students and their families. In addition, UT was recognized this year for its value by several external sources. Schools.com ranked UT Ohio's best four-year college when analyzing criteria such as affordability, flexibility and student services. The website LendEDU also ranked UT the top Ohio public college for the lowest student debt.
The trustees specifically noted the improved research portfolio of the institution. The total number of research award dollars is at a five-year high. The board noted that three researchers were named Fellows of the prestigious American Association for the Advancement of Sciences, and several UT students were awarded highly competitive scholarships, including the Goldwater Scholarship and a Sarnoff Fellowship.
Also enhancing UT's reputation is the strong athletics program with two new Mid-American Conference championships by the football and women's soccer teams. UT was awarded the Jacoby Trophy as the top women's athletic program in the MAC and in the fall, all student-athletes achieved a record high combined GPA of 3.29.
Individually, Gaber was named one of the top five higher education leaders to watch. She was appointed to the NCAA Strategic Planning Committee, Inter-University Council Executive Committee and serves on the MAC Finance Committee, of which she will be the chair next year.
This year the University also received the largest gift in UT's history from Welltower, which gave UT real estate and a headquarter building valued at $30 million. It will serve as an additional campus where the Division of Advancement will continue to build relationships with our alumni and donors. The number of donors to the institution grew by more than 10 percent this year.
The increase in philanthropic support and additional initiatives have put UT in a strong financial position, confirmed by the University's bond rating being reaffirmed by Standard & Poor's and Moody's. UT approved this year a new contract with the American Association of University Professors, one of five bargaining agreements approved in the last two years. A new transportation partnership with TARTA will save the University approximately $2 million by not replacing the aging bus fleet while extending free bus rides to students, faculty and staff throughout the community.
As part of the performance review, the board voted to give the president a performance incentive per her hiring contract. The funding comes from unrestricted funds that were generated from investment earnings and allocated to a Board of Trustees account with the UT Foundation.
---
Wednesday, June 14th, 2017
Teenagers today and potential physicians tomorrow will learn the tools of the trade and practice their clinical skills at the 20th annual CampMed program at The University of Toledo.
The two-day CampMed program will be held Thursday, June 15 and Friday, June 16 on the UT Health Science Campus.
The 2017 class has 39 incoming freshman high school students from across northwest Ohio who will get a sampling of medical school participating in hands-on lessons such as learning to dress for the operating room and suturing wounds.
"It's imperative to reach out to young people early to nurture their interests in science and discovery. Their dreams for the future, which for some might include becoming a doctor, are attainable and we want to show them there are people who want to help," said Courtney K. Combs, director of the UT and Ohio Area Health Education Center (AHEC) programs.
"CampMed gives students the opportunity to learn first-hand what it's like to be in the medical field before they even start high school. The participants really enjoy learning from current students in the UT College of Medicine and Life Sciences."
CampMed is a scholarship program at no cost to the students, most of whom are first-generation college students and other underrepresented groups. The camp is sponsored by the UT AHEC program, which along with other programs throughout the country, strives to improve the health of individuals and communities by developing the healthcare workforce. First- and second-year UT medical students serve as camp counselors and the students also will interact with physicians and professors.
The students begin Thursday morning after the welcoming ceremonies with a Tools of the Trade session where they learn to use medical instruments such as blood pressure cuffs and stethoscopes. Lessons continue for two days with opportunities to tour a gross anatomy lab, make a cast and more.
** MEDIA OPPORTUNITY **
THURSDAY, JUNE 15
9:30 a.m. Tools of the Trade in Collier Building Room 1200
FRIDAY, JUNE 16
1 p.m. Suture Workshop in Health Education Building Room 103
CampMed, which began in 1998, is a competitive program that requires students to submit a letter of recommendation, a nomination from a science or math teacher or counselor and a personal essay to be chosen to participate.
---
Thursday, December 1st, 2011
To celebrate the achievements of our students, The University of Toledo uses the readabout.me software from readMedia to publicize student successes.
With this software, the University can create personalized stories about student accomplishments that are published online at readabout.me and also sent to hometown newspapers when appropriate.
UT students already have begun receiving recognition for achievements such as making the Dean's List and President's List, and graduating from the University. Other achievements will continue to be added to the system.
A readabout.me profile page is created when students receive their first University awarded badge (similar to Foursquare badges) for an achievement. UT has created an Enrollment badge that is awarded to all new Rockets at the beginning of each semester that will create profiles for all new students. Once created, the readabout.me profile page can be personalized by the student with a photo, activities, work experience and more.
Students receive an email to their UT account every time they are awarded a badge for a University recognized achievement.
The readabout.me profile is a way students can get credit for the good work they're doing on campus, which helps with summer jobs, internships, and even job interviews and references after graduation.
We encourage students to personalize their readabout.me profile pages and to share their achievements through social media, which is easy to do with buttons for Facebook, Twitter, Tumblr, LinkedIn and Google+.
Achievements are only published by the University for students who have not opted out of having their information shared through the Family Educational Rights and Privacy Act. You can choose to restrict the release of your records through the myUT portal. In "My Toolkit" under "My Records" is a link to "Update directory information/release status." To not have your information shared in the future, change it to "Please restrict directory information."
Visit The University of Toledo profile page and let us know other types of achievements that should be recognized with a readabout.me badge.
For more information contact Meghan Cunningham at 419.530.2410 or meghan.cunningham@utoledo.edu.
---