UToledo researcher using drones to measure algal blooms to speak at National Museum of the Great Lakes
May 20th, 2019 by Christine Billau
Determined to protect drinking water and avert another water crisis, a scientist at The University of Toledo deploys drones to snap a quick assessment of water quality during algal bloom season, no boat or satellite required.
Dr. Richard Becker, associate professor in the Department of Environmental Sciences, will give a presentation titled "Using Drones to Answer Questions in Environmental Science" 7 p.m. Thursday, May 23 at the National Museum of the Great Lakes, located at 1701 Front St. in Toledo.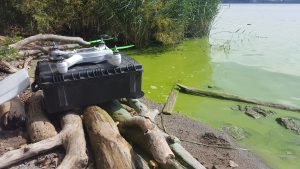 The researcher will discuss his use of low-flying unmanned aerial vehicles to monitor the health of Lake Erie.
The free, public event is the final presentation in the 2018-19 UToledo Lake Erie Center Lecture Series.
"As remote sensing technology advances, monitoring lakes using satellites, aircraft and drones is becoming more effective," Dr. Tom Bridgeman, professor of ecology and director of the UToledo Lake Erie Center, said. "Dr. Becker's research in coupling remote sensing data with boat-based water monitoring has improved the accuracy of harmful algal bloom assessments. Also, his research to develop drones as inexpensive tools to measure algal blooms is helping to fill a gap left by more expensive methods."
A shuttle will be available to transport visitors from UT's Main Campus to the National Museum of the Great Lakes and back. The shuttle departs at 6:15 p.m. from the south side of Bowman-Oddy Laboratories, 3100 West Towerview Blvd. Passengers must reserve a spot by Tuesday, May 21.
Email lakeeriecenter@utoledo.edu or call 419.530.8360 to make a reservation for the shuttle.

Christine Billau is UT's Media Relations Specialist. Contact her at 419.530.2077 or christine.billau@utoledo.edu.
Email this author | All posts by Christine Billau
---