Archive for January, 2019
Thursday, January 31st, 2019
The Catharine S. Eberly Center for Women at The University of Toledo will host a talk titled "Law and the #MeToo Movement" for Sexual Abuse and Sexual Violence Awareness Week.
Nicole Porter, associate dean for faculty research and development in the UT College of Law, and professor of law, will speak at noon Tuesday, Feb. 5 in Carlson Library Room 1005.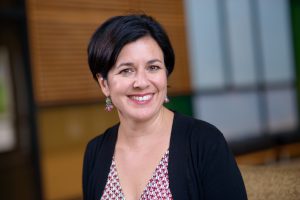 She will discuss the #MeToo Movement, including the legal aspects and the recent changes in Title IX.
Since the movement gained momentum in November 2017, Porter has been working with law professors across the country to try to increase the public's awareness of the legal issues surrounding #MeToo.
"There are many misunderstandings and misconceptions about sexual harassment and sexual assault. One of my goals is to help clear up some of the confusion," Porter said. "I think conversations like this one are difficult, but very important."
She plans to talk about the difference between sexual harassment and sexual assault, and how Title VII of the Civil Rights Act of 1964 addresses sexual harassment in the workplace.
Porter also will address the quickly changing law surrounding Title IX, which applies to educational institutions, and some of the myths surrounding sexual assault and sexual harassment.
---
Tuesday, January 29th, 2019
The University of Toledo has canceled all classes for Wednesday, Jan. 30 and Thursday, Jan. 31.
Despite canceled classes, the University will remain open and operations will continue as normal.
Any additional updates will be made available at utoledo.edu/weather.
---
Tuesday, January 29th, 2019
For the third year in a row, volunteers will gather in shifts and don hairnets at The University of Toledo to assemble nearly a quarter of a million meals to feed families in third-world countries Friday and Saturday, Feb. 1-2 in the Health Education Building on Main Campus.
The two-day mobile pack, part of the Feed My Starving Children program, is organized by 90 UT students who are members of the Klar Leadership Academy in the College of Business and Innovation. The academy was founded in 2015 with the support of Steven Klar, a 1971 UT business alumnus and a New York City builder and real estate developer.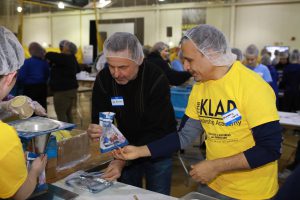 More than 1,000 UT students, employees and alumni, as well as teams from companies around Toledo, will split into groups to assemble nutritious rice meals with vegetable blend, vitamins and minerals. The meals are scientifically formulated for undernourished children.
The organizers raised $45,000 and set a goal to build 200,000 meals. Last year volunteers made 173,000 meals.
"The University of Toledo has a global impact, and the students are the driving force behind this incredible initiative to fight hunger worldwide," said Dr. Clint Longenecker, Distinguished University Professor and director of the Center for Leadership and Organizational Excellence in the College of Business and Innovation. "The way this event has grown in only three years is a testament to our community's mission to solve problems and help others."
The shifts are 3-5 p.m. and 7-9 p.m. Friday, Feb. 1, and 9-11 a.m. and noon-2 p.m. Saturday, Feb. 2.
"Due to overwhelming generosity, the shifts filled up quickly and we are no longer in need of volunteers," Longenecker said. "In fact, we have a backlog of people who want to join. It's a great problem to have."
---
Monday, January 28th, 2019
Saturday Morning Science is back for 2019 at The University of Toledo with five programs to give the community the opportunity to learn about hot topics in modern science.
The free, public talks, which are presented by the UT College of Natural Sciences and Mathematics, kick off 10 a.m. Saturday, Feb. 2 in Memorial Field House Room 2100 with "Regional Water Resources Management: A Great Lakes Perspective," presented by Dr. Andrew Gronewold, associate professor in the School for Environment and Sustainability at the University of Michigan.
"We're excited to bring in speakers who will discuss issues of great importance to the city of Toledo, such as the intersection of science and art in glassmaking and the past and future of Lake Erie," Dr. John Bellizzi, associate professor of chemistry and biochemistry and co-director of Saturday Morning Science, said. "We are also fortunate to have experts discuss topics that have generated a lot of media coverage, including gene-editing technology in the wake of reports that a Chinese scientist edited the genomes of two babies, and blue light research carried out here at UT showing how digital devices may be damaging to your eyes."
Listed by date, additional programs and speakers are:
16: "And There Was Light" by Dr. Ajith Karunarathne, assistant professor in the UT Department of Chemistry and Biochemistry.
23: "Archaeology and Shipwrecks" by Carrie Sowden, archaeological director of the National Museum of the Great Lakes.
March 16: "Gene Editing with CRISPR/Cas9" by Dr. Ron Conlon, associate professor in the Department of Genetics and Genome Sciences at Case Western Reserve University.
April 27: "Glass is a Verb, Just Like You" by Dr. Jane Cook, chief scientist at the Corning Museum of Glass.
All talks begin at 10 a.m. and include complimentary light refreshments donated by Barry Bagels and Costco. The program is funded by the Office of the Dean of Natural Sciences and Mathematics.
For more information about the upcoming events, visit the program's Facebook page.
---
Thursday, January 24th, 2019
"Onward and Upward: Persisting Through Barriers and Obstacles" is the theme of The University of Toledo's 35th annual Conference for Aspiring Minority Youth Saturday, Jan. 26.
Sponsored by Toledo Excel and the UT Joint Committee, the conference for seventh- and eighth-graders, high school students and parents will start at 8:30 a.m. in the Thompson Student Union Auditorium.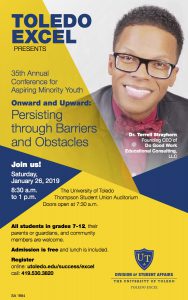 "The conference provides parents with methods to help students plan for their academic and professional futures," David Young, director of Toledo Excel and Special Projects, said. "And we teach students to anticipate potential obstacles to achieving their goals and equip them with the skills necessary to overcome those obstacles."
Dr. Terrell Strayhorn, a distinguished student success scholar, will give the keynote address.
Strayhorn is the founding chief executive officer of Do Good Work Educational Consulting LLC, and professor of urban education and interim vice president of academic and student affairs at LeMoyne-Owen College in Memphis, Tenn. The authority on equity and diversity has written several books, including "College Students' Sense of Belonging: A Key to Educational Success." He is known for using the hashtag #DoGoodWork on social media.
"Many underrepresented students find that their success is hindered by barriers and obstacles that they did not create. With this year's conference, we wanted to make it clear to them that they could be successful in spite of those barriers," Young said. "Dr. Strayhorn is nationally recognized for his work with underrepresented students, and we felt he was the ideal choice to give the keynote address."
Also scheduled to speak is Christopher Scott, founder of Reach to Teach National, an organization that provides motivational service to youth throughout the country. The Cleveland, Ohio, native is the author of "7 Secrets to Surviving College."
"Chris is someone who we are very familiar with as he is a UT alum and also worked in our Office of Admission after graduation," Young said. "We will be using his wonderful book as part of our Toledo Excel curriculum and are excited for him to lead a session for our parents and students on academic success and persistence."
Scott received a bachelor of science degree and a master of education degree in education theory and social foundations from the University in 2014 and 2017, respectively.
Toledo Excel was established in 1988 to help underrepresented students, including African, Asian, Hispanic and Native Americans, for success in college. Through summer institutes, academic retreat weekends, campus visits and guidance through the admission process, students increase their self-esteem, cultural awareness and civic involvement.
Toledo Excel is part of the Office of Multicultural Student Success, which is in the Division of Student Affairs. The UT Joint Committee includes representatives from the University, Toledo Public and Parochial schools, and civic and community leaders from the city of Toledo. The mission of the committee is to bring together people in the community interested in the education of underrepresented youth. The UT Joint Committee also serves as an advisory board and support system for Toledo Excel.
Advance reservations for the free, public conference are encouraged; visit the Toledo Excel website at utoledo.edu/success/excel or call 419.530.3820.
---
Tuesday, January 22nd, 2019
The hop crop is a hot topic as the craft brewing industry's thirst for new, locally grown flavors and aromas powers how and where farmers grow the key ingredient in beer.
"The incredible rise of the craft beer industry over the past decade changed and propelled the hop industry, particularly leading to new, experimental markets in the Great Lakes region," said Dr. Neil Reid, professor of geography and planning at The University of Toledo who is affectionately known as the "Beer Professor." "With 810 acres dedicated to farming hop plants, Michigan is now the largest hop producer in the country outside the Pacific Northwest."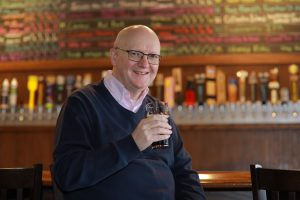 Reid, who is teaching a new class this semester at UT titled "The Geography of Beer and Brewing," will speak about the impact of the craft beer revolution on the American hops industry at the 10th annual Wisconsin Hop Seminar hosted by University of Wisconsin-Extension on Saturday, Feb. 16 at the Hillsboro Brewing Company, located at 815 Water Street in Hillsboro, Wis. The deadline to register is Thursday, Feb. 7.
The event connects craft beer brewers, such as the brew masters for New Glarus Brewing Company and South Shore Brewing, with hop growers and University of Wisconsin experts in a variety of fields including plant pathology and breeding.
"We want to focus on the relationship between the brewers and the growers because it is necessary for the small industry to succeed," Carl Duley, Buffalo County agricultural agent for University of Wisconsin-Extension, said. "Michigan has grown a lot faster than we have when it comes to hops production. In 2017 about 300 acres of land in Wisconsin was devoted to hops farming. That's up from nearly nothing ten years ago. It's exciting to see the supply side of the business evolve."
Reid is an expert on the craft brewing industry and its economic geography. His research is focused on the industry's growth in the U.S. and its potential role in helping to revitalize neighborhood economies.
"Craft brewers demand locally grown hops, experiment with different varieties of hops, and use more hops in beer production compared to mass-produced beers," Reid said. "For example, an Imperial IPA uses four pounds of hops per keg. A Pilsner, like Budweiser, uses 0.3 pounds of hops per keg."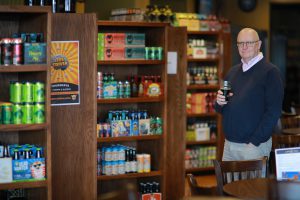 The volume of craft beer sales increased nationwide in 2017 to 12.7 percent of total U.S. beer sales, but more than 23 percent of the $111.4 billion U.S. beer market, according to the Brewers Association.
"A bigger share of money is being spent on craft beer," Reid said. "The way these small, independently owned brewers are collectively challenging Anheuser-Busch and Miller Brewing is part of the local foods movement. And farmers in Michigan, Ohio and Wisconsin – as well as 23 other states – are starting to see this as an opportunity to diversify and meet the demand."
Reid said the hops farms in Michigan, Ohio and Wisconsin are small compared to ones in Washington, Idaho or Oregon that together grow 95 percent of all hops in the country.
While four ingredients go into making beer – hops, barley, water and yeast – hops have grabbed most of the attention of consumers since its flavor and aroma are dominant.
Until around 2011, farmers in the Pacific Northwest mostly focused on alpha hop varieties that are used to give mass-produced beers like Budweiser and Miller Lite their bitterness. Instead of alpha, independent brewers want aroma hops that give beer flavors such as orange or fragrances like pine, and dual-purpose hops that are a hybrid of aromatic and bittering hops.
"In the last ten years, alpha hop production in Washington dropped from 73 percent down to 26 percent of hops produced," Reid said. "Craft brewers are driving the change to aroma and dual-purpose hops."
As mass-beer makers focus on consistency so each bottle tastes the same, Reid said craft brewers enjoy creativity using different combinations of more than 125 varieties of hops, including Citra, Cascade, Chinook, Centennial and Mosaic.
To learn more about the evolving appetite of craft beer drinkers and the experimentation of craft brewers, tap into Reid's blog about the beer industry.
---
Thursday, January 17th, 2019
Benjamin Barros, dean of The University of Toledo College of Law, was elected to serve a three-year term on the executive committee of the Association of American Law Schools (AALS) at its annual meeting in New Orleans this month.
The AALS Executive Committee is comprised of nine members from across the country who are respected among their peers as leaders in legal education. Barros, an expert on property law, was one of the youngest educators to serve on the executive committee when he served a one-year term in 2014.
"Dean Barros is well-positioned to serve legal education as a member of the AALS Executive Committee," Judith Areen, executive director of AALS, said. "His thoughtful advice and prior experience on the committee will help guide the association in our efforts to advance excellence in legal education."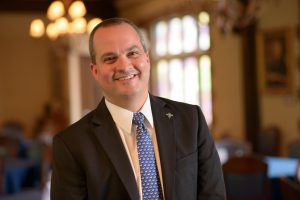 "Law and lawyers are essential to our society and our democracy, and our profession is rooted in legal education," Barros said. "I am honored to have this opportunity to serve the AALS and its member schools as we work to shape the future of legal education and the legal profession."
Barros joined UT as dean of the College of Law in 2015. He teaches and writes in the areas of property law and theory, regulatory takings, property law reform, and the philosophy of science. He is the founding editor of the Journal of Law, Property, and Society. In 2015, he released a casebook on property law with Aspen/Wolters Kluwer.
Prior to joining UT, Barros was the associate dean of academic affairs and professor of law at Widener University School of Law. Barros practiced as a litigator before teaching. He clerked for Judge Milton Pollack of the U.S. District Court for the Southern District of New York and later worked at the law firms of Latham & Watkins LLP and Debevoise & Plimpton, both in New York City.
Barros graduated from Fordham University School of Law, where he was an editorial board member on the Fordham Law Review and a member of Order of the Coif. He holds a bachelor's degree in philosophy from Colgate University and a master's degree in philosophy from the University of Maryland.
The Association of American Law Schools, founded in 1900, is a nonprofit association of 179 law schools. Its members enroll most of the nation's law students and produce the majority of the country's lawyers and judges, as well as many of its lawmakers. The association's mission is to uphold and advance excellence in legal education. In support of this mission, AALS promotes the core values of excellence in teaching and scholarship, academic freedom, and diversity, including diversity of backgrounds and viewpoints, while seeking to improve the legal profession, to foster justice, and to serve communities — local, national and international.
---
Wednesday, January 16th, 2019
The University of Toledo Medical Center is launching a new partnership with mental health boards throughout northwest Ohio to create a better model of care for adolescents dealing with particularly challenging mental health issues.
Through service agreements with the Mental Health & Recovery Services Board of Lucas County and 10 other boards representing 22 additional Ohio counties, UTMC will be able to provide longer, more intensive inpatient care for patients between the ages of 13 and 18.
The longer stay will enable clinicians to dig deeper into the root causes of the adolescents' mental health issues and establish a more coordinated long-term treatment plan to address the problem of patients repeatedly going in and out of inpatient treatment without advancement.
"We want to be taking on the most difficult cases and also helping the community with its biggest needs. Right now, there's a lot of fragmentation of services and limited access to care," said Dr. Cheryl McCullumsmith, chair of the Department of Psychiatry at The University of Toledo. "This innovative collaboration enables an expansion of services without duplicating resources."
In many cases, insurers will only cover a few days of inpatient treatment. While that can be enough time to stabilize many patients in crisis, some patients need a more in-depth psychiatric and medical examination, monitoring of new medications and coordination of continuing outpatient treatment, McCullumsmith said.
"There's a high need for some adolescents to get more intensive evaluation and treatment plans," McCullumsmith said. "We want the inpatient stay to advance the treatment plan, to be a constructive part rather than the Band-Aid it often is now. We're trying to give them a comprehensive assessment and evaluation and kind of a restart. Let's take some time, wipe the slate clean, start from the beginning and figure out a true diagnosis and plan."
Under the new service agreements, the boards will pay for days not covered by insurance, allowing UTMC to treat adolescents for longer stays as needed.
The initiative will focus primarily on adolescents who have had multiple inpatient hospitalizations during the last year, have difficult to establish diagnoses or who have challenges with medication.
"We're very excited and encouraged by the engagement with UT," said Scott Sylak, executive director of the Mental Health and Recovery Services Board of Lucas County. "The timing was right to move forward with this and we're really thrilled with the partnership that's developing. Having this resource locally and being able to ensure that families stay involved and that our providers stay involved is a worthy investment from the board's perspective."
The Mental Health & Recovery Services Board of Lucas County, along with other partner boards across northwest Ohio, will refer patients into the program.
Founded in 1968, UTMC Child and Adolescent Psychiatry was northwest Ohio's first hospital devoted to treating the emotional and behavioral needs of children and teens. Today, the center has an inpatient facility and outpatient mental health services.
---
Monday, January 14th, 2019
The University of Toledo President Sharon L. Gaber and Toledo Mayor Wade Kapszukiewicz will host a news conference 9:30 a.m. Tuesday, Jan. 15 in Libbey Hall to invite community members throughout northwest Ohio to the 2019 Martin Luther King Jr. Unity Celebration.
The 18th annual Unity Celebration, which is free and open to the public, will take place 10 a.m. to noon Monday, Jan. 21 in Savage Arena on the UT Main Campus. A free community luncheon will follow the ceremony.
"It's never been more important to come together as a community toward building a better future," Gaber said. "As the city of Toledo's University, we view service as a critical part of the college experience and UT is proud to partner with the entire region in celebrating Dr. King's legacy."
"At a time when our nation seems as divided as it has ever been, I encourage all Toledoans to join in the celebration of Martin Luther King, Jr., whose life's work was dedicated to bringing people together and finding common ground," Kapszukiewicz said.
Kristian Brown, anchor for WTVG 13 ABC, is master of ceremonies for the Unity Celebration. The program will feature re-enactments, songs and performances by the Scott High School marching band, UT gospel choir, UT FIRE Squad and TRIBE dance teams, as well as students from Toledo School for the Arts and other individual artists.
Recipients of the MLK Scholarship and African-American Leadership Council of United Way Scholarship Awards also will be recognized.
The Unity Celebration is organized by a committee co-chaired by Dr. Willie McKether, UT vice president for diversity and inclusion, and Angela Lucas, executive assistant to Mayor Kapszukiewicz.
The 2019 Martin Luther King Jr. Unity Celebration is made possible by support from ProMedica, Paramount Advantage, Balance Pan-Asian Grille, Smoot Construction, Crestline Paving & Excavating, Peak Electric Inc., The Taylor Automotive Family, Fifth Third Bank, The Toledo Zoo & Aquarium, Kokosing Construction Company, Inc., Mercy Health, Destination Toledo, The Toledo Branch of the NAACP, United Auto Workers Community Action Program Council, United Way of Toledo, Buckeye Broadband, Buckeye Community Arts Network, Area Office on Aging of Northwest Ohio, Inc., Lady Irish Basketball, and Zeta Alpha Omega Chapter of Alpha Kappa Alpha Sorority Incorporated.
---
Monday, January 14th, 2019
UPDATE: The event is canceled. It will not be rescheduled.
TEXT OF PREVIOUS NEWS RELEASE:
The University of Toledo Lake Erie Center is hosting a free, public event about the collaborative efforts to reestablish a self-sustaining lake sturgeon population in the Maumee River.
Dr. Chris Vandergoot, research fishery biologist with the U.S. Geological Survey, will give a talk 7 p.m. Thursday, Jan. 17 at the Lake Erie Center, 6200 Bayshore Road in Oregon.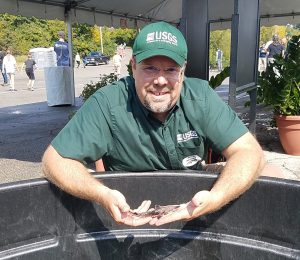 "We want to bring awareness to the importance of the Maumee River watershed and restore a native fish species to the Lake Erie ecosystem," Vandergoot said.
UT is a partner in the regional, state and federal teamwork to restore giant, ancient sturgeon to Lake Erie that culminated in thousands of juvenile sturgeons being released into the Maumee River in October.
"Lake sturgeon populations were once abundant throughout Lake Erie, particularly in the western basin. Currently only two self-sustaining populations occur lake-wide. Those are in the Detroit and Niagara rivers," Vandergoot said. "Our reintroduction efforts seek to reestablish a spawning population in the Maumee River, which is one of the spawning aggregations extirpated due to over-fishing and habitat degradation."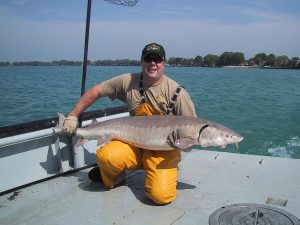 Vandergoot is an expert in using acoustic telemetry to track fish. Acoustic telemetry involves implanting fish with special tags that produce sound that can be detected by a large network of receivers installed around the Great Lakes. It is a way to determine where fish are moving within the lakes and learn about their behavior and habitat use. Some of the sturgeon released into the Maumee River last year have these tags.
Two years ago, a UT graduate student helped the Toledo Zoo secure $90,000 in federal grant money to build a sturgeon rearing facility along the Maumee River. Jessica Sherman-Collier, who has since received her doctorate in ecology from UT, assisted the project by verifying that spawning and nursery habitat still exist in the Maumee River to sustain a population of the fish that can live to be 150 years old and grow up to 300 pounds and eight feet long.
The Lake Erie Center is UT's freshwater research and science education campus focused on finding solutions to water quality issues that face the Great Lakes, including harmful algal blooms, invasive species and pollutants.
Water quality is a major research focus at UT. With more than $14 million in active grants underway, researchers are looking for pathways to restore our greatest natural resource for future generations.
Vandergoot's talk is part of the Lake Erie Center's Public Lecture Series.
A shuttle will be available to transport passengers from UT's Main Campus to the Lake Erie Center and back. The shuttle departs at 6:15 p.m. from the south side of Bowman-Oddy Laboratories, 3100 West Towerview Blvd. Passengers must reserve a spot. Email lakeeriecenter@utoledo.edu or call 419.530.8360 to make a reservation for the shuttle.
---