UT Lake Erie Center cancels Jan. 17 talk on restoring sturgeon to Maumee River
January 14th, 2019 by Christine Billau
UPDATE: The event is canceled. It will not be rescheduled.
TEXT OF PREVIOUS NEWS RELEASE:
The University of Toledo Lake Erie Center is hosting a free, public event about the collaborative efforts to reestablish a self-sustaining lake sturgeon population in the Maumee River.
Dr. Chris Vandergoot, research fishery biologist with the U.S. Geological Survey, will give a talk 7 p.m. Thursday, Jan. 17 at the Lake Erie Center, 6200 Bayshore Road in Oregon.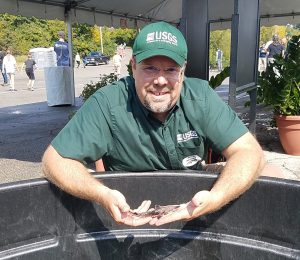 "We want to bring awareness to the importance of the Maumee River watershed and restore a native fish species to the Lake Erie ecosystem," Vandergoot said.
UT is a partner in the regional, state and federal teamwork to restore giant, ancient sturgeon to Lake Erie that culminated in thousands of juvenile sturgeons being released into the Maumee River in October.
"Lake sturgeon populations were once abundant throughout Lake Erie, particularly in the western basin. Currently only two self-sustaining populations occur lake-wide. Those are in the Detroit and Niagara rivers," Vandergoot said. "Our reintroduction efforts seek to reestablish a spawning population in the Maumee River, which is one of the spawning aggregations extirpated due to over-fishing and habitat degradation."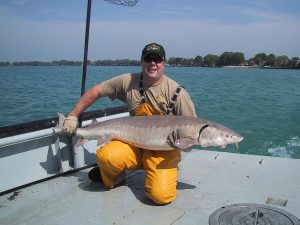 Vandergoot is an expert in using acoustic telemetry to track fish. Acoustic telemetry involves implanting fish with special tags that produce sound that can be detected by a large network of receivers installed around the Great Lakes. It is a way to determine where fish are moving within the lakes and learn about their behavior and habitat use. Some of the sturgeon released into the Maumee River last year have these tags.
Two years ago, a UT graduate student helped the Toledo Zoo secure $90,000 in federal grant money to build a sturgeon rearing facility along the Maumee River. Jessica Sherman-Collier, who has since received her doctorate in ecology from UT, assisted the project by verifying that spawning and nursery habitat still exist in the Maumee River to sustain a population of the fish that can live to be 150 years old and grow up to 300 pounds and eight feet long.
The Lake Erie Center is UT's freshwater research and science education campus focused on finding solutions to water quality issues that face the Great Lakes, including harmful algal blooms, invasive species and pollutants.
Water quality is a major research focus at UT. With more than $14 million in active grants underway, researchers are looking for pathways to restore our greatest natural resource for future generations.
Vandergoot's talk is part of the Lake Erie Center's Public Lecture Series.
A shuttle will be available to transport passengers from UT's Main Campus to the Lake Erie Center and back. The shuttle departs at 6:15 p.m. from the south side of Bowman-Oddy Laboratories, 3100 West Towerview Blvd. Passengers must reserve a spot. Email lakeeriecenter@utoledo.edu or call 419.530.8360 to make a reservation for the shuttle.

Christine Billau is UT's Media Relations Specialist. Contact her at 419.530.2077 or christine.billau@utoledo.edu.
Email this author | All posts by Christine Billau
---