Archive for August, 2018
Thursday, August 30th, 2018
A peace education scholar at The University of Toledo is heading to Latin America to support the society-wide effort to realize a 2016 peace deal that ended a 52-year civil war in Colombia between the government and the Armed Revolutionary Forces of Colombia, or FARC, among other militants.
Dr. Dale Snauwaert, professor of educational theory and peace studies in the UT Department of Educational Foundations and Leadership, was awarded a Fulbright Specialist Award and will spend Sept. 4-18 at the Institute for Bioethics at the Pontifica Universidad Javeriana in Bogota to study and give lectures and workshops on moral theory, environmental ethics and peace education.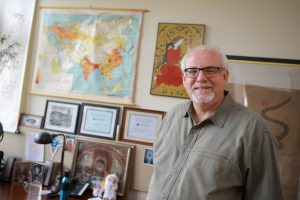 "It will take a generation or two to socially, economically and politically integrate generations of ex-militants into Colombian society," Snauwaert said. "One of the keys to the success of the peace process, therefore, is peace education."
The lectures and discussion forums are open to the public, including faculty and students at Pontifica Universidad Javeriana and government officials.
"At this critical stage in the Colombian peace process, an understanding of the philosophy and practice of justice and peace building among the citizenry is essential for its success," Snauwaert said. "The project will open the institution to an ongoing dialogue regarding peace and justice as well as the recognition of the inclusion of peace and justice studies as a civic responsibility of the university."
"This is an outstanding award, and Dale is certainly worthy of it. His work in peace education is well-known and respected," Dr. Raymond Witte, dean of the UT Judith Herb College of Education, said. "A Fulbright recognition is at the highest level, and this speaks directly to the quality of Dale's work as well as the support from the Judith Herb College of Education and the University at large."
Peace studies is an interdisciplinary field of study and a learning process designed to develop the capacity of democratic citizens to critically understand and transform all forms of violence and the patterns of thought that justify them and to envision and pursue a just and peaceful world.
"The primary elements of peace studies focus on the causes that give rise to and sustain violence, approaches to resolving violent conflict, and the articulation and defense of ethical and political principles and values that define the normative conditions of peace, including theories of justice, both ideal and non-ideal," Snauwaert said.
UT offers an undergraduate minor in peace and justice studies and oversees the Betty A. Reardon Archives, which is housed in UT's Canaday Center for Special Collections. The collection consists of Reardon's extensive publications, unpublished manuscripts, curriculum, reports, scholarly presentations, and correspondence from the 1960s to the present about peace studies. The archives of the world-renowned champion of peace education and 2013 nominee for the Nobel Peace Prize have been in the Canaday Center since 2009.
---
Wednesday, August 29th, 2018
The University of Toledo is joining others around the globe to raise awareness about overdoses, reduce the stigma of drug-related deaths, and remember those who have died or suffered permanent injury, as well as stimulate discussion about overdose prevention and drug policy.
In recognition of International Overdose Awareness Day, which is Friday, Aug. 31, UT is distributing purple ribbons to students, faculty and staff on Main Campus and Health Science Campus.
The outreach effort is organized by UT Rocket Wellness, UT Outpatient Pharmacy, UT Medical Center and the UT Opioid Task Force.
Members of the media are invited to the ribbon distribution Friday, Aug. 31:
Noon to 1 p.m. in the UT Center for Health and Successful Living in Health and Human Services Building Room 1100 on Main Campus.
11:30 a.m. to 12:30 p.m. at the entrance to the Collier Building on Health Science Campus.
"No community is immune to overdose; it is time to change the way we look at drug-related deaths. Opioid abuse, addiction and overdoses affect families of every socio-demographic group," said Dr. Amy Thompson, interim associate vice provost for faculty affairs and co-chair of the UT Opioid Task Force. "Our research, education and service activities can help make a difference in the state of Ohio, as well as the nation."
In 2014, nearly 80 percent of drug overdose fatalities in Ohio were caused by opioids.
In 2003, there were 296 opioid overdoses in Ohio. In 2014, that number rose to 2,202 deaths. On average, three people die each week from overdoses in Lucas County.
"Have the conversation with your friends and family and spread the message that overdose is a problem affecting every community, including Toledo," said Thompson, professor of public health and director of the Center for Health and Successful Living. "We need to educate individuals on treatment and recovery services. Realizing that addressing substance abuse and addiction is difficult, the recovery process is a journey that needs great strength and commitment."
"In order to help solve this problem, we all have to work together," said Dr. Linda Lewandowski, dean of the College of Nursing and co-chair of the UT Opioid Task Force. "In addition to treatment services, prevention efforts are key. We need widespread education about safe, appropriate pain management, safe prescribing practices, and safe storage of pain medications at home."
In November 2017, UT President Sharon L. Gaber created a task force to address the opioid epidemic. The committee's goals include identifying and coordinating current research, education and community service that UT faculty and students are engaged in; meeting with community and government leaders to strengthen partnerships; and identifying possible funding sources to support future collaborative projects.
---
Monday, August 27th, 2018
A University of Virginia constitutional law scholar is visiting The University of Toledo to discuss presidential power as part of the UT College of Law's Stranahan Lecture series.
Saikrishna B. Prakash, the James Monroe Distinguished Professor of Law and the Paul G. Mahoney Research Professor of Law at the University of Virginia School of Law, will give his free, public lecture, "Executive Power in the Age of Trump," at noon Thursday, Aug. 30 in the Law Center McQuade Auditorium.
"Professor Prakash is at the heart of the debate over one of the pressing issues of our time — the power of the president," said Lee J. Strang, the John W. Stoepler Professor of Law and Values at the UT College of Law. "He is one of the nation's most influential executive power scholars, and he is an engaging speaker. Professor Prakash's lecture will focus on the expansion of presidential power and its implications for the future. His informed perspective is sure to provoke debate and conversation."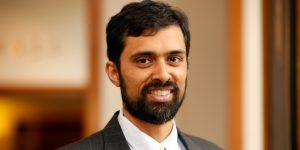 The author of more than 60 articles, Prakash is a leading scholar of constitutional law and legal history. His recent publications include "50 States, 50 Attorneys General and 50 Approaches to the Duty to Defend" (Yale Law Journal, 2015), "The Imbecilic Executive" (Virginia Law Review, 2013), "The Sweeping Domestic War Powers of Congress" (Michigan Law Review, 2015), and "Imperial From the Beginning: The Constitution of the Original Executive" (Yale University Press, 2015).
Prakash teaches constitutional law, foreign relations law and presidential powers. He is a graduate of Stanford University and Yale Law School, and he clerked for Justice Clarence Thomas.
The free, public lecture is a part of the Stranahan National Issues Forum and is sponsored by the College of Law and its chapter of the Federalist Society for Law and Public Policy Studies.
---
Wednesday, August 22nd, 2018
The University of Toledo is ready to welcome new and returning residents to campus for the 2018-19 academic year.
UT President Sharon L. Gaber will roll up her sleeves to help students unpack their belongings and move into their on-campus rooms from 1 to 2 p.m. Friday, Aug. 24 at Parks Tower, which is reopening after a $12 million upgrade. She will be joined by Dr. Andrew Hsu, provost and executive vice president for academic affairs, and Dr. Phillip "Flapp" Cockrell, vice president for student affairs.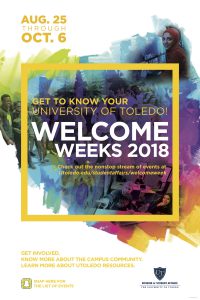 Fall classes at UT begin Monday, Aug. 27.
New Rockets will be welcomed to UT at the New Student Convocation at 4 p.m. Sunday, Aug. 26 in the Glass Bowl (Rain location: Savage Arena) when Gaber and faculty and staff members will greet new students and talk about what it means to be a Rocket. The event will be followed by a barbecue in the Flatlands.
During the first few weeks of classes, the Office of Student Involvement and Leadership in the Division of Student Affairs has planned a number of events to encourage students to meet new friends, have fun and learn about the University.
The events to welcome students to the new school year include:
Friday, Aug. 24
Paint Party, 8 p.m., the Flatlands. Students are invited to dance, paint and make new friends. This event is sponsored by Campus Activities and Programming.
Saturday, Aug. 25
Slip-n-Slide, 11 a.m., hill by Parks Tower. Presented by the Interfraternity Council, the event is a cool way to learn about Greek life at UT.
Bonfire, 8 p.m., the Flatlands. The Resident Student Association hosts this annual tradition that includes pizza.
Monday, Aug. 27
Sundae on a Monday with President Gaber, 4 p.m., Centennial Mall. Rain location: Thompson Student Union Trimble Lounge. Meet President Gaber and taste free ice cream.
Wednesday, Aug. 29
Student Involvement Fair and Part-Time Job Fair, 11 a.m. to 2:30 p.m., Centennial Mall. Rain locations: Thompson Student Union Auditorium and Rooms 2582 and 2584.
Pep Rally, 12:30 p.m., Centennial Mall, steps outside Thompson Student Union. Rain location: Thompson Student Union Auditorium.
Saturday, Sept. 1
President's Tailgate, 4:30 to 6:30 p.m., lot 25 near Rocket Hall. Students are invited to meet President Gaber. Stop by for free food, music, games and prizes.
Toledo vs. Virginia Military Institute, 7 p.m., Glass Bowl. Students are admitted free with their Rocket ID; faculty and staff can buy tickets half price with ID.
Thursday, Sept. 13
President's Backyard Barbecue, noon to 2 p.m., Centennial Mall.
For a full list of events, go to utoledo.edu/studentaffairs/welcomeweek.
---
Wednesday, August 15th, 2018
The University of Toledo President Sharon L. Gaber and Toledo Mayor Wade Kapszukiewicz will kick off the start of "Rocket Week" with an official proclamation from the mayor and ceremonial raising of the UT flag outside One Government Center on Friday, Aug. 24, at 10 a.m.
Rocket Week is a series of special events the first week of the 2018-19 academic year leading up to the home-opening football game of the defending Mid-American Conference Champion Toledo Rockets. The Rockets host VMI at the Glass Bowl on Saturday, Sept. 1, at 7 p.m.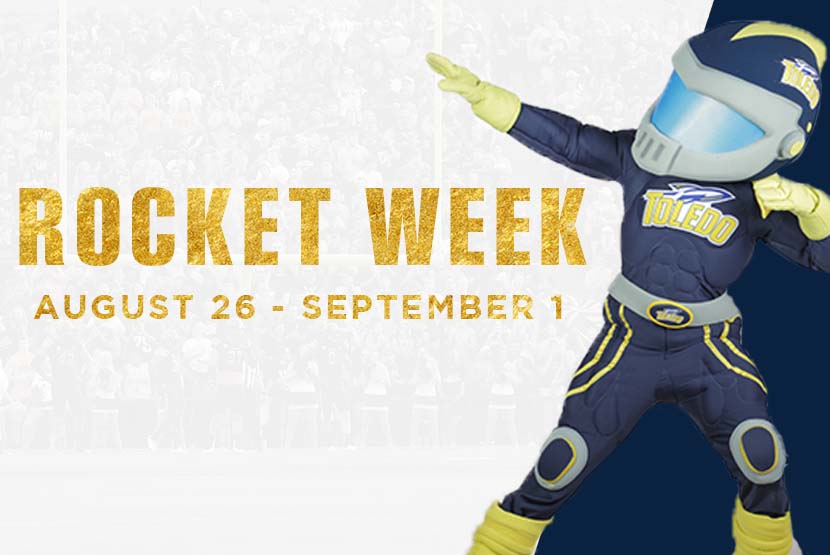 In addition to the location at One Government Center, Rocket flags will be flown at other city buildings and parks. Toledo area businesses and fans are encouraged to fly their University or Rocket flags during the week leading up to the home opener and all season long.
As part of Rocket Week, UT and the city of Toledo also will recognize city employees during the game and pregame festivities.
"We're ready for another exciting school year and Rocket football season," Gaber said. "UT is proud to be this city's university. We also are very proud of our MAC Champions. I want to highly encourage our community to join us in showing their Rocket pride. I look forward to celebrating with Rocket fans and recognizing the dedicated individuals who serve our city."
"The city of Toledo has an amazing university with an incredible athletics program, and I invite all Toledoans to join me in showing their Rocket pride as we raise the UT flag at One Government Center, city parks and other sites across the city — including my own home," Kapszukiewicz said. "I want to thank UT for recognizing the hard work city employees do for our community. We will see you at the game on Sept. 1 and throughout the season."
Some of the events during Rocket Week include a pep rally on campus Wednesday, Aug. 29, as well as downtown pep rallies on Thursday, Aug. 30, at the food trucks at Levis Square and on Friday, Aug. 31 in the entertainment district. The Friday night rallies continue a tradition in which the Rocket Marching Band performs at various establishments, marching through the downtown streets between each performance.
Throughout the week, and especially on "Rocket Thursday," fans are encouraged to wear their Rocket gear or school colors midnight blue and gold in support of UT. The University celebrates Rocket Thursday each week throughout the school year.
On game day, UT will debut Stadium Drive Live, a pregame tailgate event located adjacent to the Glass Bowl on Stadium Drive that will take place prior to the first five Rocket home games this season. Opening three hours prior to kickoff, Stadium Drive Live will give fans an opportunity to enjoy tailgate games and live music performances on the Battery Wholesale stage. Fans will be able to purchase food and beverages from Aramark's Tailgate Gourmet II booth, which will offer grilled hamburgers and hot dogs and other items, in addition to food trucks and the Bud Light Beer Garden.
For more information about Rocket Week or to purchase football tickets, stop by the UT Athletic Ticket Office at Savage Arena, go online to UTRockets.com or call 419.530.GOLD (4653).
Rocky's Locker will offer a Rocket Week promotion providing customers a 3×5 flag with the purchase of $50 in Rocket gear, while supplies last. Participate on social media using the hashtag #RocketWeek.

Rocket Week Events
Friday, Aug. 24
UT flag-raising ceremony, 10 a.m., One Government Center.
Wednesday, Aug. 29
Pep Rally at UT Campus, 12:30 p.m., Centennial Mall.
Thursday, Aug. 30
Pep Rally at Food Truck Thursday, 12:15 p.m., Levis Square, Downtown Toledo.
Friday, Aug. 31
Rocket Marching Band Pep Rally Parade, 9:30-10:30 p.m., downtown entertainment district.
Saturday, Sept. 1
Stadium Drive Live, 4-7 p.m., on Stadium Drive adjacent to the Glass Bowl.
Rocket Football vs. VMI, 7 p.m., Glass Bowl.
Sunday, Sept. 2
Rocket Women's Soccer vs. IUPUI, 1 p.m, Scott Park.
---
Monday, August 13th, 2018
About 540 children are identified as victims of abuse or neglect each year in Lucas County.
"For every substantiated case of physical child abuse in the U.S., approximately 40 more exist that go undetected. It's heartbreaking," said Dr. Michele Knox, University of Toledo professor of psychiatry who has dedicated her life to protecting children and educating parents with alternative methods of discipline.
She recently was awarded her second Fulbright award to visit the Netherlands to find innovative and effective ways to improve child abuse prevention in the United States.
"I am honored to receive this award. It is an opportunity to bring home new ideas and approaches because the Netherlands is among the nations with the lowest rates of child maltreatment deaths," Knox said. "I will be learning from the people there and benefiting from their expertise, knowledge and success."
Starting in spring 2019, Knox will spend nearly three weeks at the University of Utrecht, the largest university in the Netherlands.
"This is a big change from my last Fulbright Specialist project, which was in northern Portugal," Knox said. "I was teaching the Portuguese how to use evidence-based parenting group programs to prevent child abuse."
The United States, Mexico and Portugal have "exceptionally" high rates of child maltreatment deaths, according to the UNICEF Innocenti Research Centre.
For 16 years, Knox has been a master trainer for the American Psychological Association's ACT (Adults and Children Together) Raising Safe Kids Program, which trains parents and caregivers in nonviolent discipline, child development, anger management and social problem-solving skills.
While in the Netherlands, Knox plans to teach college students and professionals about the ACT program and other topics related to child abuse and well-being.
Knox teaches medical students and residents at UT. She also is a clinical psychologist who specializes in children, adolescents and trauma; child abuse prevention; and parenting.
"Spanking is often the first step in the cycle of child abuse, and it can result in aggressive behavior and delinquency in kids," Knox said. "I teach alternative methods of discipline for positive parenting solutions, such as the use of time-outs, removal of privileges, and positive reinforcement to reward the child's good behavior."
Her current research addresses factors related to harsh and abusive parenting, outcomes of child maltreatment prevention programs, and the efficacy of the Child Advocacy Studies Training program for medical students.
---
Wednesday, August 8th, 2018
Blue light from digital devices and the sun transforms vital molecules in the eye's retina into cell killers, according to optical chemistry research at The University of Toledo.
The process outlined in the study, which was recently published in the journal Scientific Reports, leads to age-related macular degeneration, a leading cause of blindness in the United States.
"We are being exposed to blue light continuously, and the eye's cornea and lens cannot block or reflect it," Dr. Ajith Karunarathne, assistant professor in the UT Department of Chemistry and Biochemistry, said. "It's no secret that blue light harms our vision by damaging the eye's retina. Our experiments explain how this happens, and we hope this leads to therapies that slow macular degeneration, such as a new kind of eye drop."
Macular degeneration, an incurable eye disease that results in significant vision loss starting on average in a person's 50s or 60s, is the death of photoreceptor cells in the retina. Those cells need molecules called retinal to sense light and trigger a cascade of signaling to the brain.
"You need a continuous supply of retinal molecules if you want to see," Karunarathne said. "Photoreceptors are useless without retinal, which is produced in the eye."
Karunarathne's lab found that blue light exposure causes retinal to trigger reactions that generate poisonous chemical molecules in photoreceptor cells.
"It's toxic. If you shine blue light on retinal, the retinal kills photoreceptor cells as the signaling molecule on the membrane dissolves," Kasun Ratnayake, a PhD student researcher working in Karunarathne's cellular photo chemistry group, said. "Photoreceptor cells do not regenerate in the eye. When they're dead, they're dead for good."
Karunarathne introduced retinal molecules to other cell types in the body, such as cancer cells, heart cells and neurons. When exposed to blue light, these cell types died as a result of the combination with retinal. Blue light alone or retinal without blue light had no effect on cells.
"No activity is sparked with green, yellow or red light," Karunarathne said. "The retinal-generated toxicity by blue light is universal. It can kill any cell type."
The researcher found that a molecule called alpha tocopherol, a Vitamin E derivative and a natural antioxidant in the eye and body, stops the cells from dying. However, as a person ages or the immune system is suppressed, people lose the ability to fight against the attack by retinal and blue light.
"That is when the real damage occurs," Karunarathne said.
The lab currently is measuring light coming from television, cell phone and tablet screens to get a better understanding of how the cells in the eyes respond to everyday blue light exposure.
"If you look at the amount of light coming out of your cell phone, it's not great but it seems tolerable," Dr. John Payton, visiting assistant professor in the UT Department of Chemistry and Biochemistry, said. "Some cell phone companies are adding blue-light filters to the screens, and I think that is a good idea."
To protect your eyes from blue light, Karunarathne advises to wear sunglasses that can filter both UV and blue light outside and avoid looking at your cell phones or tablets in the dark.
"Every year more than two million new cases of age-related macular degeneration are reported in the United States," Karunarathne said. "By learning more about the mechanisms of blindness in search of a method to intercept toxic reactions caused by the combination of retinal and blue light, we hope to find a way to protect the vision of children growing up in a high-tech world."
---
Monday, August 6th, 2018
The largest residence hall on The University of Toledo campus is reopening for the 2018-19 academic year after undergoing a $12 million upgrade.
A ribbon-cutting ceremony to celebrate the transformation of Parks Tower will take place at 4:30 p.m. Thursday, Aug. 9, followed by an open house that ends at 6:30 p.m.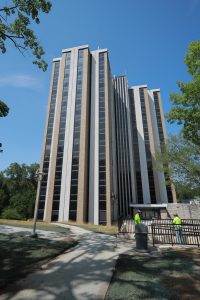 The closest parking is in lot 9, just south of the Glass Bowl Stadium.
Parks Tower, which will house 668 students this academic year, features new elevators, bathrooms, and plumbing fixtures, as well as a new entry vestibule and reinvented main lobby that includes multiple social spaces. The University also added a new fitness center, new furniture for all rooms, program space, quiet zones and kitchenettes. Lounges on each floor were overhauled and redesigned.
"This investment in Parks Tower shows the ongoing commitment of the University and its leadership to listen to our students and provide them with the environments that will help them be successful not only in the classroom but also outside the classroom," Jason Toth, associate vice president for facilities and construction, said.
"We invested in critical maintenance initiatives while also focusing on the needs of the students," said Valerie Walston, associate vice president for student affairs and director of residence life. "Parks Tower is a welcoming environment for our vibrant campus community."
Built in 1971, Parks Tower was the University's first large-scale residence hall. Parks Tower was renovated during the 2017-18 academic year. It houses first-year students.
"From the thoughtful furniture selections and kitchenette additions to the overall improvement of how space is utilized, these renovations are designed to improve student success and make students feel both comfortable and supported," Matthew Perry, associate director for residential education, said.
Tours and refreshments will be available during the grand opening.
"The open house is an opportunity for incoming students to see their new home that features the amenities they want," Bradley Menard, UT director for housing, said. "We also have heard from many alumni throughout the summer who plan to be here to see the changes because Parks Tower is the place they started their college experience, met lifelong friends, and made wonderful memories."
Parks Tower residents will begin moving in Wednesday, Aug. 22.
---
Thursday, August 2nd, 2018
The University of Toledo is bringing electric scooters to campus.
Beginning fall semester, the University will launch its electric scooter sharing program through a company called Lime.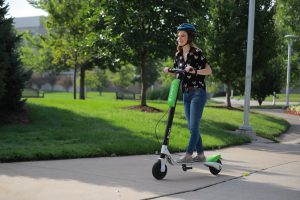 UT is debuting the green, alternative transportation service to benefit students, faculty and staff.
"This pioneering program offers an innovative way to more easily move around campus," UT President Sharon L. Gaber said. "It builds on what we started with our Rocket Wheels bike sharing program. Only in this case, you need to download an app to your smartphone and pay for each ride."
UT is starting with 125 electric scooters and plans to double that depending on demand.
The battery-powered scooters will be located at multiple "hot spots" across the University's Main Campus, with users locating and unlocking them through the free Lime app. After reaching their destination, riders then lock the scooter with the app.
Users are charged $1 by Lime to unlock a scooter, plus 15 cents per minute.
The Lime app shows real-time scooter locations, making it easy for users to find a scooter throughout campus. Every evening, all scooters will be collected by Lime, fully charged and returned to their original hot spots for use the next day.
The 250-watt motored scooters, which have a maximum speed up to approximately 14.8 miles per hour and are equipped with safety features, will be limited to on-campus use only.
"Because Lime assumes all responsibility for the scooters and their maintenance, the new program will not cost the University anything," said Larry Kelley, UT executive vice president for finance and administration, and chief financial officer. "Along with our partnership with TARTA, this scooter sharing program is yet another example of how UT is striving to provide an exceptional experience for our students."
Media availability for interviews and scooter video is from noon to 2 p.m. today (Thursday, Aug. 2) in Centennial Mall.
---
Wednesday, August 1st, 2018
Staff at The University of Toledo Medical Center will practice responding to an active shooter in a hospital setting during a simulation exercise Thursday, Aug. 2.
UTMC nurses and physicians, along with UT students and police and safety personnel, will participate in the training scheduled for 8 a.m. to noon in the Jacobs Interprofessional Immersive Simulation Center.
"It is important to regularly review our response tactics so that we are prepared for any emergency," UT Police Chief Jeff Newton said. "In a hospital setting in particular, our colleagues need to be prepared to respond for both their personal safety and also for the safety of their patients. While we hope we never need to use this training, we are committed to being prepared."
The training will involve de-escalation scenarios and responding to an active shooter.
---