Ribbon-cutting ceremony Aug. 9 to celebrate Parks Tower renovations
August 6th, 2018 by Christine Billau
The largest residence hall on The University of Toledo campus is reopening for the 2018-19 academic year after undergoing a $12 million upgrade.
A ribbon-cutting ceremony to celebrate the transformation of Parks Tower will take place at 4:30 p.m. Thursday, Aug. 9, followed by an open house that ends at 6:30 p.m.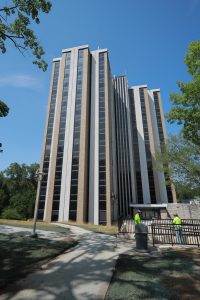 The closest parking is in lot 9, just south of the Glass Bowl Stadium.
Parks Tower, which will house 668 students this academic year, features new elevators, bathrooms, and plumbing fixtures, as well as a new entry vestibule and reinvented main lobby that includes multiple social spaces. The University also added a new fitness center, new furniture for all rooms, program space, quiet zones and kitchenettes. Lounges on each floor were overhauled and redesigned.
"This investment in Parks Tower shows the ongoing commitment of the University and its leadership to listen to our students and provide them with the environments that will help them be successful not only in the classroom but also outside the classroom," Jason Toth, associate vice president for facilities and construction, said.
"We invested in critical maintenance initiatives while also focusing on the needs of the students," said Valerie Walston, associate vice president for student affairs and director of residence life. "Parks Tower is a welcoming environment for our vibrant campus community."
Built in 1971, Parks Tower was the University's first large-scale residence hall. Parks Tower was renovated during the 2017-18 academic year. It houses first-year students.
"From the thoughtful furniture selections and kitchenette additions to the overall improvement of how space is utilized, these renovations are designed to improve student success and make students feel both comfortable and supported," Matthew Perry, associate director for residential education, said.
Tours and refreshments will be available during the grand opening.
"The open house is an opportunity for incoming students to see their new home that features the amenities they want," Bradley Menard, UT director for housing, said. "We also have heard from many alumni throughout the summer who plan to be here to see the changes because Parks Tower is the place they started their college experience, met lifelong friends, and made wonderful memories."
Parks Tower residents will begin moving in Wednesday, Aug. 22.

Christine Billau is UT's Media Relations Specialist. Contact her at 419.530.2077 or christine.billau@utoledo.edu.
Email this author | All posts by Christine Billau
---