'Executive Power in the Age of Trump' topic of UT law lecture Aug. 30
August 27th, 2018 by Christine Billau
A University of Virginia constitutional law scholar is visiting The University of Toledo to discuss presidential power as part of the UT College of Law's Stranahan Lecture series.
Saikrishna B. Prakash, the James Monroe Distinguished Professor of Law and the Paul G. Mahoney Research Professor of Law at the University of Virginia School of Law, will give his free, public lecture, "Executive Power in the Age of Trump," at noon Thursday, Aug. 30 in the Law Center McQuade Auditorium.
"Professor Prakash is at the heart of the debate over one of the pressing issues of our time — the power of the president," said Lee J. Strang, the John W. Stoepler Professor of Law and Values at the UT College of Law. "He is one of the nation's most influential executive power scholars, and he is an engaging speaker. Professor Prakash's lecture will focus on the expansion of presidential power and its implications for the future. His informed perspective is sure to provoke debate and conversation."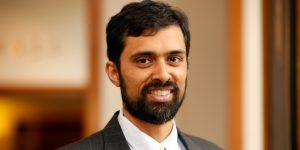 The author of more than 60 articles, Prakash is a leading scholar of constitutional law and legal history. His recent publications include "50 States, 50 Attorneys General and 50 Approaches to the Duty to Defend" (Yale Law Journal, 2015), "The Imbecilic Executive" (Virginia Law Review, 2013), "The Sweeping Domestic War Powers of Congress" (Michigan Law Review, 2015), and "Imperial From the Beginning: The Constitution of the Original Executive" (Yale University Press, 2015).
Prakash teaches constitutional law, foreign relations law and presidential powers. He is a graduate of Stanford University and Yale Law School, and he clerked for Justice Clarence Thomas.
The free, public lecture is a part of the Stranahan National Issues Forum and is sponsored by the College of Law and its chapter of the Federalist Society for Law and Public Policy Studies.

Christine Billau is UT's Media Relations Specialist. Contact her at 419.530.2077 or christine.billau@utoledo.edu.
Email this author | All posts by Christine Billau
---