Archive for April, 2018
Monday, April 16th, 2018
University of Toledo students, faculty and staff can catch a bus anywhere in the community for free through a new partnership with the Toledo Area Regional Transit Authority.
TARTA will begin managing UT's bus shuttle services this summer, continuing the same on-campus routes and also providing free access to all TARTA bus routes for every UT student, faculty and staff member with their Rocket ID card. The UT Board of Trustees approved the partnership on Monday.

"We listened to our student leaders who asked us to expand bus services to enhance access to off-campus experiences and we recognize the importance of UT being a leader in connecting to the broader community," said Larry Kelley, UT executive vice president for finance and administration, and chief financial officer. "Consolidating our campus bus system with our regional transit system will help our students — and all 6,500 employees of the University — get downtown or to the zoo or to area shopping and restaurants more easily. It will allow them to better connect to our community."
"TARTA is about connecting people with the places they want and need to go. This partnership is a great opportunity for UT students, faculty and staff to be directly connected to the entire metro Toledo community," TARTA General Manager James Gee said. "The partnership is an example of collaborating to create efficiencies that enhance the vitality of our region overall."
UT will pay TARTA an annual fee to manage its transit system. The cost is comparable to current operating costs for the University's bus program and there will be no additional fees for students.
UT expects to save about $2 million that without this partnership would have been required to purchase new vehicles to replace its aging bus fleet. Of UT's fleet of 16 buses, nine are approaching replacement.
TARTA will continue to employ the UT students to drive campus buses and maintain the GPS system used to track the vehicles along their on-campus routes.
There are 16 Ohio colleges and universities with similar partnerships with their regional transit authorities, however UT's agreement with TARTA is unique in that faculty and staff also benefit with free access to community bus routes.
---
Thursday, April 12th, 2018
The University of Toledo College of Business and Innovation and the Business Engagement and Leadership Council will recognize both business and academic excellence during their 55th annual Pacemaker Awards 7 p.m. Friday, April 13 at the Inverness Country Club.
The 2018 Business Pacemaker Award will be presented to Alan H. Barry, a 1966 graduate of the UT College of Business, who is a certified public accountant, retired president and chief operating officer of the Fortune 200 company Masco Corp., and a member of the UT Foundation's Board of Trustees.
Barry joined Brass Craft Manufacturing Co. in 1972 as controller and became president of the Masco division in 1988. In 1996, he became a group president of Masco, a manufacturer of home improvement and building products. He has broad business experience that includes finance, manufacturing, customer development, acquisitions and general operating management.
Barry currently serves on the board of directors of the H. W. Kaufman Financial Group. He is the retired director of Arch Aluminum & Glass Co. Inc., Scotts Miracle Gro Co., and IPS Corp. He also served as an executive board member of the Plumbing Manufacturing Institute from 1985 through 2000, and as chairman of the institute in 1994. In addition, Barry served on the executive board of the associate member division of the American Supply Association during 1995 and 1996.
Barry and his wife, Karen, a 1964 UT alumna, have a history of philanthropy at The University of Toledo. In 2014, the University named a new accounting lab in the College of Business and Innovation for Alan Barry. At the time the lab was established, it was the first one nationwide to have a certified management accountant license, in which students could access for free the review material from Wiley, a leading provider of educational programs for professionals and students who are preparing for the certified management accountant exam.
The couple also endowed the Alan and Karen Barry Scholarship Fund, which provides support for full-time UT business accounting students based on both merit and needs.
Alan Barry, a native of Toledo, is an active member of the UT Alumni Association's Phoenix chapter, is involved in UT's Blue Key organization, and serves on the executive committee for the children's charity Variety.
In 2017 the Barrys donated a $1 million gift to establish an endowment that supports the Alan H. and Karen A. Barry Endowed Professorship in Accounting at The University of Toledo.
"Recipients of the Pacemaker Award over the past five decades read as a who's who of current and legendary business leaders in the Toledo region," said Dr. Hassan HassabElnaby, interim dean of the UT College of Business and Innovation, "and Alan Barry certainly belongs in that impressive roster. The Pacemaker Award is the College of Business and Innovation's highest honor, recognizing individuals for outstanding achievement in business, as well as contributions to the community and the University.
"We are also pleased to recognize the excellence of students from each of our departments through the Student Pacemaker Awards," Hassan HassabElnaby said.
Student Pacemaker Awards are presented to UT College of Business and Innovation graduate and undergraduate students for their outstanding academic achievement, University and community service, and leadership.
The 2018 student Pacemakers are:  Master of Business Administration — Aanchal Senapati and Mitchell Howard; Master of Science in Accountancy — Tyler Hecht; Accounting — Martin Linthicum and Sarah Avina; Finance — Alex Odenweller and Brianne Michel; Information Operations Technology Management — Brandon Stewart and Lindsey Wittenauer; Management — Kathleen Kurman and Jenna Jeffers; Marketing and International Business — Haley Orr and Amanda Martin; and Dean's Recipient — Julia Foley.
---
Thursday, April 12th, 2018
Nearly 1,700 students, faculty, staff and alumni from The University of Toledo are expected to participate in this year's Big Event, UT's largest, student-run service project, on Saturday, April 14. 
Volunteers will spend the day in neighborhoods throughout Toledo raking, picking up garbage, painting and more at parks, businesses and UT's campuses.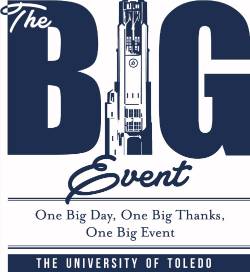 Students will gather at the UT Student Recreational Center on Main Campus at 9:30 a.m. to receive their job assignments for the service event that will run from 10 a.m. to 4 p.m. 
Toledo Mayor Wade Kapszukiewicz will speak to the group of volunteers at 10 a.m. to thank them for their work and to get them excited for the service they will be doing to benefit the community.  
The annual event is meant to show students' appreciation and give back to the surrounding communities by completing service projects.  
"It is a great way to give back to the city that has done so much for us as students and growing professionals," said Gabrielle Latreille, the director of this year's Big Event. "Also, providing service alongside friends and others is a great way to grow closer together and make a larger impact." 
This year, students from more than 70 different organizations will work at around 60 job sites in the community providing an estimated 7,000 hours of community service.  
Several of the Big Event project locations include:
A grassy area at 914 Upton Ave. near a neighborhood from noon to 2 p.m.
A complex that houses dozens of veterans at 1065 Garden Lake Parkway from noon to 2 p.m.
Community gardens at 3613 Monroe St. and 2545 Monroe St. from noon to 2 p.m.
---
Thursday, April 12th, 2018
The University of Toledo will host Dr. Laurie Garduque, director of justice reform with the MacArthur Foundation, at 6 p.m. Monday, April 16 in Doermann Theatre.
She will discuss the role of philanthropy in social change at the free, public event that marks the third of this year's Jesup Scott Honors College Distinguished Lecture series.
A panel discussion and question-and-answer session will follow her remarks with Toledo Mayor Wade Kapszukiewicz, representatives of the Lucas County Safety and Justice Challenge Team, Commissioner Carol Contrada and Common Pleas Court Judge Gene Zmuda.
"We are thrilled to bring Dr. Garduque to campus. Her program represents one of the finest examples of social change achieved through evidence-based practices," said Dr. Heidi Appel, dean of the Jesup Scott Honors College. "We're also very proud to showcase the highly successful local initiative as part of the event. The evening will be a memorable demonstration of how national and local partners can affect meaningful change."
The MacArthur Foundation's Safety and Justice Challenge is providing support to local leaders from across the country who are determined to tackle one of the greatest drivers of over-incarceration in America — the misuse and overuse of jails.
To continue building upon its comprehensive criminal justice reform efforts, Lucas County was awarded $1.75 million from the Safety and Justice Challenge in 2016 to invest in effective strategies to further reduce the average daily jail population over the next two years while addressing racial and ethnic disparity.
MacArthur is one of the nation's largest independent foundations. Organizations supported by the foundation work in about 50 countries.
Garduque joined the MacArthur Foundation in 1991 after serving as director of the National Forum on the Future of Children and Families, a joint project of the National Research Council and the Institute of Medicine. From 1984 to 1987, she was the director of governmental and professional liaison for the American Educational Research Association in Washington, D.C. This position followed the year she spent as a Congressional Science Fellow in the U.S. Senate. From 1980 to 1985, Garduque held a faculty position as an assistant professor of human development at Pennsylvania State University.
Garduque received her bachelor's degree in psychology and her PhD in educational psychology from the University of California at Los Angeles.
Guests are invited to stay for a reception following the lecture, which is co-sponsored by The University of Toledo College of Law.
Tickets are free to students and the public by visiting utoledo.edu/honorslecture.
---
Wednesday, April 11th, 2018
The University of Toledo College of Engineering and AAA Northwest Ohio are hosting the second in a series of free, public talks to educate consumers about how smart cars will impact the world.
The seminar focused on cybersecurity and autonomous vehicles is from 3 to 5 p.m. Friday, April 13 in UT's Nitschke Auditorium.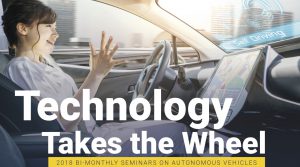 "We understand drivers have questions about the impact of artificial intelligence on transportation, and this is a great opportunity to talk about autonomous-vehicle technology and the work to prevent self-driving cars from being hacked," said Dr. Jared Oluoch, UT assistant professor of computer science and engineering technology.
A new AAA survey conducted last month finds that safety and reliability of autonomous vehicle technology remains the top concerns of licensed Ohio drivers.
"In order for autonomous vehicles to operate alongside each other on the highway, they need to exchange data regularly with other vehicles and roadway infrastructure," Edgar Avila, AAA spokesperson, said. "A clear majority – 65 percent – responded that they are very concerned about the security of the data sent to and from autonomous vehicles."
Taylor Kia will have a 2018 Stinger on site that is equipped with forward collision avoidance; forward collision warning system; smart cruise control with stop and go; lane-keep assist system; lane-departure warning system; driver attention warning; high beam assist; blind-spot collision warning; rear cross-traffic collision warning; and auto-ran sensing windshield wipers.
Speakers include Jennifer Dukarski, attorney with Butzel Long in Ann Arbor who represents suppliers of autonomous vehicle technology, and Mike Krajecki, director of emerging technology risk consulting at KPMG in Chicago. Both speakers will participate in a panel discussion featuring UT engineering researchers and cybersecurity experts Oluoch and Dr. Ahmad Javaid.
The autonomous vehicle will be on display for students to view inside the Nitschke Technology Commercialization Complex in the Brady Engineering Innovation Center from 1:00 p.m. to 2:30 p.m.
Register for the free, public seminar online at utoledo.edu/engineering/webforms/technologytakesthewheelform.html.
---
Tuesday, April 10th, 2018
The University of Toledo equestrian team is hosting Horses for Humanity to help victims of human trafficking.
The public event is from 11 a.m. to 3 p.m. Wednesday, April 11 in the grassy area south of Memorial Field House on Main Campus.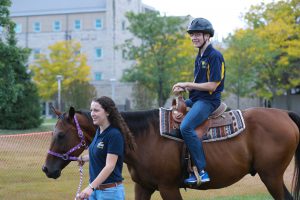 Four horses will be on campus for people to ride for a donation of at least $3. The event also features a petting zoo that includes a calf, goat, bunnies and chickens.
Donations collected will go to the Lucas County Human Trafficking Coalition.
"We want to support the work being done in the Toledo area to end human trafficking," Nicole Archer, co-president of the UT equestrian team, said. "Horses are such incredible animals, and we are excited to share the joy they bring us with our campus community, while working to end the suffering caused by human trafficking."
Members of the equestrian team will be on hand to assist in riding horses.
---
Monday, April 9th, 2018
Dr. Andy Casper, director of freshwater research at the Shedd Aquarium in Chicago, will speak at The University of Toledo about invasive Asian carp in rivers around the Great Lakes 4 p.m. Wednesday, April 11 in Bowman-Oddy Laboratories Room 1049.
The free, public event is titled "The contrasting ecological influence of pollution, policy and invasive species: Long-term data sets reveal complex trends in the ecology of the Illinois River."
"The Illinois River has been impacted by two species of invasive carp, the silver and bighead, which do not have populations in the Great Lakes," said Dr. Christine Mayer, aquatic ecologist and professor in the UT Department of Environmental Sciences. "A related species, grass carp, has recently been found spawning in Lake Erie tributaries."
"The University of Toledo is doing important work on key issues in the ecosystem," Casper said. "I am excited about the possibility of sharing information and potential collaborations on important Great Lakes concerns, like the influence of urban development and invasive species on our common Great Lakes resources."
In 2015 a UT graduate student was the first researcher to discover grass carp eggs in the Sandusky River providing the first proof of spawning in a Great Lakes tributary. Grass carp are a type of invasive Asian carp. Last year, a UT researcher also found grass carp eggs in the Maumee River.
Although considered a species of Asian carp, wild adult grass carp pose significantly different risks to the Lake Erie ecosystem than bighead carp and silver carp. Both bighead carp and silver carp consume plankton, and if these species were to make their way into the Great Lakes basin, they would compete for the same source of food that ecologically and economically important native fish species need to survive. Silver carp are well known for their jumping ability and are a hazard to boaters.
Grass carp pose a risk to waterfowl habitat and wetlands, but they do not eat plankton and are unlikely to compete directly with native fish. Grass carp do not jump and are primarily herbivorous.
Later this spring, Mayer will give a seminar in Chicago at the Shedd Aquarium about the importance of healthy river habitat to Lake Erie fish and the need for tailored restoration in each river. She targets the Maumee, Sandusky and Detroit Rivers.
"The rivers and river mouths are a small area compared to the whole lake, but they hold some key habitats for fish, such as the type of environment required for reproduction," Mayer said. "Some fish species, such as walleye, spawn both in the lake and in the rivers, but having river stocks helps increase the diversity of our 'fish stock portfolio,' just like your financial portfolio."
While the river habitats are important to native fish to Lake Erie, Mayer said there also is potential for invasive species, such as grass carp, to use rivers for spawning.
"Rivers are highly affected by human alteration of habitat and inputs from the land," Mayer said. "It is important to try to envision what kinds of conservation or restoration are best suited for the three big rivers entering western Lake Erie to contribute the most benefit to Lake Erie fisheries. Each river has unique issues."
Water quality is a major research focus at UT. With more than $14 million in active grants underway, UT experts are studying algal blooms, invasive species and pollutants. Researchers are looking for pathways to restore our greatest natural resource for future generations to ensure our communities continue to have access to safe drinking water.
---
Monday, April 9th, 2018
The University of Toledo is hosting an Opioid Summit to connect UT researchers, physicians and community partners with state leaders to advance collaborations that can help address the crisis affecting Ohio.
The summit will take place 9 a.m. to 1:30 p.m. Tuesday, April 10 in Thompson Student Union Room 2592 and will feature speakers who will discuss the current opioid epidemic in Ohio and share the state's focus areas and funding priorities to address the issue.
"This summit provides an opportunity to further current initiatives, identify new collaborations and connect with community contributors in addressing this major public-health problem," said Dr. Linda Lewandowski, dean of the UT College of Nursing and co-chair of the committee leading UT's opioid task force.
"Opioid abuse, addiction and overdoses affect families of every socio-demographic group," said Dr. Amy Thompson, professor of public health and co-chair of the committee leading UT's opioid task force. "Our research, education and service activities can help make a difference in the state of Ohio, as well as the nation."
Charles See, vice chancellor of the Ohio Department of Higher Education, will speak at 9:15 a.m. in a presentation about the role of higher education in solving the opiates problem and supporting addicted students.
Dr. Mark Hurst, medical director of the Ohio Department of Mental Health and Addiction Services, will speak at 9:45 a.m. about strategic priorities, funding opportunities and resources through the Ohio Department of Mental Health and Addiction Services.
Panel discussions include representatives from the Governor's Cabinet Opiate Action Team, Ohio Department of Health and Ohio Department of Medicaid.
As Ohio and the nation struggle to stem the opioid epidemic, UT's faculty, researchers and students are creating new, innovative solutions to address and prevent new users from forming addictions; developing methods for greater access to treatment and preventing the likelihood of relapse after treatment; and educating students and peers about opioid addiction and resources to seek help.
For example, a cross-disciplinary team that includes doctors and engineers is working to create a wearable device for opioid addicts that notifies the addict's sponsor or 9-1-1 to indicate relapse or health distress from drug abuse. Also, researchers in pharmacology and experimental therapeutics are designing a drug that targets a receptor in the brain to limit dopamine release, thereby preventing opioid addiction and reducing withdrawal symptoms in addicted patients.
Faculty in the College of Nursing and the School of Population Health recently received a grant from Cardinal Health to promote prevention of opioid abuse by teaching fifth through eighth graders and their families about safe prescription drug use and storage.
In April 2017, the UT Medical Center opened an inpatient detox program under the medical direction of Dr. Tanvir Singh, UTMC psychiatrist. This is the first and only hospital-based program in the region.
UT's opioid task force was created by President Sharon L. Gaber to bring together the these researchers, physicians and educators across the University working on issues related to the opioid crisis.
The summit is among the committee's activities to advance current research and identify opportunities for additional partnerships and funding sources to support more collaborative projects.
---
Friday, April 6th, 2018
Students at The University of Toledo will be dancing the day and night away during RockeTHON Saturday, April 7, from 10 a.m. to 10 p.m. in Savage Arena.
RockeTHON is a dance marathon where more than 1,000 students dance to raise funds for children and families at Mercy Children's Hospital. It's all "for the kids," according to the event's slogan.
During the event, there will be a variety of activities, ranging from mini-competitions to inflatable games. Entertainment involves live bands, dance routines and showcases from student organizations.
During the last hour of the event, families from Children's' Miracle Network will share their success stories and how RockeTHON has made a positive impact on their lives.
The annual event has raised more than $1 million for Mercy Children's Hospital.
---
Thursday, April 5th, 2018
BOARD OF TRUSTEES MEETINGS
Wednesday, April 11, 2018
Driscoll Alumni Center, Schmakel Room
5:30 p.m. Board of Trustees Dinner
Monday, April 16, 2018
Driscoll Alumni Center, Schmakel Room
12:30 p.m. Clinical Affairs Committee Meeting
1 p.m. Academic and Student Affairs Committee Meeting
1:15 p.m. Finance and Audit Committee Meeting
1:30 p.m. Trusteeship and Governance Committee Meeting
1:45 p.m. Board of Trustees Meeting
A luncheon for the trustees will be held at noon in the Driscoll Alumni Center Board Room.
Any questions may be directed to the Office of University Communications by calling 419.530.2410 or via email to meghan.cunningham@utoledo.edu.
---