UT equestrian team hosts horse rides to raise money for human trafficking victims
April 10th, 2018 by Christine Billau
The University of Toledo equestrian team is hosting Horses for Humanity to help victims of human trafficking.
The public event is from 11 a.m. to 3 p.m. Wednesday, April 11 in the grassy area south of Memorial Field House on Main Campus.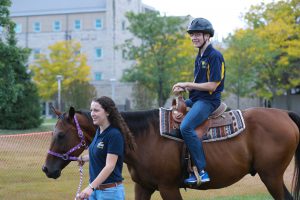 Four horses will be on campus for people to ride for a donation of at least $3. The event also features a petting zoo that includes a calf, goat, bunnies and chickens.
Donations collected will go to the Lucas County Human Trafficking Coalition.
"We want to support the work being done in the Toledo area to end human trafficking," Nicole Archer, co-president of the UT equestrian team, said. "Horses are such incredible animals, and we are excited to share the joy they bring us with our campus community, while working to end the suffering caused by human trafficking."
Members of the equestrian team will be on hand to assist in riding horses.

Christine Billau is UT's Media Relations Specialist. Contact her at 419.530.2077 or christine.billau@utoledo.edu.
Email this author | All posts by Christine Billau
---