Archive for April, 2018
Monday, April 30th, 2018
At the age of 96, Robert Edgar Barger will graduate Saturday, May 5 from The University of Toledo with an associate of technical studies degree from University College.
Barger entered the military service in 1940 with the United States Navy, where he served as a commissioned naval officer, earned his naval aviator wings, and was detailed as a naval flight officer.
After returning from WWII, Barger attended the University, but left before finishing his degree so he could get a job to provide for his wife and two children.
In 2013, Barger met Navy Reserve Lt. Haraz N. Ghanbari, UT director of military and veteran affairs, when he promoted Ghanbari to the rank of lieutenant.
Ghanbari later found out that Barger had not been able to finish his degree.
After reviewing Barger's transcripts, it was determined the veteran met the requirements to graduate with an associate degree.
"We are proud to honor a member of the 'Greatest Generation' at commencement," said Dr. Barbara Kopp Miller, dean of University College. "It will be a memorable moment to see Bob receive the degree he earned and pay tribute to a veteran who served our country."
Barger has invited 100 people from his retirement community to the commencement ceremony and plans on having a large graduation party to celebrate his achievement.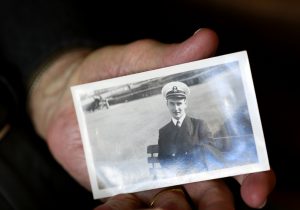 He is believed to be the oldest UT graduate.
Barger said that earning his degree is something he will be proud of for the rest of his life and is excited to accomplish something he had set out to complete many years ago.
"I thought I would never be able to accomplish this degree," Barger said. "My grandson graduated from UT, and he no longer can say he is one up on me; I have a degree, too, just took me a while!"
Barger has four grandchildren, five great-grandchildren, and four great-great grandchildren.
---
Monday, April 30th, 2018
More than 120 students from Ohio and Michigan ranging from kindergartners to college seniors will present science research projects at The University of Toledo from 9:15 a.m. to 2:15 p.m. Tuesday, May 1.
The annual SATELLITES student research conference is part of the GLOBE MISSION EARTH project, a $10 million project funded by NASA and led by a UT researcher that is transforming the way science is taught to students throughout the United States.
Dr. Kevin Czajkowski, UT professor of geography and planning, has been spearheading the development of new K-12 science curriculum that relies on hands-on experiments to build knowledge using the resources of NASA and education partners across the country.
"We're using real-life research experiences to spark the imagination of the next generation of scientists, engineers and doctors," Czajkowski said.
The presentations will take place in Thompson Student Union's Ingman Room and Room 2582.
The keynote speaker, John Moore, director for geoscience and STEM education at Palmyra Cove Nature Center in New Jersey, will provide hands-on demonstrations of the HoloGLOBE, a 3D visualization system using virtual reality headsets that uses NASA data to explore Earth. Moore will talk with middle and high school students at 11:40 a.m. and elementary school students at 12:40 p.m.
Judges for the conference are local scientists and teachers. Students are coming from as far north as Detroit and as far south as Mansfield.
"Science is more fun when students are participating in data collection and the scientific process, as opposed to conducting preplanned experiments in a classroom or lab," Czajkowski said. "Through these research projects, students answer their own science questions about their environment by creating hypotheses, collecting data, analyzing data, drawing conclusions and sharing their results through their poster presentation."
Czajkowski created the SATELLITES program, which stands for Students and Teachers Exploring Local Landscapes to Interpret the Earth from Space.
Through the SATELLITES program, students have access to GLOBE resources to help answer their research questions. GLOBE is the acronym for Global Learning and Observations to Benefit the Environment, which is an international science and education program that connects students, teachers, scientists and citizens from different parts of the world to conduct real, hands-on science about their local environment and put it in a global perspective.
---
Monday, April 30th, 2018
Chuck Ealey and Dr. Helen Sun will return to The University of Toledo to give addresses during spring commencement ceremonies Saturday, May 5 in the Glass Bowl.
Ealey, the football great and businessman, will speak at the undergraduate ceremony at 10 a.m., and Sun, a technology strategist known for transforming companies, will come out for the graduate commencement at 3 p.m.
There are 3,094 candidates for degrees from the colleges of Arts and Letters; Business and Innovation; Judith Herb College of Education; Engineering; Health and Human Services; Graduate Studies; Natural Sciences and Mathematics; Nursing; Pharmacy and Pharmaceutical Sciences; and University College. There are 987 candidates for doctoral, education specialist and master's degrees, as well as graduate certificates, and 2,107 for bachelor's and associate's degrees.
The public ceremonies can be viewed live at utoledo.edu/video.
UT will award Ealey an honorary doctor of humane letters.
"It is amazing, wonderful and humbling to have the opportunity to speak to the 2018 graduates of The University of Toledo," Ealey said. "What I want to share is what I have learned — and am still learning — after I graduated. It's about a legacy dream that can come true."
He made dreams a reality as the UT quarterback who became a legend leading the Rockets to 35 victories in three seasons and as a trailblazer for African-American QBs in the Canadian Football League.
While earning a business degree in economics, he earned some nicknames for his exploits on the field: Mr. Cool, The Wizard of Oohs and Aahs. With Ealey at quarterback, Toledo went 35-0 from 1969 to 1971. He racked up 5,903 yards in total offense and 54 touchdowns while leading the Rockets to final Associated Press rankings of No. 20 in 1969, No. 12 in 1970, and No. 14 in 1971, finishing eighth in the Heisman Trophy voting his senior year.
As a rookie in the Canadian Football League, he led the Hamilton Tiger-Cats to the Grey Cup Championship in 1972 and was named Most Valuable Player. During his seven years in the CFL, he also played for the Toronto Argonauts and the Winnipeg Blue Bombers.
After hanging up his helmet, Ealey was a certified financial planner with Investors Group for 30 years. He recently stepped out of his role as regional director to do more client and corporate coaching. The 1972 UT alumnus also inspires through the Chuck Ealey Foundation, which helps people discover and embrace their undefeated spirit to better themselves and their community.
Sun, chief technology officer of architecture, engineering and data management at JPMorgan Chase & Co. in Chicago, received a PhD in educational technology from UT in 2001. She is an expert in revolutionizing businesses through innovative solutions, including artificial intelligence, cloud, analytics and architecture.
"I'm very excited to be coming back to campus and reflect on how my IT career took shape during the years I attended UT," said Sun, who developed websites while in graduate school.
"I'll wrap my speech around three personal experiences: How I started a career in technology — find where your passion lies; how my seemingly diverse career path has taken me to where I am — take risks and never let fear of failure deter you away from opportunities; and who my true hero is throughout these years — don't let what others do to you change who you are," she said.
Prior to joining JPMorgan Chase & Co., Sun was vice president for cloud computing, information and architecture at Motorola Solutions Inc. She has held senior leadership positions at some of the world's most recognizable companies, including Harbor Capitol Advisors, NewEdge Group, Oracle Corp. and Salesforce.com Inc.
At Oracle, Sun became the first woman to achieve Oracle Enterprise Architect status and was honored as Oracle Enterprise Architect of the Year in 2011. In 2016, the Chicago Business Journal named her one of 50 honorees for its Women of Influence Awards.
She is the co-author of "Oracle Big Data Handbook," "Pro Salesforce Analytics Cloud: A Guide to Wave Platform, Builder and Explorer" and "Master Competitive Analytics With Oracle Endeca Information Discovery."
Those planning to attend commencement are advised to use the west entrance off Secor Road and the south entrance off Dorr Street to avoid congestion on West Bancroft Street.
The College of Law will hold its commencement 1 p.m. Sunday, May 6 in the Thompson Student Union Auditorium.
And the College of Medicine and Life Sciences' graduation ceremony will take place 2 p.m. Friday, May 25 in Stranahan Theater, 4645 Heatherdowns Blvd. in Toledo.
---
Thursday, April 26th, 2018
From spaceflight hardware to a solar energy array, dozens of senior design projects will be on display from noon to 3 p.m. Friday, April 27 in The University of Toledo's Nitschke Auditorium.
Businesses, industries and federal agencies sponsor the projects required for graduating seniors in the UT College of Engineering.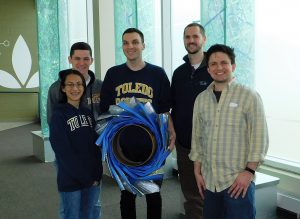 A design team made up of four students in the UT Department of Mechanical, Industrial and Manufacturing Engineering traveled last week to NASA's Jet Propulsion Lab in California to present to NASA engineers the prototype for their senior design project, a deployable "wrap-rib" space structure to be used with a space telescope for exoplanet astronomy.
"We received positive feedback, and the Jet Propulsion Lab wants to keep pushing forward with the collaboration," said Dr. Brian Trease, assistant professor in the Department of Mechanical, Industrial and Manufacturing Engineering.
Another senior design team spent the semester working with UT Facilities and Construction on conceptual planning and logistics for a possible new 400-kilowatt solar array on Health Science Campus using $192,000 worth of Series 5 modules donated from First Solar. The team estimates a $500,000 savings in electricity costs over the 25-year life of the system. The team is scheduled to present its work at First Solar next week.
"This sustainability project is a hands-on opportunity to prepare students to be practicing engineers and creative problem solvers," Jason Toth, UT associate vice president for facilities, said. "The engineering students did a great job identifying a location, preparing construction engineering drawings and analyzing the cost."
The exposition, which is free and open to the public, showcases projects created by more than 250 graduating seniors from the departments of Bioengineering; Civil and Environmental Engineering; Electrical Engineering and Computer Science; Engineering Technology; and Mechanical, Industrial and Manufacturing Engineering.
Projects are the required senior design capstone project where students form business-consulting units to develop a solution for a client's technical or business challenge.
Several projects over the last few years have gone on to become patented.
---
Monday, April 23rd, 2018
A team of researchers at The University of Toledo and the National Oceanic and Atmospheric Administration (NOAA) will host a public education forum to help prevent invasive species from entering the Great Lakes through bait shop retailers and their customers.
The public is invited to a town hall meeting at 8 p.m. Thursday, April 26 at the WGTE Public Media studio, 1270 S. Detroit Ave. in Toledo, to learn more about how non-native species may potentially find their way into the Great Lakes and what can be done to prevent it.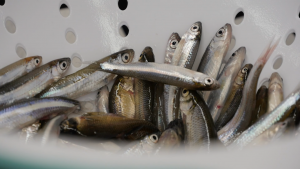 In 2016, the U.S. Environmental Protection Agency awarded UT researchers a nearly $500,000 grant through the Great Lakes Restoration Initiative for a three-year project to prevent invasive species from entering the Great Lakes through bait shops and pond stores.
The project is led by Dr. Carol Stepien, UT Distinguished University Professor of Ecology and research division leader at the NOAA Pacific Marine Environmental Laboratory in Seattle, who is working with Dr. Kevin Czajkowski, UT professor in the Department of Geography and Planning, and Dr. Andrew Solocha, UT associate professor of finance.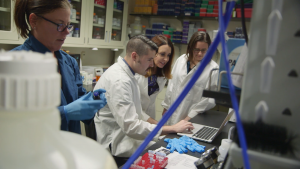 "We found that bait shops sometimes accidentally sell non-native species mixed in with other bait," Stepien said. "If non-native species such as silver carp become prevalent in the Great Lakes it is predicted they could decimate valuable native species such as lake trout, walleye and yellow perch. They compete with these native species, depriving them of their food and habitat and can carry pathogens."
The researchers sampled water from bait tanks for genetic material in 51 bait stores in 2016 and 2017 around Lake Erie. They found that 43 percent of the shops dispensed misidentified species. Using a technique called environmental DNA sampling, researchers sampled genetic material from bait tank water and found DNA evidence of invasive species such as silver carp, round goby, mosquitofish and tadpole snails in several bait shops.
"Retailers, customers and even some scientific experts are often unable to distinguish some of these invasive species from native species at early life stages," said Stepien. "For example, many minnows may appear alike."
The researchers also surveyed 217 anglers. Of those, 61 said they fished in Lake Erie.
"From our surveys, we found that 66 percent of Lake Erie anglers use live bait fish and 50 percent of those reported discarding live bait into the water," Stepien said. "This coupled with the instances of non-native bait in shops surrounding Lake Erie makes this region at definite risk of introduction of invasive species."
The goal of the town hall meeting is to discuss the research findings and help the public and bait shop owners understand responsible measures they can take to prevent invasive species from entering the Great Lakes.
"Releasing non-native pets, bait and other organisms into waterways can have unpredictable and widespread effects on Lake Erie's long-term ecological health," Stepien said.
The team is also planning a voluntary "Invasive Free" certification program for retailers.
In addition to Stepien, the panel of experts includes representatives from the Toledo Zoo, Maumee Bait and Tackle, the Lake Erie Charter Boat Association and NOAA's Great Lakes Environmental Research Laboratory.
---
Thursday, April 19th, 2018
A University of Toledo physics student was awarded the prestigious Goldwater Scholarship, one of the oldest and most competitive honors in the country in the fields of science and mathematics.
Nathan Szymanski, who graduated from Genoa Area High School and is in his third year at UT, is one of 211 students in the United States chosen to receive $7,500 a year to be used for tuition, books and housing for the remainder of their undergraduate experience.
"It feels truly amazing to be selected for the Goldwater Scholarship, and I am very grateful for all the help that the faculty at UT, especially in the Department of Physics and Astronomy, has provided me," said Szymanski, who is double majoring in physics and mathematics. "I believe I was chosen because of my high level of research experience."
The Barry Goldwater Scholarship and Excellence in Education Foundation was established by Congress in 1986 to honor the lifetime work of Senator Barry Goldwater, who served his country for 56 years as a soldier and statesman. The foundation's goal is to support "highly qualified undergraduates who are subsequently obtaining advanced degrees and going on to become this country's leading scientists, engineers and mathematicians."
Szymanski, who studies computational materials science at UT, uses supercomputers for his solid-state physics research, which includes working with lithium-ion batteries and solar cell materials for solar panels.
"I have been conducting research since my freshman year here at UT," Szymanski said. "I have worked on a wide variety of projects. This resulted in me publishing a paper in a peer-reviewed international academic journal."
He was first author on "Electronic and optical properties of vanadium oxides from first principles," which was recently published in Computational Materials Science.
"The goal of our research is to apply state-of-the-art theoretical and computational techniques to understand materials systems of significant experimental interest," Szymanski said. "This work involves the prediction of new phenomena, as well as explanation of existing experimental data. We also are able to predict new materials that have desirable properties for a wide variety of applications, such as solar cells, lithium-ion batteries and thin-film coatings."
"Nathan was faced with many challenges in research, all of which he overcame with astounding proficiency," said Dr. Sanjay V. Khare, professor and chair of the UT Department of Physics and Astronomy and co-author on Szymanski's published paper. "He gained a deep understanding of numerous advanced theories, such as density functional theory and special quasi-random structures, which would typically prove daunting even to senior graduate students."
Szymanski plans to earn a PhD in materials science and work in research laboratories.
"My overall long-term goal is to make meaningful contributions to the advancement of future technology, such as solar cells and batteries, as well as hopefully improve the theoretical and computational methods being used to do so," Szymanski said.
Szymanski is the first UT student to be named a Goldwater Scholar in 16 years. The last undergraduate was Robert Cooper in the Department of Physics and Astronomy who graduated in 2002, went on to earn his PhD from the University of Michigan in 2008 and is now an assistant professor in the Department of Physics at New Mexico State University.
"The prestigious Goldwater Scholarship will place Nathan in the very top category of students applying for graduate programs in the best institutions of higher learning," Khare said. "I have no doubt that Nathan will one day make great contributions to the scientific enterprise."
The UT Office of Undergraduate Research provided funding for Szymanski's research and oversaw his application for the scholarship.
"This is a great honor for Nathan and his mentors at the University," Dr. Jonathan Bossenbroek, director of the UT Office of Undergraduate Research and professor in the Department of Environmental Sciences, said.
---
Wednesday, April 18th, 2018
The University of Toledo chapter of the Student Veterans of America will host a flag retirement ceremony 11 a.m. Thursday, April 19 on the steps outside the Thompson Student Union.
The purpose of this free, public event is to educate the community on the history of the flag, explain the proper way to dispose of a flag that is no longer suitable for display, and preside over the retirement of several American flags.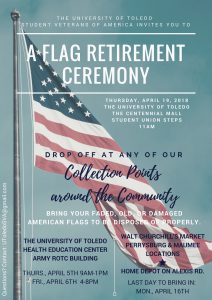 "Many people know that burning the flag is a step in the process, said Cadet Erica Loroff, president of the UT chapter of Student Veterans of America. "However, many do not know that you have to divide up the colors on the flag and burn them separately."
Attending this event is a way of showing respect and honor to those who have volunteered and sacrificed for the United States.
"We are a group of students from all different backgrounds that come from around the world to achieve our educational goals," Loroff said. "This event will be a testament to the student body, faculty and administration that we honor, respect and, ultimately, thank those who have volunteered to serve and gave the ultimate sacrifice to our country."
Student veterans will teach students, faculty, staff and area residents about the ceremonial folding of the flag and what each fold represents.
"It is a great opportunity to reflect during the ceremony about all that is great about our country and how much has been sacrificed to remain free to this day," Loroff said.
---
Tuesday, April 17th, 2018
To help patients and their families handle the many challenges faced after a cancer diagnosis, the Eleanor N. Dana Cancer Center at The University of Toledo Medical Center is hosting a program called "Managing Life With Cancer: It's OK Not to be OK."
The program will take place 6 p.m. Thursday, April 19 in the cancer center on Health Science Campus to provide cancer patients, caregivers and health-care providers information about the resources available.
"A diagnosis of cancer complicates life for the individual, as well as her family members and caregivers," said Katie Racz, UTMC social worker. "In addition to choosing medical treatment, you may experience physical side effects, absence from work, emotional distress, financial concerns and family issues."
Racz will discuss support services available at the Eleanor N. Dana Cancer Center and in the community to help patients and their families manage the social, emotional and spiritual aspects of living with cancer.
The program is free and open to the public, but registration is requested by calling 419.383.5243.
---
Tuesday, April 17th, 2018
The University of Toledo named a new leader for the Lake Erie Center, a freshwater research and science education campus focused on finding solutions for water quality issues that face the Great Lakes, including harmful algal blooms, invasive species and pollutants.
Dr. Tom Bridgeman, algae researcher and professor of ecology, will serve as director effective May 14. A welcome reception will be held from 3 to 5 p.m. Wednesday, May 9 at the Lake Erie Center.
"It is an honor to be appointed the director of a center that has done so much toward improving our ecological understanding of western Lake Erie and its watershed, not just in an academic sense, but in ways that translate into policies for protecting the lake, its fisheries and our drinking water supplies," Bridgeman said.
"Dr. Bridgeman is one of the leading researchers studying harmful algae blooms, and his insights and leadership as the new director will be important in continuing to move the Lake Erie Center forward, and in solidifying its key contributions toward solving the problems threatening Lake Erie and the Great Lakes in general," said Dr. Karen Bjorkman, dean of the College of Natural Sciences and Mathematics; Distinguished University Professor of Astronomy; and Helen Luedtke Brooks Endowed Professor of Astronomy.
Bridgeman plans to continue to build relationships with state and national funding agencies to grow the Lake Erie Center's research programs, which consist of faculty, staff and student researchers, and connect water treatment plant operators, legislative policy makers and the public with UT water quality expertise.
Bridgeman also plans to make the Lake Erie Center the hub of the UT Water Task Force, which is comprised of faculty and researchers in diverse fields spanning the University and serves as a resource for government officials and the public looking for expertise on investigating the causes and effects of algal blooms, the health of Lake Erie and the health of the communities depending on its water. The task force includes experts in economics, engineering, environmental sciences, business, pharmacy, law, chemistry and biochemistry, geography and planning, and medical microbiology and immunology.
"I would like to help this diverse group find a cohesive voice to communicate their research to the public under the banner of the Lake Erie Center," Bridgeman said.
Water quality is a major research focus at UT. With more than $14 million in active grants underway, researchers are looking for pathways to restore our greatest natural resource for future generations to ensure our communities continue to have access to safe drinking water.
"I'm excited about pursuing some new ideas that will increase our research and education collaborations across UT and with other universities in the region so that the Lake Erie Center becomes the core facility for anyone who wants to conduct research involving Lake Erie," Bridgeman said. "For anyone who loves water and loves Lake Erie, I would like them to feel that the Lake Erie Center is their center. It's a place where they can be involved, send their kids to summer science camp, or meet and organize for improving the lake. For area students, I want them to know that UT offers unparalleled opportunities for them to learn about the environment, studying our Great Lake and its tributaries."
---
Monday, April 16th, 2018
Two successful graduates of The University of Toledo will join the UT Board of Trustees as national members.
Roy V. Armes, a 1975 mechanical engineering graduate of the UT College of Engineering who served as president and CEO of Cooper Tire & Rubber Company in Findlay, and Birdel F. Jackson, III, who graduated from UT in 1968 with a civil engineering degree and founded the B&E Jackson and Associates engineering and consulting firm in Atlanta, will join the UT Board of Trustees effective July 2. Their appointment was approved Monday.
UT established national trustees last year to take advantage of the diverse cultural, geographic, business, professional, public service and civic backgrounds, talents and experiences of friends and alumni of the University. Toledo native and award-winning journalist Christine Brennan was named the first national member. National trustees serve a two-year term without voting privileges.
"Roy and Birdel are among UT's most distinguished alumni who are highly respected leaders in their professions," Board Chair Steven Cavanaugh said. "The perspectives from these accomplished graduates will be invaluable as we make progress on our strategic priorities."
Armes led Cooper Tire for a decade. He was appointed CEO and president in 2006 and chairman in 2007. He retired in 2016.
Armes' career also included a variety of roles for the Whirlpool Corp. in the areas of engineering, manufacturing, global procurement and international operations management. He served as corporate vice president and general director of Whirlpool Mexico, vice president of manufacturing technology for Whirlpool Asia, and vice president of manufacturing technology-refrigeration products for Whirlpool Europe.
Armes and his wife, Marcia, were instrumental in establishing the Engineering Leadership Institute in UT's College of Engineering to help undergraduate engineering students develop leadership skills. The Armes have provided generous support to The University of Toledo.
Jackson established B&E Jackson and Associates in 1988 and grew the company into a respected professional consulting firm serving the transportation, aviation and civil engineering industries.
Jackson began his career in the bridge divisions for U.S. Steel in Pittsburgh and the District of Columbia Highway Department. He went on to work for the U.S. Environmental Protection Agency, General Electric and engineering and architecture firms. He spent much of his career in Atlanta and is a registered professional engineer in Georgia and 13 other states.
Jackson is the president of the Jackson-Davis Foundation, which he established to award scholarships in honor of his grandparents and to make the engineering profession more diverse and inclusive. He has served his alma mater as past president of the UT Alumni Association and University of Toledo Foundation board. Jackson also has been recognized with the UT Alumni Association's Gold T and Blue T awards.
---