Archive for October, 2017
Tuesday, October 31st, 2017
UT students and the public will have a chance to hear appellate arguments when the Ohio Sixth District Court of Appeals convenes Wednesday, Nov. 1, in the McQuade Courtroom, located in Health and Human Services Building Room 1419.
Oral arguments at the free, public session hosted by the Paralegal Studies Program will begin at 9 a.m.
Presiding over oral arguments will be a panel of three judges from the Ohio Sixth District Court of Appeals: Arlene Singer, a 1976, UT law alumna; Thomas J. Osowick, a 1981 UT law alumnus; and James Jensen.
Arguments set for the session include appeals from a murder conviction and personal injury decision.
"This will be a great chance for UT paralegal students to observe judges and lawyers in a real court session," said John J. Schlageter III, senior lecturer and director of the Paralegal Studies Program. "The court's willingness to hold arguments on campus is appreciated as it provides an unparalleled experience and instruction for our students, as well as area high school students."
Approximately 100 students from Maumee and Whitmer high schools will be in Health and Human Services Building Room 1711 to watch a live stream of oral arguments from the courtroom.
After adjourning, the court will host a question-and-answer session with the audience.
The court's docket is available here. http://lcapps.co.lucas.oh.us/Courts/Appeals/CalendarsPDF/1336.pdf.
---
Monday, October 30th, 2017
For the first time, astronomers have mapped the surface of a massive hot star, proving a decades-long theory that hot spots on the star's surface affect the behavior of stellar winds. A University of Toledo astronomer was a member of the international research team that made the groundbreaking discovery.
"We're now better able to understand how massive stars send out material into space through their winds," said Dr. Noel Richardson, postdoctoral research associate in the UT Department of Physics and Astronomy who was a member of the research team. "This research gives us a better understanding of how stars lose material, which then forms new stars and planets."


The team's research appears in a paper recently published in the Monthly Notices of the Royal Astronomical Society, one of the world's leading astronomy journals.
For decades, astronomers have theorized that there were hot spots on the surface of massive stars that affected stellar winds, but they didn't know how those spots behaved or how they impacted the winds.
To test that theory, the research team chose as its test subject a supergiant called Zeta Puppis, a massive star 60 times larger than the sun and seven times hotter at the surface. Massive stars are rare and usually travel in pairs. But Zeta Puppis flies solo—and it flies fast. The star hurtles through space at 37 miles per second, 60 times faster than a speeding bullet.
Using a network of nanosatellites from the "BRIght Target Explorer" (BRITE) space mission, researchers monitored the surface brightness of Zeta Puppis every 100 minutes for six months in 2014. They simultaneously monitored the behavior of its stellar winds over time from several ground-based observatories.
After correlating the two sets of data, the team found that Zeta Puppis rotates at tremendous speed — once every 1.78 days. In comparison, our sun, which is 60 times smaller, takes almost a month to rotate once.
Astronomers in the past had never had enough data to verify their claims about hot spots and their effects on stellar winds. The new data allowed them to map the surface of Zeta Puppis. It proved what the astronomers suspected: the structures on the star's surface were indeed there, and these hot spots did affect the star's winds.
Astronomers have mapped the surfaces of cooler stars, Richardson said, but this is the first time they've mapped a hot star. They learned that a brighter, hotter spot creates huge spiral structures in stellar winds that scatter more material into space.
A team of more than 40 astronomers participated in the research. The group included six amateur astronomers in Australia, New Zealand and Brazil, who spent three to four hours every night for six months peering into their telescopes and collecting data.
Read the research article here.
Download an artist's impression of the supergiant Zeta Puppis here.
---
Monday, October 23rd, 2017
The University of Toledo is celebrating a milestone in astronomy: 50 years of education, outreach and celestial exploration.
The public is invited to an open house in honor of the 50th anniversary of UT's astronomy program, Ritter Observatory and Planetarium and Brooks Observatory.
The free event is 6:30 p.m. Thursday, Oct. 26 at Ritter Planetarium and features a look back through half a century of northwest Ohio's connection to astronomy.
"One of the joys of astronomy is that people are inherently curious about it, and so sharing our research and our telescopes with the community have been vital in our mission from the beginning," said Dr. Jillian Bornak, associate lecturer in the Department of Physics and Astronomy and chair of the UT Astronomy 50th Anniversary Committee.
The event includes a presentation of stories submitted by Toledoans of their memories, such as visits to UT for full-dome movies, public viewings with telescopes in the observatories, or special events for Apollo 11 and the impact of the Shoemaker-Levy comet on Jupiter.
The event also features talks by Dr. Adolf Witt, Distinguished University Professor of Astronomy Emeritus who served on the NASA Universe Working Group, and Dr. Jon Bjorkman, professor of physics and astronomy who studies stellar winds.
The Ritter facility was dedicated on Oct. 13, 1967. It was intended to blend research and public education for the University, local schools and community. The one-meter-diameter telescope housed on top of the Ritter building is the largest optical telescope in the U.S. east of the Mississippi River.
---
Thursday, October 19th, 2017
To better serve the people in the Toledo region who suffer from addiction, The University of Toledo Medical Center has joined the Hazelden Betty Ford Foundation Patient Care Network.
The Hazelden Betty Ford Foundation is the nation's leading nonprofit treatment provider and its Patient Care Network is the first of its kind in the addiction treatment industry working to address the needs of patients beginning their recovery journey.
"We saw the need and felt the obligation to join the fight against substance misuse that is so prevalent in the Toledo community, the state of Ohio and our nation," said Dan Barbee, CEO of UTMC. "As a member of the Hazelden Betty Ford Patient Care Network, we will have access to resources, best practices and most-effective treatment approaches that will be invaluable additions to our current care provided in the UTMC Adult Detoxification Inpatient Unit to aid our patients as they work toward a successful, long-term recovery."
In early April 2017, UTMC opened a 10-bed inpatient, acute detox unit for adults ages 18 and older. The unit has treated about 320 patients with a nearly 94 percent program completion rate.
"The Hazelden Betty Ford Foundation's experience, knowledge and expertise uniquely position us as a 'Center of Excellence' to share our clinical best practices and tools with other leading-edge health care providers through our innovative Patient Care Network," said Bob Poznanovich, executive director of business development for the Hazelden Betty Ford Foundation. "We are committed to sharing our multi-faceted, evidence-based approach to confronting the opioid crisis with states like Ohio, and our own system benefits mightily from collaborating with other leading-edge health care providers like The University of Toledo Medical Center."
As a member of the Patient Care Network, UTMC will gain access to tools, resources and collaborative consultation for its leadership, staff, patients, families and communities. This is especially timely as the opioid crisis places added pressures on hospital systems, substance use disorder treatment providers, primary acute mental health providers and other specialty providers across the country.
To learn more, visit www.hazeldenbettyford.org/professionals/patient-care-network.
---
Wednesday, October 18th, 2017
The University of Toledo College of Business and Innovation will honor alumni Alan H. and Karen A. Barry for their $1 million gift establishing an endowed professorship in accounting.
The celebration, which includes the unveiling of a plaque, is 2 p.m. Friday, Oct. 20 in the lobby of Stranahan Hall.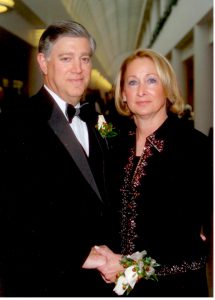 Alan, who received a business degree in 1966, is a certified public accountant, the retired president and chief operating officer of the Fortune 200 company Masco Corp., and currently serves on the UT Foundation Board of Trustees. Karen graduated in 1964 with an associate degree.
"The accounting background I got at the University was beneficial to me throughout my career," Barry said when the gift was announced in April. "I've always been a supporter of the University, and once I was in a position to do so financially, I felt pretty good about giving back to the University that gave me the opportunity to succeed."
The Alan H. and Karen A. Barry Endowed Professorship in Accounting will be used to recruit or retain a professor in the Department of Accounting; any costs related to the recruitment of a faculty member; bridge or pilot research projects; faculty and staff development costs; curriculum development; the development of a fellowship program; and specialized equipment needed for teaching.
"Their action will benefit countless students for years to come and further elevate the College of Business and Innovation's reputation," said Dr. Gary Insch, dean of the UT College of Business and Innovation. "We cannot thank Alan and Karen enough for their kindness, generosity and support."
---
Wednesday, October 18th, 2017
More than 600 women will participate in the 2017 Women in Leadership conference co-sponsored by Bowling Green State University and The University of Toledo to learn strategies for professional advancement.
The sold-out conference titled Step Up to Step Out: Strategies for Distinguishing Yourself to Advancement will take place from 9 a.m. to 2:30 p.m. Friday, Oct. 20 at the Hilton Garden Inn at Levis Commons in Perrysburg.
BGSU President Mary Ellen Mazey and UT President Sharon L. Gaber will participate in the conference that features talks from several business leaders, including:
Abha Bhandair, director of equity administration and benefits accounting for Brown & Brown Insurance;
Kelly Hyne, senior vice president of strategic partnerships for the Ladies Professional Golf Association (LPGA);
Whitney Johnson, author of "Disrupt Yourself: Putting the Power of Disruptive Innovation to Work";
Debby Peters, founder and instructor for Connext Nation, a word of mouth marketing training program;
Aly Sterling, founder and president of Aly Sterling Philanthropy, a national consulting firm based in the Midwest; and
Maryrose T. Sylvester, president and CEO of Current, powered by GE, which blends advanced energy technologies such as LED and solar with networked sensors and software.
The annual conference is organized by the BGSU College of Business and UT College of Business and Innovation.
The UT and BGSU presidents and conference speakers will be available for interviews at a reception the evening before at a Meet the Speakers event 6 p.m. Thursday, Oct. 19 in the Niagara Room at the Hilton Garden Inn.
For more information, visit bgsu.edu/business/women-in-leadership.
---
Monday, October 16th, 2017
As concerns about algal blooms, fish deaths and invasive Asian carp spawning are under the microscope in Lake Erie tributaries, an aquatic ecologist at The University of Toledo is highlighting the value of healthy rivers for fish in the Great Lakes.
Dr. Christine Mayer, professor in the UT Department of Environmental Sciences, is specifically targeting the Maumee, Sandusky and Detroit Rivers in her lecture titled "Swimming upstream: The importance of western Lake Erie's rivers to fish populations."
The free, public event is 7 p.m. Thursday, Oct. 19 at the UT Lake Erie Center, 6200 Bayshore Rd. in Oregon.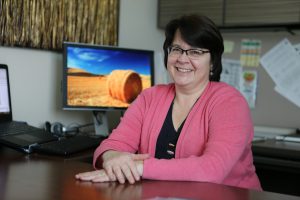 "The rivers and river mouths are a small area compared to the whole lake, but they hold some key habitats for fish, such as the type of environment required for reproduction," Mayer said. "Some fish species, such as walleye, spawn both in the lake and in the rivers, but having river stocks helps increase the diversity of our 'fish stock portfolio,' just like your financial portfolio."
While the river habitats are important to native fish, Mayer said there also is potential for newly invasive species, such as grass carp, to use rivers for spawning.
"Rivers are highly affected by human alteration of habitat and inputs from the land," Mayer said. "It is important to try to envision what kinds of conservation or restoration are best suited for the three big rivers entering western Lake Erie to contribute the most benefit to Lake Erie fisheries. Each river has unique issues."
Mayer's talk is part of the UT Lake Erie Center's Public Lecture Series.
---
Wednesday, October 11th, 2017
The University of Toledo Police Department is looking to add new law enforcement officers and a police dispatcher to its force.
"We are looking to hire individuals with strong character, judgment and commitment to safety to fill vacancies resulting from upcoming retirements," UT Police Chief Jeff Newton said. "University policing is a dynamic career, and we're looking forward to finding the right individuals for these opportunities."
Officer candidates must be at least 21 years old with a valid driver's license and pass physical fitness, psychological, drug and polygraph exams, as well as written and oral testing and a thorough background investigation to be considered for the position.
Applicants also need to have completed 96 quarter hours or 64 semester hours of college credits, or have at least two years of continuous active full-time law enforcement experience.
For many years, candidates for UT officer positions were required to already have an Ohio Peace Officer Training Academy certificate. That is no longer a pre-hire requirement in an effort to open the door for those who have not yet begun a career as a police officer, Newton said. UT will sponsor the employee in completing the training to become a certified peace officer.
Interested candidates are asked to submit an electronic application by 5 p.m. Monday, Oct. 16. A written police exam and physical fitness tests will be held Saturday, Nov. 4.
Candidates for the police dispatcher position must be at least 18 years old and have a high school diploma or GED. Additional requirements are four months of training or radio dispatcher experience in law enforcement and 20 hours of training in the operations of communication equipment. Candidates also will be required to compete rigorous field training.
Interested candidates for the dispatcher position need to apply by 5 p.m. Friday, Oct. 20.
Apply online at jobs.utoledo.edu.
---
Wednesday, October 11th, 2017
"History of Cancer Research: Why Patients Are Still Dying for a Cure" will be discussed Thursday, Oct. 12, at 5 p.m. in Health Education Building Room 110 on UT's Health Science Campus.
Dr. Azra Raza, Chan Soon-Shiong Professor of Medicine and director of the Myelodysplastic Center at Columbia University Medical Center in New York, will deliver the ninth annual S. Amjad Hussain Lecture in the History of Medicine and Surgery.
Her research focuses on myelodysplastic syndrome and acute myeloid leukemia. In 1984, she started a tissue repository that now contains 60,000 samples from thousands of patients.
"This repository has helped my colleagues and me define the molecular and genetic milestones that must be covered for pre-leukemia cells to cross over into leukemia cells," Raza said during a 2016 TEDx talk in New York. "It will also help us define potential therapeutic targets that could be used to intercept the disease before it is too late. This work will likely apply to the evolution of other cancers as well."
She was part of President Barack Obama's the Cancer Moonshot Program.
"Cancer is slated to become the leading cause of death in the coming decade, with one in two men and one in three women suffering from the disease at some point in their lives," she said during the Tedx talk. "Over the next 10 years, the number of new cancer cases in the United States will increase by 42 percent, and the number of cancer survivors will rise from 15.5 million to 20.3 million. During the same period, the number of oncologists will increase by only 28 percent."
Raza's research has appeared in The New England Journal of Medicine, Nature, Blood, Cancer, Leukemia, and Cancer Research. In 2012, she was a Hope Funds for Cancer Research honoree. Two years later, Raza received the Distinguished Services in Field Research and Clinical Medicine Award from Dow Medical College.
This annual lecture was created in honor of Hussain, professor emeritus of thoracic and cardiovascular surgery, and humanities, and columnist for The Blade. The free, public event is designed to highlight Hussain's interest in many diverse fields, including the history of medicine.
---
Wednesday, October 11th, 2017
The University of Toledo Law Review will present its annual symposium Friday, Oct. 13. The free, public event is titled "Gender Equality: Progress & Possibilities" and will begin at 8 a.m. in the Law Center McQuade Law Auditorium.
Discussions of gender in American society have been ongoing since the suffrage movement began in the 19th Century and, today, "feminism" can be a controversial term.
The University of Toledo Law Review's 2017 Symposium will explore the ways in which gender equality has been achieved or remains aspirational in nature. Four panels of experts will discuss gender as applied to various areas of life and law. Panels will discuss: sex inequality in the workplace; gender equality in education; gendered violence; and reimagining family law.
Lisa Pruitt, the Martin Luther King Jr. Professor of Law at the University of California at Davis, will present the keynote address, "The Women Feminism Forgot: Rural and Working-Class White Women in the Age of Trump" at 11:30 a.m.
Panelists will publish a collection of essays in volume 49, issue 3, of The University of Toledo Law Review.
---