UT to honor alumni who donated $1 million toward accounting faculty
October 18th, 2017 by Christine Billau
The University of Toledo College of Business and Innovation will honor alumni Alan H. and Karen A. Barry for their $1 million gift establishing an endowed professorship in accounting.
The celebration, which includes the unveiling of a plaque, is 2 p.m. Friday, Oct. 20 in the lobby of Stranahan Hall.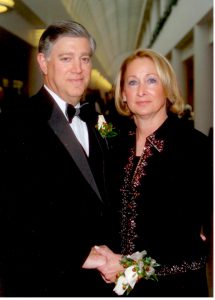 Alan, who received a business degree in 1966, is a certified public accountant, the retired president and chief operating officer of the Fortune 200 company Masco Corp., and currently serves on the UT Foundation Board of Trustees. Karen graduated in 1964 with an associate degree.
"The accounting background I got at the University was beneficial to me throughout my career," Barry said when the gift was announced in April. "I've always been a supporter of the University, and once I was in a position to do so financially, I felt pretty good about giving back to the University that gave me the opportunity to succeed."
The Alan H. and Karen A. Barry Endowed Professorship in Accounting will be used to recruit or retain a professor in the Department of Accounting; any costs related to the recruitment of a faculty member; bridge or pilot research projects; faculty and staff development costs; curriculum development; the development of a fellowship program; and specialized equipment needed for teaching.
"Their action will benefit countless students for years to come and further elevate the College of Business and Innovation's reputation," said Dr. Gary Insch, dean of the UT College of Business and Innovation. "We cannot thank Alan and Karen enough for their kindness, generosity and support."

Christine Billau is UT's Media Relations Specialist. Contact her at 419.530.2077 or christine.billau@utoledo.edu.
Email this author | All posts by Christine Billau
---