Posts Tagged 'College of Pharmacy and Pharmaceutical Sciences'
Monday, July 8th, 2019
Scientists at The University of Toledo investigating improvements to a commonly used chemotherapy drug have discovered an entirely new class of cancer-killing agents that show promise in eradicating cancer stem cells.
Their findings could prove to be a breakthrough in not only treating tumors, but ensuring cancer doesn't return years later — giving peace of mind to patients that their illness is truly gone.
"Not all cancer cells are the same, even in the same tumor," said Dr. William Taylor, a professor in the Department of Biological Sciences in the UToledo College of Natural Sciences and Mathematics. "There is a lot of variability and some of the cells, like cancer stem cells, are much nastier. Everyone is trying to figure out how to kill them, and this may be one way to do it."
Taylor and Dr. L.M. Viranga Tillekeratne, a professor in the Department of Medicinal and Biological Chemistry in the UToledo College of Pharmacy and Pharmaceutical Sciences, reported their findings in a paper recently published in the journal Scientific Reports.
Cancer stem cells are an intriguing target for researchers because of their potential to re-seed tumors.
When doctors remove a tumor surgically or target it with chemotherapy drugs or radiation therapy, the cancer may appear to be gone. However, evidence suggests that a tiny subpopulation of adaptable cancer cells can remain and circulate through the body to seed new metastasis in far-off locations.
Those cancer stem cells, Taylor said, are similar to dandelions in a well-manicured lawn.
"You could chop the plant off, but it will drop a seed. You know the seeds are there, but they're hiding," he said. "You pull one weed out and another comes up right after it. Cancers can be like this as well."
The small molecule they have isolated appears to lock on to those stem cells and kill them by blocking their absorption of an amino acid called cystine.
UToledo was awarded a patent for the discovery late last year.
For Tillekeratne and Taylor, uncovering a new class of therapeutic molecules could prove to be an even larger contribution to cancer research than the project they initially envisioned.
"At present, there are no drugs that can kill cancer stem cells, but people are looking for them," Tillekeratne said. "A lot of drugs are discovered by serendipity. Sometimes in research if you get unexpected results, you welcome that because it opens up a new line of research. This also shows the beauty of collaboration. I wouldn't have been able to do this on my own, and [Taylor] wouldn't have been able to do it on his own."
Tillekeratne has received a three-year, $449,000 grant from the National Institutes of Health National Cancer Institute to continue testing the effectiveness of the newly identified therapy.
Because the molecules so selectively target cancer stem cells, it's possible they could ultimately be paired with other chemotherapy drugs to deliver a more comprehensive treatment.
However, the researchers have found their agents show stand-alone promise in treating sarcomas and a subtype of breast cancer known as claudin-low breast cancer, which represents up to 14 percent of all breast cancers and can be particularly difficult to treat.
---
Thursday, February 28th, 2019
Dr. Gary Pollack has been selected to lead The University of Toledo College of Pharmacy and Pharmaceutical Sciences.
Pollack joins the University with more than 30 years' experience in higher education, most recently at Washington State University where he has served as dean of the College of Pharmacy since 2010. His appointment is effective Aug. 15.
"I am excited that Dr. Pollack will be joining us here at The University of Toledo. He is a respected scholar and successful leader who brings a notable breadth of experience that will benefit the College and the University as we continue to move forward," said Dr. Karen Bjorkman, interim provost and executive vice president for academic affairs.
Prior to joining Washington State, where he also serves as a professor in the Department of Pharmaceutical Sciences and was the university's vice provost for health sciences from 2011 to 2013, Pollack spent 26 years at University of North Carolina at Chapel Hill. He served as UNC's executive associate dean of the School of Pharmacy, chair and professor of the Division of Pharmaceutics and chair and professor of the Division of Drug Delivery and Disposition (formerly Pharmaceutics).
"The UT College of Pharmacy and Pharmaceutical Sciences is one of those rare pharmacy programs with a truly comprehensive mission: undergraduate, professional, and graduate education, coupled with faculty-led research and patient care," Pollack said. "Leading this vibrant community of educators, scholars and clinicians is an exciting prospect. I am very much looking forward to joining The University of Toledo and the broader Toledo community."
His research is focused on how drugs and toxicants affect the central nervous system, making major contributions to our understanding of opioid tolerance. Pollack is a Fellow of the American Association for the Advancement of Science and a Fellow of the American Association of Pharmaceutical Scientists.
Pollack serves currently on the Editorial Advisory Board of the Journal of Experimental Pharmacology, and served from 2002 to 2006 as Associate Editor of the Journal of Pharmaceutical Sciences. He also serves as a reviewer for numerous journals in his field, and as an ad hoc reviewer for the National Institutes of Health and the Health Effects Institute.
Pollack earned his doctorate in pharmaceutics from the State University of New York at Buffalo and bachelor's degree in chemistry/psychology from Knox College.
Bjorkman also thanked Dr. Amanda Bryant-Friedrich, interim dean of the College of Pharmacy and Pharmaceutical Sciences, for her leadership during the transition. She will return to her role as dean of the College of Graduate Studies and Vice Provost for Graduate Affairs, effective Aug. 15.
---
Wednesday, October 19th, 2016
Nearly half of all Americans have taken at least one prescription medication and 20 percent have used three or more prescription drugs in the last month. But according to a National Council on Patient Information and Education survey, more than half report not taking their medications as prescribed, putting them at risk for serious health concerns.
During October, which is American Pharmacists Month and Talk about Your Medicines Month, University of Toledo pharmacists are encouraging patients to build a relationship with their pharmacist in order to learn how to take medications properly, manage multiple prescriptions and reduce prescription costs.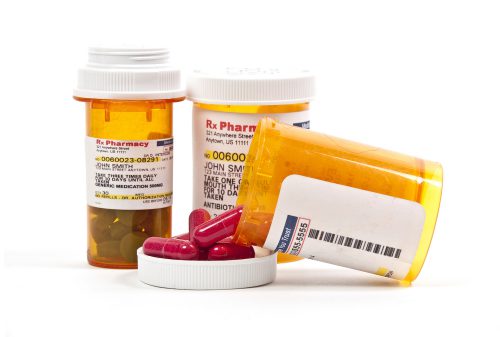 "Your pharmacist is likely the most accessible health care provider you have," said Lindsey Eitniear, clinical pharmacist. "Yet not enough people take the time to talk to their pharmacist about their health. That is truly unfortunate, because we can provide many services to help our patients understand and manage their medications better."
More than 12,000 prescriptions are filled each month across UT's three outpatient pharmacies and pharmacists work directly with patients who are recovering in the UT Medical Center or being treated in several of UT's clinics.
"We educate patients about taking their medication properly, identifying potential side effects and managing chronic conditions," Eitniear said. "We also work to resolve insurance concerns and explore options for reducing out-of-pocket expenses."
New legislation also allows a physician to permit pharmacists to make adjustments to medication dosages including those for blood pressure and diabetes at the pharmacy.
"We work closely with physicians to suggest simplifying medications or to clarify what has been ordered," Eitniear said. "This extra communication ensures patients know how to take their medications correctly and is an added safety for patients."
Eitniear said it is safest when patients use the same pharmacy each time they need a prescription filled, particularly if the patient takes multiple drugs.
"We can track some controlled medicines and a few others are tracked through insurance companies, but there is no one database that holds all patient prescription information," she said. "Even a seemingly simple antibiotic can cause severe interactions with some medications. Pharmacists can spot these potential hazards if prescriptions are filled in the same location."
Consistent use of the same pharmacy also allows a relationship to form between patient and pharmacist.
Holly Smith, UTMC Outpatient Pharmacy manager said patients should talk about all medications they are taking at each doctor's appointment. She said printouts of all prescribed medications can be requested from the pharmacy and shared with physicians and family members.
"I tell patients to carry the list in their purse or wallet so they always have it with them," she said. "It's also important that there is at least one designated family member who knows your health history and medications in case of emergency."
This also is a good time to take inventory of any leftover or expired medications. Pharmacists can advise patients the proper methods for disposing of old prescription and over the counter medications.
"We accept unwanted medications in a drop box in the emergency department of UTMC," Smith said. "Patients with injectable medications should follow the directions on their sharps container for proper disposal."
Smith said unused medications also can be mixed with used kitty litter or coffee grounds and disposed of in the trash. Medicated patches should be folded over and stuck together before being thrown away.
"I would advise anyone getting a prescription filled to take a minute to ask a few questions about the medication you will be taking. You can even call your usual pharmacy to review medications and discuss any concerns," Smith said. "It is our goal as pharmacists to do the best we can by our patients so they are able to care for themselves and stay well."
---
Wednesday, August 17th, 2016
First professional-year learners enrolled in The University of Toledo College of Pharmacy and Pharmaceutical Sciences will participate in a professional advancement ceremony at 4:30 p.m. Thursday, Aug. 18 in Nitschke Auditorium.
White coats will be given to 107 Doctor of Pharmacy students and 35 Bachelor of Science in Pharmaceutical Sciences students as a gift supported by CVS/Caremark and white coat mentors. In addition, eight pharmacy administration majors will receive embossed portfolios. One dual degree learner is among the Bachelor of Science majors.
The traditional ceremony is held at the end of orientation week and marks the student's transition from the study of pre-clinical to clinical health sciences. It is considered a rite of passage in the journey toward a health-care career.
17"These students have laid the foundation for their future success, but the curriculum is challenging. They will be tested beyond anything they have experienced before. We encourage these students to have a sharp focus and to be ready to work hard to become leaders," said Dr. Johnnie Early, dean of the College of Pharmacy and Pharmaceutical Sciences. "The history of the program has shown us that through dedicated effort and solid commitment the vast majority of our students will rise to the occasion and be very successful in their educational journey."
Twenty-eight students received UT's Pharmacy Excellence Scholarship. The award is given to academically exceptional students who meet or exceed eligibility requirements for the highly competitive contingent admission program.
Early will speak at the ceremony along with UT President Dr. Sharon L. Gaber, Provost Andrew Hsu, Dr. Dorothea Sawicki, vice provost for health science affairs and University accreditation and Joel Levitan, pharmacist with the Neighborhood Health Association.
Fully accredited by the Accreditation Council for Pharmacy Education, the College of Pharmacy and Pharmaceutical Sciences was the first college established at UT in 1904. The college's guiding principles are personal integrity, professionalism and respect for humanity and human diversity.
---
Friday, July 29th, 2016
Researchers from The University of Toledo, in collaboration with chemists from The Scripps Research Institute, have discovered a compound that normalizes glucose levels while increasing the mass and quality of bone.
Body processes that regulate energy metabolism and bone mass are closely intertwined and numerous studies have shown individuals with Type 2 diabetes are at increased risk for bone fractures. Additionally, some current anti-diabetic drugs work well to regulate insulin levels, but can cause further bone damage.
"Our data demonstrate the regulation of bone mass and energy metabolism share similar mechanisms," said Dr. Beata Lecka-Czernik, professor in UT's Departments of Orthopaedic Surgery and Physiology and Pharmacology and a member of the faculty in the Center for Diabetes and Endocrine Research. "This suggests a new pharmacologic agent could be developed to treat both diabetes and metabolic bone diseases."
Targeting PPARγ, the protein in the body that regulates energy use and bone cell differentiation and function, Dr. Patrick Griffin and researchers from The Scripps Research Institute developed a series of new insulin sensitizers.
"Our multidisciplinary chemical biology team at Scripps Florida had spent many years developing precise structure activity relationships around many chemical scaffolds that alter the shape and behavior of PPARγ," Griffin said. "These efforts were then combined with the bone biology expertise of Dr. Lecka-Czernik to explore whether we have compounds that maintain excellent insulin sensitization efficacy but are positive on bone health.
Lecka-Czernik and her team at UT then tested these compounds for bone safety.
"During the course of our experiments we discovered that a compound called SR10171 normalizes glucose levels in Type 2 diabetes, prevents associated weight gain and increases the mass and quality of bone," she said. "Remarkably, this experimental drug also maintains its positive effect on bone in non-diabetic conditions and acts as insulin sensitizer only on demand when normal glucose and insulin becomes imbalanced."
SR10171 supports bone formation by directly regulating bone cells that work together to break down, build and protect bone.
The results also suggest the bone remodeling properties of this compound also could be used to treat osteoporosis, Lecka-Czernik said.
The team's findings, PPARG Post-Translational Modifications Regulate Bone Formation and Bone Resorption, will be published in the August issue of EBioMedicine. This team science was funded in part on a collaborative grant from the National Institute of Diabetes and Digestive and Kidney Diseases. The full report may be read by clicking here.
---
Friday, June 24th, 2016
The University of Toledo will host high school seniors interested in science careers at a new camp this month.
Students will explore current topics in science through hands-on lab exercises, faculty presentations and small group discussions during Shimadzu Pharmaceutical Sciences Summer Camp on Monday and Tuesday, June 27-28, in the Frederic and Mary Wolfe Center on UT's Health Science Campus.
The two-day camp provides a hands-on learning opportunity for students to explore several pharmaceutical fields including pharmacology, toxicology and cosmetic science. Attendees will work side-by-side with current UT Pharmacy students and professors in laboratories using the latest technologies to gain more information about science careers and the college experience as a whole.
"These students are our next generation of scientists," said Dr. Amanda Bryant-Friedrich, UT associate professor of medicinal and biological chemistry and director of the Shimadzu Laboratory for Pharmaceutical Research Excellence. "We are pleased to provide this unique opportunity to young people as they explore occupations available in the STEMM fields."
During the past decade the demand for highly skilled workers in the science, technology, engineering, mathematics and medicine (STEMM) field has risen sharply and the U.S. Department of Commerce projects an employment growth of 17 percent in STEMM occupations between 2008-2018.
The camp is sponsored by a multi-year grant from Shimadzu Scientific Instruments and supported by Amway. A global leader in analytical technologies, Shimadzu's mission is to contribute to society through science and technology. UT dedicated in January the new laboratory made possible with a $250,000 donation from Shimadzu that features a mass spectrometer that is capable of analyzing samples with a high degree of accuracy and unmatched speed.
---
Tuesday, May 10th, 2016
More than 170 sophomore high school girls will visit The University of Toledo Thursday, May 12 when prominent female scientists and engineers across the region will introduce them to the exciting world of science and technology careers through hands-on experiments and demonstrations.
The seventh annual Women in STEMM Day of Meetings, which goes by the acronym WISDOM, will take place from 8 a.m. to 2:15 p.m. on UT's Main Campus and Health Science Campus.
UT faculty and professionals at Dana Corporation and Marathon Petroleum Corporation will help inspire a passion for science careers by exploring the tools of the trade.
The girls will perform experiments in a number of areas, including physics and astronomy, chemistry, biology, engineering, pharmacy and medicine.
Activities for students include building solar cells, making liquid nitrogen ice cream, swabbing their cheeks for a DNA sample, constructing model airplanes, interacting with robots through computer programming and whipping up a sugar scrub for their feet and hands (see schedule below).
"Helping young women stay interested in STEMM and pursue a job in a field with low unemployment is one of the best things we can do for our region," said Edith Kippenhan, senior lecturer in the UT Department of Chemistry and Biochemistry and president of the Northwestern Ohio Chapter of the Association for Women in Science. "For every STEMM graduate there are four jobs waiting.  For every non-STEMM job opening, there are two applicants. It is our hope this fun visit to UT will help students discover there is a supportive network ready to receive them and help turn their dreams into reality."
Students from Toledo Public, Washington Local and Oregon Schools, as well as from the Toledo Islamic Academy and Wildwood Environmental Academy, will participate in WISDOM at the University.
The event is hosted by the Northwestern Ohio Chapter of the Association for Women in Science.  Sponsors include Marathon Petroleum Corporation, Columbia Gas, Spartan Chemical Company, Dana Corporation, Toledo Chapter of the American Chemical Society, the Catharine S. Eberly Center for Women and the UT Colleges of Engineering, Medicine and Life Sciences, Natural Sciences and Mathematics, and Pharmacy and Pharmaceutical Sciences.
Photo/video opportunities include:
Building solar cells: 9 a.m. and 1:15 p.m. in Student Union Room 3016 on UT's Main Campus;
Making liquid nitrogen ice cream: 9 a.m. and 1:15 p.m. in Student Union Auditorium on UT's Main Campus;
Making model airplanes: 10:25 a.m. in Brady Engineering Innovation Center on UT's Main Campus;
DNA sampling: 9 a.m. and 1:15 p.m. in Student Union Room 3018 on UT's Main Campus; and
Making sugar scrub for hands and feet: 9:10 a.m. and 12:45 p.m. in Health Education Building Room 019 on UT's Health Science Campus.
Media Coverage
13 ABC (May 10, 2016)
---
Monday, February 22nd, 2016
The mayor of the City of Toledo and area church leaders will join The University of Toledo to kick off a "Campaign Critical" fundraiser to support scholarships for African American students in the health professions.
The initiative is lead by the President's Committee for African American Recruitment, Retention and Scholarship Support, or PCARS, which was formed in 2006 to enhance the recruitment and retention of African Americans in the fields of health sciences, which include medicine, pharmacy, nursing and physician assistant.
A kickoff event for the fundraising campaign will be 10:45 a.m. Tuesday, Feb. 23 at St. Paul Missionary Baptist Church, 1502 N. Detroit Ave., with UT President Sharon L. Gaber, Toledo Mayor Paula Hicks-Hudson and the Rev. James Willis of St. Paul Missionary Baptist Church.
The committee's goal is to increase the number of African-American health-care workers in the Toledo region as an important part of the solution to address the health-care needs of African Americans in the community.
Additional religious leaders active in PCARS who will join Pastor Willis in support of the initiative at the news conference include: the Rev. Cedric Brock of Mount Nebo Missionary Baptist Church, the Rev. Waverly Earley of Wesley United Methodist Church, the Rev. K. David Johnson of Third Baptist Church, the Rev. John Walthall III of Mount Ararat Missionary Baptist Church and Sister Virginia Welch of St. Martin de Porres Catholic Church.
Media Coverage
WTOL 11 (Feb. 24, 2016)
13 ABC (Feb. 24, 2016)
---
Tuesday, January 26th, 2016
The University of Toledo College of Pharmacy and Pharmaceutical Sciences will celebrate the dedication of a new state-of-the-art research laboratory created with the help of a leading scientific instrument company at noon Thursday, Jan. 28 in Health Education Building Room 103 on the UT Health Science Campus.
UT President Dr. Sharon Gaber, College of Pharmacy and Pharmaceutical Sciences Dean Dr. Johnnie Early and a representative from Shimadzu Scientific Instruments will give remarks at noon followed by the open house for the Shimadzu Laboratory for Pharmaceutical Research Excellence.
Shimadzu donated more than $250,000 to help UT pay for several new instruments, including a mass spectrometer that is capable of analyzing samples with a high degree of accuracy and unmatched speed.
"This donation will help UT train the scientists of tomorrow with cutting-edge technology," Phil Martin, Life Science Account Manager with Shimadzu, said.  "The liquid chromatograph mass spectrometer can analyze a wide array of sample types, including biological and environmental, with great speed, accuracy and ease-of-use. The LCMS-8050 will open new avenues of teaching and research including drug discovery and metabolism, disease biomarkers and oxidative damage to DNA.  This technology also can be used to monitor water quality and detect dangerous algal toxins in Lake Erie faster and with more accuracy than other techniques."
"Shimadzu's goals are very strongly aligned with UT's in striving to best prepare the next generation of pharmacists, researchers and scientists to improve the world," Dr. Gaber said. "On behalf of The University of Toledo, I want to extend sincere thanks to them for their generous contributions and collaboration."
"Through this partnership, state-of-the-art equipment for pharmaceutical analysis will be available to students, faculty and members of the corporate sector, all with the support of trained and knowledgeable experts in the area of pharmaceutical research," Dr. Early said.
Shimadzu Scientific Instruments (Columbia, Maryland) is the American subsidiary of Shimadzu Corporation (Kyoto, Japan).  A global leader in analytical technologies, Shimadzu is proud to produce its most innovative technology in the U.S.A.  The LCMS-8050 is built in Shimadzu's U.S. manufacturing facility, located in Canby, Oregon.
"The company has a history of identifying researchers who are doing cutting edge work at institutions poised to make an impact on the training of students," Dr. Amanda Bryant-Friedrich, associate professor of medicinal and biological chemistry, said.  "I have been delighted to work with Shimadzu over the years to make this relationship a reality."
Media Coverage
WTOL 11 (Jan. 28, 2016)
The Blade (Jan. 29, 2016)
NBC 24 (Jan. 29, 2016)
---
Friday, December 11th, 2015
Christi Paul, anchor of CNN New Day Weekends and HLN's Daily Share, will address graduates at The University of Toledo's fall commencement 10 a.m. Saturday, Dec. 19 in Savage Arena.
The UT graduate and Bellevue-native, who also will receive an honorary degree during the ceremony, will address more than 2,000 candidates for degrees, including 138 doctoral candidates, 556 master's candidates and 1,372 bachelor's candidates.
This marks the first University of Toledo commencement for President Sharon L. Gaber.
"From her time at UT to her successful career at CNN, Christi Paul has devoted her life to thoughtful curiosity, learning, and helping others with the power of information," Gaber said. "She has been at the forefront of many major news stories of our time. The award-winning journalist and advocate for women and children is an inspiring voice who will offer a passionate message to our graduates and guests."
The national journalist graduated from UT in 1993 with a Bachelor of Arts in Communication degree with a focus on broadcast journalism.
"I'm humbled and honored to give the commencement speech and so grateful to UT, the professors who helped me grow, the staff who guided me to solid internships, and the friends I made along the way," Paul said. "I will always credit UT for giving me my springboard into the journalism arena."
Paul has covered many high-profile events throughout her distinguished career, including President Barack Obama's second inauguration, Hurricane Sandy, and the Casey Anthony murder trial. She was in the anchor chair walking heartbroken viewers through the early hours of the tragic shootings at Sandy Hook Elementary School and Virginia Tech.
Prior to joining CNN and HLN in 2003, Paul worked as an anchor and reporter in Phoenix, Ariz., and Boise, Idaho. The Idaho Press Club honored Paul for her series about a brave four-year-old girl who underwent a five-organ transplant. Paul began her career at WDTV in Clarksburg, W.Va.
The wife and mother of three also is passionate about helping children. Along with the National Center for Missing and Exploited Children, Paul is co-founder of the "Find Our Children" series that airs on HLN. Viewers have helped bring home 35 missing kids as a result of the news profile segments. The center honored Paul in 2012 with its prestigious Hope Award for her efforts to make the world a safer place for children.
Paul serves on the National Advisory Council for the One Love Foundation, which works with teens to help end dating violence. Paul also serves on the Advisory Board for When Georgia Smiled that helps victims of domestic violence and sexual assault find healing, safety and joy.
UT recognized Paul in 2006 as an Outstanding Alumna of the former College of Arts and Sciences.
The fall commencement ceremony will recognize graduates from the Colleges of Adult and Lifelong Learning, Business and Innovation, Communication and the Arts, Judith Herb College of Education, Health Sciences, Languages, Literature and Social Sciences, Medicine and Life Sciences; Natural Sciences and Mathematics; Pharmacy and Pharmaceutical Sciences; and Social Justice and Human Service.
Other college specific commencement ceremonies taking place are:
College of Engineering: graduate commencement 5 p.m. Thursday, Dec. 17; undergraduate commencement 3 p.m. Saturday, Dec. 19. Both ceremonies will be held in Nitschke Auditorium.
College of Nursing: 1 p.m. Friday, Dec. 18 in Nitschke Auditorium.
For more information, visit utoledo.edu/commencement.
Media Coverage
The Blade (Dec. 19, 2015)
The Blade (Dec. 20, 2015)
---