Author Archive
Thursday, December 5th, 2019
Fatal overdoses tied to Ohio's ongoing opioid epidemic cost the metropolitan Toledo economy $1.6 billion and more than 2,000 jobs in 2017, according to a new study by The University of Toledo.
At $1.6 billion, the total economic impact of the opioid epidemic is equivalent to approximately 4.5% of the region's gross domestic product — or roughly the same amount of economic activity generated annually by the entire private construction industry.
"The University of Toledo has an important role to play in addressing the major issues that affect northwest Ohio and beyond," UToledo President Sharon L. Gaber said. "This research provides another piece of the puzzle as we work together to confront the opioid epidemic."
The research was led by Dr. Oleg Smirnov, associate professor of economics, in close collaboration with members of The University of Toledo Opioid Task Force.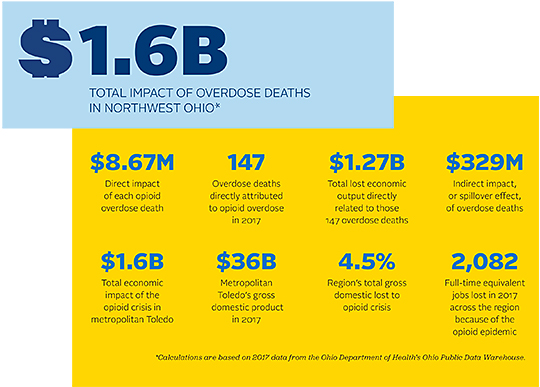 "Over a relatively period of short time, the number of deaths from opioid overdose has skyrocketed, and the crisis doesn't show any signs of abating," Smirnov said. "This report helps give us a better understanding of how the epidemic affects our region, and also provides a benchmark to evaluate the effectiveness of our community's ongoing response."
Among the report's key findings:
Fatal opioid overdoses directly resulted in $1.27 billion in lost economic output in 2017.
Each overdose death costs the economy $8.67 million.
The indirect, or spillover, effects of fatal opioid overdose were $329.2 million in 2017.
Premature deaths caused by the opioid epidemic cost metropolitan Toledo the equivalent of 2,082 jobs in 2017.
While Narcan is relatively expensive at approximately $130 per dose, there is clear evidence the economic benefit outweighs the cost of administering the drug.
"These new findings add valuable context to our understanding of and response to the opioid epidemic," said Dr. Amy Thompson, vice provost for faculty affairs, professor of public health, and co-chair of the UToledo Opioid Task Force. "The research can be used to advocate for funding that goes toward prevention efforts and treatment of opioid use disorder. It also can be used to inform local businesses how this epidemic is affecting the job market and creating financial loss in the community."
The report's calculations are based on data from the Ohio Department of Health's Ohio Public Data Warehouse, which documented 147 fatal opioid overdoses in Lucas, Wood, Fulton and Ottawa counties in 2017. Data from 2017 is the most recent finalized data available.
State records show those four counties had 22 deaths attributed to opioid overdose in 2007. The state data relies on the official cause of death listed on state-issued death certificates, and differs slightly from fatal overdose data from local sources.
"While it may seem morbid to put a price on human life, there are established economic models that show how an individual's premature death ripples through the economy," Smirnov said. "This report shows just how costly each death is to our entire community, on top of the personal loss of a friend, brother, sister or parent. The opioid crisis may appear hidden to some, but it affects all of us."
To calculate the economic cost of a fatal opioid overdose in metro Toledo, researchers began with a federally established finding that a premature death has an economic cost of $9.4 million. By adjusting for northwest Ohio's lower per-capita income and lower cost of living, they arrived at a figure of $8.6 million per premature death and $1.27 billion in lost economic output in 2017.
Each fatal overdose also hurts the economy indirectly. As spending and demand for goods and services shrink, employers may begin to reduce staffing. In turn, individuals who have lost their jobs cut back on their own spending. UToledo researchers calculated those indirect, or spillover, effects cost the local economy $329.2 million in 2017, while reducing full-time equivalent employment by 2,082 jobs.
The total economic burden in UToledo's report does not include calculations from non-lethal overdoses. While those incidents do have costs associated with them — emergency room visits, criminal justice proceedings and mental health services, for example — the spending stays within the local community.
The report also offers some hints that the region's response to the opioid epidemic is making a difference.
For example, a comparison of overdose-related 911 calls received by Lucas County dispatchers in 2016 and 2017 to the total number of overdose deaths in those years found the mortality of opioid overdoses declined from 8% in 2016 to 6% in 2017.
Researchers attribute that to first-responders dealing with opioid overdose more effectively, particularly with the use of naloxone.
UToledo's research also supports the notion that the expanded use of naloxone prevents not only additional deaths, but also significant damage to the local economy.
While first responders in Lucas County administered an estimated $1 million-plus worth of naloxone in 2017, a single premature death would have cost the regional economy $8.6 million.
Access the full economic impact report online at utoledo.edu/economic-impact/opioids.
---
Tuesday, November 12th, 2019
The University of Toledo will host an exhibition of more than a dozen panels from The AIDS Memorial Quilt in recognition of World AIDS Day.
The exhibit, which is a partnership between the UToledo Department of Art at the Center for the Visual Arts and The University of Toledo Medical Center Ryan White Program, runs from Friday, Nov. 15, through Friday, Dec. 6, in the Center for the Visual Arts Gallery. World AIDS Day is Dec. 1.
A free, public lecture featuring Jeanne White-Ginder will open the exhibition 6 p.m. on Friday, Nov. 15, in the Toledo Museum of Art Peristyle.
White-Ginder is the mother of Ryan White, an Indiana teenager who contracted HIV in the mid 1980s following a blood transfusion. Their fight against discrimination and for him to return to school gained national attention. He had become a face of the AIDS crisis in America by the time he died in 1990 at the age of 18.
Shortly after his death, Congress passed a bill to establish a federally funded program to care for people with HIV/AIDS that would eventually carry his name as the Ryan White HIV/AIDS Program.
White-Ginder has remained a steadfast HIV/AIDS activist, fighting against stigma and advocating for testing as a way to reduce and prevent spread of the disease.
"I want to be around to see the end of AIDS, and I think we're close to that. This is something Ryan started and advocated so hard for. I enjoy talking about Ryan's life and the difference he made," she said. "I think it's important now to hear stories of those affected. That's why the quilt coming to Toledo is important. You actually see the faces and the stories. These people were loved and they were cared about. We do not want these people forgotten."
Joining White-Ginder at the kickoff event will be Robert Sember, an artist, researcher and educator whose work focuses on the intersection of public health and art. He's currently a part-time faculty member at the New School in New York City.
The AIDS Memorial Quilt was started in 1987. In the three decades since, it has grown to include more than 48,000 panels. Nearly 100,000 individuals are memorialized on the quilt.
Panels to be displayed locally include several recognizing individuals from northwest Ohio, as well as a number of well-known artists, photographers, filmmakers and activists.
The exhibit is supported by The Ann Wayson Locher Memorial Fund for HIV Care.
Dr. Mysoon Rizk, a UToledo professor of art history and one of the organizers of the exhibit, said as the AIDS epidemic spread in the 1980s, artistic communities in major U.S. cities such as New York were hit particularly hard. Because of that, she said, artists have played an important role in fighting to change attitudes toward the disease and giving voice to what it means to be affected.
"Staging such an exhibition makes for educational opportunities to focus discussion on AIDS and HIV, both of which still ravage many communities around the world and both of which remain associated with stigmatizing experiences," Rizk said. "Young people who never learned about the history of the AIDS crisis may experience consciousness-raising and greater awareness about diseases, whether transmitted sexually or by any other means, such as blood transfusions, as well as to learn about the incredible UTMC Ryan White program."
The Ryan White Program at UTMC offers high-quality comprehensive care for individuals and families affected by HIV/AIDS. The program offers adult primary care, mental health counseling, case management, advocacy and HIV testing in Lucas County and the surrounding area. In 2018, the program served more than 1,000 individuals.
---
Tuesday, November 5th, 2019
The University of Toledo Medical Center now offers an innovative, minimally invasive surgical treatment for patients with atrial fibrillation, eliminating the need to continue on blood thinners.
The procedure, called CryoMAZE, uses precision application of extreme cold inside the heart the heart, establishing a barrier that prevents stray electrical signals from causing the heart to beat irregularly.
"The goal of this procedure is to kill the cells without damaging the walls of the heart. If the cells are dead, they cannot conduct electricity. That makes a fence so the electrical impulses don't spill over into the rest of atrium. It's like putting insulation on a wire — you are letting electrical impulse to go through only in the normal path without spreading around randomly," said Dr. Saqib Masroor, chief of the Division of Cardiothoracic Surgery at UTMC.
Dr. Masroor will give a free, educational presentation on atrial fibrillation and the latest treatment options, including minimally invasive CryoMAZE, at 6:30 p.m. on Thursday, Nov. 7, in the Center for Creative Education on Health Science Campus.
For more information or to register for the event, call 419.383.6939.
Atrial fibrillation, or AFib, is the most common type of heart arrhythmia in the United States, affecting between 2.7 million and 6.1 million Americans.
In AFib, the heart's upper chambers, or atria, don't beat in coordination with the heart's lower chambers, or ventricles. That can lead to pooling of the blood and clotting in the atria, creating an increased risk of congestive heart failure and stroke.
Blood thinners are commonly used to reduce the risk of stroke in AFib patients, but they can increase the risk of bleeding. Other options for treating AFib require open-heart surgery or the use of catheters threaded through major arteries in either the groin or neck to get to the heart.
In the minimally invasive CryoMAZE procedure, a surgeon makes a small incision in the right side of the chest. Through that, they're able to access the outside of the heart and create scar tissue with the specialized probe that is cooled to approximately -60 degrees Celsius. A surgeon also can put a clip on the left atrial through the same incision.
The recovery time in hospital is typically three to five days.
Masroor said success rates for CryoMAZE are approximately 90%. An added benefit of using cold rather than heat to create scar tissue is that there isn't a risk of putting a hole in the heart.
"Many people don't know their options beyond blood thinners," Masroor said. "We want to educate people that there are many safe options that will prevent them from having to take blood thinners and have complications from atrial fibrillation."
---
Monday, November 4th, 2019
The University of Toledo is celebrating the opening of a specialized undergraduate advising center to support students in UToledo's growing pre-professional and allied health programs.
A ribbon cutting to dedicate the new Pre-Health Advising Center will take place at 9 a.m. on Thursday, Nov. 7, outside University Hall Room 2160. The relocated Nursing Advising Center, located across the hall, also will be recognized.
The new Pre-Health Advising Center brings together a comprehensive array of services for students interested in pursuing a career in healthcare.
Academic advisers will be available to help students who have declared a pre-med/pre-vet/pre-dental concentration with course selection, provide information about clinical and networking opportunities, and offer guidance on navigating the application process to medical school and other professional healthcare programs.
"We know that jobs in healthcare are growing. As part of our commitment to student success, we want to ensure our students are on-track and well-prepared to enter those career fields," said Dr. Amy Thompson, vice provost for faculty affairs and professor of public health. "This center provides specialized resources to support and encourage students, as well as help them review their options at UToledo."
UToledo boasts an extensive catalog of options for undergraduate students pursuing a career in healthcare, including a number of pre-medicine tracks, pre-physical therapy, pre-dental, pre-veterinary and pre-pharmacy.
The Pre-Health Advising Center is open to all undergraduates enrolled in a healthcare program. Staff at the center also can provide guidance to those considering attending UToledo or who are undecided on a major explore the University's numerous pre-professional and allied health fields.
"We want our students to find the right home for their interests and talents," Thompson said. "Our advisers can walk students through academic prerequisites and help them evaluate all possible majors that are in the health professions so that they find the best fit."
The center also has special workshops for pre-medicine, pre-dental and pre-veterinary students, as well as students enrolled in UToledo's Bacc2MD program and the UToledo/Case Western Reserve University's School of Dental Medicine program.
---
Monday, October 14th, 2019
The great Greek physician Galen of Pergamon was one of the most influential forces in medical history, with his theories informing the profession for centuries.
Unfortunately, many of Galen's ideas were wrong.
"For nearly 2,000 years we were practicing medicine like it was the stone age. There was nothing scientific about it," said Dr. Syed Tasnim Raza, a cardiothoracic surgeon and associate professor of surgery at Columbia University Medical Center.
Thankfully real scientific discovery eventually won out, helping to lead medicine into the cutting-edge field it is today.
Raza, who has spent the last decade studying the history of medicine after more than three decades as a heart surgeon in Buffalo, N.Y., will outline those radical changes at the 11th annual S. Amjad Hussain Visiting Lecture in the History of Medicine and Surgery at 5 p.m. Thursday, Oct. 17.
The lecture, to be held in Health Education Building Room 110 on UToledo Health Science Campus, is free and open to the public. RSVPs are requested; email hscevents@utoledo.edu or call 419.383.6300.
One of Galen's primary mistakes was assuming the anatomy of animals he dissected was wholly applicable to humans. For 1,300 years, no one dared question him.
"The thinking was, 'If Galen said it, it has to be true,'" said Raza. "We need to have the strength to challenge conventional wisdom, dogma and current thinking to improve and continue to change."
The S. Amjad Hussain Visiting Lecture in the History of Medicine and Surgery was created in honor of Hussain, professor emeritus of cardiovascular surgery and humanities, emeritus member of the UToledo Board of Trustees, and columnist for The Blade.
"Dr. Tasnim Raza has had a deep interest in the history of medicine and has just finished a book manuscript on the history of heart surgery. He is a man who is well versed in not only in the subject of surgery, but also in the arts and humanities," Hussain said. "The study of history of medicine is important because it shows us the distance we have covered and the path we have traversed to reach the present. History being a continuum, we cannot chart a future unless we know the past."
In part, the lecture series helped further inspire Raza's interest in the history of medicine after he came to Toledo in 2013 to hear author Wendy Moore speak about her biography of the 18th century Scottish physician Dr. John Hunter.
Raza's sister has also presented the Hussain lecture. Dr. Azra Raza, a well-known oncologist and cancer researcher, and Chan Soon-Shiong Professor of Medicine at the Columbia University Medical Center, visited Toledo in 2017.
Azra Raza will join Tasnim Raza in Toledo to kick off a book tour for her forthcoming title "The First Cell: And the Human Costs of Pursuing Cancer to the Last."
---
Thursday, September 19th, 2019
Toxins produced during harmful algal blooms may be more harmful to people than previously known.
Researchers at The University of Toledo College of Medicine and Life Sciences sought out to examine how microcystin might affect individuals with non-alcoholic fatty liver disease, a widespread condition that is frequently asymptomatic. They found the toxin can significantly amplify the disease at levels below what would harm a healthy liver.
The study, published last month in the journal Toxins, follows earlier research from UToledo that found clear evidence that microcystin exposure worsens the severity of pre-existing colitis. Microcystin is a by-product of the cyanobacteria found in what is commonly known as blue-green algae.
"The take home message from our research is there are certain groups of people who need to pay extra attention and may be more susceptible to microcystin toxins. We may need to explore special preventative guidelines for those people in terms of how much microcystin they are exposed to through drinking water or other means," said Dr. David Kennedy, an assistant professor of medicine at UToledo and one of the study's lead authors.
Aided by nutrient runoff and warming waters, seasonal blooms of blue-green algae are flourishing across much of the United States. Not all algal blooms produce toxins, but many do.
Potentially dangerous concentrations of microcystin have been found this year in ponds in New York City's Central Park, along the Mississippi Gulf Coast, reservoirs in California, and a portion of Lake Erie's coastline near Toledo.
While no human deaths have been linked to microcystin in the United States, deaths have been reported elsewhere — most notably among a group of kidney dialysis patients in Brazil. There also have been reports this year of pet dogs dying after exposure to blue-green algae in Texas, North Carolina and Georgia.
With annual blooms becoming more frequent and intense, researchers in the UToledo College of Medicine and Life Sciences wanted to better understand how the toxins might affect people already suffering from conditions that affect organ systems microcystin is known to attack, such as the liver.
"It's a gray area in terms of what microcystin is really doing to you if you have a pre-existing disease state. Are you more susceptible? Are we going to have to go back and re-evaluate what we consider safe in a person with a pre-existing disease state? It's important we start providing answers to these questions," said Dr. Steven Haller, UToledo assistant professor of medicine.
In the liver study, researchers examined how chronic, low-level exposure of microcystin affected mice with non-alcoholic fatty liver disease compared to mice with healthy livers.
At microcystin ingestion levels below the No Observed Adverse Effect Level for healthy mice, analysis showed significant exacerbation of liver damage in mice with fatty liver disease. Researchers observed no liver damage in mice who started the experiment with healthy livers.
"Current exposure limits from the World Health Organization and the U.S. Environmental Protection Agency for humans are based off studies done in healthy animals," Haller said. "The results of this study suggest there may be a need to review those guidelines for people with pre-existing conditions."
They also noted major differences in how microcystin was processed by the kidneys in the two test groups.
In mice with non-alcoholic fatty liver disease, elevated levels of microcystin were found in the blood plasma, but were not detectable in the plasma of healthy mice. Mice with non-alcoholic fatty liver disease also excreted far less microcystin in their urine.
The differences seen in how microcystin was processed between the two test groups suggests that kidney function may play an important role in the increased susceptibility of the mice with pre-existing liver disease.
"This may be highly relevant to help us understand the deaths that occurred in kidney dialysis patients, and point to the need to pay particular attention to at-risk patient populations as we design preventative, diagnostic and therapeutic strategies," Kennedy said.
The results from the liver study build on prior work from Kennedy and Haller looking at how microcystin exposure might affect individuals with inflammatory bowel disease, another common condition that impacts an estimated 1 million Americans.
In that study, published in June, the researchers demonstrated that exposure to MC-LR prolongs and worsens the severity of pre-existing colitis, contributing to significant weight loss, bleeding, and higher numbers of signaling molecules that cause inflammation.
"Based on this data we're coming up with insights into how we can potentially treat exposures if they do occur," Kennedy said. "This is giving us a number of insights into how we might help patients, especially patients who are vulnerable or susceptible if there was an exposure."
The lead author of the paper published in August was doctoral student Apurva Lad. Doctoral student Robin Su was the author on the paper about inflammatory bowel disease published in June.
---
Monday, September 9th, 2019
New research from The University of Toledo College of Medicine and Life Sciences strongly suggests postural orthostatic tachycardia syndrome, or POTS, is an autoimmune disorder and may help pave the way for a simple blood test that could help physicians diagnose the condition.
POTS is characterized by large increases in heart rate and sometimes decreases in blood pressure when standing up. That can cause lightheadedness, heart palpitations and even loss of consciousness. In addition to fainting, POTS patients also regularly suffer from a litany of additional symptoms, including fatigue, pain, gastrointestinal issues, bleeding disorders, anxiety and brain fog.
About 3 million Americans are believed to be affected, but because of its wide-ranging and seemingly unrelated symptoms, POTS is notoriously difficult to identify.
"The trouble with diagnosing POTS is that it's currently principally a clinical diagnosis. It's based on history, the absence of other illness as well as the finding of increase in heart rate when standing. There is no blood test right now to aid in the diagnosis. It can be an incredibly frustrating process for patients," said Dr. Blair Grubb, Distinguished University Professor of Medicine and Pediatrics in the UToledo College of Medicine and Life Sciences and director of electrophysiology services at The University of Toledo Medical Center.
In the largest study of POTS patients to date, published Monday, Sept. 9, in the Journal of the American Heart Association, Grubb and UToledo research collaborators found 89 percent of patients they examined had elevated levels of autoantibodies against the adrenergic alpha 1 receptor.
"People have suspected an autoimmune connection for years, and other small-scale studies have suggested it," said Grubb, one of the world's foremost experts in syncope and disorders of the autonomic nervous system. "We did a much larger cross-section of patients than has ever been done before, and found that almost all of them tested positive for autoimmune antibodies. That's a significant finding."
None of the 55 patients who participated in the study had another recognized autoimmune disorder. Fifty-two were female, with an average age of 30.
Researchers screened the patients' blood for autoantibodies against nine receptors. A handful of patients showed elevated levels against all nine. But it was the prevalence of adrenergic A1 subtype receptor autoantibodies that make their findings so intriguing.
"I think that we have identified a biomarker. We now might have the ability to diagnosis this, or at least have an inkling. Like other autoimmune disease, we can take a blood sample and detect if there are increased levels of autoantibodies present. According to our results, autoantibodies against this particular receptor should be present in about 90 percent of patients with POTS," said Dr. William Gunning, a professor of pathology in the UToledo College of Medicine and Life Sciences, and the paper's lead author.
Gunning and Grubb say much more research is needed. However, this study adds significantly to the evidence that POTS is an autoimmune disorder — and it shows it may be possible to give physicians unfamiliar with the condition an easy way to test for it.
"What this does is prove the concept," Grubb said. "Other studies had used very expensive research tests. What we used are the same kind of testing methods that would be used by regular hospitals. We wanted to do something that would potentially be a test applicable to the general population, not just a research test."
While Gunning and Grubb caution they're still investigating the precise methods by which POTS is established, their study does raise the possibility that existing immune modulating medications could be a viable therapeutic method for some patients.
The study was supported by funding from the Dysautonomia Advocacy Foundation, the Life as a Zebra Foundation, and the Virginia Lounsbury Foundation.
---
Thursday, July 18th, 2019
Low-flying eyes in the sky are improving the accuracy of water quality assessments in the Great Lakes and the rivers that flow into them.
A new study at The University of Toledo finds drones armed with sensors are useful tools in the fight against harmful algal blooms, particularly for monitoring key spots within Lake Erie, such as near drinking water inlets and off the shore of public beaches.
Researchers compared data gathered by the drones with satellite data and boat-based water sampling at 10 locations over Lake Erie and the Maumee River.
"We get the same results on both drones compared to more expensive and time-consuming measurements – including some made by probes put directly into the water," said Dr. Richard Becker, associate professor in the UToledo Department of Environmental Sciences.
The technology places a new weapon in the arsenal of water treatment plant managers protecting the drinking water supply and public health officials monitoring beaches.
Filling the short-range surveillance gap left by more expensive remote-sensing methods such as satellites and aircraft, the unmanned aerial systems offer increased algae awareness due to their ability to hover below cloud cover and to be deployed on short notice.
"Detecting the threat of toxic algae as early as possible is critical, but it can be foggy for satellites looking through different layers of the atmosphere," Becker said. "These drones are focused and have the ability to assess the condition at the shoreline, which people care about for swimming."
Determined to safeguard the community's health, Becker built and tested an algae monitoring drone in the summer of 2017, costing roughly $2,000. The drone took off from either the UToledo research vessel or the shoreline and flew at an altitude of between 5 and 10 meters above the water's surface.
"Since drones are inexpensive, quick to launch, and can fly under cloudy skies, they have a lot of advantages that make up for the practical limitations of satellite, aircraft or boat-based observations," Dr. Thomas Bridgeman, director of the UToledo Lake Erie Center and professor of ecology, said.
The study published in the Journal of Great Lakes Research shows Becker's team in collaboration with Michigan Tech Research Institute successfully demonstrated the utility of drones outfitted with hyperspectral spectroradiometers to measure water-quality parameters that include chlorophyll, suspended minerals, cyanobacteria index and surface scums.
The sensor is used to produce a cyanobacterial index, which is a measure of algal bloom intensity.
"Dr. Becker and his colleagues show that sophisticated optical measurements of harmful algal blooms collected by drone-based sensors are just as good as similar measurements made from a boat," Bridgeman said.
Bridgeman's research team aboard the UToledo Lake Erie Center's research vessel collects water samples and tracks harmful algal blooms once a week every summer throughout algal bloom season to help sound the early warning for water treatment plant operators.
"This new research means that harmful algal blooms impacting a swimming beach, a reservoir used for drinking water, or the Maumee River could be scanned by someone standing on the shoreline piloting a drone," Bridgeman said.
Making measurements with a higher spatial resolution, the drones bridge a gap and complement the measurements of satellites, said Becker, but they're not the stand-alone solution.
"A drone is not always the right tool for the job. A satellite or airplane is a better choice when talking about wide swaths of Lake Erie, instead of a targeted area," Becker said.
The research was supported by NASA's Glenn Research Center and the National Science Foundation.
---
Wednesday, July 17th, 2019
Art on the Mall will return to The University of Toledo's Centennial Mall Sunday, July 28, from 10 a.m. to 5 p.m.
This summer marks the free, public event's 27th year of showcasing a variety of art on Main Campus. Attendees will have the opportunity to view and purchase all kinds of art, including acrylic, glass, pen and ink, oil, mixed media, metals, photography, ceramics, textiles, watercolor, woodwork, jewelry and more.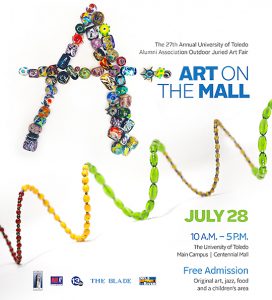 "People can expect a lovely setting, a very comfortable, walkable show that has amazingly talented artists displaying beautiful works of art," said Ansley Abrams-Frederick, director of alumni programming in the UToledo Office of Alumni and Annual Engagement.
A total of 115 artists will have artwork for sale by cash, or guests can pay using a credit card at the artist's booth or credit card station located in the Thompson Student Union.
Throughout the day, visitors can enjoy live jazz music and food from a number of vendors. There also will be a beer garden for guests 21 and older with a valid ID.
In addition, Art on the Mall offers a young artist area for children to try their hands at creating their own masterpieces.
More than 13,000 people attended last year's show.
"The artists love the show because of our supportive and receptive community, " Abrams-Frederick said. "They love our volunteers and know that the people attending the show really appreciate their work. It's a great show with wonderfully talented artists in a beautiful setting."
Art on the Mall is a juried show with a number of cash prizes, including the UToledo Best in Show, which is presented to an artist with an affiliation to the University.
Free parking is available in parking in lot 1 south, lot 1 north and lot 13. A golf cart shuttle service is available to transport guests and their purchases to and from Centennial Mall.
Art on the Mall is supported by community sponsors 13abc, The Blade, Mail It and 101.5 The River.
---
Monday, July 8th, 2019
Scientists at The University of Toledo investigating improvements to a commonly used chemotherapy drug have discovered an entirely new class of cancer-killing agents that show promise in eradicating cancer stem cells.
Their findings could prove to be a breakthrough in not only treating tumors, but ensuring cancer doesn't return years later — giving peace of mind to patients that their illness is truly gone.
"Not all cancer cells are the same, even in the same tumor," said Dr. William Taylor, a professor in the Department of Biological Sciences in the UToledo College of Natural Sciences and Mathematics. "There is a lot of variability and some of the cells, like cancer stem cells, are much nastier. Everyone is trying to figure out how to kill them, and this may be one way to do it."
Taylor and Dr. L.M. Viranga Tillekeratne, a professor in the Department of Medicinal and Biological Chemistry in the UToledo College of Pharmacy and Pharmaceutical Sciences, reported their findings in a paper recently published in the journal Scientific Reports.
Cancer stem cells are an intriguing target for researchers because of their potential to re-seed tumors.
When doctors remove a tumor surgically or target it with chemotherapy drugs or radiation therapy, the cancer may appear to be gone. However, evidence suggests that a tiny subpopulation of adaptable cancer cells can remain and circulate through the body to seed new metastasis in far-off locations.
Those cancer stem cells, Taylor said, are similar to dandelions in a well-manicured lawn.
"You could chop the plant off, but it will drop a seed. You know the seeds are there, but they're hiding," he said. "You pull one weed out and another comes up right after it. Cancers can be like this as well."
The small molecule they have isolated appears to lock on to those stem cells and kill them by blocking their absorption of an amino acid called cystine.
UToledo was awarded a patent for the discovery late last year.
For Tillekeratne and Taylor, uncovering a new class of therapeutic molecules could prove to be an even larger contribution to cancer research than the project they initially envisioned.
"At present, there are no drugs that can kill cancer stem cells, but people are looking for them," Tillekeratne said. "A lot of drugs are discovered by serendipity. Sometimes in research if you get unexpected results, you welcome that because it opens up a new line of research. This also shows the beauty of collaboration. I wouldn't have been able to do this on my own, and [Taylor] wouldn't have been able to do it on his own."
Tillekeratne has received a three-year, $449,000 grant from the National Institutes of Health National Cancer Institute to continue testing the effectiveness of the newly identified therapy.
Because the molecules so selectively target cancer stem cells, it's possible they could ultimately be paired with other chemotherapy drugs to deliver a more comprehensive treatment.
However, the researchers have found their agents show stand-alone promise in treating sarcomas and a subtype of breast cancer known as claudin-low breast cancer, which represents up to 14 percent of all breast cancers and can be particularly difficult to treat.
---