Author Archive
Friday, June 5th, 2020
The University of Toledo is adjusting its fall semester calendar as an additional measure to protect the campus community during this COVID-19 pandemic.
UToledo will begin the fall 2020 semester on Monday, Aug. 17 — one week before the planned first day of class — and is making additional adjustments to the fall academic calendar so that students will end the on-campus portion of their studies by the Thanksgiving holiday.
In adjusting the semester, UToledo also is eliminating fall break, which was planned for Oct. 22 and 23. All final exams will be completed remotely the week of Nov. 30 – Dec. 4. These changes to the academic calendar will not impact the number of weeks in the semester as students will still be on campus for the regularly scheduled 15 weeks.
"Adjusting the fall semester in this way provides our students a great on-campus learning experience while also reducing the potential risk of exposure with students, faculty and staff traveling during the Thanksgiving holiday. We want to avoid, as much as possible, the potential for a member of our campus community to contract and spread the virus when returning to campus," said Dr. Karen Bjorkman, provost and executive vice president of academic affairs.
With the change in the academic calendar, students will have the opportunity to move-in to the residence halls beginning Aug. 2 and continuing through Aug. 15. More information on the move-in process and scheduling will be sent to residential students in the coming weeks. Students graduating in December will be able to move out of the residence halls after their final examination(s).
"There are a number of uncertainties about COVID-19, but our public health and infectious disease experts have been working closely with local and state health officials to implement proactive strategies to mitigate risk while ensuring our students' academic success," said Dr. Amy Thompson, UToledo vice provost and public health scholar. "In the event that a 'second wave' of this virus in late fall becomes a reality, this strategy is one of many preventative measures UToledo can take now to protect our students and our campus community."
UToledo continues to finalize its Rocket Restart plan to put measures in place to promote a safe return to on-campus operations. Additional details will be released in early July.
---
Wednesday, May 27th, 2020
Nearly half of individuals who contract COVID-19 experience changes in their sense of taste, a new analysis led by a University of Toledo researcher has found.
The systematic review, published in the journal Gastroenterology, could provide yet another diagnostic hint for clinicians who suspect their patients might have the disease.
"Earlier studies didn't note this symptom, and that was probably because of the severity of other symptoms like cough, fever and trouble breathing," said Dr. Muhammad Aziz, chief internal medicine resident at UToledo and the paper's lead author. "We were beginning to note that altered or lost sense of taste were also present, not just here and there, but in a significant proportion."
Aziz and his research collaborators analyzed data from five studies conducted between mid-January and the end of March. Of the 817 patients studied, 49.8% experienced changes to their sense of taste. Researchers suspect the true prevalence could be even higher because some of the studies were based on reviews of patient charts, which may not have noted every symptom.
"We propose that this symptom should be one of the screening symptoms in addition to the fever, shortness of breath and productive cough. Not just for suspected COIVD patients, but also for the general population to identify healthy carriers of the virus," Aziz said.
Prior research has found that a significant number of people who have COVID-19 don't know they've been infected and may be spreading the virus.
Aziz and his research collaborators suspect an altered sense of taste is more prevalent in patients with minor symptoms, though more studies are needed to validate that suspicion. Even so, changes in an individual's sense of taste could be a valuable way to identify carriers who are otherwise mostly asymptomatic.
Taste disorders are tied to a variety of viral illnesses. The review did not attempt to identify the reason that COVID-19 is causing changes in patients' sense of taste; however, researchers theorize it could be COVID-19's ability to bind to what's known as the ACE-2 receptor, which is expressed in epithelial cells on the tongue and mouth.
Because the novel coronavirus was unknown prior to its emergence in January, scientists have been moving rapidly to learn more about both the virus and the disease it causes.
Aziz said the drip of new information shows the need for more scientists to dig into the impacts of COVID-19.
"A lot of things are being missed, which is why I think researchers from every field should try to look into this and see if it's affecting their specialty in one way or another," he said. "Who knows what systems this virus is affecting. If we can catch it earlier in the disease course, we can prevent the spread of the virus and potentially have ways of managing it."
---
Tuesday, April 14th, 2020
In response to the unprecedented public health crisis brought about by the COVID-19 pandemic, The University of Toledo is allowing more than 275 medical and nursing students the option of graduating early.
Students in the College of Medicine and Life Sciences and College of Nursing who have completed all course work, met their degree requirements and been approved for early graduation are eligible to receive their diploma starting as soon as April 17.
Students not graduating early will receive their diploma at UToledo's previously scheduled virtual commencement ceremonies, which are May 9 for the College of Nursing and May 15 for the College of Medicine and Life Sciences.
The option for early graduation was approved Monday by The University of Toledo Board of Trustees with the support of President Sharon L. Gaber and Provost Karen Bjorkman.
"The College of Medicine and Life Sciences is committed to responding to the COVID-19 pandemic," said Dr. Christopher Cooper, dean of the UToledo College of Medicine and Life Sciences. "We are proud of our graduating medical students that will be joining residency programs in our region and across our nation. These soon-to-be young doctors will play an important role in meeting people's healthcare needs."
In order for a fourth-year medical student to graduate early, they must also enter their residency program early. After receiving their diploma, they must apply for and receive a medical license in the state in which they will be practicing.
Nearly half of UToledo's fourth-year medical students matched with residency programs in Ohio. Students also matched in some of the hardest hit states, including New York, Michigan and California.
Nursing graduates also have the ability to quickly begin practicing. The state of Ohio recently updated its regulations to allow newly graduated nurses to receive a temporary license before taking the national standardized licensure examination which has been delayed due to the pandemic. The state of Michigan has taken similar steps.
"The COVID-19 pandemic has created a huge need for nurses, both in our region and across the country," said Dr. Linda Lewandowski, dean of the College of Nursing. "Many of our students have expressed interest in getting out into the field ahead of the predicted surge to help relieve the strain on our healthcare system. These students are ready to practice now, and we're proud of their eagerness to make a difference."
---
Friday, March 27th, 2020
The University of Toledo Medical Center will soon be under new leadership with the promotion of its chief financial officer.
Richard Swaine will serve as chief executive officer of UTMC effective April 17.
Dan Barbee, who had led the hospital since 2016, has accepted a position as president of rural market for Mercy Health – Toledo.
"Rick will provide stable leadership amid the ongoing planning efforts underway to set a path forward for UTMC. I am confident that with the support of our outstanding physicians and hospital staff, our hospital is well positioned to weather this current global pandemic and future changes." UToledo President Sharon L. Gaber said.
"We look forward to working with Rick and continuing to provide high-quality healthcare for our patients," said Dr. Samer Khouri, UTMC chief of staff and chief of the Division of Cardiovascular Medicine. "There's never been a more critical time for teamwork in the healthcare industry."
Swaine was named UTMC's chief financial officer in March 2019. He joined UTMC from Beaumont Health System in Southfield, Mich., where he had served as senior vice president and hospital president of the 280-bed Beaumont Hospital Grosse Pointe since 20008. Swaine's long career at Beaumont spanned from 1985 to 2019 in which he also served as vice president of finance for Beaumont Hospital Royal Oak and Beaumont Hospital Troy.
---
Tuesday, March 24th, 2020
The University of Toledo Medical Center's pathology laboratory now has the ability to test for COVID-19 and deliver results in less than 48 hours. The service will significantly reduce the waiting period for patients and their physicians to confirm a diagnosis.
UTMC is the first laboratory in northwest Ohio with the capability to test for COVID-19.
The medical center is working closely with the Toledo-Lucas County Health Department and other area hospitals to prioritize testing for patients who are hospitalized with severe pneumonia or who are in intensive care units with severe respiratory illness. UTMC also will test symptomatic first responders and healthcare providers who have had direct exposure to a confirmed COVID-19 case while not wearing personal protective equipment.
"Testing supplies are still limited and we have to be strategic about how we deploy our resources," said Mo Smith, associate vice president of patient care services and chief nursing officer at UTMC. "However, by working with our community partners, we can significantly increase the pace of testing in northwest Ohio as we work to fight this dangerous virus."
UTMC has the ability to process 180 samples per day. Patients will not be able to individually request a test. All testing must be ordered by healthcare professionals, following criteria established by the Ohio Department of Health.
---
Friday, March 20th, 2020
A total of 165 fourth-year medical students at The University of Toledo learned their residency placements Friday during a live-streamed, virtual Match Day event.
The annual Match Day celebration is a highly anticipated moment for medical students in the UToledo College of Medicine and Life Sciences and at medical schools across the country. Soon-to-be physicians discover at the same moment where they will spend the next three to seven years in residency as they train in their chosen specialties.
Under normal circumstances, students gather together in person with family and friends to share the experience of learning the next step in their careers. However, because of the ongoing COVID-19 pandemic and the need to limit large gatherings, UToledo celebrated the 2020 Match remotely.
"We know this is a very important time in the lives of our students, and one they expected to spend with friends and colleagues as they take one of the final steps before going out into the community as physicians," said Dr. Christopher Cooper, dean of the College of Medicine and Life Sciences. "We worked very hard to create something special despite the difficult realities we're living with right now. We are so proud of this class of fourth-year students who will soon be providing care in the communities in which they'll be practicing."
In addition to the 165 who learned their Match on Friday, two individuals had already matched with the U.S. Armed Forces, bringing the grand total to 167.
The number of students who matched with The University of Toledo College of Medicine and Life Sciences residency programs increased 30% over the previous year, while the total number of students staying in the greater northwest Ohio increased nearly 50% over the 2019 match.
"We are delighted so many of our students will be staying in our region as they begin their careers as physicians," Cooper said. "One of our key missions is to provide a pipeline of well-trained, well-qualified physicians to care for our region's health. It's encouraging to see such a large increase in the number of students who matched in northwest Ohio."
Among the other institutions where UToledo students will do their residency work are Yale, Brown, Emory, Duke, the University of Chicago, the University of Michigan, the Mayo Clinic, and the Cleveland Clinic.
---
Tuesday, March 3rd, 2020
The presidents of The University of Toledo and Owens Community College will sign a dual-admission partnership for nursing students at 8:30 a.m., Thursday, March 5, in Heritage Hall, Room 123.
The new program — the first of its kind in northwest Ohio — allows nursing students to jointly apply for admission at both Owens and UToledo, establishing a seamless pathway for students to earn an Associate in Applied Science degree in registered nursing from Owens followed by a Bachelor of Science degree in nursing from UToledo.
"Creating pathways for student success is an important part of Owens' strategic plan and we are excited for what this dual enrollment agreement with the University of Toledo means for our nursing students," said Steve Robinson, Ph.D., president of Owens Community College. "This seamless pathway from an associate to bachelor's degree will help remove another barrier to student success and we are proud to partner with The University of Toledo to make that happen."
"This is a wonderful way to strengthen our relationship with Owens and provide even more opportunities for students in our region, ensuring their success in the workplace," UToledo President Sharon L. Gaber said. "Having a baccalaureate degree increases opportunities for nurses, and it is important that we establish these types of partnerships to ensure individuals in our community have the strong educational foundation they need for a successful nursing career."
The new dual-admission program is designed to give students a sense of belonging at both institutions, while providing unique opportunities and support throughout their education.
Advisers from both Owens and UToledo will work with students from the start to ensure they are taking the courses needed to complete both degrees. Students also will have the ability to participate in UToledo events and programming, and to take courses at UToledo while working toward their associate's degree at Owens.
Upon completion of their associate's degree from Owens, students have a guaranteed spot in the UToledo College of Nursing's online R.N. to B.S.N. program, with no additional application or admission fee.
While a B.S.N. isn't necessary for licensure, recent surveys from the American Association of Colleges of Nursing have found that more than 80% of employers strongly prefer job candidates with a bachelor's degree. A number of studies also have shown patients who are cared for by nurses with higher levels of education have more positive outcomes.
The dual-admission program is open to new and continuing students at Owens. The institutions will begin taking applications on May 1.
---
Tuesday, February 11th, 2020
A multidisciplinary research group at The University of Toledo has been awarded $2.3 million from the National Institutes of Health to develop a vaccine against a bacterial infection that, once established, is nearly impossible to eradicate.
Pseudomonas aeruginosa is a common bacterium that is generally harmless to healthy individuals. However, in people with compromised immune systems or specific conditions such as cystic fibrosis, it can be deadly.
Chronic lung infections, including those caused by drug resistant Pseudomonas aeruginosa, are the leading cause of death in cystic fibrosis. For example, 60% of individuals with cystic fibrosis experience such an infection, which is often chronic and leads to serious morbidity or mortality. In addition, ventilator-associated pneumonia represents a serious, and often deadly, hospital-acquired infection most commonly caused by infections from the bacterium.
"Pseudomonas, and many other bacteria, are becoming increasingly resistant to even the best currently available antibiotics. It's a major source of hospital-acquired infections and has a high mortality rate," said Dr. Katherine Wall, professor and chair of the Department of Medicinal and Biological Chemistry in the College of Pharmacy and Pharmaceutical Sciences, and principal investigator on the NIH grant. "The infection is very hard to get rid of once it gets established."
The Word Health Organization recently placed the bacterium among the most critical antibiotic-resistant pathogens, particularly because of the threat it poses in healthcare settings. In the United States alone, more than 32,000 infections of multidrug-resistant Pseudomonas aeruginosa occurred in hospitalized patients in 2017, causing an estimated 2,700 deaths. Thousands more deaths occurred worldwide. In addition to lung infections, Pseudomonas aeruginosa can cause serious blood infections.
Researchers have been working on vaccines targeting the bacterial infection for decades, but as development of new antibiotics lags, preventing the infection has taken on a new urgency.
A 2016 report commissioned by the British government, for example, found antimicrobial resistance could cause up to 10 million annual deaths and cost $100 trillion in economic damages by the year 2050.
The five-year NIH grant, which comes through the National Institute of Allergy and Infectious Diseases, will fund UToledo research aimed at developing new methods for creating synthetic vaccines and a workable vaccine that could protect against Pseudomonas aeruginosa.
"There have been many attempts to make protein and carbohydrate vaccines. One thing that is unique about this project is that we are combining well-defined organism-specific carbohydrate antigens with organism-specific protein antigens," said Dr. Steven Sucheck, professor in the Department of Chemistry and Biochemistry in the College of Natural Sciences and Mathematics, and lead principal investigator on the grant.
Antigens are the toxins from a bacteria or virus that trigger the body's immune response.
"In this work, we combine a synthetic carbohydrate antigen with organism-specific protein antigens to increase the antigen coverage," Sucheck said. "If the strategy is successful, it greatly expands the potential applications of synthetic carbohydrates in vaccines."
Many of the common vaccines we receive in childhood, such as chicken pox and polio, are manufactured with dead, weakened or altered pathogens to generate immunity to the infection.
Synthetic carbohydrate vaccines instead use complex chemistry to create well-defined carbohydrate antigens that can be conjugated with proteins to create a vaccine.
Sucheck and Wall have been collaborating on vaccine development for more than a decade, beginning with a project to develop synthetic vaccines to help the body's natural immune system better engage against cancer cells.
The new pseudomonas project, which also includes Dr. Erin Prestwich, assistant professor in the Department of Medicinal and Biological Chemistry, is a significant expansion of that, taking the basic vaccine development platform and shifting its target to bacteria rather than tumor cells.
Sucheck is also actively working on discovering new drugs to fight tuberculosis, another bacterial infection that is becoming increasingly difficult to treat because of antibiotic resistance. In 2018, he and a former colleague now at the University of Nebraska received a five-year, $2.1 million NIH grant to continue their work.
"There's an expertise in the lab related to carbohydrates that we're trying to leverage in different ways. You can use them to make vaccines, or we can try to target bacteria such as Mycobacterium tuberculosis with small molecules. That's the broader theme that runs through my work," Sucheck said. "We're always trying to do work that's impactful and addresses an urgent need. New approaches to treating drug-resistant bacteria is one of those urgent needs."
---
Thursday, December 5th, 2019
Fatal overdoses tied to Ohio's ongoing opioid epidemic cost the metropolitan Toledo economy $1.6 billion and more than 2,000 jobs in 2017, according to a new study by The University of Toledo.
At $1.6 billion, the total economic impact of the opioid epidemic is equivalent to approximately 4.5% of the region's gross domestic product — or roughly the same amount of economic activity generated annually by the entire private construction industry.
"The University of Toledo has an important role to play in addressing the major issues that affect northwest Ohio and beyond," UToledo President Sharon L. Gaber said. "This research provides another piece of the puzzle as we work together to confront the opioid epidemic."
The research was led by Dr. Oleg Smirnov, associate professor of economics, in close collaboration with members of The University of Toledo Opioid Task Force.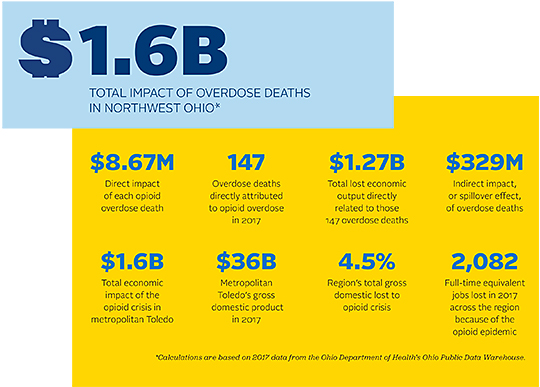 "Over a relatively period of short time, the number of deaths from opioid overdose has skyrocketed, and the crisis doesn't show any signs of abating," Smirnov said. "This report helps give us a better understanding of how the epidemic affects our region, and also provides a benchmark to evaluate the effectiveness of our community's ongoing response."
Among the report's key findings:
Fatal opioid overdoses directly resulted in $1.27 billion in lost economic output in 2017.
Each overdose death costs the economy $8.67 million.
The indirect, or spillover, effects of fatal opioid overdose were $329.2 million in 2017.
Premature deaths caused by the opioid epidemic cost metropolitan Toledo the equivalent of 2,082 jobs in 2017.
While Narcan is relatively expensive at approximately $130 per dose, there is clear evidence the economic benefit outweighs the cost of administering the drug.
"These new findings add valuable context to our understanding of and response to the opioid epidemic," said Dr. Amy Thompson, vice provost for faculty affairs, professor of public health, and co-chair of the UToledo Opioid Task Force. "The research can be used to advocate for funding that goes toward prevention efforts and treatment of opioid use disorder. It also can be used to inform local businesses how this epidemic is affecting the job market and creating financial loss in the community."
The report's calculations are based on data from the Ohio Department of Health's Ohio Public Data Warehouse, which documented 147 fatal opioid overdoses in Lucas, Wood, Fulton and Ottawa counties in 2017. Data from 2017 is the most recent finalized data available.
State records show those four counties had 22 deaths attributed to opioid overdose in 2007. The state data relies on the official cause of death listed on state-issued death certificates, and differs slightly from fatal overdose data from local sources.
"While it may seem morbid to put a price on human life, there are established economic models that show how an individual's premature death ripples through the economy," Smirnov said. "This report shows just how costly each death is to our entire community, on top of the personal loss of a friend, brother, sister or parent. The opioid crisis may appear hidden to some, but it affects all of us."
To calculate the economic cost of a fatal opioid overdose in metro Toledo, researchers began with a federally established finding that a premature death has an economic cost of $9.4 million. By adjusting for northwest Ohio's lower per-capita income and lower cost of living, they arrived at a figure of $8.6 million per premature death and $1.27 billion in lost economic output in 2017.
Each fatal overdose also hurts the economy indirectly. As spending and demand for goods and services shrink, employers may begin to reduce staffing. In turn, individuals who have lost their jobs cut back on their own spending. UToledo researchers calculated those indirect, or spillover, effects cost the local economy $329.2 million in 2017, while reducing full-time equivalent employment by 2,082 jobs.
The total economic burden in UToledo's report does not include calculations from non-lethal overdoses. While those incidents do have costs associated with them — emergency room visits, criminal justice proceedings and mental health services, for example — the spending stays within the local community.
The report also offers some hints that the region's response to the opioid epidemic is making a difference.
For example, a comparison of overdose-related 911 calls received by Lucas County dispatchers in 2016 and 2017 to the total number of overdose deaths in those years found the mortality of opioid overdoses declined from 8% in 2016 to 6% in 2017.
Researchers attribute that to first-responders dealing with opioid overdose more effectively, particularly with the use of naloxone.
UToledo's research also supports the notion that the expanded use of naloxone prevents not only additional deaths, but also significant damage to the local economy.
While first responders in Lucas County administered an estimated $1 million-plus worth of naloxone in 2017, a single premature death would have cost the regional economy $8.6 million.
Access the full economic impact report online at utoledo.edu/economic-impact/opioids.
---
Tuesday, November 12th, 2019
The University of Toledo will host an exhibition of more than a dozen panels from The AIDS Memorial Quilt in recognition of World AIDS Day.
The exhibit, which is a partnership between the UToledo Department of Art at the Center for the Visual Arts and The University of Toledo Medical Center Ryan White Program, runs from Friday, Nov. 15, through Friday, Dec. 6, in the Center for the Visual Arts Gallery. World AIDS Day is Dec. 1.
A free, public lecture featuring Jeanne White-Ginder will open the exhibition 6 p.m. on Friday, Nov. 15, in the Toledo Museum of Art Peristyle.
White-Ginder is the mother of Ryan White, an Indiana teenager who contracted HIV in the mid 1980s following a blood transfusion. Their fight against discrimination and for him to return to school gained national attention. He had become a face of the AIDS crisis in America by the time he died in 1990 at the age of 18.
Shortly after his death, Congress passed a bill to establish a federally funded program to care for people with HIV/AIDS that would eventually carry his name as the Ryan White HIV/AIDS Program.
White-Ginder has remained a steadfast HIV/AIDS activist, fighting against stigma and advocating for testing as a way to reduce and prevent spread of the disease.
"I want to be around to see the end of AIDS, and I think we're close to that. This is something Ryan started and advocated so hard for. I enjoy talking about Ryan's life and the difference he made," she said. "I think it's important now to hear stories of those affected. That's why the quilt coming to Toledo is important. You actually see the faces and the stories. These people were loved and they were cared about. We do not want these people forgotten."
Joining White-Ginder at the kickoff event will be Robert Sember, an artist, researcher and educator whose work focuses on the intersection of public health and art. He's currently a part-time faculty member at the New School in New York City.
The AIDS Memorial Quilt was started in 1987. In the three decades since, it has grown to include more than 48,000 panels. Nearly 100,000 individuals are memorialized on the quilt.
Panels to be displayed locally include several recognizing individuals from northwest Ohio, as well as a number of well-known artists, photographers, filmmakers and activists.
The exhibit is supported by The Ann Wayson Locher Memorial Fund for HIV Care.
Dr. Mysoon Rizk, a UToledo professor of art history and one of the organizers of the exhibit, said as the AIDS epidemic spread in the 1980s, artistic communities in major U.S. cities such as New York were hit particularly hard. Because of that, she said, artists have played an important role in fighting to change attitudes toward the disease and giving voice to what it means to be affected.
"Staging such an exhibition makes for educational opportunities to focus discussion on AIDS and HIV, both of which still ravage many communities around the world and both of which remain associated with stigmatizing experiences," Rizk said. "Young people who never learned about the history of the AIDS crisis may experience consciousness-raising and greater awareness about diseases, whether transmitted sexually or by any other means, such as blood transfusions, as well as to learn about the incredible UTMC Ryan White program."
The Ryan White Program at UTMC offers high-quality comprehensive care for individuals and families affected by HIV/AIDS. The program offers adult primary care, mental health counseling, case management, advocacy and HIV testing in Lucas County and the surrounding area. In 2018, the program served more than 1,000 individuals.
---