UToledo to Host Dialogue on Diversity to Discuss Domestic Violence
October 18th, 2021 by Christine Billau
The University of Toledo is continuing its Dialogues on Diversity series with a conversation about intimate partner violence in recognition of Domestic Violence Awareness Month.
The virtual event, which is the first of the academic year and 16th in the series, is titled "Intersectionality in Intimate Partner Violence" and will take place 6 p.m. Thursday, Oct. 21, on Webex.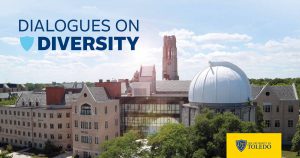 The discussion will be moderated by Dr. Angela Fitzpatrick, director of the Catharine S. Eberly Center for Women, focusing on how society does not treat all victims of abuse equally — from how social biases influence perceptions of survivors to how systemic inequities create barriers for care and assistance.
"According to the National Coalition Against Domestic Violence, one in three women and one in four men have experienced physical violence in their intimate relationships," Fitzpatrick said. "Using an intersectional lens allows us to take a closer look at how race, class, gender and sexuality shape a person's experience with intimate partner violence so that we can be better equipped to prevent this violence and support survivors."
Panelists include:
Vicky Kulicke, director of Title IX and Compliance and Title IX coordinator at UToledo;
Jamie Wlosowicz, assistant director for center operations at the UToledo Center for Student Advocacy and Wellness;
Rachael Gardner, director of domestic violence and sexual assault victim services at YWCA Northwest Ohio;
Deidra Lashley, executive director of Bethany House; and
Carolyn Wilson, training and technical assistance coordinator for BRAVO.
The UToledo Office of Diversity and Inclusion organized the event.
UToledo launched the Dialogues on Diversity series in 2020 after George Floyd was killed in Minneapolis by a police officer, sparking protests nationwide against systemic racism.
The University of Toledo is a community that celebrates and respects people of all backgrounds and experiences. As an institution, we remain committed to building an inclusive environment free of racism, sexism, bigotry and other negative influences.

Christine Billau is UT's Media Relations Specialist. Contact her at 419.530.2077 or christine.billau@utoledo.edu.
Email this author | All posts by Christine Billau
---