New Dean Selected to Lead UToledo College of Natural Sciences and Mathematics
June 1st, 2021 by Christine Billau
An astronomer and program director at a major federal funding agency will join The University of Toledo as the leader of the College of Natural Sciences and Mathematics effective Aug. 2.
Dr. Marc Seigar comes to UToledo from the National Science Foundation where he is a rotating program director in the Division of Astronomical Sciences and from the University of Minnesota at Duluth where he is a professor of physics and astronomy. He also has served as head of the Department of Physics and Astronomy and associate dean of the Swenson College of Science and Engineering at the University of Minnesota at Duluth.
"We are very pleased that Dr. Marc Seigar will be joining us as the next dean of the College of Natural Sciences and Mathematics," said Dr. Karen Bjorkman, provost and executive vice president for academic affairs. "With his familiarity with the National Science Foundation, his knowledge of interdisciplinary research and education, his research and administrative experience, and his collaborative approach, he will provide great leadership to continue to move the college forward into the future. We look forward to welcoming him to UToledo."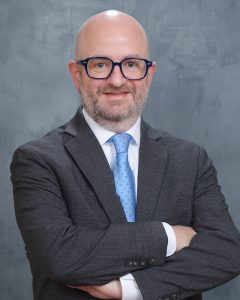 "The University of Toledo College of Natural Sciences and Mathematics is home to world-class faculty doing great things in a wide variety of fields ranging from sustainable technology and photovoltaics to water quality and astronomy," Seigar said. "It's going in a strong direction, and I want to be there to help for the future."
During his one-year rotation at the NSF, Seigar oversees grant panels in the Research Experiences for Undergraduates program, the Graduate Student Research Fellowship program, the Astronomy and Astrophysics Grants program, and the new ASCEND postdoctoral fellowship program. His portfolio of awarded grants totals more than $30 million that has gone to researchers across the country.
"I have unique experience into the kinds of cross-disciplinary research that a major federal granting agency is likely to fund," Seigar said. "Plus, with the new degree program in data science that started recently in the UToledo College of Natural Sciences and Mathematics, I think there's faculty who can tap into the NSF's Computational and Data-Enabled Science and Engineering program, which I don't think a lot of people know about."
As an astronomer, his research is focused on the structure, morphology and dynamics of galaxies and their dark matter halos and the nature of the dark matter particle.
He has been involved in research projects that have received more than $7 million in grants, one of which was a $3.7 million educational grant specifically for underrepresented minority students in STEM. The project called the North Star STEM Alliance is an alliance of four- and two-year colleges in Minnesota.
"There is a job for you if you get a STEM degree," Seigar said. "In most states across the country, they are projecting tens of thousands of jobs are going unfilled because we don't have enough graduates coming out with STEM degrees. I believe bridge programs are critical to student success, especially for underrepresented students. We need to start reaching out to students in middle school, before they reach 7th or 8th grade. We're facing big issues as a society, especially in topics related to the environment and sustainable technologies. We need to equip the next generation to continue the search for solutions."
Prior to the University of Minnesota, Seigar served as associate chair of the Department of Physics and Astronomy at the University of Arkansas at Little Rock, where he also previously worked as the department's director of graduate studies.
He also has held astronomy positions at the University of California Irvine, the U.K. Infrared Telescope in Hawaii, and the Astronomical Observatory at the University of Ghent in Belgium. He has held visiting or adjunct appointments at the Center for Space and Planetary Science at the University of Arkansas at Fayetteville, the Observatories of the Carnegie Institution for Science in Pasadena, Calif., the University of Hawaii at Hilo, and the Space Telescope Science Institute in Baltimore.
Seigar earned his Ph.D. in astrophysics from the Liverpool Astrophysics Research Institute and his bachelor's degree in physics from Imperial College.
Originally from London, Seigar moved to the United States in 2001. He and his wife Colleen have two sons: Andrew, 10, and David, 12.
Bjorkman thanked Dr. John Plenefisch for his excellent leadership while serving as interim dean since January 2019. He will return to the position of associate dean of the College of Natural Sciences and Mathematics.

Christine Billau is UT's Media Relations Specialist. Contact her at 419.530.2077 or christine.billau@utoledo.edu.
Email this author | All posts by Christine Billau
---