UToledo Student Awarded International Research Grant to Study Black Urban Agricultural Experience
August 11th, 2020 by Christine Billau
A graduate student at The University of Toledo was awarded a competitive grant to look at land use and barriers to urban agriculture in Toledo and Dayton and how it impacts African-American communities.
Brittany D. Jones, a Ph.D. candidate in the UToledo Spatially Integrated Social Science Doctoral Program in the College of Arts and Letters, is one of four winners of a 2020 MAXQDA Research for Change Grant from VERBI Software and the Global Nature Fund.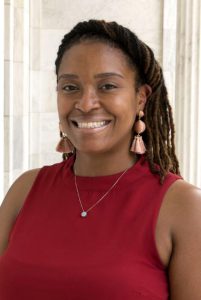 Her research project is titled "Empowerment Through Consumption: Land Banks, Land Ownership and Black Food Geographies." Her co-advisors are Dr. Neil Reid and Dr. Sujata Shetty, professors in the UToledo Department of Geography and Planning.
Jones will explore the urban agricultural experience and Black foodways in Toledo and Dayton, two Ohio cities that saw a large influx of African Americans during the Great Migration. They are also legacy cities, meaning they lost a significant amount of population and economic viability after the decline of manufacturing in the region.
In recognizing Jones as a grant recipient, VERBI noted, "We were greatly impacted by Mrs. Jones' story and how her life history has inspired her to pursue food system and sovereignty studies. With her project, she aims to uncover racialized hypocrisies embedded within both the local and global food system, which is now as relevant as ever. Mrs. Jones is a first-generation Ph.D. student in her family, and we are glad to be able to support her."
Jones said in her master's program, she began to fully understand the nutritional problems of the world she grew up in were rooted in systemic causes. In applying for the grant, Jones said she hopes her work will not only suggest solutions, but improve research methodology.
"Research for change means more than just finding solutions to a complex problem, [it] embodies the [grassroots] efforts of providing resources and realistic methods that can be easily replicated and adapted, all the while acknowledging cultural differences/expectations, which is crucial to long-term change," Jones said.
Dr. Beth Schlemper, associate professor in the UToledo Department of Geography and Planning, said she believes Jones' doctoral course work helped her win the grant.
"It makes me happy because I taught the Ph.D. students, who took advanced qualitative methods for spatially integrated social science students, how to use MAXQDA [research software], and she was inspired to use the software in her research methods and apply for this grant."
Jones agreed: "The skills I acquired through my degree program have allowed me to confidently apply for opportunities best fit for my research. It has taught me that, as a doctorate student, you are the CEO of your degree and must stand in your truth as a contributor to universal knowledge, especially as a scholar of color."
The $1,600 grant includes a two-year student subscription to MAXQDA Analytics Pro software, two online trainings with certified MAXQDA trainers, a registration waiver to the MAXQDA International Conference in Berlin, and full tech support. In addition, Jones' research will receive international exposure through MAXQDA promotions.
"This software is highly used to fully integrate qualitative data analysis into your research and is especially popular with mixed methods researchers," said Jones, who is a graduate research assistant in the University's Jack Ford Urban Affairs Center and president of the UToledo Graduate Student Association.
Read more about Jones' research project on the MAXQDA website.

Christine Billau is UT's Media Relations Specialist. Contact her at 419.530.2077 or christine.billau@utoledo.edu.
Email this author | All posts by Christine Billau
---