UToledo College of Medicine and Life Sciences, TPS to Host Virtual Discussion July 1 About Navigating Social Injustice Amidst COVID-19
June 30th, 2020 by Christine Billau
The University of Toledo College of Medicine and Life Sciences Office of Diversity and Inclusion and Toledo Public Schools Office of Equity, Diversity and Inclusion are holding a virtual roundtable titled "Navigating Social Injustices Amidst a Pandemic: Open Roundtable Discussion" from 5 to 6 p.m. Wednesday, July 1 on WebEx.
Register for and access the free, public event on the College of Medicine and Life Sciences website.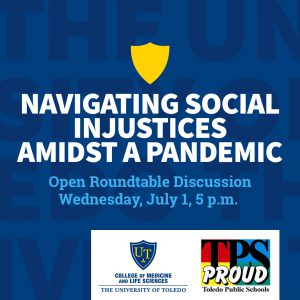 "This is an opportunity for members of the College of Medicine and Life Sciences to engage with the community and show support for Toledo Public Schools, students and parents. This aligns with our mission to serve the needs of our community outside the walls of our institution," said Dr. Kimberly Jenkins, associate dean of diversity and inclusion in the UToledo College of Medicine and Life Sciences, and a moderator of the event.
"We aim to continue the dialogue surrounding social injustice and the protests related to recent police killings, as well as discuss meaningful ways to support our young people in coping with these crises. Dealing with the tragic events of this year in the midst of a pandemic has been especially traumatic. Through this event and upcoming collaborations, we hope to strengthen our support for Toledo-area youth and their families and assure them they won't face these challenges alone."
Panelists include:
Bro. Washington Muhammad, co-founder of the Community Solidarity Response Network;
Dr. Darren Gordon, UToledo M.D./Ph.D. candidate and former national speaker of the house for the Student National Medical Association; and
Ashley Futrell, attorney and community advocate.
Moderators include Jenkins, Dr. Treva Jeffries, assistant transformational leader of equity, diversity and inclusion at Toledo Public Schools, and Dr. Hope Bland, administrator in the Office of Equity, Diversity and Inclusion at Toledo Public Schools.
"The objective of this event is to provide support to our students and staff around the current social unrest while coping with the ongoing pandemic," Jeffries said. "By including panelists from various fields, a wealth of knowledge will be gained in preparation for a successful transition into the new school year. I am confident that the panelists will provide valuable insight as to how participants can effectively work to eradicate racism in their own space."
The UToledo College of Medicine and Life Sciences has a dedicated partnership with Toledo Public Schools, including pipeline programs that provide mentoring, bring students on campus, give them support and tools for success on college admissions and academic and professional development.

Christine Billau is UT's Media Relations Specialist. Contact her at 419.530.2077 or christine.billau@utoledo.edu.
Email this author | All posts by Christine Billau
---