UToledo, Ohio State Highway Patrol to Break Ground on Public Safety Center
November 13th, 2019 by Christine Billau
The University of Toledo and Ohio State Highway Patrol have partnered together to build a new shared police facility on the southwest corner of Dorr Street and Secor Road to increase public safety and serve the community.
Leaders will break ground on the $6.5 million project 10:30 a.m. Friday, Nov. 15.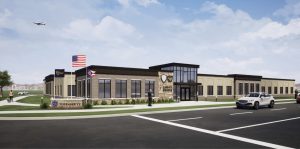 The Safety Center, which will be located on vacant land owned by UToledo across the street from campus, is expected to be completed in December 2020.
It will replace the UToledo Police Department offices in the Transportation Building and the Ohio State Highway Patrol's post on Airport Highway near Swanton.
The combined facility will have separate spaces for each department, but the agencies will share some areas, such as training rooms, interview rooms and in-custody processing space.
"We saw an opportunity to be more cost effective and build one state-of-the-art facility together, instead of two separate buildings," UToledo Police Chief Jeff Newton said. "Our new space will accommodate about 100 employees and provide more comfortable meeting space for those in need of police services; improved processing, management and storage of evidence; and better officer-wellness features like a fitness area and locker rooms with showers."
"Projects like this illustrate the power of partnerships and collaboration," Col. Richard Fambro, superintendent of the Ohio State Highway Patrol, said. "Together we can keep making a difference in the lives of others and have a positive impact on everyone we serve."
The Ohio Department of Public Safety and the Ohio State Highway Patrol are contributing $2.75 million to the project, and the University is contributing $3.75 million.
"This partnership is very important to Ohio Governor Mike DeWine and me, and we are appreciative of our strong relationship with The University of Toledo," said Ohio Department of Public Safety Director Tom Stickrath.

Christine Billau is UT's Media Relations Specialist. Contact her at 419.530.2077 or christine.billau@utoledo.edu.
Email this author | All posts by Christine Billau
---