Community invited to UToledo June 22 as part of "Take It Off, Toledo!" weight loss challenge
June 19th, 2019 by Christine Billau
The University of Toledo will offer an open house Saturday, June 22, as part of its support of the city's "Take It Off, Toledo!" wellness and weight loss challenge.
Community residents looking for an opportunity to try a ninja course, work out, and explore the UToledo Rec's wellness programs are invited to the Student Recreation Center from 10 a.m. to 8 p.m.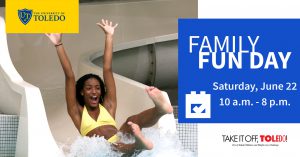 Free parking is available in lot 18.
All guests must enter through the Oak Room to sign waivers and receive wristbands. All minors must be accompanied by an adult.
From 10:30 a.m. to 1:30 p.m. on Saturday, the UToledo Student Recreation Center will offer:
Competitive You!

Ninja Challenge Course (10:30 a.m. to 1:30 p.m.).
Youthful You!

Parent/Child Yoga in Fitness Studio (10:30 a.m. to 11:30 a.m.);
Dodgeball in Auxiliary Gym (11:30 a.m. to 12:30 p.m.); and
Kickball on Carter Field (12:30 p.m. to 1:30 p.m.).
Healthy You!

Fitness Assessments in Wellness Suite (10:30 a.m. to 11:30 a.m.);
Meditation Yoga in Fitness Studio (11:30 a.m. to 12:30 p.m.);
Health Screenings (10 a.m. to noon); and
Wellness Labyrinth on Court Three (12:30 p.m. to 1:30 p.m.).
Rocky and Rocksy are scheduled to make guest appearances. Food trucks will be available from 11:00 a.m. to 2 p.m.
Community members are welcome to use the facility and its amenities between 10 a.m. and 8 p.m. Activities will include:
Climb Wall (10:30 a.m. to 4 p.m.);
Swimming (pool closes at 7 p.m.);
Basketball;
Pickleball;
Table tennis;
Volleyball;
Air hockey;
Sand volleyball (weather permitting);
Corn hole; and
Badminton.

Christine Billau is UT's Media Relations Specialist. Contact her at 419.530.2077 or christine.billau@utoledo.edu.
Email this author | All posts by Christine Billau
---