UT Conference for Aspiring Minority Youth to serve up inspiration
January 24th, 2019 by Christine Billau
"Onward and Upward: Persisting Through Barriers and Obstacles" is the theme of The University of Toledo's 35th annual Conference for Aspiring Minority Youth Saturday, Jan. 26.
Sponsored by Toledo Excel and the UT Joint Committee, the conference for seventh- and eighth-graders, high school students and parents will start at 8:30 a.m. in the Thompson Student Union Auditorium.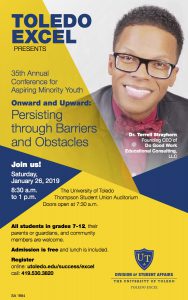 "The conference provides parents with methods to help students plan for their academic and professional futures," David Young, director of Toledo Excel and Special Projects, said. "And we teach students to anticipate potential obstacles to achieving their goals and equip them with the skills necessary to overcome those obstacles."
Dr. Terrell Strayhorn, a distinguished student success scholar, will give the keynote address.
Strayhorn is the founding chief executive officer of Do Good Work Educational Consulting LLC, and professor of urban education and interim vice president of academic and student affairs at LeMoyne-Owen College in Memphis, Tenn. The authority on equity and diversity has written several books, including "College Students' Sense of Belonging: A Key to Educational Success." He is known for using the hashtag #DoGoodWork on social media.
"Many underrepresented students find that their success is hindered by barriers and obstacles that they did not create. With this year's conference, we wanted to make it clear to them that they could be successful in spite of those barriers," Young said. "Dr. Strayhorn is nationally recognized for his work with underrepresented students, and we felt he was the ideal choice to give the keynote address."
Also scheduled to speak is Christopher Scott, founder of Reach to Teach National, an organization that provides motivational service to youth throughout the country. The Cleveland, Ohio, native is the author of "7 Secrets to Surviving College."
"Chris is someone who we are very familiar with as he is a UT alum and also worked in our Office of Admission after graduation," Young said. "We will be using his wonderful book as part of our Toledo Excel curriculum and are excited for him to lead a session for our parents and students on academic success and persistence."
Scott received a bachelor of science degree and a master of education degree in education theory and social foundations from the University in 2014 and 2017, respectively.
Toledo Excel was established in 1988 to help underrepresented students, including African, Asian, Hispanic and Native Americans, for success in college. Through summer institutes, academic retreat weekends, campus visits and guidance through the admission process, students increase their self-esteem, cultural awareness and civic involvement.
Toledo Excel is part of the Office of Multicultural Student Success, which is in the Division of Student Affairs. The UT Joint Committee includes representatives from the University, Toledo Public and Parochial schools, and civic and community leaders from the city of Toledo. The mission of the committee is to bring together people in the community interested in the education of underrepresented youth. The UT Joint Committee also serves as an advisory board and support system for Toledo Excel.
Advance reservations for the free, public conference are encouraged; visit the Toledo Excel website at utoledo.edu/success/excel or call 419.530.3820.

Christine Billau is UT's Media Relations Specialist. Contact her at 419.530.2077 or christine.billau@utoledo.edu.
Email this author | All posts by Christine Billau
---