UT to pay tribute to veterans at annual event Nov. 12
November 9th, 2018 by Christine Billau
The 14th Annual Veterans Appreciation Breakfast and Resource Fair will be held 8 a.m. Monday, Nov. 12 in Savage Arena at The University of Toledo.
Through the collaborative efforts of UT, the American Red Cross, and the Lucas County Veterans Service Commission, this breakfast and resource fair gives the community an opportunity to honor area veterans and active service members for the sacrifices they have made for the United States.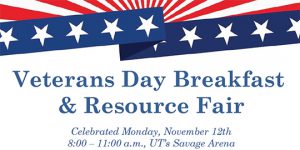 "The men and women who have served our country or who are actively serving our country are honored, respected and welcomed at The University of Toledo," UT President Sharon L. Gaber said. "These dedicated individuals are valued members of our community, and this event is one way we show our support."
"Freedom is not free; it requires service and sacrifice," said Lee Armstrong, executive director of the Lucas County Veterans Service Commission. "Today is about celebrating those brave men and woman who answered that call."
Along with a free breakfast, the event offers all local veterans, members of the military and their families access to more than 30 military-focused community resources and a drive-through car care clinic offered by Tireman Auto Service Centers.
There will be historical military vehicles and women's military uniforms on display from the Neff Military Museum in Findlay, Ohio, recognizing more than 100 years of service by females in the armed forces.
Retired Cmdr. Meghan Michael, former commanding officer of the Navy Operational Support Center, will give the keynote address at the event.
Michael served as mission commander and tactical coordinator in the P-3C Orion, deploying to the Middle East and Asia. The pinnacle of her career was flying missions in support of ground troops in Afghanistan shortly after 9/11.
She currently serves as the co-chair of the Northwest Ohio Military Affairs Committee and is the owner of HR Navigator, a company whose mission is educating small businesses on attracting, hiring and retaining veteran employees.
The program also will include some younger community members who will pay tribute to the veterans with entertainment and support. Members of the Rossford High School S.O.S. (Serving Our Soldiers) Club will greet participants and assist veterans through the breakfast line. Musical entertainment will be provided by fourth-grade students from Waterville Primary School and the UT Jazz Ensemble.
"This event is all about honoring our local heroes. We are grateful for the involvement of students from area schools to help us in this effort," said Rachel Hepner-Zawodny, executive director of the American Red Cross Northwest Ohio Chapter.
Free parking will be available in lots 3, 5 and 6 near Savage Arena.

Christine Billau is UT's Media Relations Specialist. Contact her at 419.530.2077 or christine.billau@utoledo.edu.
Email this author | All posts by Christine Billau
---