UT professor to be promoted by Army to lieutenant colonel
July 3rd, 2018 by Christine Billau
Maj. Michael Penney, professor and chair of the Military Science and Leadership Department at The University of Toledo, will be promoted by the U.S. Army to lieutenant colonel Friday, July 6.
The ceremony will take place at 11 a.m. in Savage Arena Grogan Room.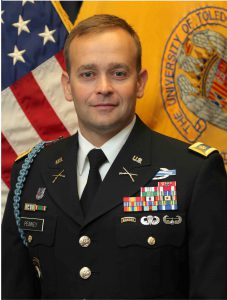 Penney is originally from North Texas and received a BBA from Midwestern State University in Wichita Falls, Texas. Since then, he has earned master's degrees from both Webster University and the Army's School of Advanced Military Science.
He was commissioned by the Army's Officer Candidate School in 2002.
Penney came to UT from Carson, Colo., where he served from 2014 to 2017. His time there included two operational deployments — to Europe and to Afghanistan.
Last July, Penney joined the UT faculty as professor and chair of military science and leadership.
Through his department chair position, Penney oversees recruiting, retention, preparation and leadership development of cadets along their path toward their goal of being awarded a commission as an officer in the U.S. Army, Army Reserves or the Army National Guard.
He also instructs Military Science and Leadership Level Four Cadets throughout their transition from Cadet to Army Officer and works directly with UT's University College and its ROTC program.
"My role as head of the ROTC program here at UT is one of the most important and rewarding jobs the Army has given to me to this point," Penney said. "Leader development is crucial in the Army of today, and having some impact on the lives of future Army leaders is one of the best jobs."
Penney will remain at UT for one more year and then take command of a battalion in South Carolina.
"This promotion to lieutenant colonel is an important one along the path to reaching my ultimate Army career goals," Penney said. "But when I think about my nearly 16 years of commissioned service, I think more of those who have helped me along the way; specifically, those who I have served alongside and those who I have had the honor to lead at some point, and, most importantly, my family."

Christine Billau is UT's Media Relations Specialist. Contact her at 419.530.2077 or christine.billau@utoledo.edu.
Email this author | All posts by Christine Billau
---