World War II veteran to graduate from UT
April 30th, 2018 by Christine Billau
At the age of 96, Robert Edgar Barger will graduate Saturday, May 5 from The University of Toledo with an associate of technical studies degree from University College.
Barger entered the military service in 1940 with the United States Navy, where he served as a commissioned naval officer, earned his naval aviator wings, and was detailed as a naval flight officer.
After returning from WWII, Barger attended the University, but left before finishing his degree so he could get a job to provide for his wife and two children.
In 2013, Barger met Navy Reserve Lt. Haraz N. Ghanbari, UT director of military and veteran affairs, when he promoted Ghanbari to the rank of lieutenant.
Ghanbari later found out that Barger had not been able to finish his degree.
After reviewing Barger's transcripts, it was determined the veteran met the requirements to graduate with an associate degree.
"We are proud to honor a member of the 'Greatest Generation' at commencement," said Dr. Barbara Kopp Miller, dean of University College. "It will be a memorable moment to see Bob receive the degree he earned and pay tribute to a veteran who served our country."
Barger has invited 100 people from his retirement community to the commencement ceremony and plans on having a large graduation party to celebrate his achievement.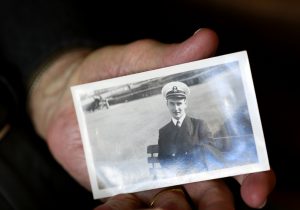 He is believed to be the oldest UT graduate.
Barger said that earning his degree is something he will be proud of for the rest of his life and is excited to accomplish something he had set out to complete many years ago.
"I thought I would never be able to accomplish this degree," Barger said. "My grandson graduated from UT, and he no longer can say he is one up on me; I have a degree, too, just took me a while!"
Barger has four grandchildren, five great-grandchildren, and four great-great grandchildren.

Christine Billau is UT's Media Relations Specialist. Contact her at 419.530.2077 or christine.billau@utoledo.edu.
Email this author | All posts by Christine Billau
---