UT to shine spotlight on LGBTQ History Month
October 3rd, 2017 by Christine Billau
The University of Toledo is celebrating LGBTQ History Month with several events this October.
The Office of Multicultural Student Success, LGBTQA+ Initiatives and Prism are dedicated to serving the needs of lesbian, gay, bisexual, transgender, questioning and allied students.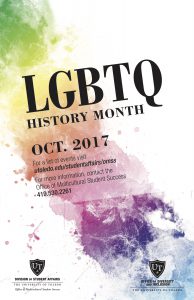 "The history and heritage months that come out of the Office of Multicultural Student Success allow for us to educate the greater campus on cultures and communities that students, faculty and staff may not have had a lot of exposure to, as well as support our students, faculty and staff on campus that belong to the cultures and communities that the months celebrate," Danielle Stamper, interim program coordinator in the Office of Multicultural Student Success, said. "Similarly to other history and heritage months, LGBTQ History Month recognizes the historical marginalization and celebrates the persistence and resiliency of the LGBTQ community."
Listed by date, events scheduled to increase awareness for LGBTQ History Month include:
Thursday, Oct. 5 — LGBTQ History Month Keynote Address: "Trans, Queer, Jewish and Fighting for Justice" by Stephanie Skora, 7 p.m., Thompson Student Union Room 2592. On her website, Skora identifies herself as a "speaker, activist, organizer, professional queer." In 2011, she came out as a trans woman. She is a staff consultant for Brave Space Alliance, an African-American-led, trans-led LGBTQ community center in Chicago; chapter leader of the Jewish Voice for Peace in Chicago; and founding organizer of the Trans Liberation Collective, a Chicago organization open to all trans people.
Tuesday, Oct. 10 — Rane Arroyo Read-In, 6 p.m., Carlson Library Room 1005. Dr. Arroyo was a Distinguished University Professor of English who taught creative writing and literature at UT from 1997 until his death in 2010. The author of 10 poetry books, six chapbooks of poetry, a collection of short stories, and a collection of plays, Arroyo won an array of writing awards, including the John Ciardi Poetry Prize, the Carl Sandburg Poetry Prize and a Pushcart Prize. Cash and check donations welcome for this free, public event; funds raised will go toward establishing UT's first LGBT scholarship.
Wednesday, Oct. 18 — Dialogue on Diversity: LGBTQA+ History Through the Decades, 6 p.m., Thompson Student Union Room 2582. This event is sponsored by the UT Office of Diversity and Inclusion.
Thursday, Oct. 19 — Prism Drag and Talent Show, 7 p.m., Student Recreation Center Oak Room.
Wednesday, Oct. 25 —Film Screening, "How to Survive a Plague," 6 p.m., Thompson Student Union Trimble Lounge. The 2012 film nominated for an Academy Award for Best Documentary Feature looks at how the AIDS Coalition to Unleash Power and the Treatment Action Group pushed for medical treatment.
Friday, Oct. 27 — Prism Halloween Ball, 8 p.m., Thompson Student Union Room 2591.

Christine Billau is UT's Media Relations Specialist. Contact her at 419.530.2077 or christine.billau@utoledo.edu.
Email this author | All posts by Christine Billau
---