Coding boot camp at UT starts July 3
June 27th, 2017 by Christine Billau
This summer The University of Toledo will host a five-week coding boot camp for people interested in learning how to write software and pursue a career in creating websites, mobile apps and video games.
The program hosted by Code City, a group of technology entrepreneurs in Toledo, is Monday, July 3 through Sunday, Aug. 6 in UT's Launchpad Incubation in the Nitschke Technology Commercialization Complex.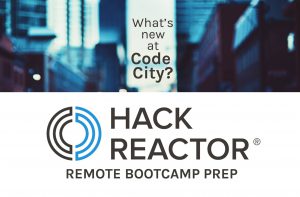 Participants will spend 30 hours per week during nights and weekends taking an online class to learn how to code.
The Toledo program, which is San Francisco-based Hack Reactor's pilot course in the Midwest, costs $250, and the registration deadline is Monday, July 3.
"This could be a fantastic opportunity for people in Toledo who want to become coders," said Nate Walke, co-founder of Code City. "At a time when we're seeing an exponential change in the tech sphere with self-driving cars, smart houses and automated everything, people who want to help build those things can learn how to do just that. They can literally build the future."
The first part of the Hack Reactor course covers JavaScript fundamentals. The rest of the curriculum covers computer science fundamentals, higher order functions, recursion and how to build a basic web application.
For more information and to register, go to codecity.co/hack-reactor-remote-2/.

Christine Billau is UT's Media Relations Specialist. Contact her at 419.530.2077 or christine.billau@utoledo.edu.
Email this author | All posts by Christine Billau
---