UT professor, students part of team selected to participate in $5 million national solar competition
June 1st, 2017 by Christine Billau
A University of Toledo physics professor and students are members of a Toledo team awarded $60,000 from the U.S. Department of Energy to participate in a $5 million prize competition called the Solar in Your Community Challenge.
The team, which is named Glass City Community Solar, aims to expand solar electricity access to low- and moderate-income residents. It's comprised of community partners, including UT, Vistula Management Co., Toledo-Lucas County Port Authority and City of Toledo.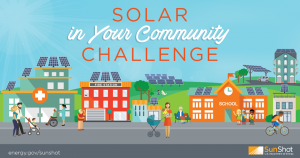 The Glass City Community Solar team is one of 35 teams nationally to be selected to receive seed funds from the U.S. Department of Energy SunShot Initiative to support project planning and to raise awareness. All teams will compete for $1 million in prizes, which will be awarded by judges based on each project or program's innovation, impact and replicability.
Over the next 18 months, Glass City Community Solar will demonstrate innovative financing for commercial solar installations.
"It is extremely exciting for us to be able to have a hand in a project that has so much potential to benefit families by reducing electric bills, as well as educating the Toledo community about the use of renewable energy," said UT student Blaine Luszcak, who is co-president of the UT student group called Building Ohio's Sustainable Energy Future.
Glass City Community Solar will develop 300 to 750 kW of photovoltaic systems on rooftops and vacant lots to serve low- and moderate-income housing across the metro Toledo area. The cost savings will reduce electricity expenses and also will support residents interested in pursuing education and training in the solar energy field.
"Our students will benefit tremendously from these real-world photovoltaic projects, as they create an extended learning lab that will result in several large, operational photovoltaic power systems," Dr. Randy Ellingson, UT professor of physics, said.
"We are thrilled that our team was selected to join the challenge," said John Kiely, president of Vistula Management Co. and the team leader of Glass City Community Solar. "Our projects will benefit the people of Lucas County, and bring The University of Toledo's leadership and passion for photovoltaic technology to real-world applications that benefit the people in our community that need it most."
Find more information about the competition at solarinyourcommunity.org.

Christine Billau is UT's Media Relations Specialist. Contact her at 419.530.2077 or christine.billau@utoledo.edu.
Email this author | All posts by Christine Billau
---