May 11th, 2022 by uteditor
Driven by a focus on firsthand perspective, Dr. Rebecca Monteleone has organized creative storytelling performances featuring artists with disabilities over the last few years in Arizona, and she is launching her first one in Ohio this month.
For two months, the assistant professor of disability studies at The University of Toledo has been working with the Lucas County Board of Developmental Disabilities' self-advocacy group SALUTE to prepare for the public performance 4 p.m. Tuesday, May 17, at the main branch of the Toledo Lucas County Public Library, 325 Michigan St.
Each speaker will perform a powerful personal story of self-advocacy and personal growth.
"There are a lot of stereotypes that exist about people with intellectual and developmental disabilities, including that they are not capable of contributing to their communities or leading happy, meaningful lives," Monteleone said. "An event like this, which features artists with intellectual and developmental disabilities talking about their relationships, friendships, advocacy work and more, proves how wrong those stereotypes are."
Monteleone has been workshopping with the artists for two hours once a week for six weeks to prepare for their debut. They began by talking about storytelling, agreed on a theme, learned how to construct a story and then developed a story for performance.
"People with intellectual and developmental disabilities have historically not had opportunities to tell their own stories, and so most often the public learns about them through the lens of professionals, caregivers and parents," Monteleone said. "This event challenges the assumption that those narratives are the only ones that exist. To open this event to the public and have it in a venue like the Toledo Public Library makes a statement: people with intellectual and developmental disabilities are part of the Toledo community and deserve to take up space in it."
---
May 4th, 2022 by uteditor
The University of Toledo Medical Center has completed its first robotic-assisted kidney transplant surgery, joining a select group of hospitals nationwide that perform the state-of-the-art procedure.
The successful surgery, completed April 12, was led by Dr. Obi Ekwenna, a transplant and urologic surgeon at UTMC and associate professor at The University of Toledo College of Medicine and Life Sciences.
"We've been doing transplantation the same way for nearly 70 years," Ekwenna said. "Only within the last 10 years have people seriously begun looking at robotics for kidney transplant. There are significant benefits for the patient, but it hasn't yet been widely adopted. We at UTMC are doing now what everyone else is aiming to do."
UTMC is the second transplant center in Ohio to offer robotic-assisted kidney transplant and one of only a handful nationwide.
Ahmadou Diallo, a nurse from suburban Indianapolis, received the kidney from his wife. Diallo had been on dialysis since 2018.
"I can't tell you how blessed I am today to have a kidney and I'm hoping to get back to normal life, to do what I used to do with my family," Diallo said.
One of the key benefits of robotic kidney surgery is how much less invasive it is than a traditional open surgery.
Rather than a large hockey stick-shaped cut, the robotic-assisted technique employs five small keyhole-size incisions for surgical instruments and 1.5-inch-wide incision to bring the donated kidney into the abdomen.
"Robotic-assisted transplantation allows for all the clinical benefits of minimally invasive surgery," Ekwenna said. "There tends to be less pain, less blood loss, a lower risk of infection and a faster recovery."
Diallo was discharged within 48 hours of his procedure, far sooner than what would be expected had he undergone a traditional open transplant.
"This hospital has done a lot for us," he said. "The care here was fantastic. All the people in the clinic were phenomenal."
UTMC's transplant program has grown significantly in recent years, going from 98 transplants in 2019 to a record 174 last year. As the program expands, Ekwenna said it's critical to continue innovating and incorporating the latest methods and technologies.
The transplant team at UTMC has been preparing and training for the groundbreaking robotic procedure for more than three years.
Ekwenna expects most future robotic transplants will be done on patients who, like Diallo, are receiving a living donor kidney and therefore are able to be planned in advance. With time, he believes the technique will be adopted more readily in deceased donor kidney transplants.
The greatest potential for robotic-assisted transplant may be in individuals who have a high body mass index. Unlike at some transplant centers, a high BMI is not on its own disqualifying at UTMC. Each patient's overall whole health is evaluated, and UTMC does perform transplants on high-BMI individuals.
However, Ekwenna said those surgeries are more challenging, take longer and tend to bring higher risk of complications like surgical site infections and wound complications.
"Robotic surgery can be a game changer for those patients," he said. "Being able to introduce the kidney through a small incision and then sew under high magnification allows us to avoid some of those challenges. We think there's a lot of potential to help more patients and improve outcomes. The entire team deserves a lot of credit for making this first procedure successful."
---
May 3rd, 2022 by uteditor
The University of Toledo Medical Center is now a Level II trauma center.
UTMC announced late last year it was seeking provisional approval to operate as a Level II trauma center. The state officially granted that request effective Tuesday, May 3.
"Our goal remains to provide the highest level of care to the Toledo community and that includes our trauma services," UTMC CEO Richard Swaine said. "Enhancing our trauma care has been an important part of our overall initiative to expand and grow UTMC, and part of our commitment to the community. We are proud of this accomplishment."
UTMC had been a Level III trauma center since August 2019. The major difference between Level III and Level II is the size of the team and the speed with which UTMC can respond to incoming trauma cases.
As a Level II trauma center, UTMC has 24-hour immediate coverage by general surgeons and orthopedic surgery, neurosurgery, anesthesiology, emergency medicine, radiology and critical care specialists.
"This new classification represents an important expansion of our capabilities for treating trauma patients," said Dr. Aela Vely, a fellowship-trained trauma surgeon and medical director for trauma and surgical critical care at UTMC. "We now have a larger team of clinicians who are readily available to address the most complex trauma cases quickly. We also now have a dedicated ICU for those trauma patients."
U.S. Rep. Marcy Kaptur and State Reps. Michael Sheehy and Lisa Sobecki wrote letters in support of UTMC's application with the state.
UTMC will operate under provisional status until its next regular review from the American College of Surgeons in the next year.
---
May 2nd, 2022 by uteditor
It's time for water-quality experts across the region to synchronize the instruments that are part of Lake Erie's early-warning system before the team splits up to deploy the technology.
Scientists and water treatment plant operators throughout the region are visiting The University of Toledo Lake Erie Center in Oregon this week to make sure equipment that measures water quality throughout algal bloom season is ready to be deployed in buoys and treatment plants across Lake Erie.
The collaboration helps to ensure conformity of data coming from the probes over the next few months.
Media are invited at 11 a.m. Wednesday, May 4, as partners in the early-warning buoy network do the calibration. Those partners include researchers from UToledo, Ohio State University and Bowling Green State University, as well as water treatment plant operators in Cleveland, Toledo, Oregon, Defiance, Elyria, Avon, Painesville, Sandusky, Lorain, Ottawa and Huron. LimnoTech, YSI and Fondriest Environmental are companies providing technology support.
A UToledo alumnus who now works for Ann Arbor-based LimnoTech as an environmental scientist is organizing the calibration event. Ken Gibbons graduated from UToledo in 2015 with a master's degree in biology.
"The first calibration event for Lake Erie sondes occurred seven years ago when I was a graduate student at The University of Toledo," Gibbons said. "I'm excited to come back to the Lake Erie Center and coordinate this effort. I grew up in Toledo, so it is especially satisfying to assist the area drinking water plants."
UToledo's water quality and sensor buoy annually rides the waves off the shore of the Maumee Bay State Park Lodge and Conference Center in Oregon. It is part of the Great Lakes Observing System's early-warning network of buoys throughout the western Lake Erie basin that provides live data vital in the assessment of harmful algal blooms.
The buoys are equipped with what is called the YSI EXO sonde, a yellow and blue instrument consisting of several probes to measure various water quality parameters, including how much blue-green algae are present, water temperature, clarity, oxygen levels, turbidity and pH.
"We go out on our research vessel at least once a week for sampling throughout the summer, but the buoys are out there all the time," said Dr. Thomas Bridgeman, professor of ecology and director of the UToledo Lake Erie Center, who has studied harmful algal blooms for two decades. "Even when it's too rough for boats to be on the lake, the buoys can alert if something is developing or changing quickly."
Bridgeman's laboratory is one of the key locations for tracking and providing early warning of harmful algal blooms in the western basin of Lake Erie.
---
April 26th, 2022 by uteditor
As their senior projects, two teams of engineering students at The University of Toledo designed indoor and outdoor walkers for a 6-year-old girl with a rare genetic disorder who weighs 22 pounds.
The graduating seniors used their problem-solving skills to help Bethany Rasmusson from Wood County live as independent a life as possible.
They'll be presenting their final prototypes alongside more than 60 other team projects as part of the College of Engineering's Senior Design Expo from noon to 3 p.m. Friday April 29, on the first floor of Nitschke Hall.
"Just from our first meeting with Bethany and her parents, we were intrigued and interested knowing that we could actually present a physical object to give her more freedom out in the world," said Alexander Enders, a senior who graduates May 7 with a bachelor's degree in mechanical engineering. "It's a great thing to be a part of and makes me excited for the future."
More than 200 students worked with local businesses, industries and federal agencies to help solve technical and business challenges, with projects ranging from a smart mailbox and a weapon detection system to a WiFi hacking system and a vibrating shoe insole that relieves foot pain.
Seniors will present their final prototypes, provide hands-on demonstrations and answer questions about their experiences at the expo.
Born with Wolf-Hirschhorn syndrome, Bethany Rasmusson of Pemberville wants to play outside with her big brother and big sister.
"Even though she is small, she's so determined," said Kelly Rasmusson, Bethany's mother. "Because of Bethany's size, it has been really difficult for us to find a walker that is safe for her. A lot of what's out there is too heavy for her to move on her own just because of her low muscle tone and her small size. We carry her and she can crawl, but outside that's a little bit difficult."
Kelly and her husband Kurt Rasmusson connected with a UToledo alumnus, who connected them with faculty in the Department of Mechanical Engineering, who put together two teams of students to use their creativity and ingenuity to help give Bethany the mobility and freedom she craves.
On Thursday, April 21, the teams had their final meeting with Bethany's family outside Nitschke Hall to test the prototypes and learn what adjustments needed to be made before the Senior Design Expo.
"It's really exciting and makes her really happy, that's for sure," Enders said. "It's great to see how well it works for the final test run, being able to have time to make alterations in the next week before we need to present our final project."
"This has been a huge blessing," Kelly Rasmusson said. "We had ideas, but the students were able to listen to what the problems were and fix them. We are so thrilled they were willing to take this on and make a walker that is light enough that she's able to move around in and give her that freedom because that's really what she wants. She wants to keep up with what everyone else is doing. It has been really humbling and heartwarming to see that these students were so eager to help her. We never, ever expected anything like this."
Visit the College of Engineering website for information about all of the teams, projects and sponsors.
---
April 22nd, 2022 by uteditor
An interactive art exhibit curated by an art faculty member at The University of Toledo will be on display in Carlson Library through April 29  to facilitate community participation.
Barbara Miner, professor and chair of the Department of Art, along with community artist/author Lee Fearnside and Dr. Ashley Pryor Geiger, associate professor of humanities, helped develop the collaborative, interdisciplinary artwork that combines art, writing and social justice.
The exhibit, titled "The Holding Project," was created in response to the rise of anti-Asian American and Pacific Islander violence and a sense that art could provide a space for community dialogue about feelings of safety and unsafety, and how these feelings about community shape and impact the lives of individuals.
"The Holding Project" is a large-scale concertina book composed of pages containing messages from people from all walks of life. Cards provided near the book ask each responder, "What makes you feel safe?" and "What makes you feel unsafe?".
"The anonymous responses are not generic, but often deeply personal and tell the unvarnished, uncurated story of a community," Miner said. "Some express outrage, fear and hatred. But most speak of love, family and respect for others."
Initially, the exhibit was displayed at all 20 branches of the Toledo Lucas County Public Library where responses were collected. The curated book also was displayed at the Toledo Museum of Art Library in the UToledo Center for the Visual Arts, as well as the downtown arts celebration, Momentum, in September.
Miner said the project will continue to grow and share responses, continuing the dialogue that the project has begun. Smaller versions of the book will be presented to the library locations which generated responses. Eventually, the project will migrate into the digital space to make it available to an even larger, more diverse audience.
---
April 21st, 2022 by uteditor
The author of the book "Financial Cold War: A View of Sino-US Relations from the Financial Markets" will give a free, public lecture at The University of Toledo Law Center to discuss how international finance intersects with geopolitics and the role financial markets play in the rivalry between China and the U.S.
The event featuring James Fok is 6 p.m. Friday, April 22, in the McQuade Law Auditorium. Book sales and signing start at 5:30 p.m.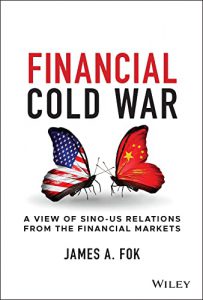 Fok, whose book was published in December, is a financial and strategic adviser to corporations and governments. He served as a senior executive at Hong Kong Exchanges and Clearing from 2012 to 2021.
Free guest parking will be available during the event in area 12.
Visit the College of Law website for more information about the event.
---
April 20th, 2022 by uteditor
The University of Toledo is hosting its first "Ohio Cannabis Symposium for Attorneys, Medical Professionals and Entrepreneurs."
"The business, employment and tax opportunities from cannabis are significant, as the market's revenue is $150 billion annually," said Brandon Cohen, senior lecturer in the John B. and Lillian E. Neff College of Business and Innovation. "This revenue and corresponding tax dollars provide significant wealth creation and resources for employment and social programs in the states where it is legal."
The symposium, which will take a deep dive into the legal, ethical, scientific and business aspects of cannabis, is from 7:30 a.m. to 4:15 p.m. Friday, April 22, in the Thompson Student Union Auditorium.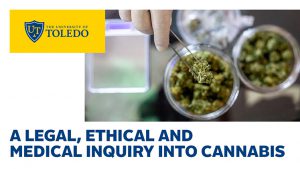 "The symposium provides a strong academic foundation for attendees to understand the history, legal, ethical, entrepreneurial and medical arguments for and against cannabis legalization," Cohen said.
Pete Kadens, co-founder and former CEO of Green Thumb Industries and a Toledo native, will serve as keynote speaker for the event. Green Thumb Industries is currently the second-largest cannabis company in the world with a market capitalization of more than $6 billion.
Six CLE and CME credits will be awarded to attorneys and medical professionals in attendance.
A registration fee of $25 is required, which covers the cost of lunch and refreshments.
Visit the event's website to register and view the agenda.
---
April 18th, 2022 by uteditor
One year after competing on Discovery's Shark Week series "Shark Academy," an alumnus of The University of Toledo will return to campus to speak at spring commencement ceremonies Saturday, May 7, in Savage Arena.
Randy Thomas, a wildlife technician with the U.S. Geological Survey (USGS) in southern California who graduated from UToledo in 2019 with a bachelor's degree in environmental sciences, will address 1,889 candidates for undergraduate degrees — 1,840 bachelor's and 49 associate's candidates. The undergraduates will be split into two ceremonies: 9 a.m. and 1 p.m.
The University's graduate commencement ceremony and doctoral hooding are scheduled for 6 p.m. Friday, May 6, in Savage Arena, and will commemorate 819 candidates for doctoral, education specialist and master's degrees as well as graduate certificates. Dr. Rhonda Foster, an alumnus of the UToledo College of Nursing and healthcare consultant and leader, will be the keynote speaker.
Tickets are required for admission.
"Rocket Nation is excited to celebrate our newest alumni and their successful academic journey as members of the Class of 2022 — a historic year as The University of Toledo celebrates 150 years of serving students and our community," said UToledo President Gregory Postel. "We also are pleased to welcome successful alumni back home to share their experiences and insight to inspire our graduates and their families."
Thomas, the speaker for the undergraduate ceremonies, is a wildlife researcher and educator whose passion for animals and endangered species has taken him to land and water habitats around the world, while working with government, private and nonprofit organizations committed to conservation.
Currently working for the USGS, Thomas conducts field and lab research on the endangered Mojave Desert tortoise and the surrounding desert habitat. In addition to his research, Thomas develops scientific and public awareness communications related to the USGS conservation efforts and educational programs.
At the Bimini Biological Field Station Shark Lab in the Bahamas, Thomas tagged sharks as part of research into population dynamics, movement patterns and behavior. He also serves as an ambassador and instructor with "Sharks4Kids," a nonprofit organization that specializes in creating a new generation of shark advocates through access to a dynamic range of educational materials and experiences.
In 2021, Thomas was selected to participate in Discovery's "Shark Academy" and worked on a research vessel for six weeks with a team of scientists engaged in great shark diving expeditions and research on one of the world's most fascinating predators.
Thomas has taught water safety skills to children in Japan, worked for the U.S. Department of Defense in Bahrain as a child youth program coordinator and served as a marine science educator with the Pigeon Key Foundation in Key West.
Foster, the graduate ceremony speaker, is a widely published healthcare consultant and leader who has served as an executive officer at leading academic medical centers, community hospitals and healthcare systems. With an expertise that focuses on the development of leadership cultures that support inclusion and engagement, she has provided executive consulting on quality improvement and transformational change in healthcare organizations across the United States and internationally in Brazil, Abu Dhabi and Qatar.
Foster has served as vice president for clinical services and chief nursing officer at Children's Hospital of Los Angeles; interim senior vice president and chief nursing and patient services officer at City of Hope National Medical Center; interim chief nursing officer at St. Joseph Health Sonoma County; vice president of patient care services and chief nursing officer at Children's Hospital of Michigan; and assistant vice president of women and children's services at Mercy Health – St. Vincent Medical Center in Toledo.
Foster has served on a variety of regional, state and national advisory boards, including the Lucas County Mental Health Board, the Ohio Advisory Committee for the Maternal and Child Health Block Grant and the American College of Healthcare Executives Northwestern Ohio Advisory Board of Regents.
In 2019 Foster received the Outstanding Alumnus Award from the UToledo College of Nursing and in 2021 she was recognized by the Los Angeles Business Journal as a Women of Influence in Healthcare.
Foster earned an Ed.D. from Bowling Green State University, a master of science degree in nursing administration from Georgetown University, a master of public health degree from the Northwest Ohio Consortium for Public Health and a bachelor of science degree in nursing from UToledo.
UToledo's spring commencement ceremonies will recognize graduates from the colleges of Arts and Letters; John B. and Lillian E. Neff College of Business and Innovation; Judith Herb College of Education; Engineering; Graduate Studies; Health and Human Services; Natural Sciences and Mathematics; Nursing; and University College.
The College of Pharmacy and Pharmaceutical Sciences will host its commencement ceremony 6 p.m. Saturday, May 7, in Savage Arena.
The College of Law will host its commencement ceremony 1 p.m. Sunday, May 8, in Savage Arena.
The College of Medicine and Life Sciences will hold its commencement ceremony 2 p.m. Friday, May 20, in Savage Arena.
---
April 15th, 2022 by uteditor
The University of Toledo will upgrade its on-campus living options for students through a new collaboration with a national student housing partner.
The UToledo Board of Trustees approved during its Wednesday meeting for University leadership to move forward with expanding its relationship with Collegiate Housing Foundation and American Campus Communities, which developed and manages Honors Academic Village on the northwest corner of Main Campus.
"We are looking forward to this opportunity to allow UToledo to significantly upgrade our campus residence halls in response to what our current students have asked for and what prospective students are looking for," UToledo President Gregory Postel said. "We look forward to partnering with these leaders in the student housing industry to transform the on-campus living experience for our Rockets."
The 35-year ground lease agreement will invest between $184 and $271 million, depending on changing market costs, in upgrades to campus residence halls and addressing deferred maintenance and existing debt. Collegiate Housing Foundation and American Campus Communities responded to a request for proposals process for UToledo's campus housing operations.
Approximately $100 million will be capital investments in campus residence halls, beginning with a deep renovation of Presidents Hall.
The Presidents Hall renovation will take place during the next two years transforming the living spaces and providing increased flexibility with four-person, six-person and eight-person suites that feature modern design and furnishings, and the addition of kitchenettes. An addition to the building also is planned to add even more flexibility with single and double rooms for students looking to have that living option.
Multipurpose spaces also will be added for more study and social spaces in the building. University leaders have held several focus groups with students and are seeking additional input on what students want to see in the renovated building that is expected to open in fall 2024.
Plans will be developed to renovate UToledo's additional residence halls through the partnership, which include International House, MacKinnon Hall, McComas Village, Ottawa Hall and Parks Tower. UToledo plans to close Academic House.
---