June 8th, 2021 by Christine Billau
A team of engineers in The University of Toledo College of Engineering is working with NASA's Jet Propulsion Laboratory to more reliably power spacecraft using the sun's energy on future missions to Mars and the moon.
The electricity generated by solar panels aboard a spacecraft is used to provide power for a number of systems, including propulsion and navigation.
Before the solar-derived electricity is integrated with those systems, it must first pass through an intermediary circuit, or a "power converter," that conditions the electricity coming from the solar panel so that it is compatible with the propulsion and navigation systems.
However, cosmic rays that float in space and contain ions are disrupting the performance of this power converter, causing radiation-related failures.
NASA awarded Dr. Daniel Georgiev and Dr. Raghav Khanna, both associate professors in the Department of Electrical Engineering and Computer Science, a three-year, $240,000 grant to investigate how to make the power conversion circuitry more resilient and tolerant to space-related radiation, which degrades its performance and results in power loss and system downtime.
"We are honored and excited that our research will contribute to NASA's goal of putting more exploratory devices and electrical power on Mars," said Khanna, who has done prior work with NASA on power electronics and semiconductor studies. "Ever since I was a kid, it has been a dream to work with NASA and maybe someday walk on the moon like Neil Armstrong."
Using a solar array simulator in their laboratory, high-speed precision computers and guidance from NASA, Georgiev and Khanna are modeling why the circuits are failing.
The simulator emulates the characteristics of solar arrays used in space and provides power to a power converter circuit built by the UToledo team and NASA engineers.
"We're analyzing how the radiation penetrates the circuit and what causes these devices to degrade," Georgiev said.
At the same time, the team will study the degradation mechanisms in a particular application relevant to NASA by developing a power converter that allows the solar panels aboard NASA spacecraft to continuously extract maximum power from available sunlight.
"As the spacecraft is moving around and goes behind a celestial body, maximum available power tends to change rapidly," Khanna said. "On the moon, lunar dust can also obscure the panel from the sun, leading to rapid changes in available power. Whether in deep space or in lunar missions, we need to develop a control algorithm to make sure we can always extract maximum available power from solar panels at a much greater efficiency while exhibiting improved radiation tolerance, allowing uninterrupted exploration."
---
June 1st, 2021 by Christine Billau
An astronomer and program director at a major federal funding agency will join The University of Toledo as the leader of the College of Natural Sciences and Mathematics effective Aug. 2.
Dr. Marc Seigar comes to UToledo from the National Science Foundation where he is a rotating program director in the Division of Astronomical Sciences and from the University of Minnesota at Duluth where he is a professor of physics and astronomy. He also has served as head of the Department of Physics and Astronomy and associate dean of the Swenson College of Science and Engineering at the University of Minnesota at Duluth.
"We are very pleased that Dr. Marc Seigar will be joining us as the next dean of the College of Natural Sciences and Mathematics," said Dr. Karen Bjorkman, provost and executive vice president for academic affairs. "With his familiarity with the National Science Foundation, his knowledge of interdisciplinary research and education, his research and administrative experience, and his collaborative approach, he will provide great leadership to continue to move the college forward into the future. We look forward to welcoming him to UToledo."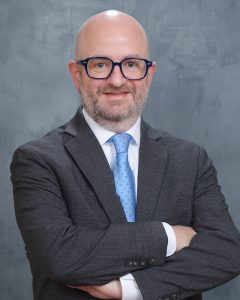 "The University of Toledo College of Natural Sciences and Mathematics is home to world-class faculty doing great things in a wide variety of fields ranging from sustainable technology and photovoltaics to water quality and astronomy," Seigar said. "It's going in a strong direction, and I want to be there to help for the future."
During his one-year rotation at the NSF, Seigar oversees grant panels in the Research Experiences for Undergraduates program, the Graduate Student Research Fellowship program, the Astronomy and Astrophysics Grants program, and the new ASCEND postdoctoral fellowship program. His portfolio of awarded grants totals more than $30 million that has gone to researchers across the country.
"I have unique experience into the kinds of cross-disciplinary research that a major federal granting agency is likely to fund," Seigar said. "Plus, with the new degree program in data science that started recently in the UToledo College of Natural Sciences and Mathematics, I think there's faculty who can tap into the NSF's Computational and Data-Enabled Science and Engineering program, which I don't think a lot of people know about."
As an astronomer, his research is focused on the structure, morphology and dynamics of galaxies and their dark matter halos and the nature of the dark matter particle.
He has been involved in research projects that have received more than $7 million in grants, one of which was a $3.7 million educational grant specifically for underrepresented minority students in STEM. The project called the North Star STEM Alliance is an alliance of four- and two-year colleges in Minnesota.
"There is a job for you if you get a STEM degree," Seigar said. "In most states across the country, they are projecting tens of thousands of jobs are going unfilled because we don't have enough graduates coming out with STEM degrees. I believe bridge programs are critical to student success, especially for underrepresented students. We need to start reaching out to students in middle school, before they reach 7th or 8th grade. We're facing big issues as a society, especially in topics related to the environment and sustainable technologies. We need to equip the next generation to continue the search for solutions."
Prior to the University of Minnesota, Seigar served as associate chair of the Department of Physics and Astronomy at the University of Arkansas at Little Rock, where he also previously worked as the department's director of graduate studies.
He also has held astronomy positions at the University of California Irvine, the U.K. Infrared Telescope in Hawaii, and the Astronomical Observatory at the University of Ghent in Belgium. He has held visiting or adjunct appointments at the Center for Space and Planetary Science at the University of Arkansas at Fayetteville, the Observatories of the Carnegie Institution for Science in Pasadena, Calif., the University of Hawaii at Hilo, and the Space Telescope Science Institute in Baltimore.
Seigar earned his Ph.D. in astrophysics from the Liverpool Astrophysics Research Institute and his bachelor's degree in physics from Imperial College.
Originally from London, Seigar moved to the United States in 2001. He and his wife Colleen have two sons: Andrew, 10, and David, 12.
Bjorkman thanked Dr. John Plenefisch for his excellent leadership while serving as interim dean since January 2019. He will return to the position of associate dean of the College of Natural Sciences and Mathematics.
---
June 1st, 2021 by Christine Billau
Dr. Joey Kim's first book of poetry has poetic timing as Asian Americans have been targets of violence across the U.S. during the COVID-19 pandemic.
Venturing through Korean history, the feminine body, U.S. foreign policy and coming-of-age in midwestern America, Kim's "Body Facts" will be released by Diode Editions on Tuesday, June 15, after winning an international publication contest last year.
"It's urgent," said Kim, assistant professor in the Department of English Language and Literature in The University of Toledo College of Arts and Letters. "Asians have been here in the U.S. since the 1500s, but it hasn't been until recently that there has been a national reckoning of Asian Americans as not perpetual foreigners."
Writing the poems over the last 13 years was therapeutic for the Asian American scholar.
Using tweets from former President Donald Trump and comments from childhood neighbors and classmates, Kim found a place to unpack her identity, the double consciousness of growing up in two cultures at once, the accrual of racist encounters, and the historical and generational impacts of war and colonization.
"My collection is able to put a face and a name and a story to these voices," Kim said. "These voices speak back to a history of Asian American representations that have largely been essentializing and stereotypical."
Kim grew up in Ohio as the daughter of doctors, who were immigrants from South Korea, and speaking Korean as her first language.
She wanted to be a writer, not a doctor, while white neighbors and classmates wanted to know where she was really from.
From the poem "Orientalism," Kim quotes childhood classmates on the school bus:
"Where are you really really from?
Haha, you eat dog and monkey brain!
Why does your lunch smell like feet?
Your face is flat like a plate! Ching-chong Donkey Kong!"
How do I get to where I really came from, if I've only ever been here, in Ohio?
In the same poem, she quotes Trump's response after being asked by a reporter whether he plans to attack North Korea.
"We'll see" —
If this land is a land for me, and the ones like me who can only spectate in
spectral horror — while he tweets us into oblivion.
"My poems speak to psychological effects of growing up in places where you always have to try to maneuver these different cultures," Kim said.
"Plunder," one of the poems in the collection, has already been nominated for a Pushcart Prize, a prestigious national literary award given out annually since 1976.  Kim also won first place in the Art Commission's 2020 Merit Awards.
"The inspiration behind 'Plunder' is the dispossession of Korean land and bodies during the Japanese occupation and Korean war, which is still technically ongoing," Kim said. "The poem interlaces the speaker's childhood memories, American plastic surgery experimentation on Korean subjects, and the fetishization of women's faces and bodies as objects to be modified and plundered."
In her collection, Kim writes from different perspectives of the body — body as human and the pressures people place on their bodies, or body as land, the Korean Peninsula, to be exact.
"We are still occupied by U.S. forces and in the shadow of American imperialism," Kim said. "In one of the poems, I talk about the Trump era of Korean discourse and our sense, as Korean Americans, of feeling stereotyped with North Korean dictatorship."
The poetry expands beyond "slurs," "slit eyes" and foreign policy. When Kim talks about the body as a site of celebration and trauma, she also is reflecting on the brain hemorrhage and traumatic brain injury she suffered while skateboarding in May 2015.
She had only been skateboarding for a couple months while in graduate school at Ohio State University before she became a Ph.D. candidate when she took off her helmet and tried to go down a hill at a skatepark by herself.
"I was in the ICU for 11 days. At first, the doctors told my family I most likely wouldn't be able to walk or talk in the same way again," Kim said. "Because of my youth, I had, in the words of my neurosurgeon, a 'miraculous' recovery. My hearing is back, too."
"Our bodies hold and hide our histories," said Min Jin Lee, author of "Free Food for Millionaires" and "Pachinko," a National Book Award Finalist. "Line by line, Joey Kim breaks us open to expose our yearnings, secrets, and untold treasures, saving us from our own fortress of history, propriety, and shame. Kim's 'Body Facts' is our needed revelation."
"Kim's work, from multiple angles, portrays the ways in which peace and beauty are forced to find new escapes from tyrants and the fallouts of their power," said Marcus Jackson, author of "Pardon My Heart," the 2019 Ohioana Book Award winner for poetry. "Kim admirably illustrates present and historical threats, all while rendering the ageless brilliance of family and spirit."
---
May 26th, 2021 by Tyrel Linkhorn
The University of Toledo, home to the nation's only undergraduate program in cosmetic science and formulation design, will host a virtual summer camp for high school students who wish to learn how makeup and personal care products are made.
The two-day camp is scheduled for Wednesday, June 23, and Thursday, June 24. Registration is open until Friday, June 4.
Created and led by Dr. Gabriella Baki, director of the Cosmetic Science and Formulation Design Program and associate professor of pharmaceutics in the College of Pharmacy and Pharmaceutical Sciences, the camp will offer interactive sessions and hands-on activities in which participants will learn the science behind their own health and beauty products.
The camp also will provide an overview of both the industry and UToledo's unique baccalaureate program.
Established in 2013, the Cosmetic Science and Formulation Design Program teaches students how to design, produce, test and market cosmetics and personal care products.
"Our program is truly a mixture of science, art and business. We really focus on preparing our students for a wide variety of jobs within the industry," Baki said. "This virtual camp is a great way to introduce high school students to the many opportunities this field provides."
The camp also will feature presentations and virtual facility tours from several nationally known brands and major industry players, including Bath and Body Works, Estée Lauder, Wacker and Elevation Labs, as well the Society of Cosmetic Chemists.
"Since the camp is virtual, we are recruiting high school students from all states of the U.S," Baki said. "This allows the college and the cosmetic science program to cast our net wider and spark students' interest in chemistry, specifically cosmetic chemistry, from a broader region."
Camp activities will include a virtual scavenger hunt and a panel of alumni of the Cosmetic Science and Formulation Design Program who will share their academic and professional experiences.
Each participant will receive a camp box that will include supplies and samples used in interactive and hands-on sessions and a camp T-shirt.
The camp registration fee is $100 per camper, with financial assistance available.
For more information about and to register for the 2021 Cosmetic Science and Formulation Design Virtual Summer Camp, visit the camp's website.
---
May 12th, 2021 by Christine Billau
The U.S. Army Corps of Engineers awarded researchers at The University of Toledo $1.4 million to develop enhanced technology for early detection and management of harmful algal blooms, Lake Erie's environmental menace and a worldwide problem.
Dr. Youngwoo Seo, professor of civil and environmental engineering and chemical engineering in the UToledo College of Engineering, leads the three-year project to improve water quality from the source to the tap.
Some of the technology and techniques being tested by UToledo are new to water treatment plants in the western hemisphere. Water treatment plants in northwest Ohio are collaborating on the project along with the U.S. Environmental Protection Agency, Ohio State University and Sepro Inc. Participating municipal water treatment plants include Toledo, Bowling Green, Celina and Oregon.
The project features two different parts working together:
Advanced monitoring sensors and molecular genetic analyses to enhance early harmful algal bloom detection and real-time condition diagnostic capability; and
Nature-inspired biological treatment methods coupled with algaecides to attack cyanobacteria and degrade toxins produced by cyanobacteria.
"We are excited that our proposed method and new techniques can make real changes for water utilities and the water quality in the lake," Seo said. "It has great potential to be a more sustainable way to handle the cyanobacteria and their toxins."
"Harmful algal blooms are a growing and costly problem affecting the nation," said Dr. Jen Seiter-Moser, the U.S. Army Engineer Research and Development Center's acting technical director for civil works, environmental engineering and sciences. "At ERDC, we benefit from collaboration with other federal, academic and industry partners. We're looking forward to working with our UToledo partners to find solutions that can be applied regionally and then scaled up for nationwide application."
Dr. Thomas Bridgeman, professor of ecology in the UToledo College of Natural Sciences and Mathematics and director of the UToledo Lake Erie Center, will lead the monitoring. First, he will test new instruments called fluoroprobes in the lab using algal cultures. The second stage will be to use them in Lake Erie, and finally work with water treatment plants to incorporate these instruments as part of their source water monitoring.
The sensors can detect the health, or physiological condition, of the cyanobacteria — whether the cyanobacterial cells are becoming fragile and leaky, releasing their toxins into the water — along with the concentration of cyanobacteria and how blooms react to water treatment chemicals.
"These monitoring sensors made by the German company bbe Moldaenke are capable of easily detecting when cyanobacterial cells are starting to rupture, which could be a powerful tool for water utility managers to respond to and minimize toxin release," Bridgeman said.
Dr. Dae-Wook Kang, assistant professor of civil and environmental engineering in the UToledo College of Engineering, will lead a molecular approach to develop a robust detection method. He will obtain rich microbial DNA, RNA and metabolomic information from samples, which can be an indicator of cell metabolism, and try to better identify the biomarker for the harmful algal bloom.
"Harmful algal blooms are outcomes of a complex network between cyanobacteria and neighboring competitors such as cyanophages and eukaryotes. By integrating these dynamic microbiome data together with sensor and water chemical data, we aim to develop an early and rapid detection tool of harmful algal blooms," Kang said.
"In the lake we have harmful algal blooms but also other bacteria that interact with each other," Seo said. "Sometimes cyanobacteria don't produce high concentrations of toxins even when the bloom is large. Sometimes we have a small bloom, but have high concentrations of toxins."
Kang is using molecular techniques to decipher how the water conditions affect algal blooms and the bloom conditions and how other microorganisms in the water interact with cyanobacteria and impact bloom conditions.
That analysis will help better understand what triggers the toxin gene production of cyanobacteria.
Seo is focused on mitigation and the treatment method for toxin removal. His lab is working on biological degradation of cyanobacteria and their toxins using the naturally occurring bacteria and viruses from the lake and NSF-approved chemical treatments.
"Once we detect the harmful algal bloom, we will try to reduce the algal bloom in early stages, using bacteria and algicide treatments of the cyanobacteria and their toxin directly in the lake to control the toxin from spreading," Seo said. "We are collaborating with microbiologists at the Ohio State University who have isolated different viruses of the cyanobacteria, and we are evaluating their effectiveness to control the harmful algal bloom."
Seo says the goal is to introduce new techniques to mitigate the harmful algal blooms through early detection and work with water treatment plants to optimize and improve their treatment methods.
---
May 5th, 2021 by Christine Billau
The Class of 2021 will walk across the stage in the Glass Bowl to celebrate receiving their degrees this weekend.
The University of Toledo will hold multiple in-person commencement ceremonies to celebrate graduates in person while also adhering to COVID-19 safety protocols.
UToledo spring commencement ceremonies will be held at 10 a.m. and 3 p.m. Saturday, May 8, in the Glass Bowl.
The 10 a.m. ceremony recognizes graduates from the colleges of Engineering; Health and Human Services; Nursing; and University College.
The 3 p.m. ceremony recognizes graduates from the colleges of Arts and Letters; the John B. and Lillian E. Neff College of Business and Innovation; Judith Herb College of Education; and Natural Sciences and Mathematics.
The commencement events commemorate 1,964 candidates for bachelor's degrees, 703 candidates for master's degrees, 52 candidates for associate's degrees, 12 candidates for educational specialist and 45 candidates for graduate certificates.
Plus, 302 graduates from the Class of 2020 who earned their degrees during the coronavirus pandemic are scheduled to return to campus to participate in the May ceremonies.
Graduating students are split into groups for the separate ceremonies and guests are limited with tickets required for admission. All attendees will be required to wear face masks and keep at least 6 feet from others not in their household.
"We're excited to have the opportunity to provide our graduates with an in-person celebration," UToledo President Gregory Postel said. "Our Rockets continue to demonstrate focus, perseverance and strength through their academic success, despite the challenges presented by COVID-19 during the last year. We look forward to celebrating the Class of 2021's achievements and resilience at our in-person spring commencement ceremonies."
The ceremonies also will be streamed live online at utoledo.edu/commencement.
UToledo alumna Irma Olguin, Jr. will remotely deliver the keynote address at the ceremonies.
Olguin is co-founder and chief executive officer of Bitwise Industries in Fresno, Calif. She graduated in 2004 from the UToledo College of Engineering with a bachelor's degree in computer science and engineering and went on to blaze a trail of inclusivity for women and minorities in the tech industry.
In March, Bitwise Industries announced it is investing in Toledo. Olguin's tech company plans to open a branch in in the Jefferson Center building, Toledo's historic former post office, to provide paid apprenticeships to students from diverse and underserved communities to learn tech skills.
"Ms. Olguin is an outstanding UToledo alumna making an incredible impact on the world," said Dr. Karen Bjorkman, provost and executive vice president for academic affairs. "We are pleased to welcome the entrepreneur as our commencement speaker to inspire our newest alumni as they receive their degrees."
The College of Pharmacy and Pharmaceutical Sciences held its separate in-person ceremony last weekend.
College of Law Commencement is 10 a.m. Saturday, May 15, in Savage Arena.
College of Medicine and Life Sciences Commencement is 3 p.m. Friday, May 21, in Savage Arena.
And those receiving doctoral degrees will have the opportunity to participate in a separate hooding ceremony at 6 p.m. Friday, May 7, in Savage Arena.
---
May 4th, 2021 by Christine Billau
Astronomers at The University of Toledo were selected by NASA to lead five of the first research projects on the James Webb Space Telescope, a new infrared telescope scheduled to launch in October.
One of the projects is led by a UToledo graduate student.
"While it's exciting for our program to have five accepted proposals in the first observing cycle of this highly competitive, next-generation space telescope, the real thrill came from Ph.D. Student Thomas Lai's success with his proposal targeting a unique starburst galaxy," said Dr. J.D. Smith, director of UToledo Ritter Astrophysical Research Center and professor of astronomy.
Students lead 8.7% of selected proposals, according to the Space Telescope Science Institute.
Lai, who is scheduled to graduate in May with a doctorate in physics and astronomy, is leading an international team of 10 other researchers on a project titled "How Do the Small Survive." They will observe a galaxy called II Zw 40 that is roughly 33 million light years away from Earth and hosts one of the most intensive star-forming regions in the local universe.
"I feel extremely fortunate to have the opportunity to use this flagship NASA space observatory," Lai said. "Using the power of the James Webb Space Telescope we will be able to study how dust behaves near the sites of intense star formation with unprecedented high spatial resolution. Ultimately, we would like to answer the questions on why and how small dust grains survive in the universe despite strong radiation fields produced by newly formed young stars."
UToledo is ranked No. 6 among all institutions worldwide in terms of successful proposals for the first cycle of the James Webb Space Telescope.
From more than 1,000 submitted proposals, NASA selected 286 projects to address a wide variety of science areas. Proposals are split into eight different categories – planets, stars and galaxies, for example.
"Nearly 20% of the star time is going to UToledo because of our large programs in that category," said Dr. Michael Cushing, professor of physics and astronomy and director of UToledo Ritter Planetarium. "Of the 740 hours awarded in the category of Stellar Physics and Stellar Types, 140 hours went to UToledo."
Cushing is leading a project titled, "Bolometric Luminosities of Cool Brown Dwarfs: The Key to Their Effective Temperatures and the Mass Function."
"The initial year of Webb's observations will provide the first opportunity for a diverse range of scientists around the world to observe particular targets with NASA's next great space observatory," said Dr. Thomas Zurbuchen, associate administrator for the Science Mission Directorate at NASA. "The amazing science that will be shared with the global community will be audacious and profound."
UToledo-led projects also include:
"Vanishing Act: PAHs and Heavy Element Abundance in M101" by Smith;
"Come Out, Come Out, Wherever You Are: Seeking All the Massive Young Clusters Hidden in the Antennae" by Dr. Rupali Chandar, professor of astronomy; and
"Investigating Protostellar Accretion Across the Mass Spectrum" by Dr. Tom Megeath, professor of physics and astronomy.
"The James Webb Space Telescope is going to completely transform our understanding of galaxies, star formation and ultra-cool stars, and UToledo astrophysicists have real strengths in these research areas," Smith said. "Our group is also deeply experienced in exploiting JWST's long infrared wavelengths of light to study the cold, dust-veiled universe. Now all our eyes are on the space telescope's Halloween launch later this year."
Webb will begin observing the universe in 2022 after the spacecraft unfolds, travels a million miles and checks the functioning of all of its instruments.
"We are opening the infrared treasure chest, and surprises are guaranteed," said Dr. John C. Mather, senior project scientist for the Webb mission and senior astrophysicist at NASA's Goddard Space Flight Center in Greenbelt, Md. "How did the universe make galaxies, stars, black holes and planets, and our own very special little Earth? I don't know yet, but we are getting closer every day."
General observer time with Webb is extremely competitive. As a result, the proposal selection process conducted by the Telescope Allocation Committee is both rigorous and meticulous. The committee was comprised of nearly 200 members of the worldwide astronomical community who were assigned to 19 different panels covering broad scientific topics.
Using dual-anonymous review, where the identities of the proposing investigator and team were concealed, the scientific merit of each proposal was evaluated and ranked. The final, ranked list of selected proposals was presented to the Space Telescope Science Institute's Director, Dr. Kenneth Sembach, for review and approval.
"The first observing cycle with a new observatory is always special, especially one as powerful and highly anticipated as Webb. We had an incredibly interesting couple of weeks of intense proposal reviews during which the reviewers did a great job of sorting through and ranking all the possible science cases proposed. I commend them for their hard work, especially under pandemic conditions," said Sembach. "I'm very pleased to be able to approve such a strong science program for the observatory. These observations are going to provide stunning views of the universe and lead us in new investigative directions that will set the stage for decades of research."
---
April 30th, 2021 by Meghan Cunningham
The University of Toledo President Gregory Postel will deliver his inaugural State of the University Address via video on Monday, May 3.
The 2021 State of the University speech entitled "Inspiring Hope: UToledo's Brightest Days are Ahead" will be published online and shared with the campus community via email at 3 p.m.
"We faced one challenge after another this past year, but we never lost sight of that which unifies us — the human factor," Postel said. "We all faced unforeseeable challenges, but through it all, we witnessed the very best in our campus community. Our UToledo students, faculty, staff and physicians have proven their resilience time and time again."
In addition, the University will be sharing the 2020-21 Annual Report video in recognition of this unprecedented year for Rocket Nation.
---
April 27th, 2021 by Christine Billau
Lilacs are famous for their intense fragrance and beautiful colors, attracting hummingbirds, butterflies and tourists.
Warmer temperatures mean earlier blooms for these spring favorites.
New research at The University of Toledo shows the effects of climate change started as early as the 1970s and lilacs in North America have been blooming on average one day earlier every three years since 1973.
The study led by UToledo graduate student Stephanie Nummer and published in the journal Springer-Nature Applied Sciences finds that prior to 1973 North American lilacs typically bloomed on approximately day 135, or about May 15, each year. Since 1973, first bloom dates shift earlier by about one day for every three years.
The new discovery is double the estimated rate of change found by a study conducted about 10 years ago using a different method.
"Just like the cherry blossoms in Washington, D.C., the first bloom dates of North American lilacs are another long-term trend that responds to the change in global average temperature associated with the rise in greenhouse gases," said Nummer. "We chose to work with lilacs because they are a great indicator for the spring season and they have been monitored for more than half a century."
The scientists used data from 53 locations across the U.S. and Canada with records of at least 30 years of first bloom and leaf dates for the common lilac Syringa vulgaris.
"The interesting thing about our model is that it allows us to determine the overall average across North America and the rate and date of change for each individual lilac station," Nummer said. "This allows us to use lilac phenology as an indicator for changes in spring."
The location that changed earliest is the South Cow Mountain Recreation Area within the Mayacamas Mountains in California around 1964.
Minnesota, near Grand Rapids, is home to the lilac that was the last detected to initiate the effect of climate change around 1976.
The closest station to UToledo used in the data set is located in Wooster, Ohio, which is southwest of Akron. This station showed a change starting around the beginning of 1974 with a shift of about one day earlier every four years, indicating a shift of spring occurring earlier in the year.
In Wooster, the first bloom for 2020 was on day 73, or about March 13.
Prior to the changepoint around 1974, the average bloom date was about day 126 or approximately May 6.
"Although lilac trees blooming on average a day earlier every three years is nearly un-noticeable, the change is indicative of a broader change in the environment," said Dr. Song Qian, associate professor in the UToledo Department of Environmental Sciences and Nummer's faculty advisor.
Nummer's Ph.D. research also shows similar changes in the duration of ice cover in the five Great Lakes and in spring migration dates of certain North American songbirds.
"Through these three indicators we can start to learn the potential consequences of climate change on agriculture, fishery and the broader economy," Qian said. "Putting them together we can have a better picture of the scale of the climate change impact. The unique method Stephanie used avoids underestimating the magnitude of such effect."
While the study doesn't detail the mechanisms that are changing within the lilacs due to the warmer temperatures, Nummer says lilacs will continue to bloom, but a different factor may end up triggering the flower.
"Temperature is a large factor, but the amount of sunlight also plays a key role," Nummer said. "For areas where the temperature is always warm enough for blooms, temperature is not a factor. In these areas, sunlight is the key trigger for blooming. So, lilacs will keep blooming, but we anticipate that some places may become warm enough where sunlight becomes the main trigger instead of temperature."
---
April 26th, 2021 by Christine Billau
Following the killing of George Floyd, The University of Toledo launched a Dialogue on Diversity series to address a range of topics associated with the nationwide movement to confront systemic racism fueled by racial injustice and police brutality.
The next conversation in the series will focus on the guilty verdict last week against former police officer Derek Chauvin convicted of killing Floyd. The virtual panel discussion titled "After Floyd: Looking Back, Thinking Ahead" will be 6 p.m. Tuesday, April 27, on Zoom.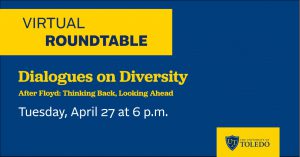 "Last summer's killing of George Floyd and now the guilty verdict of Derek Chauvin continues a nationwide conversation about race and policing. It is critically important that we provide a space for conversation and sense-making for our campus community," said Dr. Willie McKether, vice president of diversity and inclusion, and vice provost.
The UToledo Division of Diversity, Equity and Inclusion collaborated with the Division of Student Affairs to organize the event.
Panelists include:
Ashley Futrell, attorney at Shumaker and community advocate;
The Rev. Willie Perryman, NAACP Toledo president and pastor at Jerusalem Missionary Baptist Church;
Jeff Newton, UToledo director of public safety and chief of police;
Dr. LaTasha Sullivan, UToledo director of counseling services; and
Professor Angela Siner, director of the UToledo Africana Studies Program.
Individuals who participate in the virtual discussion also will have the opportunity to join breakout sessions on topics such as self-care in social justice and using advocacy as a tool for change.
This is the 15th, and final, town hall in the series of virtual Dialogues on Diversity this academic year.
The University of Toledo is a community that celebrates and respects people of all backgrounds and experiences. As an institution, we remain committed to building an inclusive environment free of racism, sexism, bigotry and other negative influences.
---