October 13th, 2020 by Christine Billau
Broadway performances are shut down for the rest of the year, but the associate and supervising director of the hit musical "Hamilton" isn't throwing away his shot to inspire students at The University of Toledo.
Patrick Vassel, a native of Akron, Ohio, who majored in political science in college and also earned a master's degree in teaching, is the first person to be featured in a new virtual series offered by the UToledo College of Arts and Letters titled "Tell Me Your Story: Liberal Arts Careers."
Dr. Melissa Gregory, associate dean for undergraduate education and curriculum and professor of English, will interview Vassel from 7 to 8 p.m. Tuesday, Oct. 20. The free, public event can be accessed on Zoom using the access code 870 2931 5293. The meeting password is 939421.
Vassel will talk about his journey from studying political science at the University of Notre Dame to teaching middle school students in New York and eventually pivoting to opportunities in musical theater.
"We want to show our students how liberal arts degrees can be the foundation of dynamic and fascinating careers," Gregory said. "I'm excited to have a conversation with Patrick because he's a fantastic example of someone who leveraged all of his liberal arts training to make it to Broadway. The skills that he learned as a liberal arts major helped him figure out when and how to change his path."
After graduating with a political science degree in 2007, Vassel interned for then-U.S. Rep. Sherrod Brown, taught special education for Teach for America and worked as a freelance theater director.
He made his Broadway debut in 2012 as the assistant director of "Magic/Bird," a play about Larry Bird and Magic Johnson.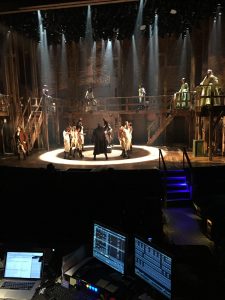 Vassel joined "Hamilton" for an initial staging workshop prior to rehearsals for The Public Theater run in 2014. Since then, Patrick has been involved in all "Hamilton" companies except London.
His role as associate and supervising director includes casting, hiring and supporting resident directors, and regular communication, collaboration and travel to each of the five North American companies. He is currently finalizing the Australian cast, and in the midst of virtual casting for the German-language production of "Hamilton."
During the UToledo event, Vassel will discuss plans for "Hamilton" productions overseas in Australia and Germany in 2021.
"I'm excited to connect with the campus community in this unprecedented year to share what I can about what I know and what was helpful for me when I was a college student in the Midwest and trying to figure out what to do next," Vassel said. "If 2020 has taught us nothing else, it's that we all need one another and all need to offer whatever we can to help those around us. I'm honored and grateful to have this time with The University of Toledo campus community and hope I can shine some light in a time of uncertainty."
Gregory said the goal of the new "Tell Me Your Story" conversations is to highlight the value of pursuing a degree in the humanities, social sciences and the arts.
"Liberal arts degrees lead to great careers because those majors provide critical skills that make you capable of reflecting on what you want, seizing opportunity and adapting to new situations," Gregory said. "In Patrick's case, he has a lot of different interests and explored several different paths with his education and his post-college life. He ended up becoming an important part of a musical that has made an indelible mark on American theater and continues to expand its influence around the world. We're lucky to have someone talk to us about what it was like to work on such an important theatrical event."
---
October 6th, 2020 by Tyrel Linkhorn
Searching for new ways to address the growing threat to drinking water in northwest Ohio and across the globe, Dr. Jason Huntley discovered that native freshwater bacteria can destroy toxins produced during harmful algal blooms.
The University of Toledo scientist has now received a $1.1 million grant from the National Oceanic and Atmospheric Administration to advance that research into real-world solutions.
Huntley, an associate professor in the UToledo Department of Medical Microbiology and Immunology, has already shown in lab experiments that biofilters using those Lake Erie bacteria can remove microcystin at levels exponentially above current exposure guidelines established by the World Health Organization.
"This grant will enable us to extend our research to the next level," Huntley said. "We did this successfully in the lab. Now we want to scale it up and put the bacteria to work in the water treatment plant."
The three-year research project will take a multifaceted approach to translate Huntley's earlier finding into technologies that safeguard the drinking water of hundreds of thousands of people.
"One of our big pushes here at UToledo is to not just do science for science's sake, but to ask questions about how it can improve human health," Huntley said. "This isn't just a Toledo problem. There are harmful algal blooms all across the country and all across the world. This is a solution to a global health problem."
Water treatment plants primarily use activated carbon to capture the microcystin toxins released during some harmful algal blooms. While effective, there are drawbacks. It can be expensive, there's a limit to how much toxin can be removed from the water and the process generates microcystin-laden waste products that have to be dealt with.
Huntley and his research team believe their bacteria could help address those issues. Biofilters could be used to treat drinking water before it reaches the tap, and the bacteria could be added to the treatment plant byproducts to degrade the lingering toxins.
It's also an inexpensive solution.
"It's not free, but it's really cheap to grow these bacteria that chew up and degrade the toxins. We grow them in water, that's it. We think we can use them to treat water coming into the treatment plant as well as eliminating toxins in the water treatment byproducts, eliminating the need to incinerate these waste products or send them to a landfill," Huntley said.
Prior to large-scale testing at the Toledo wastewater treatment plant, researchers will work to further develop and test the biofilters in a range of conditions, such as different water pressures and temperatures.
The research team also will work to isolate and identify the bacterial enzymes that break down microcystin, with a goal of being able to produce them on an industrial scale. Some of that work will be done in collaboration with the Lawrence Livermore National Laboratory — a connection that was made during 2019's National Lab Day at UToledo. The long-term goal is to develop water treatment tablets or droplet bottles that could be used to quickly detoxify water while boating, at family cabins or while hiking.
Huntley's early work on this issue was funded by the Ohio Department of Higher Education's Harmful Algal Bloom Research Initiative and the Ohio Sea Grant. The success of that research helped UToledo earn the NOAA grant.
"This is turning taxpayer money here in Ohio to federally funded grants that bring big money back to Ohio," Huntley said.
---
October 5th, 2020 by Christine Billau
NURTURES, an innovative early childhood STEM education program led by The University of Toledo that has shown success in classrooms and homes across the region, is going national.
The U.S. Department of Defense awarded UToledo a three-year, $3 million grant to offer the program to military-connected families across the country with partners including Georgia State University and Washington School Research Associates.
UToledo's project is one of 12 selected out of 185 applicants in the U.S. to be awarded a total of $31 million through the National Defense Education Program.
"The Department of Defense is proud to support the STEM workforce our Nation needs to maintain our technological superiority far into the future," said Michael Kratsios, acting under secretary of defense for research and engineering. "We are particularly pleased with the range of initiatives pursued by this year's awardees, with programs for early childhood education, post-secondary study and outreach to student veterans. This investment will be critical to expanding STEM opportunities to students, educators and veterans in underserved, underrepresented and military-connected communities."
NURTURES improves pre-K-through-third-grade STEM education, which includes science, technology, engineering and math, through teacher professional development, family engagement and community outreach. These efforts to enhance teaching and learning early in a child's life have resulted in greater student interest and achievement in STEM in the program's nine years in northwest Ohio and southeast Michigan.
Data from standardized testing in Toledo Public Schools show an increase in reading, early literacy and math scores in students of teachers who have participated in NURTURES, with gains being sustained through 5thgrade.
According to research published in the Journal of Research in Science Teaching, every year that a student has a NURTURES program teacher adds on average 8.6 points to a student's early literacy standardized test score compared to control students, 17 points to a student's mathematics score and 41.4 points to a student's reading score.
The program through the Department of Defense will be transitioned from a face-to-face format to a virtual format, while also mailing family science take-home packs and community event materials directly to schools for home and community use.
"We are proud to scale up nearly a decade of work that our UToledo team started here in the Toledo area," said Dr. Charlene Czerniak, professor emeritus of science education and research professor in the UToledo College of Engineering, who is leading the project. "NURTURES has helped more than 5,000 students and 330 teachers across northwest Ohio and southeast Michigan. I believe it is a great fit for military families. They move so often, it is critical to invest in opportunities to engage families and focus on family and community."
A hallmark of the NURTURES program is that it goes beyond professional development and coaching for early childhood education teachers to better teach science to their young students. By also educating parents how to support their child's STEM learning at home and through events in the community, NURTURES provides a lasting mechanism to support STEM learning across a child's lifetime.
The Department of Defense award allows NURTURES to be offered to 135 teachers, 2,700 underserved and underrepresented pre-K-through-3rdgrade students, and 10,800 military-connected family members throughout the United States.
In the first year, professional development for early childhood teachers will be delivered on-site to Purple Star schools in Ohio and schools linked to Fort Benning in Georgia and Joint Base Lewis-McChord in Washington.
In the second year, NURTURES will be transitioned to an online format. It will be offered fully online by the third year and expanded across the country to military bases, the Military Interstate Children's Compact Commission, military-connected schools and Purple Star schools in Georgia, Alabama, Washington, Florida, Virginia, Massachusetts and New Mexico with all branches of the military represented.
Twelve states now have Purple Star-designated schools.
"The award for military family-friendly schools recognizes campuses and communities that show a major commitment to students and families connected to our nation's military," said Pete LuPiba, commissioner for the Military Interstate Children's Compact Commission and veteran of Operation Iraqi Freedom, who founded the Purple Star School Award initiative four years ago to address the educational challenges of transitioning children of military families.
"We have witnessed the positive outcomes of this program on young children attending schools in our region, and the UToledo College of Engineering is fortunate to have Dr. Charlene Czerniak continue her leadership of this project as it expands from a regional to a national level," Dr. Mike Toole, dean of the UToledo College of Engineering, said. "As a military veteran, I also am pleased that the NURTURES program will be able to make a positive impact on military families and their children."
Dr. Scott Molitor, professor of bioengineering and senior associate dean of academic affairs in the UToledo College of Engineering, is working with Czerniak to lead the national project. Several experts from the UToledo Judith Herb College of Education are also involved in the project, including Dr. Susanna Hapgood, associate professor in the Department of Teacher Education, and Dr. Joan Kaderavek, professor emerita of early childhood, physical and special education and Distinguished University Professor.
Family packets and community event materials are planned to be mailed to participants through a process using Lott Industries in Toledo, a nationally recognized and award-winning nonprofit organization that hires individuals with developmental disabilities for light packaging and assembly.
The NURTURES program was originally a five-year, $10 million program funded in 2011 by the National Science Foundation to engage teachers and parents in supporting a young child's natural curiosity through interactive science lessons. The National Science Foundation awarded an additional $2.3 million dollars to NURTURES three years ago.
In 2017 the American Association of State Colleges and Universities honored UToledo with its Christa McAuliffe Award for Excellence in recognition of NURTURE's success in improving student achievement.
---
September 30th, 2020 by Christine Billau
The University of Toledo is continuing its Dialogues on Diversity series with a conversation about the presidential election in November and the importance of participating in the political process.
The next virtual town hall in the series titled "The Vote!" will take place 5:30 p.m. Thursday, Oct. 1 and can be accessed on Webex using the access code 172 130 2385. The meeting password is DoD9. Join by phone at 415.655.0002.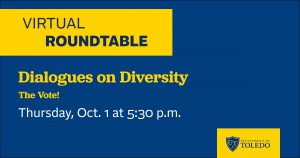 "The right to vote is at the very center of democracy in America," Dr. Jeffrey Broxmeyer, assistant professor in the Department of Political Science and Public Administration, said. "I am delighted to moderate a panel of students and community members who will discuss what the struggle for that right means today."
Broxmeyer will moderate the discussion with participants including:
Alexandra Bauer, UToledo student in political science and pre-law, women's soccer player and executive board member for the Student Athlete Advisory Committee;
Alexis Alvarado, UToledo student in political science;
Precious Tate, civil rights investigator for the Toledo Fair Housing Center;
David Person, political organizer; and
Kyra Valentine, UToledo student in political science and special education, and Democracy Fellow providing leadership for the Campus Vote Project.
This is the ninth in a series of recent virtual Dialogues on Diversity since George Floyd was killed in Minneapolis by a police officer, sparking protests against systemic racism across the country.
---
September 29th, 2020 by Christine Billau
For the first time, The University of Toledo College of Business and Innovation's fall job fair will be held in a virtual format.
The job fair is from 10 a.m. to 3 p.m. Wednesday, Sept. 30 and can be accessed on Handshake. It will provide business students with opportunities to expand their job search and connect with numerous recruiting organizations through video, audio and text chat.
More than 70 employers will be in attendance ready to hire for full-time, part-time and internship roles. These companies will have online "booths" providing information and conduct virtual meetings discussing available positions, advancement capabilities and professional development options.
Some of the companies attending include 3M, Amazon, Cooper Tire & Rubber Company, Fifth Third Bank, Hilti North America, Marathon, Owens Corning, ProMedica, Quicken Loans and Savage and Associates.
"The Business Career Programs Office is proud to be able to adapt and innovate to meet the needs of the changing educational and hiring landscapes," said Dr. Terribeth Gordon-Moore, senior associate dean of the College of Business and Innovation. "We are extremely excited to be able to play a role in enabling our students to continue their career progression despite the challenges that accompany the pandemic."
Before attending the Virtual Job Fair, students can view all of the companies and the roles they are looking to fill on the Handshake website. The site also provides features that enable students to sort based on job types, employment types, desired school year standings, majors and industries to better tailor their search to fit their personal needs.
Job seekers can pre-schedule one-on-one or group sessions with employers or join an open session on the day of the event.
Group information sessions are available to learn more about the company. The 30-minute group sessions are limited to three sessions per employer and a maximum of 15 people can join each session.
Over the past five years, the College of Business and Innovation has consistently achieved over a 90% job placement rate of its graduates in their chosen field. In addition, business students have an 85% internship participation rate, allowing them to build an impressive resume while still in school.
To learn more about the Job Fair, the companies that will be in attendance or register for the event, visit Handshake's Virtual Job Fair website.
---
September 24th, 2020 by Christine Billau
For the 23rd year in a row, The University of Toledo will celebrate the right to read and think freely during Banned Books Week with the American Library Association.
"Without unfettered access to ideas, we could not survive as a democracy and change with the times to help those whom majority complacency silences to find their voices," Dr. Paulette D. Kilmer, UToledo professor of communication and coordinator of the UToledo Banned Books Coalition, said.
Events will take place virtually from Monday, Sept. 28 through Thursday, Oct. 1 on YouTube and Facebook to spotlight current and historical attempts to censor books in libraries and schools with a theme this year of "Censorship is a Dead End."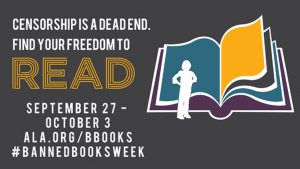 In 2019, the American Library Association tracked nearly 377 attempts to censor library, school and university materials and services, encompassing 566 books that were challenged or banned.
In support of the UToledo Banned Book Coalition's fight against censorship, this year Toledo Mayor Wade Kapszukiewicz signed a proclamation declaring Thursday, Oct. 1 as "Read Banned Books Day."
"I am excited about our campus legacy festival of the mind and look forward to continuing our ongoing battle to keep the First Amendment robust," Kilmer said. "Long live books and reading!"
UToledo Banned Books Week Vigil speakers and events include:
Monday, Sept. 28
11 a.m. — "The Hate U Give" by Dr. Monita Mungo, assistant professor of sociology.
Noon — "Studying and Struggling: The Works of Elaine Brown and Assata Shakur" by Dr. Carla Pattin, assistant lecturer in the Jesup Scott Honors College.
1 p.m. — "Banned Books Jeopardy!" with Saadia Farooq, UToledo alumna and member of the UToledo Banned Books Coalition, and Dr. Sumitra Srinivasan, associate professor in the Department of Communication.
Tuesday, Sept .29
Noon — "HIV in the Rust Belt" by Holly Hey, professor of film, Dr. Ally Day, associate professor of disability studies, and Lee Fearnside, co-producer of "HIV in the Rust Belt."
1 p.m. — "Banned: Female Leaders of the Indigenous Woodlands" by Dr. Barbara Mann, professor in the Jesup Scott Honors College.
Wednesday, Sept. 30
Noon — "Old Man Trump" by Risa Cohen, creative director of Sing Into Reading.
1 p.m. — "Girls Knight Out at the Franklin Park Mall with Pandora, Lilith and Eve" by Warren Woodberry, Toledo author.
Thursday, Oct. 1
Noon — "Freedom of Thought and the Ministry of Truth," the Dr. Linda Smith Lecture given by Dr. S. Amjad Hussain, professor emeritus of humanities and cardiothoracic surgery.
1 p.m. — "20 Years of Censored Children's Books" by Dr. Sharon Barnes, associate professor and chair of the Department of Women's and Gender Studies.
2 p.m. — "Accessing the 'Right' to Read in Prison" by Dr. Renee Heberle, professor of political science, co-director of the Program in Law and Social Thought, and coordinator of the Inside/Out Prison Exchange Project.
3 p.m. — "Brilliant Banned Tunes" by Cohen and Dr. Edmund Lingan, professor of theatre, with family.
The UToledo Banned Book Coalition will be giving away door prizes and $20 Barnes & Noble gift cards throughout the events.
To sign the electronic guest book for classes offering extra credit or to watch a recording of each presentation after the event, go to the UToledo Banned Book Coalition's website.
---
September 22nd, 2020 by Christine Billau
The University of Toledo is continuing its Dialogues on Diversity series with a conversation about the role of art in society, the differences between art and monuments, and how to best recognize the achievements of fallible individuals.
The next virtual town hall in the series titled "Stay or Go? The Story of a Gandhi Sculpture" will take place 5:30 p.m. Thursday, Sept. 24 and can be accessed on Webex using the access code 172 458 2365. The meeting password is DoD8. Join by phone at 415.655.0002.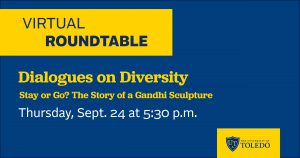 This summer the University removed a sculpture of Mahatma Gandhi, the leader of the Indian independence movement, that was part of the group of new art works installed on campus for UToledo's 15th annual Outdoor Sculpture Exhibition.
The President's Commission on Campus Design and Environment, which chooses new sculptures to be installed at the University each spring, made the decision after a student brought forward concerns about Gandhi's comments about Black Africans and women.
The student wrote, in part, "In this time of movements and stress, I do not think that this Gandhi statue will help."
"The goal of the sculpture program is to add beauty to our campuses through one-year exhibits that rotate annually," said Dr. Jonathan Bossenbroek, professor and chair of the Department of Environmental Sciences and president of the President's Commission on Campus Design and the Environment. "This is a critical example of why it is important to keep these conversations going and include a diversity of voices in decision-making. We are grateful to the student for bringing his concerns to our attention. We did not intend to be offensive, and we do not stand for that."
The University also added students to the selection committee for future exhibitions.
The discussion will be moderated by Bossenbroek, with participants including:
Dr. Dale Snauwaert, professor of social and philosophical foundations of education and peace studies;
Dr. Rachel Dudley, assistant professor in the Department of Women's and Gender Studies;
Dr. Mysoon Rizk, professor of art history;
Riley Danford, UToledo student majoring in human resources who brought forward concerns to the University; and
Sanat Wagh, UToledo student majoring in finance and economics, and member of the International Student Association.
This is the eighth in a series of recent virtual Dialogues on Diversity since George Floyd was killed in Minneapolis by a police officer, sparking protests against systemic racism across the country.
---
September 16th, 2020 by Christine Billau
This story has been updated to reflect the new partnership between the UToledo Human Trafficking and Social Justice Institute and the Hue Jackson Foundation.
Survivors, researchers and advocates around the world are coming together virtually next week for the 17th Annual International Human Trafficking and Social Justice Conference at The University of Toledo.
The event has welcomed people from 49 states and 40 countries since it began in 2004 to advance collaborative research, advocacy and program development.
This year the conference will be held Wednesday, Thursday and Friday, Sept. 23-25 on Zoom and feature more than 100 speakers and 70 breakout sessions.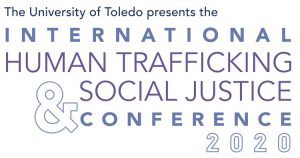 "We are in a unique position this year with hosting our conference virtually as we will be able to reach thousands of more individuals from all over the world who would not have had the opportunity to travel to attend our conference," Dr. Celia Williamson, Distinguished University Professor and director of the UToledo Human Trafficking and Social Justice Institute, said. "Our top priority is to keep everyone safe while still fulfilling our mission of uniting the global community to learn, connect and collaborate to combat human trafficking and promote social justice."
New this year, the UToledo Human Trafficking and Social Justice Institute and the Hue Jackson Foundation, a nonprofit organization based in Ohio, are partnering together to collaborate on the Stranger 2 Changers program, which will be free for students to participate in remotely through their schools.
The prevention program is part of Hue Jackson Foundation's T.E.A.C.H. Initiative that provides a platform for students in schools to directly and indirectly interact with "Changers" from a variety of professional and non-professional platforms who can assist them to gain insight, knowledge, education and support while also giving them a sense of community as they navigate many of life's challenges that may put them at greater risk for human trafficking.
"We are excited about our partnership with The University of Toledo," said Hue Jackson, founder of the Hue Jackson Foundation. "Sharing our common goals to educate others in an effort to have a positive impact on society makes this a partnership that we hope inspires others across the country."
In the past year, the UToledo Human Trafficking and Social Justice Institute launched the F.R.E.E. Program, which provides scholarships and support for survivors of human trafficking from across the country as they pursue their education goals.
The F.R.E.E. Program, which has 55 human trafficking survivors currently enrolled, is the focus of one of the sessions. Hear success stories from women who earned certifications in yoga and phlebotomy, as well as a master's degree in social work at 1:30 p.m. Wednesday, Sept. 23.
"F.R.E.E. represents a survivor's potential to become a thriver by achieving economic and psychological freedom and empowerment," LaDonna Knabbs, coordinator of the F.R.E.E. Program in the UToledo Human Trafficking and Social Justice Institute, said. "It stands for Foundation, Readiness, Education and Employment. By achieving a degree or certification, survivors obtain livable employment."
Other presentations include:
For a full schedule of presentations or to register, visit the conference website.
---
September 10th, 2020 by Christine Billau
In the absence of football on what would've been the first home game of the season, The University of Toledo Rocket Marching Band will make its 2020 performance debut virtually from the Glass Bowl with custom-made masks and socially distant field formations.
"Saturday Sounds of the Stadium" will be live-streamed starting at noon Saturday, Sept. 12 on the band's Facebook page, with more virtual performances to be scheduled throughout fall semester.
"Having the opportunity to continue to perform and make music with the Rocket Marching Band is truly a blessing," Ashley Venrick, a senior at UToledo majoring in music education and one of the drum majors, said. "We were unsure if we would be able to perform at all, and to know it's actually happening this weekend lifts everyone's spirits."
Though the seats in the Glass Bowl will be empty, Rocket Nation can watch from anywhere around the world as the Rocket Marching Band performs music and choreography from its traditional pregame show alongside longtime UToledo standards and Rocket fan favorites.
But the performance will look different as the 175 students follow safety precautions advised by the Centers for Disease Control and Prevention to prevent the spread of COVID-19.
"As one of the more visible ambassadors for The University of Toledo, we want to set an example for how we can all ignite our tradition of campus and community pride, while maintaining low-risk operation," said Tiger Rhodes, associate director of bands, director of athletic bands and associate lecturer of low brass in the UToledo Department of Music. "We have creative and adaptable students and staff who are able to generate unique performance opportunities."
The band practices exclusively outdoors, rehearses in small groups for 30-minute blocks, and masks the staff, students and instruments.
Instead of standing shoulder-to-shoulder, band members are spaced a minimum of 7.5 feet apart — at least four steps.
They wear face masks, including specially crafted masks with a small slit for mouthpiece access that allow students to play wind instruments.
Plus, fitted bell covers are used as "masks" for all wind and brass instruments to prevent the spread of germs.
Rhodes said he worked closely with CLDesigns in Sylvania to create the blue bell covers as well as a mask with a horizontal overlap to allow for a horn to reach the student's face while also providing the player coverage when the horn is down.
"We are thankful to have the opportunity to continue our tradition of striving for the highest levels of excellence in performance, discipline and academics," Rhodes said. "And we are most assuredly learning much about the strength of our team in the face of these new challenges."
---
September 9th, 2020 by Christine Billau
The University of Toledo College of Law is hosting a virtual event featuring a national expert on racial profiling after the killing of George Floyd by a Minneapolis police officer in May and the police shooting of Jacob Blake in Kenosha last month.
David A. Harris, the Sally Ann Semenko Chair and professor of law at the University of Pittsburgh School of Law, will deliver a lecture titled "Police/Civilian Confrontations and Deaths: How Often? Why? What Can We Do?" from 11:50 a.m. to 1 p.m. Friday, Sept. 11 on Webex. Registration is required for the free, public event on the College of Law website.
"We are delighted to host Professor Harris to help us grapple with these difficult issues," said Rob Salem, associate dean for diversity and inclusion and clinical professor of law at the UToledo College of Law. "We all have a responsibility to listen carefully and engage affirmatively in anti-racist efforts."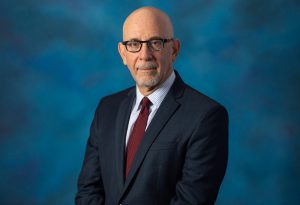 Harris taught at the UToledo College of Law from 1990 to 2007, where he was the Eugene N. Balk Professor of Law and Values.
Harris teaches, writes and speaks about the law, policing and the American criminal justice system. His research focuses on search and seizure law, police conduct, and the intersection of race and criminal justice.
For more than two decades, Harris has been the nation's foremost expert on racial profiling. His research and publications became the basis for the first proposals in Congress to curb racial profiling and led to laws and regulations against profiling in more than half the states and hundreds of police departments.
Harris frequently works with national, state and local governments and non-governmental organizations across the country to improve the quality of police work, with a special emphasis on bridging the gap between police and the communities they serve.
He is the creator and host of the "Criminal Injustice" podcast, which is devoted to issues in the criminal justice system. Harris also is the author of several books, including "A City Divided: Race, Fear, and the Law in Police Confrontations," which was published by Anthem Press in 2020.
In 2015, Harris received the Jefferson Award for Public Service for his work in Pittsburgh and other communities across the country to create better relationships between police and the communities they serve, particularly Black communities, to bring about both respectful, just policing and public safety.
---