Grammy Winner, MacArthur 'Genius' Fellow to Give UToledo's Shapiro Lecture Sept. 13
August 10th, 2021 by Christine Billau
Singer, songwriter, fiddler and banjo picker Rhiannon Giddens is coming to The University of Toledo next month to give a free, public lecture.
The Grammy winner and MacArthur "Genius" grant recipient who explores the impact and continued relevance of early Black American music will share her story at the annual Edward Shapiro Distinguished Lecture 7 p.m. Monday, Sept. 13, at Doermann Theatre in University Hall.
Free admission tickets are required and available at the event website. Following CDC guidance, face masks are required. Doors open at 6 p.m. with first-come, first-served seating.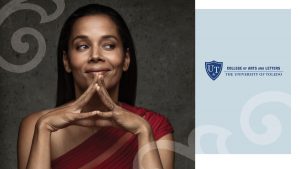 UToledo is partnering with the Toledo Symphony to welcome Giddens to town.
Giddens' lecture at UToledo follows her performance with the Toledo Symphony Orchestra 7 p.m. Sunday, Sept. 12, at the Toledo Museum of Art's Peristyle Theater featuring a program of jazz, blues, country, Gospel and Celtic music from her critically acclaimed albums.
"The Shapiro Lecture series is one of the premier intellectual events offered by the College of Arts and Letters at The University of Toledo," said Charlene Gilbert, dean of the UToledo College of Arts and Letters. "Each year we feature an individual who has reached the highest echelons of their profession, and this year we are honored to present musician, musicologist and historian Rhiannon Giddens.
"Ms. Giddens has made a name for herself both as a performer and an expert in music history, sharing the little-known but highly influential people and events that have shaped American music and society. Her work has earned her well-deserved awards, and we are thrilled to have her as our featured guest this year at The University of Toledo."
The annual lecture is made possible by the Shapiro endowment left by Dr. Edward Shapiro, professor emeritus of economics who retired in 1989, to provide opportunities for the University to bring world-renowned speakers to Toledo.
Past Shapiro Distinguished Lecture speakers include Elie Wiesel, Toni Morrison, Audra McDonald and Robert F. Kennedy Jr.
Tickets for Giddens' performance with the Toledo Symphony can be purchased by calling the box office at 419.246.8000 or visiting toledosymphony.com.
"Rhiannon Giddens is one of those artists who will go down in history for more than just their extraordinary talent," said Zak Vassar, president and CEO of the Toledo Alliance for the Performing Arts. "She is an all-around inspiring person, and her music reflects that. She fuses her operatic training with powerful, musical storytelling, giving a voice to some of the most important but forgotten people and events in history. We are proud to kick off our '21-22 season by bringing Rhiannon Giddens to our community. Her appearance is not to be missed."
Giddens' lifelong mission is to lift up people whose contributions to American musical history have previously been erased, and to work toward a more accurate understanding of the country's musical origins.
Giddens has performed for the Obamas at the White House, served as a Carnegie Hall "Perspectives" curator and received an inaugural Legacy of Americana Award from Nashville's National Museum of African American Music in partnership with the Americana Music Association.
Giddens began her musical studies at Oberlin Conservatory's Opera Theater. In 2005, Giddens attended the Black Banjo Gathering in Boone, North Carolina, where she met the future members of her band, the Carolina Chocolate Drops, the first African American string band to perform at the Grand Ole Opry. In 2011, the band won a Grammy for Best Traditional Folk Album for "Genuine Negro Jig."
In 2015, Giddens launched her solo career with the critically acclaimed album "Tomorrow Is My Turn," honoring the works of African American artists like Florence Quivar and Nina Simone.
Giddens made her acting debut with a recurring role on the hit television show "Nashville," playing the character of Hanna Lee "Hallie" Jordan, a young social worker with "the voice of an angel."
In 2018, Giddens became the host of the Metropolitan Opera's podcast series "Aria Code," which dives into some of the most legendary arias, exploring key moments in opera and how they affect the listener through emotions.
Giddens released a new album this year titled "They're Calling Me Home," which was recorded in Ireland during the COVID-19 lockdown and speaks of the longing for the comfort of home as well as the metaphorical "call home" of death, a tragic reality for so many during the pandemic.

Christine Billau is UT's Media Relations Specialist. Contact her at 419.530.2077 or christine.billau@utoledo.edu.
Email this author | All posts by Christine Billau
---