Archive for April, 2021
Friday, April 30th, 2021
The University of Toledo President Gregory Postel will deliver his inaugural State of the University Address via video on Monday, May 3.
The 2021 State of the University speech entitled "Inspiring Hope: UToledo's Brightest Days are Ahead" will be published online and shared with the campus community via email at 3 p.m.
"We faced one challenge after another this past year, but we never lost sight of that which unifies us — the human factor," Postel said. "We all faced unforeseeable challenges, but through it all, we witnessed the very best in our campus community. Our UToledo students, faculty, staff and physicians have proven their resilience time and time again."
In addition, the University will be sharing the 2020-21 Annual Report video in recognition of this unprecedented year for Rocket Nation.
---
Tuesday, April 27th, 2021
Lilacs are famous for their intense fragrance and beautiful colors, attracting hummingbirds, butterflies and tourists.
Warmer temperatures mean earlier blooms for these spring favorites.
New research at The University of Toledo shows the effects of climate change started as early as the 1970s and lilacs in North America have been blooming on average one day earlier every three years since 1973.
The study led by UToledo graduate student Stephanie Nummer and published in the journal Springer-Nature Applied Sciences finds that prior to 1973 North American lilacs typically bloomed on approximately day 135, or about May 15, each year. Since 1973, first bloom dates shift earlier by about one day for every three years.
The new discovery is double the estimated rate of change found by a study conducted about 10 years ago using a different method.
"Just like the cherry blossoms in Washington, D.C., the first bloom dates of North American lilacs are another long-term trend that responds to the change in global average temperature associated with the rise in greenhouse gases," said Nummer. "We chose to work with lilacs because they are a great indicator for the spring season and they have been monitored for more than half a century."
The scientists used data from 53 locations across the U.S. and Canada with records of at least 30 years of first bloom and leaf dates for the common lilac Syringa vulgaris.
"The interesting thing about our model is that it allows us to determine the overall average across North America and the rate and date of change for each individual lilac station," Nummer said. "This allows us to use lilac phenology as an indicator for changes in spring."
The location that changed earliest is the South Cow Mountain Recreation Area within the Mayacamas Mountains in California around 1964.
Minnesota, near Grand Rapids, is home to the lilac that was the last detected to initiate the effect of climate change around 1976.
The closest station to UToledo used in the data set is located in Wooster, Ohio, which is southwest of Akron. This station showed a change starting around the beginning of 1974 with a shift of about one day earlier every four years, indicating a shift of spring occurring earlier in the year.
In Wooster, the first bloom for 2020 was on day 73, or about March 13.
Prior to the changepoint around 1974, the average bloom date was about day 126 or approximately May 6.
"Although lilac trees blooming on average a day earlier every three years is nearly un-noticeable, the change is indicative of a broader change in the environment," said Dr. Song Qian, associate professor in the UToledo Department of Environmental Sciences and Nummer's faculty advisor.
Nummer's Ph.D. research also shows similar changes in the duration of ice cover in the five Great Lakes and in spring migration dates of certain North American songbirds.
"Through these three indicators we can start to learn the potential consequences of climate change on agriculture, fishery and the broader economy," Qian said. "Putting them together we can have a better picture of the scale of the climate change impact. The unique method Stephanie used avoids underestimating the magnitude of such effect."
While the study doesn't detail the mechanisms that are changing within the lilacs due to the warmer temperatures, Nummer says lilacs will continue to bloom, but a different factor may end up triggering the flower.
"Temperature is a large factor, but the amount of sunlight also plays a key role," Nummer said. "For areas where the temperature is always warm enough for blooms, temperature is not a factor. In these areas, sunlight is the key trigger for blooming. So, lilacs will keep blooming, but we anticipate that some places may become warm enough where sunlight becomes the main trigger instead of temperature."
---
Monday, April 26th, 2021
Following the killing of George Floyd, The University of Toledo launched a Dialogue on Diversity series to address a range of topics associated with the nationwide movement to confront systemic racism fueled by racial injustice and police brutality.
The next conversation in the series will focus on the guilty verdict last week against former police officer Derek Chauvin convicted of killing Floyd. The virtual panel discussion titled "After Floyd: Looking Back, Thinking Ahead" will be 6 p.m. Tuesday, April 27, on Zoom.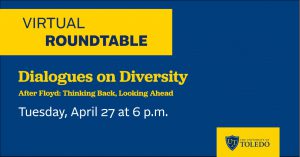 "Last summer's killing of George Floyd and now the guilty verdict of Derek Chauvin continues a nationwide conversation about race and policing. It is critically important that we provide a space for conversation and sense-making for our campus community," said Dr. Willie McKether, vice president of diversity and inclusion, and vice provost.
The UToledo Division of Diversity, Equity and Inclusion collaborated with the Division of Student Affairs to organize the event.
Panelists include:
Ashley Futrell, attorney at Shumaker and community advocate;
The Rev. Willie Perryman, NAACP Toledo president and pastor at Jerusalem Missionary Baptist Church;
Jeff Newton, UToledo director of public safety and chief of police;
Dr. LaTasha Sullivan, UToledo director of counseling services; and
Professor Angela Siner, director of the UToledo Africana Studies Program.
Individuals who participate in the virtual discussion also will have the opportunity to join breakout sessions on topics such as self-care in social justice and using advocacy as a tool for change.
This is the 15th, and final, town hall in the series of virtual Dialogues on Diversity this academic year.
The University of Toledo is a community that celebrates and respects people of all backgrounds and experiences. As an institution, we remain committed to building an inclusive environment free of racism, sexism, bigotry and other negative influences.
---
Monday, April 12th, 2021
BOARD OF TRUSTEES MEETING
Wednesday, April 14, 2021
Join via Webex:
Meeting number (access code): 160 451 5294
Meeting password: UTBOTAPRIL2021
Join via Phone:
+1-415-655-0002
Meeting number (access code): 160 451 5294
9 a.m. Clinical Affairs Committee Meeting
9:15 a.m. Academic and Student Affairs Committee Meeting
9:30 a.m. Finance and Audit Committee Meeting
9:45 a.m. Trusteeship and Governance Committee Meeting
10 a.m. Board of Trustees Meeting
Any questions may be directed to the Office of University Marketing and Communications by calling 419.530.2410 or via email to meghan.cunningham@utoledo.edu.
---
Monday, April 12th, 2021
The "What Were You Wearing?" exhibit returns to The University of Toledo in recognition of Sexual Assault Awareness Month.
Hosted by the UToledo Title IX Office and sponsored by the University Libraries, the installation runs Monday, April 12 through Thursday, April 15 at the Carlson Library in room 1005. Facial coverings and social distancing are required.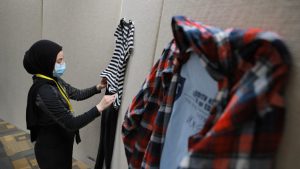 There will be an opening virtual reception featuring remarks from campus senior leadership about the exhibit beginning at 2 p.m. April 12 via Zoom. Information regarding the kick-off can be found on the event's Invonet page.
This installation has been presented by universities nationwide with each display varying per campus with the survivor stories. The purpose of this installation is to disband the common rape myth that people "ask for it" by dressing a certain way. In reality, what someone was wearing when they were sexually assaulted does not matter.
This installation will feature new anonymous survivor narratives along with the 31 previously submitted narratives. Each narrative is presented with a re-creation of the clothing items worn by the survivors at the time of their sexual assault.
Participants have the opportunity to view the installation, learn about resources, and attend educational learning sessions.
Participants will also have the opportunity to write messages of support on fabric that will be stitched together to create a "Messages of Hope" quilt. The quilt will feature various shades of teal for Sexual Assault Awareness Month and purple symbolizing Domestic Violence Awareness Month.
Staff from the Title IX Office will be present to ensure that students, faculty, staff and visitors can ask questions and get connected with campus resources.
"As an institution and being part of the UToledo community, we never want to be desensitized to the gravity of the impact of education and awareness regarding sexual misconduct," said Vicky Kulicke, UToledo director of Title IX and Compliance and Title IX coordinator. "This installation is an anchoring event for Sexual Assault Awareness Month."
The Title IX Office is hosting several Bystander Intervention and Consent Culture trainings during the month of April, as well as a series of hour-long virtual Lunch and Learns this week, each beginning at noon.
Monday, April 12, University Counseling Center and the Center for Student Advocacy and Wellness;
Tuesday, April 13, Employee Wellness, Understanding Trauma and PTSD;
Wednesday, April 14, Consent Culture and Bystander Intervention; and
Thursday, April 15, Title IX.
On March 31, the Title IX Office set up red flags in Centennial Mall spelling out 3,636, which represents the number of intimate partner/domestic violence, felonious assaults and domestic violence threats reported to the Toledo Police Department last year.
The Red Flag Campaign is rooted in the bystander intervention strategy to bring attention to and address dating violence, stalking and sexual assault.
Additionally, during the month of April, the Title IX Office will collect hygiene products to donate to a local gender inclusive shelter that serves survivors. Title IX ambassadors developed the service project in response to the need during the pandemic. Donation boxes will be set up at the Office of Student Affairs, the Office of Student Involvement and Leadership, the Office of Multicultural Student Services, the Student Commuter Lounge, Carlson Library 1005 and the Office for Student Advocacy and Support.
Additional events planned for Sexual Assault Awareness Month can be located by visiting the Sexual Assault Education and Prevention Program website.
---
Monday, April 12th, 2021
The University of Toledo is continuing its Dialogues on Diversity series with a conversation organized and hosted by students.
The virtual town hall titled "The Effects of Microaggressions on Our Campus Community" will take place 6 p.m. Thursday, April 15 on Webex.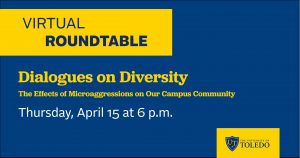 The discussion will be moderated by Payton Beechler, a junior majoring in human resource management and president of Inclusion, a student organization dedicated to promoting diversity, equity and inclusion, primarily focusing on students with disabilities and accessibility.
"The goal of this dialogue is to allow students to express their experiences with microaggressions on campus and identify ways we can minimize these incidents," Beechler said. "The students participating in this discussion will represent different minority groups on campus allowing those involved to hear different perspectives."
Panelists include:
Isabella Weik, a junior majoring in general studies and president of the Multifaith Council;
Erin Black, a sophomore majoring in communications and minoring in disability studies and vice president of Inclusion;
Kirsten Kendrick, a sophomore majoring in criminal justice pre-law and minoring in Spanish and incoming president of the Sexuality and Gender Alliance;
Nisha Luke, a senior majoring in public health and minoring in biology and chemistry and president of the Indian Student Cultural Organization; and
Zion Hoffman, a junior majoring in early childhood education and member of Inclusion Champions.
This is the 14th town hall in the series of recent virtual Dialogues on Diversity since George Floyd was killed in Minneapolis by a police officer, sparking protests nationwide against systemic racism.
The University of Toledo is a community that celebrates and respects people of all backgrounds and experiences. As an institution, we remain committed to building an inclusive environment free of racism, sexism, bigotry and other negative influences.
---
Friday, April 9th, 2021
Jacob Connolly always had an interest in the brain. Now, that interest is paying off.
The junior in the UToledo College of Engineering has been named a recipient of a Goldwater Scholarship, one of the country's oldest and most competitive honors in the fields of science and mathematics, from the Barry Goldwater Scholarship and Excellence Foundation.
Selected from a field of more than 5,000 applicants, Connolly joins an exclusive cohort of high-achieving students, each a future leader in their respective fields.
"It feels amazing to see that all the work that I've put into this research is being recognized," said Connolly, who also is a student in the Jesup Scott Honors College. "I think my research is really interesting, and it's nice to share it with others who believe it could have an impact on the health of the general public."
Connolly's research focuses on neurodegeneration in a strain of rodents known to develop chronic kidney disease, a key indicator of future cognitive impairment. Connolly studies the effects of various factors on the speed of that degeneration.
"I test the cognitive ability of these animals. We look at different factors such as age and a diet high in salt to better understand if those factors have an effect on their cognitive processes."
In addition, Connolly studies the paraoxonase enzymes, which may be linked to protection against cognitive impairment and dementia. All of his research takes place in the labs of Dr. David Kennedy and Dr. Steven Haller, assistant professors in the UToledo College of Medicine and Life Sciences, with whom he became connected via the integrated co-op program in UToledo's bioengineering program.
"When I was looking for my first co-op rotation, I knew pursuing undergraduate research was something that interested me," he said. "So, I found a list of possible advisors, I sent them emails and Dr. Kennedy responded and said, 'I'd be happy for you to come work in our lab.'"
Kennedy said he is glad to have Connolly on the team.
"We emphasize a team-based approach to science in that we expect all members of the lab to work together to achieve common goals. Since day one Jacob has embraced this philosophy," Kennedy said. "He is an exceptional team player and has elevated the science of everyone with whom he interacts. Multiple trainees and staff in our lab have spontaneously commented on what a pleasure it is to work with Jacob – they absolutely love him."
Beyond Connolly's immediate impact on the UToledo research community, his faculty mentors said they believe his work will have a long-term impact on the field.
"Patients who suffer from neurodegenerative disorders currently have limited treatment options. Jacob has discovered an antioxidant enzyme the body already produces that may have significant protective functions in decreasing inflammation in the brain," Haller said. "By understanding how this enzyme functions and what factors regulate it, we are aiming to create therapies that augment the body's own natural defense system to help it prevent, heal or recover from various forms of damage or trauma."
Connolly said he intends to continue his research through the end of his time at UToledo, but he has big plans for his postgraduate studies.
"My plan right now is to go to medical and graduate school to receive an M.D./Ph.D. I would like to focus on neuroscience, as my long-term goal is to become a neurosurgeon," he said. "I do not know exactly where I will continue my education, but I've lived in the Toledo area my entire life and The University of Toledo has always been a crucial part of it, so that's definitely one of my top choices."
The newly minted Goldwater scholar is nothing but thankful for the support he's received as a Rocket.
"There are always people at The University of Toledo who are willing to help you," he said. "Without Dr. Kennedy and Dr. Haller, none of this would be possible."
---