UToledo Students Host Dialogue on Diversity to Discuss Microaggressions
April 12th, 2021 by Christine Billau
The University of Toledo is continuing its Dialogues on Diversity series with a conversation organized and hosted by students.
The virtual town hall titled "The Effects of Microaggressions on Our Campus Community" will take place 6 p.m. Thursday, April 15 on Webex.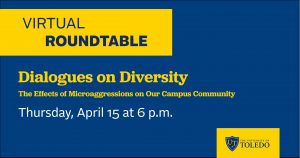 The discussion will be moderated by Payton Beechler, a junior majoring in human resource management and president of Inclusion, a student organization dedicated to promoting diversity, equity and inclusion, primarily focusing on students with disabilities and accessibility.
"The goal of this dialogue is to allow students to express their experiences with microaggressions on campus and identify ways we can minimize these incidents," Beechler said. "The students participating in this discussion will represent different minority groups on campus allowing those involved to hear different perspectives."
Panelists include:
Isabella Weik, a junior majoring in general studies and president of the Multifaith Council;
Erin Black, a sophomore majoring in communications and minoring in disability studies and vice president of Inclusion;
Kirsten Kendrick, a sophomore majoring in criminal justice pre-law and minoring in Spanish and incoming president of the Sexuality and Gender Alliance;
Nisha Luke, a senior majoring in public health and minoring in biology and chemistry and president of the Indian Student Cultural Organization; and
Zion Hoffman, a junior majoring in early childhood education and member of Inclusion Champions.
This is the 14th town hall in the series of recent virtual Dialogues on Diversity since George Floyd was killed in Minneapolis by a police officer, sparking protests nationwide against systemic racism.
The University of Toledo is a community that celebrates and respects people of all backgrounds and experiences. As an institution, we remain committed to building an inclusive environment free of racism, sexism, bigotry and other negative influences.

Christine Billau is UT's Media Relations Specialist. Contact her at 419.530.2077 or christine.billau@utoledo.edu.
Email this author | All posts by Christine Billau
---