Exercise Freedom to Read During UToledo Banned Books Week
September 24th, 2020 by Christine Billau
For the 23rd year in a row, The University of Toledo will celebrate the right to read and think freely during Banned Books Week with the American Library Association.
"Without unfettered access to ideas, we could not survive as a democracy and change with the times to help those whom majority complacency silences to find their voices," Dr. Paulette D. Kilmer, UToledo professor of communication and coordinator of the UToledo Banned Books Coalition, said.
Events will take place virtually from Monday, Sept. 28 through Thursday, Oct. 1 on YouTube and Facebook to spotlight current and historical attempts to censor books in libraries and schools with a theme this year of "Censorship is a Dead End."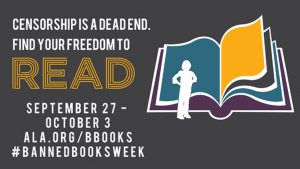 In 2019, the American Library Association tracked nearly 377 attempts to censor library, school and university materials and services, encompassing 566 books that were challenged or banned.
In support of the UToledo Banned Book Coalition's fight against censorship, this year Toledo Mayor Wade Kapszukiewicz signed a proclamation declaring Thursday, Oct. 1 as "Read Banned Books Day."
"I am excited about our campus legacy festival of the mind and look forward to continuing our ongoing battle to keep the First Amendment robust," Kilmer said. "Long live books and reading!"
UToledo Banned Books Week Vigil speakers and events include:
Monday, Sept. 28
11 a.m. — "The Hate U Give" by Dr. Monita Mungo, assistant professor of sociology.
Noon — "Studying and Struggling: The Works of Elaine Brown and Assata Shakur" by Dr. Carla Pattin, assistant lecturer in the Jesup Scott Honors College.
1 p.m. — "Banned Books Jeopardy!" with Saadia Farooq, UToledo alumna and member of the UToledo Banned Books Coalition, and Dr. Sumitra Srinivasan, associate professor in the Department of Communication.
Tuesday, Sept .29
Noon — "HIV in the Rust Belt" by Holly Hey, professor of film, Dr. Ally Day, associate professor of disability studies, and Lee Fearnside, co-producer of "HIV in the Rust Belt."
1 p.m. — "Banned: Female Leaders of the Indigenous Woodlands" by Dr. Barbara Mann, professor in the Jesup Scott Honors College.
Wednesday, Sept. 30
Noon — "Old Man Trump" by Risa Cohen, creative director of Sing Into Reading.
1 p.m. — "Girls Knight Out at the Franklin Park Mall with Pandora, Lilith and Eve" by Warren Woodberry, Toledo author.
Thursday, Oct. 1
Noon — "Freedom of Thought and the Ministry of Truth," the Dr. Linda Smith Lecture given by Dr. S. Amjad Hussain, professor emeritus of humanities and cardiothoracic surgery.
1 p.m. — "20 Years of Censored Children's Books" by Dr. Sharon Barnes, associate professor and chair of the Department of Women's and Gender Studies.
2 p.m. — "Accessing the 'Right' to Read in Prison" by Dr. Renee Heberle, professor of political science, co-director of the Program in Law and Social Thought, and coordinator of the Inside/Out Prison Exchange Project.
3 p.m. — "Brilliant Banned Tunes" by Cohen and Dr. Edmund Lingan, professor of theatre, with family.
The UToledo Banned Book Coalition will be giving away door prizes and $20 Barnes & Noble gift cards throughout the events.
To sign the electronic guest book for classes offering extra credit or to watch a recording of each presentation after the event, go to the UToledo Banned Book Coalition's website.

Christine Billau is UT's Media Relations Specialist. Contact her at 419.530.2077 or christine.billau@utoledo.edu.
Email this author | All posts by Christine Billau
---