Dialogue on Diversity to Address Intersection of LGBTQIA+, Black Lives Matter
August 19th, 2020 by Christine Billau
The University of Toledo is continuing its Dialogues on Diversity series with a conversation on the complexity of identities, what that means for agendas of justice movements, and how they can be effective allies for each other.
The next virtual town hall in the series titled "ALL Black Lives Matter: An LGBTQIA+ Dialogue" will take place 5:30 p.m. Thursday, Aug. 20 and can be accessed on WebEx using the access code 160 849 0975. The meeting password is DoD6. Join by phone at 415.655.0002.
The discussion will be moderated by Sheena Barnes, executive director of Equality Toledo, with participants including:
Dr. Sharon Barnes, associate professor and chair of the UToledo Department of Women's and Gender Studies;
Veralucia Mendoza, regional field manager at Planned Parenthood Advocates of Ohio;
LaVelle Ridley, a 2016 UToledo alumnus who is a Ph.D. candidate in women's studies at the University of Michigan; and
Dr. Michele Soliz, UToledo associate vice president for student success and inclusion.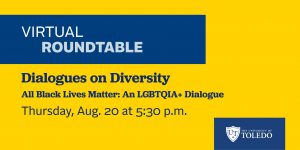 "To assert that ALL Black lives matter is a way to highlight the diversity inside African-American communities and advocate for the liberation of all: queer, female, immigrant, transgender, non-Christian or having a disability," Barnes said. "For me, it means working always for a deeper and broader understanding of multiple and intersecting sites of oppression, especially the ingrained and difficult to upend white supremacy in our culture. I believe supporting the Black Lives Matter movement is a way to support ending all oppression, with a necessary emphasis on racial oppression."

Christine Billau is UT's Media Relations Specialist. Contact her at 419.530.2077 or christine.billau@utoledo.edu.
Email this author | All posts by Christine Billau
---