Archive for August, 2020
Thursday, August 27th, 2020
The University of Toledo has launched a public dashboard to provide transparent information about the prevalence of COVID-19 within the UToledo community.
The dashboard, which will be updated weekly, provides information about the number of positive cases among faculty, staff and students across the University. It also includes a snapshot of the University's current cleaning and disinfectant supplies, as well as enhanced cleaning procedures.
"As the University continues to navigate this pandemic, we want to share what we know about the prevalence of COVID-19 within our campus community," UToledo Interim President Gregory Postel said. "By building this dashboard, we're also giving ourselves a better understanding of how cases on campus compare to the community around us, and what data-driven adjustments we may need to make to protect the health of our entire community."
UToledo's dashboard is part of a refreshed coronavirus website that details the University's response to the pandemic.
The positive cases are reported using data from a variety of sources, including tests conducted by The University of Toledo Medical Center on behalf of the University, self-reported cases, and the voluntary surveillance testing of asymptomatic faculty, staff and students.
Recognizing that employees and students may have sought testing through their own healthcare provider, UToledo is closely working with the Toledo-Lucas County Health Department and other public health agencies to receive updated reports of all cases connected to the University.
UToledo has COVID-19 testing available on both Main Campus and Health Science campus through UTMC for all symptomatic employees and students, with test results available in as little as 24 hours. Through a partnership with Azova, the University began voluntary random surveillance testing of asymptomatic faculty, staff and students on Aug. 19.
Additionally, the University is testing all student-athletes upon their return to campus. Surveillance testing of student-athletes will continue throughout the fall semester.
The University is encouraging faculty, staff and students to self-report positive cases in order for the University to more quickly provide appropriate resources and take precautions to keep campus safe.
Should a student require self-isolation due to a positive COVID-19 diagnosis, UToledo has set aside alternative housing to protect the health and safety of all students.
---
Thursday, August 20th, 2020
A new 2.3-acre, 337-kilowatt solar array on Health Science Campus is expected to save The University of Toledo nearly $30,000 a year while increasing the amount of renewable energy powering the University.
A ribbon-cutting ceremony for the HSC Tech Park Solar Field will be 10 a.m. Tuesday, Aug. 25 at its location off of Arlington Avenue along Main Technology Drive near the Facilities Support Building. Parking is in lot 44E.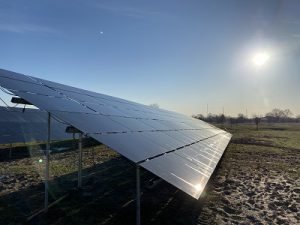 "The solar field project is complete and we are working with a local utility provider to get the field operational and tied into the grid," Jason Toth, senior associate vice president for administration, said. "This work represents a unique collaboration between students, faculty, an outside donor and UToledo to support sustainability on our campus."
First Solar, one of the world's largest manufacturers of solar cells and a company with deep ties to UToledo, donated 365 kilowatts of its Series 5 modules valued at $192,000 to the University in 2017. Approximately 10% of the donated modules are being reserved for maintenance.
A senior design team made up of UToledo students studying mechanical, industrial and manufacturing engineering worked with UToledo Facilities and Construction to identify the site and prepared construction engineering drawings with assistance from JDRM Engineering. The UToledo Student Green Fund approved spending $350,000 to cover the costs to install the array. The construction contract was awarded to Solscient Energy LLC after a public bidding of the project.
The projected electrical production over the 25-year life of the system will be more than $700,000, enough to power about 60 homes annually.
"The University of Toledo continues to reduce its carbon footprint and strengthen its commitment to a clean energy future," said Dr. Randy Ellingson, professor in the Department of Physics and Astronomy. "Thanks to First Solar's generous donation of modules and UToledo working to keeping costs down, the array will produce some of the lowest cost solar energy in the state of Ohio. We are excited to connect our students to these solar projects. They gain valuable experience with this fast-growing energy technology that generates nearly carbon-free electricity directly from sunlight."
Based on avoided combustion of fossil fuels, the array will prevent the release of approximately 6 million kilograms of carbon dioxide while generating approximately 10.5 gigawatt hours of clean electricity for Health Science Campus.
A portion of the value of the electricity generated will go to a UToledo fund for use on future renewable energy projects.
Building on its more than 30-year history advancing solar technology to power the world using clean energy, UToledo researchers are pushing the performance of solar cells to levels never before reached.
Last year, the U.S. Department of Energy awarded UToledo $4.5 million to develop the next-generation solar panel by bringing a new, ultra-high efficiency material called perovskites to the consumer market.
The U.S. Air Force also awarded UToledo physicists $7.4 million to develop solar technology that is lightweight, flexible, highly efficient and durable in space so it can provide power for space vehicles using sunlight.
Plus, the U.S. Department of Energy last year awarded UToledo physicists $750,000 to improve the production of hydrogen as fuel, using clean energy – solar power – to split the water molecule and create clean energy – hydrogen fuel.
These activities involve collaboration with U.S. Department of Energy national laboratories, U.S. companies and universities, and enable the UToledo Wright Center for Photovoltaics Innovation and Commercialization to continue strong international leadership in the field of solar electricity generation.
---
Wednesday, August 19th, 2020
The University of Toledo is continuing its Dialogues on Diversity series with a conversation on the complexity of identities, what that means for agendas of justice movements, and how they can be effective allies for each other.
The next virtual town hall in the series titled "ALL Black Lives Matter: An LGBTQIA+ Dialogue" will take place 5:30 p.m. Thursday, Aug. 20 and can be accessed on WebEx using the access code 160 849 0975. The meeting password is DoD6. Join by phone at 415.655.0002.
The discussion will be moderated by Sheena Barnes, executive director of Equality Toledo, with participants including:
Dr. Sharon Barnes, associate professor and chair of the UToledo Department of Women's and Gender Studies;
Veralucia Mendoza, regional field manager at Planned Parenthood Advocates of Ohio;
LaVelle Ridley, a 2016 UToledo alumnus who is a Ph.D. candidate in women's studies at the University of Michigan; and
Dr. Michele Soliz, UToledo associate vice president for student success and inclusion.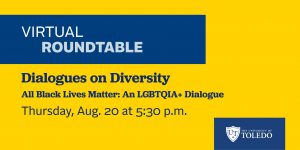 "To assert that ALL Black lives matter is a way to highlight the diversity inside African-American communities and advocate for the liberation of all: queer, female, immigrant, transgender, non-Christian or having a disability," Barnes said. "For me, it means working always for a deeper and broader understanding of multiple and intersecting sites of oppression, especially the ingrained and difficult to upend white supremacy in our culture. I believe supporting the Black Lives Matter movement is a way to support ending all oppression, with a necessary emphasis on racial oppression."
---
Tuesday, August 11th, 2020
A graduate student at The University of Toledo was awarded a competitive grant to look at land use and barriers to urban agriculture in Toledo and Dayton and how it impacts African-American communities.
Brittany D. Jones, a Ph.D. candidate in the UToledo Spatially Integrated Social Science Doctoral Program in the College of Arts and Letters, is one of four winners of a 2020 MAXQDA Research for Change Grant from VERBI Software and the Global Nature Fund.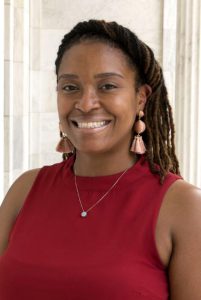 Her research project is titled "Empowerment Through Consumption: Land Banks, Land Ownership and Black Food Geographies." Her co-advisors are Dr. Neil Reid and Dr. Sujata Shetty, professors in the UToledo Department of Geography and Planning.
Jones will explore the urban agricultural experience and Black foodways in Toledo and Dayton, two Ohio cities that saw a large influx of African Americans during the Great Migration. They are also legacy cities, meaning they lost a significant amount of population and economic viability after the decline of manufacturing in the region.
In recognizing Jones as a grant recipient, VERBI noted, "We were greatly impacted by Mrs. Jones' story and how her life history has inspired her to pursue food system and sovereignty studies. With her project, she aims to uncover racialized hypocrisies embedded within both the local and global food system, which is now as relevant as ever. Mrs. Jones is a first-generation Ph.D. student in her family, and we are glad to be able to support her."
Jones said in her master's program, she began to fully understand the nutritional problems of the world she grew up in were rooted in systemic causes. In applying for the grant, Jones said she hopes her work will not only suggest solutions, but improve research methodology.
"Research for change means more than just finding solutions to a complex problem, [it] embodies the [grassroots] efforts of providing resources and realistic methods that can be easily replicated and adapted, all the while acknowledging cultural differences/expectations, which is crucial to long-term change," Jones said.
Dr. Beth Schlemper, associate professor in the UToledo Department of Geography and Planning, said she believes Jones' doctoral course work helped her win the grant.
"It makes me happy because I taught the Ph.D. students, who took advanced qualitative methods for spatially integrated social science students, how to use MAXQDA [research software], and she was inspired to use the software in her research methods and apply for this grant."
Jones agreed: "The skills I acquired through my degree program have allowed me to confidently apply for opportunities best fit for my research. It has taught me that, as a doctorate student, you are the CEO of your degree and must stand in your truth as a contributor to universal knowledge, especially as a scholar of color."
The $1,600 grant includes a two-year student subscription to MAXQDA Analytics Pro software, two online trainings with certified MAXQDA trainers, a registration waiver to the MAXQDA International Conference in Berlin, and full tech support. In addition, Jones' research will receive international exposure through MAXQDA promotions.
"This software is highly used to fully integrate qualitative data analysis into your research and is especially popular with mixed methods researchers," said Jones, who is a graduate research assistant in the University's Jack Ford Urban Affairs Center and president of the UToledo Graduate Student Association.
Read more about Jones' research project on the MAXQDA website.
---
Wednesday, August 5th, 2020
The University of Toledo is continuing its Dialogues on Diversity series with a conversation on the role of Black women and non-Black allies in movements toward equity in the U.S.
The next virtual town hall in the series titled "Sister Circle: Resistance and Resilience, Then and Now" will take place 5:30 p.m. Thursday, Aug. 6 and can be accessed on WebEx using the access code 160 061 5758. The meeting password is DoD:5Sister. Join by phone at 415.655.0002.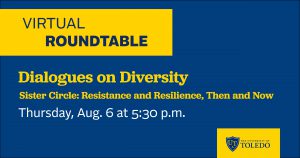 The discussion to be moderated by Malaika Bell, program manager in the UToledo Office of Diversity and Inclusion, is an invitation for the public to join a meeting of the Sister Circle, a group of diverse women from both Main Campus and Health Science Campus who have been meeting weekly for the past several months to promote positivity.
"During our next meeting of the Sister Circle, we invite the community to participate in a conversation about the role that Black women have played in movements toward equity in our nation, how we can truly practice radical self-care, and what we want from our non-Black allies," Bell said.
Participants will be:
Charlene Gilbert, dean of the College of Arts and Letters;
Monica Holiday-Goodman, associate dean for Health Science Campus Student Affairs and Diversity, and professor of pharmacy practice; and
Tinola Mayfield-Guerrero, immersed vocational rehabilitation counselor in partnership with UToledo.
This is the fifth in a series of recent virtual Dialogues on Diversity in the more than two months since George Floyd was killed in Minneapolis when a police officer knelt on his neck for nearly nine minutes, sparking protests against systemic racism across the country.
---