Archive for December, 2019
Monday, December 23rd, 2019
Tasting terroir, or a sense of place, isn't only reserved for wine lovers drinking a glass of burgundy or champagne from France.
It's evident, too, in the U.S. craft beer boom and the growing preference for local hops.
Hops, a key ingredient in making beer, is a crop making a comeback on farms across the country thanks to the incredible rise of the craft brewing industry over the past decade.
Craft breweries and their customers' thirst for new, locally grown flavors are playing a big role in fueling an unprecedented geographic expansion of hop production across the U.S., according to researchers at The University of Toledo and Penn State University.
Their findings, which were recently published in the Journal of Wine Economics, suggest that as more craft breweries emerge around the country, so may new opportunities for farmers.
"It is fantastic to see the re-emergence of hop production in states which, at one point, had abandoned the crop," said Dr. Neil Reid, professor of geography and planning at The University of Toledo who teaches a class titled The Geography of Beer and Brewing. "Hops provide aroma and bittering characteristics in beer. Looking to differentiate themselves from Molson Coors and Anheuser Busch, independent craft brewers demand locally grown hops, experiment with different varieties of hops, and use more hops in beer production compared to mass-produced beers."
According to the Brewers Association, between 2007 and 2017 the number of breweries in the U.S. increased from 1,459 to 6,490.
The researchers found that the number of breweries in a state is associated with more hop farms and hop acres five years later. The number of hop farms grew from 68 to 817, and hop acreage expanded from 31,145 to 59,429 acres.
Before 2007, hop production in the country was limited to only three Pacific Northwest states—Oregon, Washington, and Idaho. Hops are now produced in 29 states, according to the Hop Growers of America.
"Our study is the first to systematically show that the number of hop farms in a state is related to the number of craft breweries," said Claudia Schmidt, assistant professor of agricultural economics in Penn State's College of Agricultural Sciences. "It suggests that in areas where hop production is possible and not cost-prohibitive, breweries are expanding markets for farmers and providing an opportunity to diversify farm income."
In fact, the growth positioned the U.S. as the largest producer of hops globally, both in terms of acreage and production.
Working with farm, brewery and climate data, the researchers developed a statistical model to determine whether new craft breweries in a state between 2007 and 2017 resulted in a larger number of hop producers and hop acres planted, by both new and existing growers in that state. They built a time-lag into their model to identify the effect of new breweries over time. They also controlled for other variables that may influence farmers to start growing hops, such as average farm size, average net farm income and climate.
Their findings are correlational and do not point to a clear cause-and-effect. However, the time-lag built into the model indicates that the growth in breweries preceded the growth in hop farms.
If more brewers are looking for hops grown nearby, then more farmers may be willing to try growing them, even if only on a small scale. For instance, in Pennsylvania only 17 farms reported hop production in 2017, and their combined acreage is small—only 21 acres in all, according to the U.S. Census of Agriculture.
In contrast, in 2017 there were 100 acres of farmland devoted to hop production in Ohio. According to the Ohio Hop Growers Guild, there are over 70 farms in Ohio that are growing hops.
While the growing of hops in states like Ohio and Pennsylvania is a relatively recent phenomenon, many Midwestern and Northeastern states have historical connections to the hop industry.
"In 1870, the three leading hop producing states were New York, Wisconsin and Michigan," Reid said. "A number of factors, including declining yields, disease outbreaks, high production and processing costs, and an inability to achieve economies of scale, contributed to the decline and disappearance of the hop industry in the Midwest and Northeast."
Reid, who is affectionately known as "The Beer Professor," is an expert on the craft brewing industry and its economic geography. His research is focused on the industry's growth in the U.S. and its potential role in helping to revitalize neighborhood economies.
His previous research found that the craft brewery boom is good for home values. That study showed single-family homes in the city of Charlotte, N.C., saw their value increase by nearly 10% after a brewery opened within a half mile of the property, and center-city condos got a nearly 3% bump.
Reid will give the opening keynote address at the 2020 Beer Marketing and Tourism Conference on Wednesday, Feb. 5, in St. Petersburg, Fla.
His new book, "Agritourism, Wine Tourism, and Craft Beer Tourism: Local Responses to Peripherality Through Tourism Niches," will be published later this month. The book is co-edited with Maria Giulia Pezzi and Alessandra Faggian of the Gran Sasso Science Institute in L'Aquila, Italy.
---
Monday, December 9th, 2019
More than 2,000 students at The University of Toledo will graduate at commencement ceremonies Saturday, Dec. 14 in Savage Arena.
The University is holding two ceremonies to include both undergraduate and graduate students from each of the colleges.
A total of 2,070 degrees will be awarded: 1,474 bachelor's degrees, 426 master's degrees, 104 doctoral degrees, 41 associate's degrees, 15 education specialist degrees and 10 graduate certificates.
The 9 a.m. ceremony will recognize all Ph.D. candidates and graduates from the colleges of Arts and Letters; Engineering; Judith Herb College of Education; Natural Sciences and Mathematics; and Pharmacy and Pharmaceutical Sciences.
The 1 p.m. ceremony will recognize undergraduate and graduate students receiving degrees from the colleges of Business and Innovation; Health and Human Services; Nursing; University College; and Medicine and Life Sciences.
Commencement is always a time to celebrate with family. Their support is critical to achieving success. For several students walking across the stage this year, family was literally at their side for the journey.
At 48 years old, Lori Boyer is set to take the stage and grasp her diploma on the same day as her son, Jordan.
Lori, a preschool teacher, started taking classes at UToledo in 1990, but stopped to raise her three children.
After returning in January to cross the finish line, the UToledo employee at the Early Learning Center is graduating from University College with a bachelor's degree in an individualized program of early childhood education and educational leadership. Her son is graduating from the College of Engineering with a bachelor's degree in computer science and engineering technology.
"I am proud to share this special moment with my oldest son," Boyer said. "It's important to me to prove to all of my children that you can accomplish anything no matter what point you are in life. I accomplished something I set out to do a long time ago, and it has the potential to take me in different directions in my career."
Fall commencement also is a family affair for a brother-and-sister duo who worked side-by-side as undergraduates in the same exercise biology research lab.
Dylan and Nicole Sarieh, two-thirds of a set of fraternal triplets, both chose to study exercise science as pre-med students in the College of Health and Human Services, while their brother studies business at UToledo.
Together, Dylan and Nicole researched the molecular regulation of skeletal muscle growth under the guidance of Dr. Thomas McLoughlin, associate professor in the School of Exercise and Rehabilitation Sciences, in order to help clinicians develop ways to help patients grow stronger after suffering from muscle loss.
"The opportunity to do real, meaningful, hands-on work in the lab definitely built our confidence and opened our eyes to what is important," Dylan said about his undergraduate research experience. "My sister and I both plan to next go to medical school. She wants to be a dermatologist and I want to be a general physician."
"Whether at home, in the classroom or in the lab, I always had someone I could lean on who was tackling the same challenges," Nicole said. "Putting our two brains together – even during car rides – made a big difference in our success."
For some graduates, they found love and are starting their own family.
McKenna Wirebaugh, who is graduating with a bachelor's degree in chemical engineering, met her soon-to-be husband at UToledo. Both she and Travis Mang, her fiancé, will receive degrees on Saturday.
Turns out, planning their upcoming wedding is the only item left on the to-do list. Wirebaugh secured a full-time job as a process engineer at BP's Cherry Point Refinery in Blaine, Wash., located about 40 minutes south of Vancouver. She is scheduled to start her new job in March, about a month after her honeymoon.
"I chose to go to UToledo because of the mandatory co-op program in engineering," Wirebaugh said. "It guaranteed I would have a paycheck while in school and build my resume. I'm grateful for my decision because it ended up launching my career."
Wirebaugh completed four co-op rotations with BP while at UToledo. She also helped build a water purification unit that was sent to Ecuador through the nonprofit organization Clean Water for the World.
Her favorite experience as a student in the Jesup Scott Honors College was a class focusing on creativity. For a group project on the dangers of cell-phone use, they brought in a PlayStation 2 system and challenged students to text and 'drive' on Mario Kart without crashing.
"My professors have truly cared about me inside and outside of my academic career," Wirebaugh said. "I don't see the friendships I've made here ending anytime soon."
In the event of inclement weather, the approximately two-hour commencement ceremonies will be moved to Sunday, Dec. 15.
For those unable to attend, the ceremonies will stream live at utoledo.edu/video.
For more information about commencement, go to utoledo.edu/commencement.
---
Thursday, December 5th, 2019
Fatal overdoses tied to Ohio's ongoing opioid epidemic cost the metropolitan Toledo economy $1.6 billion and more than 2,000 jobs in 2017, according to a new study by The University of Toledo.
At $1.6 billion, the total economic impact of the opioid epidemic is equivalent to approximately 4.5% of the region's gross domestic product — or roughly the same amount of economic activity generated annually by the entire private construction industry.
"The University of Toledo has an important role to play in addressing the major issues that affect northwest Ohio and beyond," UToledo President Sharon L. Gaber said. "This research provides another piece of the puzzle as we work together to confront the opioid epidemic."
The research was led by Dr. Oleg Smirnov, associate professor of economics, in close collaboration with members of The University of Toledo Opioid Task Force.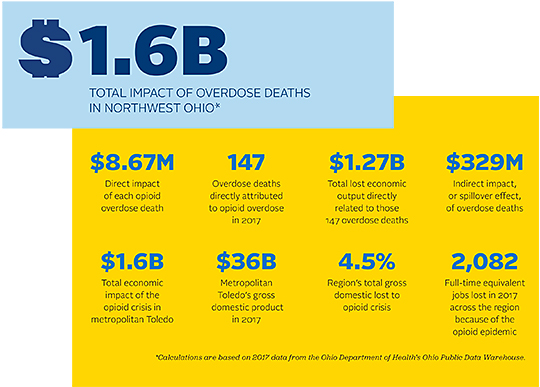 "Over a relatively period of short time, the number of deaths from opioid overdose has skyrocketed, and the crisis doesn't show any signs of abating," Smirnov said. "This report helps give us a better understanding of how the epidemic affects our region, and also provides a benchmark to evaluate the effectiveness of our community's ongoing response."
Among the report's key findings:
Fatal opioid overdoses directly resulted in $1.27 billion in lost economic output in 2017.
Each overdose death costs the economy $8.67 million.
The indirect, or spillover, effects of fatal opioid overdose were $329.2 million in 2017.
Premature deaths caused by the opioid epidemic cost metropolitan Toledo the equivalent of 2,082 jobs in 2017.
While Narcan is relatively expensive at approximately $130 per dose, there is clear evidence the economic benefit outweighs the cost of administering the drug.
"These new findings add valuable context to our understanding of and response to the opioid epidemic," said Dr. Amy Thompson, vice provost for faculty affairs, professor of public health, and co-chair of the UToledo Opioid Task Force. "The research can be used to advocate for funding that goes toward prevention efforts and treatment of opioid use disorder. It also can be used to inform local businesses how this epidemic is affecting the job market and creating financial loss in the community."
The report's calculations are based on data from the Ohio Department of Health's Ohio Public Data Warehouse, which documented 147 fatal opioid overdoses in Lucas, Wood, Fulton and Ottawa counties in 2017. Data from 2017 is the most recent finalized data available.
State records show those four counties had 22 deaths attributed to opioid overdose in 2007. The state data relies on the official cause of death listed on state-issued death certificates, and differs slightly from fatal overdose data from local sources.
"While it may seem morbid to put a price on human life, there are established economic models that show how an individual's premature death ripples through the economy," Smirnov said. "This report shows just how costly each death is to our entire community, on top of the personal loss of a friend, brother, sister or parent. The opioid crisis may appear hidden to some, but it affects all of us."
To calculate the economic cost of a fatal opioid overdose in metro Toledo, researchers began with a federally established finding that a premature death has an economic cost of $9.4 million. By adjusting for northwest Ohio's lower per-capita income and lower cost of living, they arrived at a figure of $8.6 million per premature death and $1.27 billion in lost economic output in 2017.
Each fatal overdose also hurts the economy indirectly. As spending and demand for goods and services shrink, employers may begin to reduce staffing. In turn, individuals who have lost their jobs cut back on their own spending. UToledo researchers calculated those indirect, or spillover, effects cost the local economy $329.2 million in 2017, while reducing full-time equivalent employment by 2,082 jobs.
The total economic burden in UToledo's report does not include calculations from non-lethal overdoses. While those incidents do have costs associated with them — emergency room visits, criminal justice proceedings and mental health services, for example — the spending stays within the local community.
The report also offers some hints that the region's response to the opioid epidemic is making a difference.
For example, a comparison of overdose-related 911 calls received by Lucas County dispatchers in 2016 and 2017 to the total number of overdose deaths in those years found the mortality of opioid overdoses declined from 8% in 2016 to 6% in 2017.
Researchers attribute that to first-responders dealing with opioid overdose more effectively, particularly with the use of naloxone.
UToledo's research also supports the notion that the expanded use of naloxone prevents not only additional deaths, but also significant damage to the local economy.
While first responders in Lucas County administered an estimated $1 million-plus worth of naloxone in 2017, a single premature death would have cost the regional economy $8.6 million.
Access the full economic impact report online at utoledo.edu/economic-impact/opioids.
---
Tuesday, December 3rd, 2019
A professor at The University of Toledo has been awarded one of the highest honors a scientist can earn.
Dr. Amanda Bryant-Friedrich, professor of medicinal and biological chemistry, is among the 443 scientists elected in 2019 as Fellows of the American Association for the Advancement of Sciences (AAAS), the world's largest general scientific society.
The lifetime appointment is an honor bestowed upon the society's members by their peers and recognizes individuals for their efforts in advancing science applications that are deemed scientifically or socially distinguished.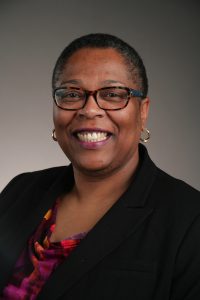 Bryant-Friedrich has created tools for the study of oxidative damage processes in DNA and RNA, contributing to the development of new, more effective ways to treat or prevent cancer, neurological disorders and age-related disorders.
Her research also includes biomarkers, photochemistry, mass spectrometry and ionizing radiation.
"I am thankful to be elected as a Fellow to the AAAS for the contributions I have made to the science that I love," said Bryant-Friedrich, who also serves as dean of the College of Graduate Studies, vice provost for graduate affairs and director of the Shimadzu Laboratory for Pharmaceutical Research Excellence. "Scholarly recognition by one's peers is the highest honor, and recognition for my work validates my efforts. I credit this honor to the wonderful like-minded, adventurous students and colleagues who have accompanied me along this journey."
The AAAS includes more than 250 affiliated societies and academies of science, serves 10 million individuals, and publishes the journal Science. It was founded in 1848 and its tradition of naming AAAS Fellows began in 1874.
"This prestigious national honor for Dr. Bryant-Friedrich brings great pride to our campus," UToledo President Sharon L. Gaber said. "Recognition by AAAS is an external validation of our talented experts determined to advance science and improve our world."
Bryant-Friedrich, who joined the University in 2007, will be honored in February at the organization's annual meeting in Seattle.
She shares this honor with four UToledo colleagues who were previously elected to AAAS: Dr. Heidi Appel, dean of the Jesup Scott Honors College; Dr. Karen Bjorkman, UToledo interim provost and executive vice president for academic affairs; and Dr. Steven Federman, professor of astronomy, who were named Fellows in 2017; and Dr. Jack Schultz, who recently retired from his position as senior executive director of research development and has been an AAAS Fellow since 2011.
Last year Bryant-Friedrich was named a Fellow of the American Chemical Society.
She received a bachelor of science degree in chemistry at North Carolina Central University, a master's degree in chemistry from Duke University, and a doctorate in pharmaceutical chemistry from Ruprecht-Karls Universität in Germany. In addition, she conducted postdoctoral studies at the University of Basel in Switzerland.
---
Monday, December 2nd, 2019
Designing smarter traffic lights. Restoring farmlands to wetlands. Printing 3D violins so that students in low-income and remote areas have access to instruments.
These are just a few examples of senior design projects UToledo engineering students will present to the public at the Senior Design Expo. The event will take place from 10 a.m. to 1 p.m. Friday, Dec. 6 in Nitschke Hall and the Brady Center at The University of Toledo.
As part of required senior design/capstone projects, about 60 UToledo engineering teams worked with local businesses, industries and federal agencies to help solve technical and business challenges. Students will present their final prototypes, provide hands-on demonstrations, and answer questions about their experiences at the expo.
Caroline Shipman's five-member team worked on the violin project with the Toledo Symphony and music director Alain Trudel. The group developed and printed a 3D violin, composed of five parts. They wanted the violin to "be as easy to assemble as a Lego kit," said Shipman, a mechanical engineering senior who will graduate in December.
Shipman has played violin for more than 15 years and says she was excited to combine her passions for STEM and music on the project. The 3D violin costs about $150, as opposed to a starter violin that usually costs $400.
"It was awesome to see it go from concept to holding a physical prototype in your hands," she said. "To give access to a child who didn't think they could play an instrument — who knows? One day they could become a concert master."
Engineers are problem-solvers at heart. The challenges the UToledo students tried to solve with their senior projects could make life easier for manufacturers, homeowners, those with disabilities, and anyone who drives a car. Many of their projects addressed timely issues such as school security or environmental problems, along with a host of other topics that include:
Helping the Toledo Zoo recycle grey water created by its splash pad;
Designing goggles to aid in the remote diagnosis of strokes;
Creating an immersive training tool to help users learn how to defend against cyber threats;
Building a fishing rod that will allow a man with limited arm mobility pursue his passion; and
Designing a speaker/microphone system for a woman with ALS to use near or under an oxygen mask so people can hear her better.
The expo also will feature a high school design competition from 10:30 a.m. to 1:30 p.m. in Nitschke Auditorium.
 Some UToledo and high school projects addressed autonomous vehicles. The vehicles have been a focus of a number of events sponsored by the College of Engineering throughout 2019. The final Technology Takes the Wheel program will be held in conjunction with the Senior Design Expo.
The seventh event in the seminar series will take place Friday, Dec. 6, from 8 to 10 a.m. in Nitschke Auditorium. The "Preparing Your Workforce for the Future" panel discussion will feature representatives from AAA, SSOE Group and Sinclair Community College. A Tesla will be the featured on-stage vehicle, and attendees will hear from featured speakers Dr. Jack Marchbanks, director of the Ohio Department of Transportation, and Rich Granger, managing director of workforce development for DriveOhio.
Attendees are encouraged to bring new, unwrapped toys for the annual Hope for the Holidays campaign. UToledo is partnering with 13abc Action News and the Salvation Army. Rocky and Rocksy will be there to collect donations.
---