Engineering students to compete in national cybersecurity competition
November 12th, 2019 by Christine Billau
The University of Toledo's new engineering team called the Cyber Rockets will face off against more than 100 teams of college students across the country in the U.S. Department of Energy's 5th annual CyberForce Competition.
The tournament, which tests cybersecurity skills through the defense of critical infrastructure, is happening simultaneously at ten national labs on Saturday, Nov. 16.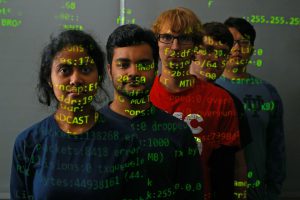 The Cyber Rockets, made up of five UToledo engineering students, will travel to Argonne National Laboratory in Illinois to defend a simulated energy company's network against professionally executed cyberattacks and prevent hackers from compromising any information.
The University's participation in the competition comes after the U.S. Department of Energy selected UToledo to host National Lab Day, which last month connected students and researchers with preeminent scientists from world-class facilities across the country to explore opportunities for partnerships.
Preparing for UToledo's debut in the tournament is the main focus for Cyber Rockets Team Captain Brian McKenzie, who doesn't have to stress out about finding a full-time job after he graduates next month since he already has one lined up through his co-op with a company that creates navigational software for the Army.
"We are excited for this opportunity to learn and meet new people," McKenzie, a senior studying computer science and engineering technology, said. "We have been researching the kinds of equipment and software the 'energy company' might use. It's going to be a challenging exercise and a fun experience overall."
The scenarios present teams with the challenge of not only defending one of four pieces of an energy system – an energy company's solar generation facility, electric substation, data center or manufacturing plant – but communicating with the other three infrastructures to monitor and maintain the integrity of the system as a whole.
Scoring includes a team's ability to balance security with the need to continue normal work operations.
The scenarios look at real-world constraints and lifelike anomalies, such as no budget for maintenance or upkeep, deficiency in understanding the system's needs, website defacement, business meetings, and lack of permission controls.
"We have been familiarizing ourselves with the Energy Department's workflow and system," said Medha Pujari, a UToledo Ph.D. student studying computer science and engineering. "I am thankful for the opportunity to be a member of this team and have the chance to implement our skills."
"We are happy to be able to recruit and build our Cyber Rockets team from multiple programs in the College of Engineering," said Dr. Weiqing Sun, associate professor of computer science and engineering technology, and faculty advisor of the Cyber Rockets. "With the newly established master's programs in cyber security and cybersecurity graduate certificate program, we expect that UToledo will have a continuously strong presence in future CyberForce competitions."

Christine Billau is UT's Media Relations Specialist. Contact her at 419.530.2077 or christine.billau@utoledo.edu.
Email this author | All posts by Christine Billau
---